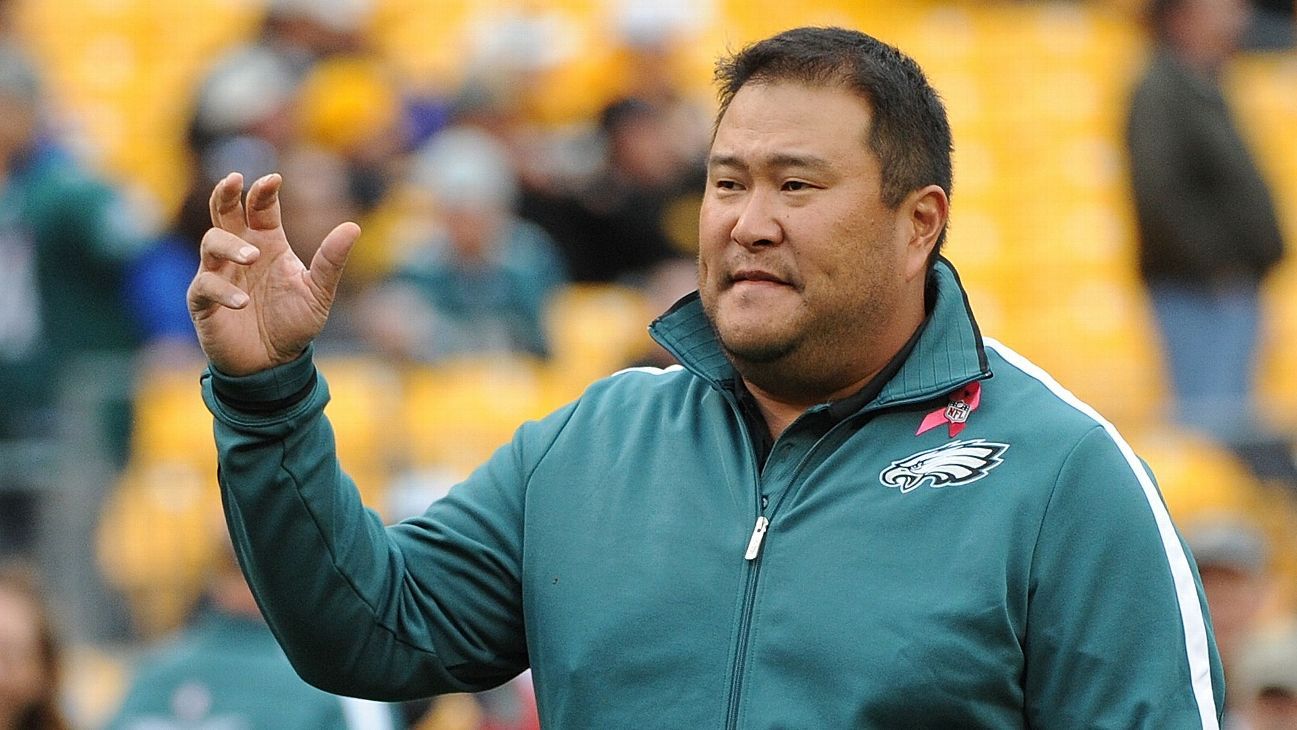 Former NFL offensive lineman and assistant coach Eugene Chung called the NFL's statement on its review of his claims that he was told during a job interview he "wasn't the right minority" "a little misleading."
Chung, who is Asian American, said he has only had one short, "almost perfunctory" conversation with the NFL back in May and that "every single" coach and personnel executive he has reached out to regarding this matter has said they hadn't been contacted by the NFL during its review process. NFL commissioner Roger Goodell has declined to meet with Chung, to this point, despite a request from Chung's representation, he said.
"I've had one conversation with them. I'd love to work with them hand in hand but, when it's being written that I'm going to be working with them, and I had only one very brief conversation, I think that's a little misleading," Chung said.
The NFL released a statement in early July saying it was "unable to confirm the precise statement that was made or by whom, and under what circumstances, any such statement was made.
"Nonetheless, we intend to use this occasion to reinforce the commitment of the NFL and of every NFL club to ensure appropriate interview processes and develop diverse, inclusive, and respectful workforces on and off the field. Mr. Chung has offered to assist us moving forward and we welcome the opportunity to speak with him about how we can better advance employment opportunities through the League."
Chung has not identified the coach who made those alleged comments or the organization that interviewed him.. "I'm not interested in outing anybody. I think that's insignificant and irrelevant to what's going on at hand right now," Chung said. Rather, he said he is focused on fixing the issue so that other minorities don't face similar biases and believes a conversation with Goodell can make strides toward that.
Chung, who has served as an assistant offensive line coach for the Philadelphia Eagles and Kansas City Chiefs, is not currently employed by an NFL team.
D'Andre Swift won't be limited in Detroit Lions' season opener vs. San Francisco 49ers
ALLEN PARK, Mich. — Detroit Lions running back D'Andre Swift, who had been slowed by a groin injury throughout the preseason, is expected to be ready to go with no limitations in Sunday's season opener against the San Francisco 49ers.
Lions coaches had expressed concerns during training camp Swift's status, as the groin injury limited his participation in practice and preseason games. But the second-year running back was a full participant in practice on Wednesday and Thursday.
"I'm very bad at counting reps," Lions running backs coach Duce Staley said. "If he's out there being productive … I don't know how to take him off.
"I get caught up in the game, he's gonna get caught up in the game and every good player — every good running back that I know anyway — once he starts feeling it, you don't want to pull him off. We can count the reps Monday."
Swift is expected to be the lead back for Detroit this season, with Jamaal Williams set to thrive in a strong complementary role. As a rookie, Swift had 114 carries for 521 rushing yards and eight touchdowns, joining former Lions star Billy Sims (1980) as the only rookies in franchise history to score eight rushing touchdowns and two receiving touchdowns.
Swift also had 46 catches for 357 receiving yards last season.
"When he is available, he's a weapon," Lions offensive coordinator Anthony Lynn said. "You can do a lot of things with that young man. So I'm looking forward to seeing him go Sunday."
Baltimore Ravens fear RB Gus Edwards, CB Marcus Peters have torn ACLs, sources say
OWINGS MILLS, Md. — The Baltimore Ravens fear they've lost running back Gus Edwards and cornerback Marcus Peters to season-ending knee injuries on Thursday, sources told ESPN's Adam Schefter.
The Ravens believe Edwards and Peters tore their ACLs during Thursday's practice, sources tell Schefter. Both players are undergoing testing to confirm the initial diagnosis.
This continues a horrid run of injuries for Baltimore and delivers a major blow to the Ravens' Super Bowl aspirations.
Edwards becomes the third running back to suffer a season-ending injury in a span of 12 days. J.K. Dobbins tore his ACL in the preseason finale on Aug. 28, and Justice Hill hurt his Achilles on Sept. 9.
Ty'Son Williams, a practice player from a year ago who doesn't have an NFL carry, becomes the Ravens' lead back. The other two running backs on the roster — Trenton Cannon and Le'Veon Bell (practice squad) — only started practicing with the Ravens on Wednesday.
The loss of Peters would represent the most significant injury to the defense this year. The Ravens have depth at cornerback, but it will be difficult to replace Peters' playmaking ability. His 31 interceptions lead the NFL since he entered the league in 2015.
Anthony Averett, a fourth-round pick in 2018, would be a candidate to replace Peters and start opposite Marlon Humphrey.
The Ravens open the season at the Las Vegas Raiders on Monday Night Football.
New Orleans Saints complete trade with Houston Texans for CB Bradley Roby, sources say
The New Orleans Saints have finalized their trade for cornerback Bradley Roby, sending a 2022 third-round draft pick and a 2023 conditional pick to the Houston Texans, sources told ESPN's Adam Schefter.
In order to facilitate a trade to the Saints, the Texans converted $7.6 million of Roby's base salary into a signing bonus, a source told ESPN's Field Yates. When Roby officially gets traded to New Orleans, his base salary for 2021 is now $1,862,645, which fits into the Saints' salary-cap space.
Roby was a first-round draft pick of the Denver Broncos in 2014. He spent the past two years in Houston and has started 49 career games with 10 interceptions.
The 29-year-old Roby is entering the second year of a three-year, $31.5 million extension that he signed with the Texans last year. He will miss the first game of the season, however, as part of a six-game suspension that began in 2020 for violating the NFL's policy on performance-enhancing substances.
The Saints have identified cornerback as a "must-fill" position ever since they released former starter Janoris Jenkins in March as part of a massive salary-cap purge and then lost one potential starting contender, Patrick Robinson, to a surprise retirement early in training camp. They even attempted to trade up nearly 20 spots in the NFL draft to land top prospects Jaycee Horn or Pat Surtain II.
New Orleans signed veteran Desmond Trufant on Monday to compete with Ken Crawley and rookie Paulson Adebo for the No. 2 starting cornerback job across from Pro Bowler Marshon Lattimore. However, Roby now becomes the front-runner to lock down that job following his suspension.
ESPN's Mike Triplett contributed to this report.