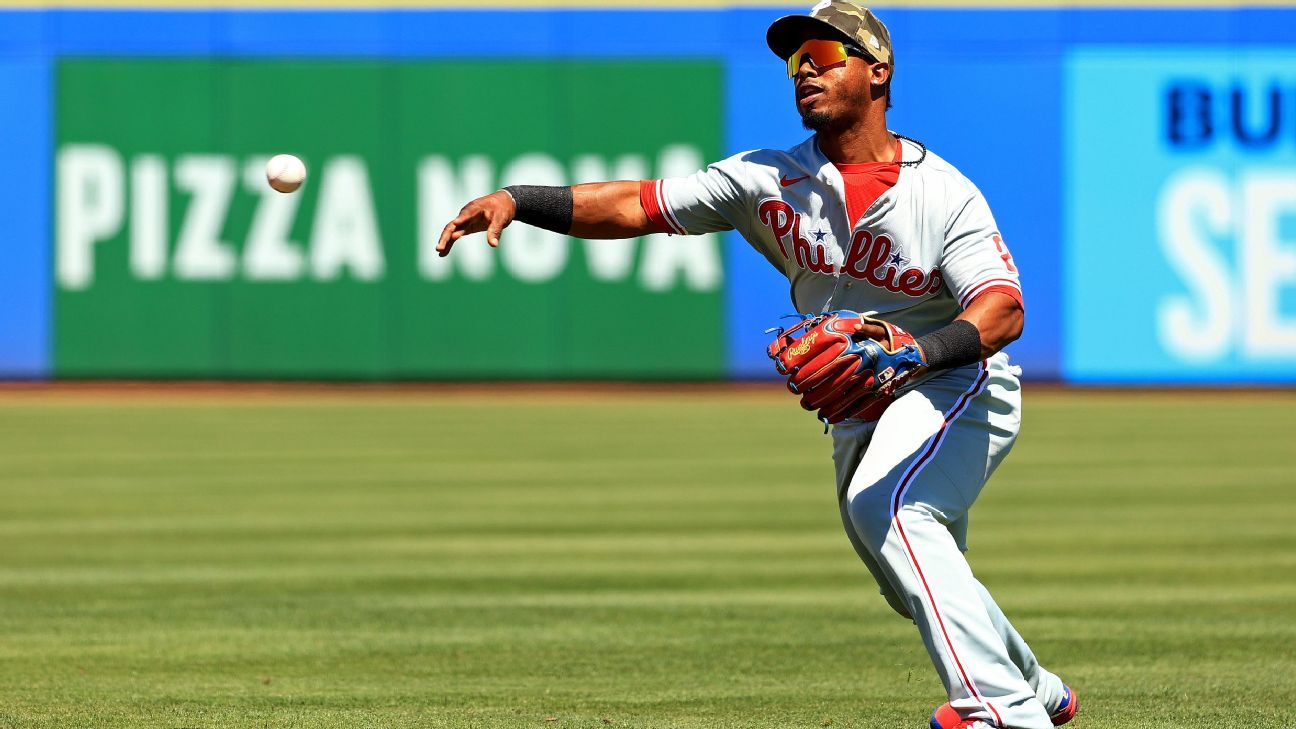 DUNEDIN, Fla. — The injury-depleted Philadelphia Phillies lost a game, another player and their temper.
Television cameras showed a confrontation in the dugout between Phillies manager Joe Girardi and second baseman Jean Segura during Sunday's 10-8 loss to the Toronto Blue Jays.
Segura committed two errors. One miscue came in the first inning when Segura misplayed a soft one-hopper by Randal Grichuk.
"That's a bench conversation, meant for the bench," said Girardi, who was asked about a half-dozen times about the incident. "You can ask all you want; you got everything you're going to get about it. I'm done with it."
At one point, Segura had to be restrained by coach Dusty Wathan.
"I didn't actually see it," Phillies first baseman Rhys Hoskins said. "Obviously, I heard it. It's heat-of-the-moment stuff, right. We're all competing. Everybody in the dugout wants to win the same amount. Sometimes that's what happens."
Marcus Semien and Bo Bichette hit consecutive first-inning homers, and Randal Grichuk had a two-run double in a five-run second as Toronto burst to an 8-0 lead.
Semien finished with three hits and three RBIs, and Vladimir Guerrero Jr. hit his 11th homer, a solo drive in the eighth that gave him home runs in three consecutive games.
"I feel comfortable with what I'm doing mechanically," Semien said. "That's always good when you don't have to worry about changing something every day. You're just able to focus on what you're looking for at the plate."
Toronto won for the sixth time in eight games, moving five games over .500 for the first time this season.
Philadelphia right fielder Bryce Harper (right shoulder soreness) and catcher J.T. Realmuto (sore left wrist) were both out of the lineup after leaving Saturday night's game early.
Harper replaced Scott Kingery in right in the sixth inning. Harper popped up a bunt for an out with two on and one out in the eighth with the Phillies down 9-4, then stranded two in the ninth with a game-ending strikeout on a full-count fastball from Jeremy Beasley, the eighth pitch of the at-bat.
Girardi said he talked with Harper about trying for a bunt hit in the sixth. The slugger took several big swings during his ninth-inning at-bat.
"I was concerned," Girardi said. "Talked about some different things. I talked to Bryce — he said he wanted to try and he was OK, so we let him do it. I trust the player. I thought he had some swings."
Kingery ran into the wall chasing a fly ball and later felt dizzy, and he will be evaluated.
Los Angeles Dodgers' Max Muncy comes off IL to start; Cody Bellinger back Wednesday
SAN DIEGO — The Los Angeles Dodgers activated first baseman Max Muncy off the injured list on Tuesday, returning a crucial left-handed bat to the middle of their lineup for the second game of a three-game series against the crosstown-rival San Diego Padres.
Muncy started at second base upon his return, with Albert Pujols getting the nod at first base against Padres left-hander Blake Snell.
Cody Bellinger, who hasn't played since experiencing tightness in his left hamstring on June 11, is expected to be activated off the IL and start in center field for Wednesday's series finale from Petco Park.
Muncy, who has hit 14 home runs and leads the National League with a .418 on-base percentage, suffered an oblique strain the same night Bellinger left with his hamstring injury. Muncy's return, after missing what amounted to nine games, is a relatively quick one given his injury.
"The credit goes to Max, and the awareness of when he originally felt something to say something," said Dodgers manager Dave Roberts, adding that the time off also allowed Muncy to overcome what was initially described as a mild sprain in his right ankle.
"He's had that [an oblique strain] before, and fortunately he's learned," Roberts said. "We got ahead of it, I think, and hopefully this is the last time we talk about this year."
Toronto Blue Jays' Alek Manoah suspended five games for throwing at Baltimore Orioles' Maikel Franco
Toronto Blue Jays rookie right-hander Alek Manoah has been suspended five games and fined for throwing at Baltimore Orioles third baseman Maikel Franco on Saturday and triggering a benches-clearing altercation, MLB senior vice president for on-field operations Michael Hill announced Tuesday.
Blue Jays manager Charlie Montoyo received a one-game suspension and will serve it Tuesday when Toronto plays at Miami. Manoah is appealing his suspension.
Manoah was ejected from Saturday's game for hitting Franco after surrendering back-to-back home runs in the fourth inning. After allowing a two-run homer to Ryan Mountcastle and a solo homer to DJ Stewart — his third and fourth allowed in the game — Manoah plunked Franco on the left shoulder on the first pitch, prompting the benches and bullpens to empty, though no punches were thrown. Once the situation cooled down, the umpires conferred and ejected Manoah.
The 24-year-old pitcher said he threw several sliders to Franco in an earlier at-bat and shook off a sign for another, opting instead for a fastball. He said he was told by the umpires that his ejection stemmed from "bad timing."
"I tried to get that fastball in, and it slipped away," Manoah said. "I was confused by his reaction. I was questioning, 'What's going on? What's wrong?' Those were my hand gestures as I was walking toward him. I didn't understand the frustration there."
Manoah is 1-0 with a 4.18 ERA in five starts for the Blue Jays this season.
The Associated Press contributed to this report.
Cleveland Indians expect MLB wins leader Aaron Civale to miss time with finger injury
CHICAGO — Cleveland Indians right-hander Aaron Civale appears headed to the injured list because of soreness in the middle finger on his pitching hand, another major hit for a banged-up staff.
The major league leader with 10 wins, Civale left in the fifth inning of Monday night's win over the Chicago Cubs.
The pitcher is scheduled to be examined by hand specialist Dr. Thomas Graham on Wednesday.
"My guess is we will need to make a roster move," manager Terry Francona said Tuesday. "Because of tomorrow's day off, we can let him get looked at first. But I think we're prepared that he's going to miss some time."
Civale had a 3-2 count on Eric Sogard with two out when he was visited by Francona and a trainer. The trainer examined Civale's right hand before the pitcher was removed.
"He's pretty sore," Francona said. "He says he feels like he jammed it, which obviously he didn't. But that's the feeling. That's what he said it feels like."
The loss of Civale would be a big blow for Cleveland, which is playing without ace Shane Bieber and right-hander Zach Plesac due to injuries. Civale is 10-2 with a 3.32 ERA in 15 starts.
The Indians had won six of eight and trailed the AL Central-leading Chicago White Sox by two games through Monday.