BEREA, Ohio – Cleveland Browns rookie linebacker Jeremiah Owusu-Koramoah said Friday that his heart "is 100% healthy" following concerns about it heading into the draft that potentially caused him to fall to the second round.
The former Notre Dame All-American had been projected to go in the first round leading up to the draft. But he wasn't selected until the Browns traded up in the second round to take him with the No. 52 pick. ESPN's Adam Schefter first reported that concerns about Owusu-Koramoah surfaced late in the process after medical tests determined he might have a heart issue.
Doctors, however, ultimately cleared Owusu-Koramoah.
"It's not an issue," he said Friday before Cleveland's first rookie minicamp practice. "You can see that going through the protocol, going through the tests, going through the EKGs and going through the past MRIs and things like that.
"It's not something that I am worried about. I am looking forward to getting on the field and going."
Cleveland general manager Andrew Berry has said he was comfortable with Owusu-Koramoah's medical report when drafting him. And Owusu-Koramoah said Thursday he spoke to team doctors, who told him they felt the same.
"The reports looked fine," he said. "The EKGs looked fine."
Owusu-Koramoah will have an opportunity to win a starting job at linebacker for the Browns, who devoted much of the offseason to improving their defense. Cleveland advanced to the playoffs last season for the first time since 2002.
Owusu-Koramoah said despite falling to the second round, he's excited about where he landed.
"This defense flies around," he said. "I's based on a principle of 'No bark, all bite.' It's based on the principal of attacking the ball. It's based on principals of really relying on your brothers.
"That's the kind of defense that I have always played [at] Notre Dame. As we saw, that Notre Dame defense was successful, and going into this defense, there are a lot of disguises and a lot of things that [defensive coordinator Joe Woods] is doing within the defense that I think just me and my versatility is used perfectly."
Pittsburgh Steelers release guard David DeCastro, agree to terms with Trai Turner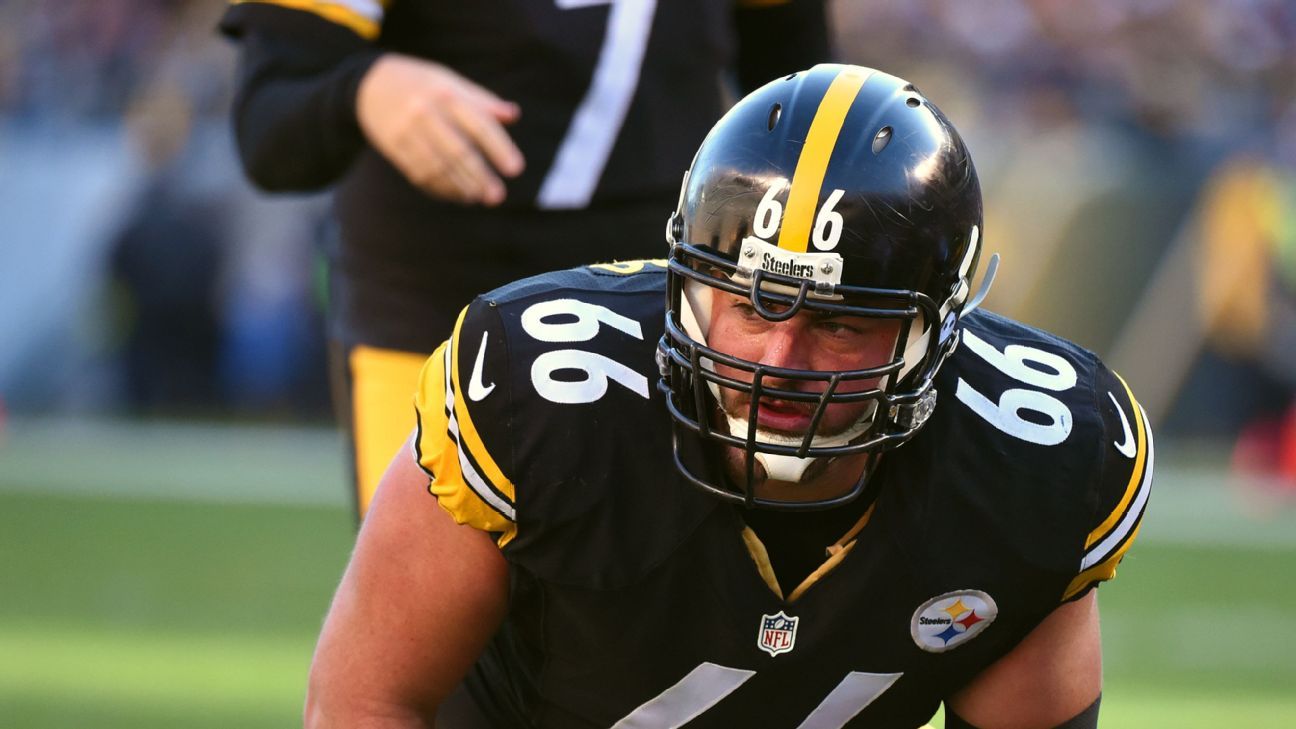 The Pittsburgh Steelers announced on Thursday that they released six-time Pro Bowl guard David DeCastro.
DeCastro was released with a non-football injury designation.
The Steelers later agreed to terms with former Pro Bowl guard Trai Turner on a one-year deal, his agent, Drew Rosenhaus, told ESPN's Adam Schefter.
The 31-year-old DeCastro has been battling ankle issues and is evaluating whether surgery is required, a source told ESPN's Jeremy Fowler, adding that retirement is a strong option for him.
He didn't participate in minicamp recently. When asked a week ago about DeCastro, coach Mike Tomlin said, "If I thought injury circumstances or reasons why people were not participating were significant, I would share them with you."
DeCastro was in the final year of his contract with a $14.2 million cap hit. Releasing him saves the Steelers $8.75 million in cap space. He was the Steelers' first-round pick (24th overall) in the 2012 draft.
"David was without a doubt one of the premier offensive linemen during his time with us," Steelers general manager Kevin Colbert said in a statement. "He helped us win a lot of football games, but it was David's consistency, reliability and professionalism that stood out more than anything else. We wish him the best moving forward in his career."
DeCastro missed the first two games of 2020 with lingering knee issues but appeared in 13 of Pittsburgh's final 14 games.
With DeCastro's release, the Steelers will have one returning starter on the offensive line: Chukwuma Okorafor, who is likely moving from last season's spot on the right side to left tackle. Kevin Dotson also started for DeCastro a few times last season, but he's slated to be the left guard.
The Los Angeles Chargers released Turner in March after first attempting to trade him. Turner, 28, was limited to nine games last season because of a groin injury, but he said recently he was "back at 100 percent."
Turner had no guaranteed money left on a four-year, $45 million extension he signed with the Carolina Panthers in 2017.
Turner was selected to five Pro Bowls in his first six NFL seasons. Chosen in the third round of the 2014 draft by Carolina, he has played in 93 career games with 89 starts.
ESPN's Brooke Pryor and The Associated Press contributed to this report.
San Francisco 49ers' George Kittle says tight ends 'do everything,' deserve respect
NASHVILLE, Tenn. — San Francisco 49ers tight end George Kittle feels it's time to put some respect on his position. That's why he made it a point to gather 49 NFL tight ends together for this week's Tight End University.
The program, which Kittle is conducting along with the Kansas City Chiefs' Travis Kelce and former tight end Greg Olsen, began Wednesday and will continue through Friday in Nashville.
"100% it does," Kittle told ESPN when asked if the way his position is being undervalued bothers him. "I think TE is the most unique and diverse position. It's the most fun position because it's the only one on the field where you get to do everything that a football player does. You run block, you pass pro, you get to run routes and catch the football. We do everything!"
Kittle said his position deserves a little more recognition, given how players such as himself, Kelce and others have become focal points of NFL offenses.
The group of tight ends at TEU got to share trade secrets in hopes of collectively helping each other sharpen their playmaking ability. The summit offered on-the-field workouts, film-study sessions and some evening activities.
"I'm a big believer that you surround yourself with good people which brings the best out of you. We're sharing our strategy with guys. Our mindsets, how you approach the game. All of this is for the tight end position to take a step forward. I'm excited that we have such a great group of guys," Kittle said.
Alternate helmet approved by NFL for use with throwback uniforms in 2022, sources say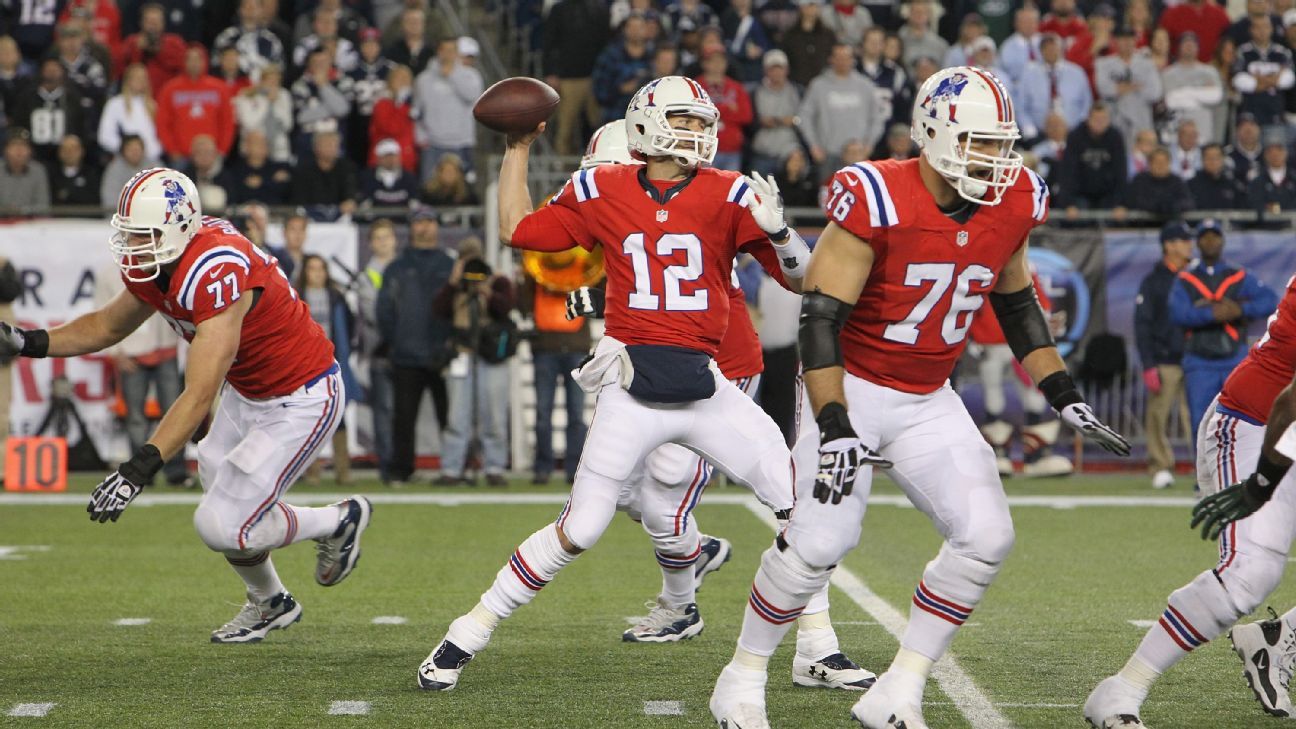 The NFL on Thursday approved that teams can wear alternate helmets with their throwback uniforms starting in 2022, league sources told ESPN's Adam Schefter.
Teams have been limited to one helmet since 2013, when the rule was put in place for safety reasons.
According to ProFootballTalk, the second helmet could also be used with an alternate or Color Rush uniform.
But allowing an additional helmet design would likely be most popular with throwback looks, which could include the Tampa Bay Buccaneers' white helmet with an orange buccaneer logo, the New England Patriots' Pat Patriot look and the Tennessee Titans' Oilers throwback.