PHOENIX — The Arizona Diamondbacks continued to deal with a surge of early-season injuries, putting starting pitcher Zac Gallen and first baseman Christian Walker on the 10-day injured list Wednesday.
Gallen has a sprained right ulnar collateral ligament, which is the ligament replaced in Tommy John surgery. Walker has a sore right oblique; a similar injury put him on the IL earlier this season.
Gallen has emerged as one of baseball's top young pitchers. He finished ninth in the NL Cy Young Award voting last season and had a 3.04 ERA through five starts this year.
Manager Torey Lovullo was confident the D-backs' medical team caught Gallen's injury early, saying the elbow sprain was "minor" and that he was hopeful the 25-year-old would be able to avoid having the Tommy John procedure.
"We have multiple opinions that are coming in and as of right now, it looks like we're going to reassess in a couple weeks," Lovullo said.
Gallen missed his first start of the season with a hairline fracture in his right forearm that happened when he was taking batting practice during spring training. Lovullo said the two injuries aren't related.
Matt Peacock was to make his first career start in Gallen's place on Wednesday against Miami. The Marlins, a bit squeezed in their rotation as well, planned to start Cody Poteet.
Walker has already missed three weeks this season because of oblique soreness. The 30-year-old returned on May 4 and played in seven games before getting hurt again on Monday. Lovullo said Walker's injury is in the same general area.
"These are challenging times," Lovullo said. "It's stuff we talk about, stuff we budget for and what I'll say is every team walks through very challenging situations. It's how we respond to those situations that's going to separate us."
Gallen and Walker join a host of other D-backs who have made trips to the injured list this season. Outfielders Ketel Marte, Kole Calhoun and Tim Locastro, shortstop Nick Ahmed and pitchers Joakim Soria, Tyler Clippard and Taylor Widener have all missed time with injuries.
The Diamondbacks called up pitcher Seth Frankoff and utility player Andy Young to take the place of Gallen and Walker on the active roster.
The Associated Press contributed to this report.
Chicago Cubs' Zach Davies, three relievers combine for MLB's 7th no-hitter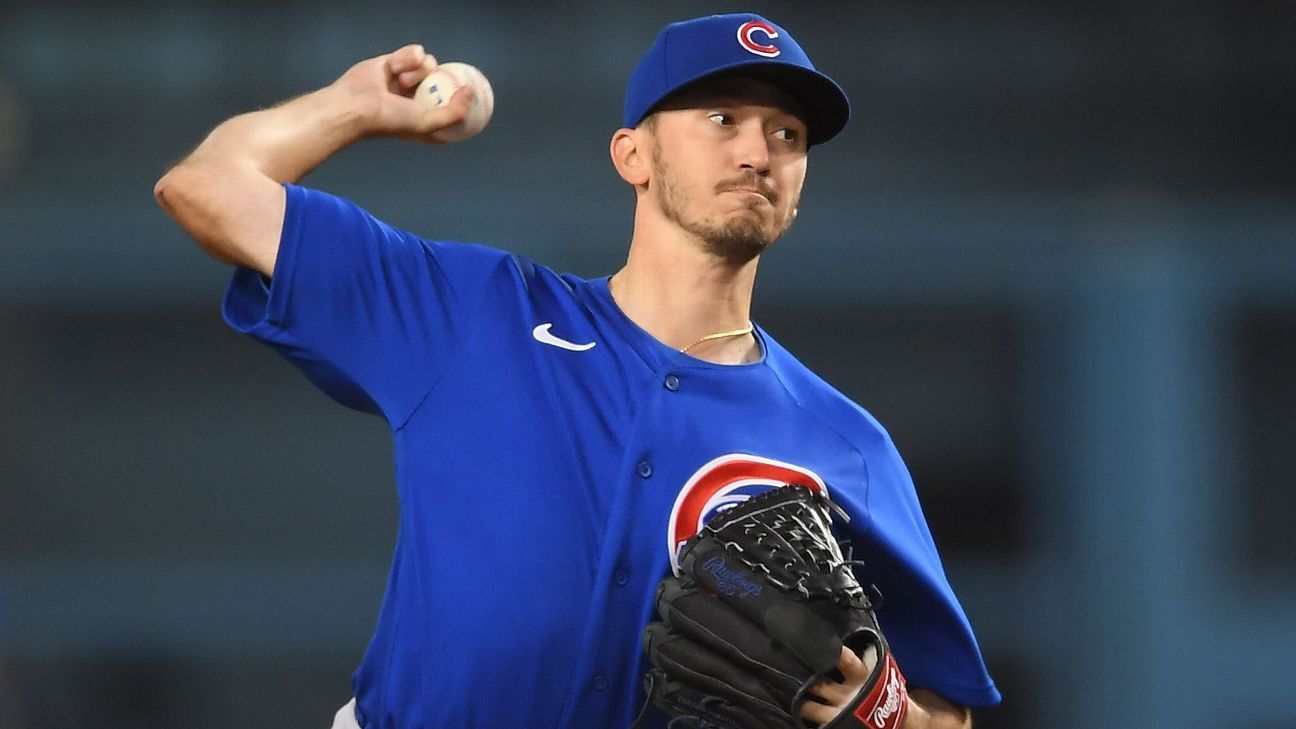 The Chicago Cubs threw their first combined no-hitter in franchise history as four pitchers shut down the Los Angeles Dodgers 4-0 on Thursday night.
It's the seventh no-hitter in baseball this season, the most ever before July 1.
Zach Davies pitched the first six innings on Thursday without giving up a hit, but he was pulled for a pinch hitter in the top of the seventh inning after 94 pitches.
Righty Ryan Tepera pitched a clean seventh inning, and lefty Andrew Chafin did the same in the eighth. After walking the leadoff hitter in the ninth, closer Craig Kimbrel finished off the 17th no-hitter in Cubs' history, striking out Cody Bellinger, Albert Pujols and pinch hitter Will Smith.
The Cubs walked eight batters, the most walks in a no-hitter since the Diamondbacks' Edwin Jackson walked eight in a 149-pitch no-hitter against the Rays in 2010.
Davies went into the game with a 4.66 ERA and 1.49 WHIP. He walked five batters in the first four innings but stranded them all. He set the Dodgers down in order over his final two innings.
Javier Baez and Willson Contreras provided the offense for the visitors, as they both took Dodgers starter Walker Buehler deep. The Cubs handed him his first loss since Sept. 21, 2019.
It's the sixth time in the past 50 years a defending World Series champion has been no-hit. It's the first time the Dodgers were no-hit since the Cubs did it to them in 2015 with Jake Arrieta on the mound. He starts against them on Friday.
Tampa Bay Rays' Kevin Kiermaier ends combined no-hit bid after Boston Red Sox pull Nick Pivetta
ST. PETERSBURG, Fla. — Kevin Kiermaier broke up a combined no-hit bid by the Boston Red Sox with a one-out double in the eighth inning and Manuel Margot scored on a wild pitch in the ninth to give the Tampa Bay Rays a 1-0 victory Thursday night.
Margot got Tampa Bay's second hit, a two-out single in the ninth off Matt Barnes (3-2). He stole second and went to third on a throwing error by catcher Christian Vazquez.
Joey Wendle was intentionally walked, and Margot dashed home on Barnes' wild pitch with Francisco Mejía batting.
Kiermaier lined his opposite-field double to left off Darwinzon Hernandez, the third Red Sox pitcher. The Gold Glove center fielder also threw out a runner at the plate in the seventh.
"It was a tied ballgame," Kiermaier said. "We were just trying to stay the course and try and get something going."
Boston starter Nick Pivetta was pulled with a runner on second and two outs in the seventh after throwing 100 pitches. His career high is 116.
"To be honest with you, it was the right call. It made the most sense," said Pivetta, who wanted to stay in the game. "We're all about winning."
Pivetta finished with eight strikeouts, two walks and one hit batter. He joined Babe Ruth, on May 20, 1916, against the St. Louis Browns, as the only Red Sox pitchers to be removed with a no-hitter after six or more innings.
"It was amazing," Boston manager Alex Cora said. "He was into it."
Boston was trying to throw the seventh no-hitter in the majors this season. That would have matched 1990, 1991, 2012 and 2015 for the most since 1900, one shy of the record eight in 1884 — the first season overhand pitching was allowed.
Despite a tough loss that dropped the Red Sox a half-game behind first-place Tampa Bay in the AL East, Cora saw a lot of positives.
"A lot of people, they didn't believe in this team before the season," he said. "I think the way we played against these guys tonight shows how good we are. We have a lot of work to do, we know that. We belong in the conversation, we really do."
"It's going to be a fun summer in Boston," Cora added.
Tampa Bay starter Michael Wacha, who took a no-hitter into the fifth, allowed one hit and two walks in five innings. He had seven strikeouts.
The Associated Press contributed to this report.
Follow Live: Cubs' Zach Davies working on no-hitter in Los Angeles