The FIA will introduce a new series of compliance tests next month after a veiled swipe from Lewis Hamilton appeared to place rivals Red Bull under officials' microscope.
Hamilton subtly suggested at the Spanish Grand Prix that Red Bull had picked up straight-line speed illegally with the aid of a flexible rear wing.
Formula One's rules ban flexible rear wings, which can give teams the best of both worlds by reducing drag down the straights without sacrificing downforce in the corners.
Stream Every Practice, Qualifier & Race of the 2021 FIA Formula One World Championship™ Live & On-Demand on Kayo. New to Kayo? Try 14-Days Free Now >
Hamilton told Sky Sports in Spain: "The Red Bulls are really fast on the straights.
"They have this bendy wing on the back of their car which they put on today and they gained at least three tenths from this wing.
"So they will be quicker down the straights than us."
The FIA has long tested cars for flexible rear wings but, with suggestions circling that Red Bull has found a way to beat the system, F1's governing body has been forced to act.
Motorsport.com reports that the FIA will put new tests in place ahead of the French Grand Prix having admitted that it is concerned teams may be exploiting the rules.
READ MORE
Why McLaren mess could be Ricciardo's 'line in the sand' moment
Ricciardo may have just turned the corner; sad truth in 'bullsh*t' F1 rumour: What we learnt
In a note seen by the publication, the FIA wrote to teams that it is aware some designs "exhibit excessive deflections while the cars are in motion", even if they passed static testing.
"We believe that such deformations can have a significant influence on the car's aerodynamic performance," the note reportedly adds.
Red Bull chief Christian Horner was adamant that his team has done nothing wrong, saying: "The FIA are completely happy with the car, that it has passed all of those tests that are pretty stringent."
Of Hamilton's comments, Horner said that the world champion may have been echoing the thoughts of Mercedes team boss Toto Wolff, instead of his own.
"I was surprised to see his comments on that," Horner said. "But it's something that Toto has mentioned to me previously. I doubt it was Lewis' opinion, so (it) probably came from elsewhere."
Wolff confirmed that Mercedes had discussed the issue, but refused to comment further.
Teams will still have Grands Prix in Monaco, Azerbaijan and Turkey before the new wing testing commences.
Daniel Ricciardo speaks McLaren, Lando Norris, and missing Australia
Daniel Ricciardo has every right to complain about how the biggest gamble of his F1 career has panned out so far.
His shock switch from Renault to McLaren was never meant to be a cakewalk.
But a quirky car that — as he explains — must be driven on a "knife's edge" to extract its full potential wasn't on the cards.
Stream Every Practice, Qualifier & Race of the 2021 FIA Formula One World Championship™ Live & On-Demand on Kayo. New to Kayo? Try 14-Days Free Now >
"I mean, I told them I'd be half a second quicker," Ricciardo jokes about his arrival in an Australian exclusive interview with foxsports.com.au prior to the French Grand Prix.
The daunting switch has coincided with the longest period he has ever spent away from home, where he left in pursuit of his F1 dream in 2007.
He was last in Australia on June 1 2020, and isn't expected to step foot back in his home country this year, barring any miracle that would see November's Grand Prix in Melbourne staged.
"I am missing home," Ricciardo says. "I'm missing family and friends, so that can certainly get me down.
"Other drivers, even if they don't live at home, they're a quick flight if they're based in Europe, like most are. So they're able to see family and friends so much easier.
"This year will probably be the first year since I left home where I'll actually get homesick.
"Let's say I'm pretty aware of that."
Nonetheless, Ricciardo is uncomfortable complaining.
SWEET move by Danny Ric! | 00:41
READ MORE
'HE SHOULDN'T HAVE DONE THAT': Daniel Ricciardo set for showdown F1 teammate
TALKING POINTS: 'Soft' mistake reveals 'cracks' in F1 dynasty; Moment that ignited Ricciardo's revival
RACE REPORT: Mad Max punishes blundering Mercs in F1 thriller; 'stellar' Ricciardo's big turning point
He never wants to come off as ungrateful or, worse yet, like he's making excuses.
Sheepishly, he agrees that parts of the 2021 season have been the toughest of his career, from a driving perspective.
Asked how he would rate his first six races at McLaren, he says: "Oh, don't make me do that … I mean, from a results point of view, I wouldn't give myself too much of a flattering grade."
Laughing, he adds: "But I don't want to say what (number) I think because then it just makes me sound pretty sh*t! But there's definitely room to improve."
Eventually, he settles on a five out of 10, although it's a painful admission that comes with a caveat.
"On a more positive off-track grade, I would definitely give myself a nine," he says.
"The results aren't through a lack of trying and I certainly feel like I've put in the work … So although my score is a five out of 10 now, I'm uber confident that increases at the year goes on.
"So panic not, my friends."
Ricciardo has never panicked, and always thrived when the odds have been against him.
In 2014, he outdrove a four-time world champion, Sebastian Vettel, in his debut season at Red Bull, where the German had been settled for five years.
In 2020, he claimed two podiums at Renault, a team which hadn't had a driver in F1's top three in more than nine years.
Even making it to F1 at all, without significant financial backing, is the realisation of a dream that, for most, is fanciful at best.
Ricciardo is now in his 11th season, which he's spending at a fifth F1 team, on which his lifelong dream of winning a world title hinges.
Dauntingly, McLaren hasn't won a Grand Prix since 2012, and hasn't stabled a world champion since Lewis Hamilton in 2008.
Realistically, becoming an F1 world champion is a long shot.
But the adversity Ricciardo overcomes in 2021 could, ultimately, elevate him to the peak of his powers, and lay the ground work for a watershed moment in Australian motorsport.
Australia has not had a Formula One world champion since 1980 – a streak Ricciardo still hasn't given up hope of breaking, even with the odds more heavily stacked against him than ever.
"I'm aware now that to win five titles is becoming slimmer and slimmer," he admits. "But still, to win one, I think there's time on my side.
"McLaren is certainly where my ambition is and I definitely want to see this one through, hopefully with a lot of success."
'LIKE KICKING WITH MY LEFT'
At 31 years old, and just months into a fresh three-year deal, time still favours Ricciardo, who has often been rated as one of the category's best drivers.
Sleeping F1 giant, McLaren, is still just stepping out of hibernation, although a massive rules shake-up in 2022 could shuffle the deck.
And if the team plays its cards right, seven-time Grand Prix winner Ricciardo — and teammate Lando Norris — could be in the hunt for wins once more.
First and foremost, however, Ricciardo must overcome a significant hurdle.
Feeling comfortable in new surrounds has come relatively quickly, he says, but feeling comfortable in the cockpit has not.
Ricciardo has made no secret that his new drive has its list of quirks that don't gel with his driving style.
Just how difficult the transition is, however, becomes clearer as he explains it's similar to a top footballer learning to become dominant with their weaker foot.
"I'm basically trying to get good at kicking a ball with my left foot," he says.
"So my instinct is obviously (to) kick a ball with my right foot, and that's easy, but to really try and perfect this car, I'm trying now to learn to kick with my left. That's maybe a good analogy."
Ricciardo isn't naive — he fully expected the McLaren to be different to what he experienced at previous teams.
Just not this different, or temperamental.
"The team's had some really good results the last few years, so once you can kind of balance it on this nice knife's edge, the car can certainly be quick," Ricciardo says.
"I think that's probably another way of putting it as well; it does have a bit of a sweet spot, but it's just quite small and obviously if you're outside of it then you're not getting the performance."
He adds that changes to front tyres and narrowing of the car floor at the rear have likely contributed to the unfamiliarity, too, as Norris has made similar observations.
'DIFFERENT NEEDS TO BECOME NORMAL'
After seven races, Ricciardo has outdriven Norris just once, although there were signs in France last weekend that the he's closing the gap.
A long road still lies ahead, but Ricciardo understands it's a punishment worth enduring — a two-footed footballer is a dangerous weapon, after all.
"Adapting to the Renault, I was still able to adapt with a similar driving style or something that was more natural for me," he says "The McLaren is a little more detailed than that, I guess.
"But I look at it as a positive as well. In the long run, if I can, let's say, learn how to drive with a different style, then I have more tools in my arsenal."
He adds: "I've got to a point now where I'm also not trying to fill my head with it. It's different, sure, but it can't be different forever.
"At some point this is it, this is the car I've got and different needs to become normal and get on with it."
STAYING AT MCLAREN… AND THE LANDO 'BROMANCE' THAT ISN'T
Ricciardo is sick of moving around.
He stunned Red Bull when he quit in 2018, seeking a fresh start as the team's obsession with Max Verstappen grew to scary new levels.
Less than two years later, he had seen all he needed to of Renault, and was on the move once more.
Three teams in four seasons certainly hasn't made Ricciardo's McLaren transition any easier.
Asked if that means he's now looking to stay put long-term, he laughs again, saying: "For sure, for sure.
"Changing teams and that, although I've done a bit of it the last few years it's certainly an inconvenience and you're obviously forced to relearn things. But I think the beauty of that as well is you have a chance to grow and to learn more.
"So it's more challenging, but I think in the long run it will pay off and that's why I certainly want to stay here and make it work, build up this speed and this understanding over the course of years until when it eventually feels perfect."
Ricciardo has been thrilled with his new team from the little time he's spent there, praising its work ethic, attention to detail and open-mindedness.
He's also pleased that he's on the same page with teammate Norris at the development table, even if they aren't anywhere else.
The F1 world became infatuated with the pair's apparent 'bromance' since Norris made his debut in 2019, but Ricciardo revealed the strength of their bond outside of the garage has been largely overstated.
"You can't deny there is a generation gap," Ricciardo says. "There's even some phrases and some things I'll say that he just doesn't get, so you have to pick your conversations at times.
"Is it the bromance he had with Carlos (Sainz)? It isn't yet. But I honestly just put that down to generation as well."
Verstappen pips Hamilton, wins French GP | 01:49
He adds: "In all that being said, there's certainly no friction or anything like that. I'd say we're getting down to business for now and putting that first and foremost. Not trolling each other or anything too much."
How their working relationship progresses will have a major influence on McLaren's overall development towards a championship-contending car.
Ricciardo wants to push the team in one direction, saying he wants to become a better driver of the current car, but also develop one that leans more on his strengths.
As of last week, Ricciardo said Norris was looking for similar improvements, which bodes well for the McLaren garage.
"It's a two-way process now, but the team's been great. I want to give them more absolutely, but I think they also understand this is a journey, Ricciardo says.
"I signed a three-year contract with them so would love to have fireworks already, but we know that we've got time on our side to get it right and go through the process properly."
'I'LL CLICK MY FINGERS, AND IT'LL HAPPEN'
Meanwhile, Ricciardo and his former Renault boss Cyril Abiteboul haven't been to the tattoo parlour yet.
The day will come soon; Abiteboul owes his former star some ink having made a bet he effectively wanted to lose – and did last year when Ricciardo stood on the podium in Germany.
"Now it's just a matter of time," an excited Ricciardo says.
"I'm trying to do it in London because I know some tattoo artists there, so we're just trying to work some dates when we're both together in London.
"Then I'll click my fingers, and it'll happen."
Ricciardo wishes he could enter a fight for podiums, wins, or even see his family again in the same way; with a click of his fingers.
In a way, he likes that he can't.
"If I am making these sacrifices and being away from family and friends, and missing events — even like families getting older, grandparents and all that, life goes on," he says.
"So if I am over here missing important things, which I do value a lot, then I'm like, 'Alright, well I better make this right and make this work.
"Otherwise it's all for nothing."
French Grand Prix; Daniel Ricciardo, Lando Norris teammate,
Lando Norris says he will confront McLaren teammate Daniel Ricciardo after the pair locked horns on the track at the French Grand Prix.
The Australian enjoyed his best race of the season, working his way from 10th on the grid with a series of trademark manoeuvres to claim sixth place.
Among those he passed was Norris with the pair given the green light to tussle in the opening stages.
Having driven off the track on turn one, Norris was overheard complaining about Ricciardo on the team radio.
"The McLaren drivers are not making it easy for each other," Sky Sports analyst Ted Kravitz revealed.
Stream Every Practice, Qualifier & Race of the 2021 FIA Formula One World Championship™ Live & On-Demand on Kayo. New to Kayo? Try 14-Days Free Now >
Verstappen pips Hamilton, wins French GP | 01:49
READ MORE
TALKING POINTS: Cracks appear in dynasty; moment that ignited Ricciardo revival
'LET'S F***ING GO': McLaren star whinges as Ricciardo fights back
"Lando Norris, having gone off, sort of complaining a little bit on the radio about Daniel Ricciardo, telling them, 'He's pushing me wide, not giving me enough space'."
Norris would eventually pip Ricciardo to fifth place but told Motorsport.com he planned to speak to his teammate about the incident.
"It was aggressive defence," he said.
"I have nothing against Daniel but I think he shouldn't have done that. It's racing, I probably would have done the same with him, but I was on the edge of the shackles.
"If there had been tar or something on my right then I wouldn't be complaining. But because there were all those buzzers and bumps I couldn't take my turn and had to go straight on because he pushed me down.
"I'm not trying to complain about it but we will definitely discuss it."
McLaren team principal Andreas Seidl, however, said he had no issue with the race.
"As long as they are fighting for a position and there is no clear difference in strategy, we let them race," he said after the race.
"Why the F*** no one listens to me" | 00:26
Get all the latest F1 news, highlights and analysis delivered straight to your inbox with Fox Sports Sportmail. Sign up now!!!
"That's the deal we made with the two drivers. At the end of the day, it's a pretty straightforward directive: 'We don't hang on'. But it is clear that if there is has a reason behind a big difference in pace, so I'm not saying we'll interfere but we'll make sure we don't make our lives hard for no reason.
"I also think if you look at the moment when Lando passed Daniel it was clear that he had an advantage with tires 10 laps cooler. And Daniel didn't make the pass very difficult because it was clear that Lando had the advantage.
"If you look at the team's strategy, I think it was perfect in both cases. The goal was clear today, to finish fifth and sixth and we were able to do it with our strategy."
Ricciardo, meanwhile, believes the French GP was a turning point in what has been a difficult season.
"So this car will feel like home and I think today it started to feel a little more like home," he said.
"And the next two (races) coming up are hopefully fun ones as well, with some good moves, battles — and it's nice seeing the others suffer a little bit more than us as well."
Max Verstappen and Red Bull put Mercedes on notice, Daniel Ricciardo turns McLaren corner, Ferrari woes
Daniel Ricciardo said ahead of the French Grand Prix that he was relishing the chance to have three races on consecutive weekends.
It didn't take long to see why.
The Australian delivered the best race of his McLaren career on Sunday, going from 10th on the grid to an impressive sixth-place finish, 11 seconds behind teammate Lando Norris.
Scroll down for more talking points from the French Grand Prix!
Stream Every Practice, Qualifier & Race of the 2021 FIA Formula One World Championship™ Live & On-Demand on Kayo. New to Kayo? Try 14-Days Free Now >
Adjusting to the quirks of the McLaren has been a tricky task for Ricciardo whose struggles were being exacerbated by low-grip circuits.
Back-to-back races at street circuits in Monaco and Azerbaijan proved to be particularly unkind for someone searching for confidence in the car.
With the French Grand Prix, however, came an air of comfort.
Circuit Paul Ricard has a far more conventional layout and plenty of run-off areas.
The same could be said for Austria's Red Bull Ring, where the next two races will be staged.
As such, it doesn't feel like a stretch to say Ricciardo is starting to turn a corner.
Most promising for the Australian was not simply his upturn in speed but the sheer amount of overtakes he was able to execute on track.
If any move proved Ricciardo was starting to feel more comfortable in the car, it was his trademark, late-braking dispatch of two-time world champion Fernando Alonso early in the race.
Scroll down for more talking points from the French Grand Prix!
SWEET move by Danny Ric! | 00:41
READ MORE
RACE REPORT: Mad Max punishes blundering Mercs in F1 thriller; 'stellar' Ricciardo's big turning point
'LET'S F***ING GO': McLaren star's whinge in Ricciardo fightback as Aussie back 'talking smack'
'WHY THE F**K DOES NO ONE LISTEN TO ME?' Merc star blows up in F1 civil war
Norris is still quicker, but the gap closed by a considerable margin on Sunday.
It could be non-existent in two weeks' time.
"After the frustrations of Monaco, I kind of took a step back and was like 'big picture'," Ricciardo said after the race. "I know that it's going to come and I know that if I keep persisting.
"This car will feel like home and I think today it started to feel a little more like home – and the next two (races) coming up are hopefully fun ones as well, with some good moves, battles – and it's nice seeing the others suffer a little bit more than us as well."
RED BULL'S BIGGEST STATEMENT YET
Strategy DRAMA! Max sneaks past at end | 00:35
Red Bull team principal Christian Horner said before the French Grand Prix "if we can beat them (Mercedes) here, we can beat them anywhere".
Indeed, the French Grand Prix, and races at similar tracks, have been the bread and butter of Mercedes' longstanding dominance of F1.
The abundance of long straights — there are three at Circuit Paul Ricard — have historically allowed the constructor to flex the dominance of its power unit, leaving Red Bull in its wake.
Red Bull has been slowly improving for years, but wins at the last two races in Monaco and Azerbaijan were limited as far as dynasty-toppling moments go.
The wins rocked the boat, at best.
Those were races the team simply had to win if it was to mount a serious challenge for the title, whereas victory on Sunday in France, where Lewis Hamilton had won twice in a row, was a massive statement.
It's the first time Red Bull has won three races in a row since 2013.
Now, as Horner said, it feels as if Red Bull can win anywhere — setting up arguably the most intriguing title battle F1 has seen in the hybrid era.
Max Verstappen leads Hamilton by 12 points heading into the seventh and eighth races of the season, both in Austria.
The past five Austrian Grands Prix have been split 3-2 between Mercedes and Red Bull, while last year's Styrian Grand Prix at the same track was won by Hamilton.
MERCEDES SLOPPY, OR RED BULL TOO SHARP?
"Why the F*** no one listens to me" | 00:26
"Today was payback for Barcelona!"
Those were Horner's words after Verstappen won the French Grand Prix having passed Hamilton on the race's penultimate lap.
Horner hadn't forgotten how in Spain, Red Bull baulked at a two-stop strategy and Hamilton, on fresher tyres, snatched the win from Verstappen with a late overtake.
At the time, it was a moment symbolic of Mercedes' longstanding superior edge as an entire unit — not just as the team with the fastest car.
Suddenly, with the pressure mounting, cracks have started to appear.
The shoe was on the other foot in France where it was Verstappen who perfectly executed a two-stopper to pass Hamilton, on a one-stop, with less than two laps left.
"A two-stop would have potentially done the job but it was not on the cards at all for us – we'll do some analysis and try and figure out why," Hamilton said after the race.
Earlier, chief strategist James Vowles told Hamilton "this one's on us."
Meanwhile, Hamilton's former teammate, Nico Rosberg, said on Sky Sports: "I think there were some rather big mistakes from Mercedes on strategy."
However, Rosberg added that Hamilton may have a case to answer, too, suggesting that his on-track defence against Verstappen was "soft".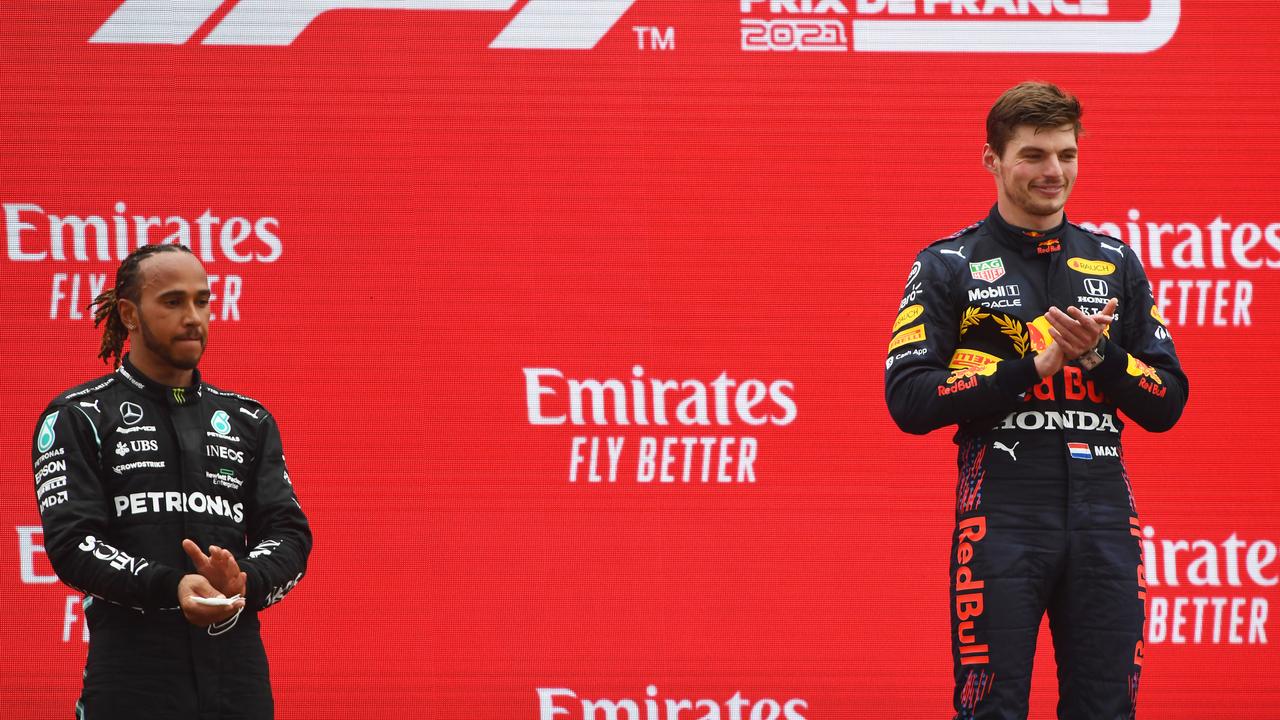 "(It was) unusual from Lewis," he said. "Close the damn door.
"Usually Lewis is the best one-to-one racer and I'm surprised he didn't try… at least try. Brake late, keep him on the outside… so a bit soft there from Lewis."
Former F1 driver Karun Chandhok said on Sky Sports that the battle for the title will now come down to "who cracks less".
"The reality is now when we've all taken a breath, these are two teams and drivers under high pressure, and we're going to see some cracks," he said.
"And it's just who cracks less."
F1 BASKET CASE TAKES STRANGE TURN 
Ferrari looked to be in the early stages of a renaissance last month when Charles Leclerc went pole at Monaco.
He arrived at his home race after finishing fourth twice, and sixth twice, while his teammate, Carlos Sainz, had three points-finishes to his name
Pole at Monaco placed him in prime position for the team's first race win since the Italian Grand Prix in 2019, but he cruelly was unable to start the race as his car failed to make it out of the pits.
Sainz went on to finish second in what was still a promising weekend for the team.
Fast forward two races and Leclerc came 16th in France, while Sainz also failed to claim a point, finishing 11th.
Both cars started well inside the top 10 but struggled drastically with tyre management.
Leclerc was stunned by the drop-off, saying: "We really need to understand (what happened), as with both cars we've been struggling massively, dropping massively.
"The pace is there the first two laps on the tyres and then everyone keeps going on this pace and both of our cars are starting to drop. That's where we need to work out at the moment and we really need to understand this issue."
The collapse comes at the worst possible time for Ferrari with engineer Laurent Mekies revealing last week that development of its 2021 car is all but over, with 2022 now the focus.
Ferrari's poor display in France could force the team to backtrack on its plans.