ST. LOUIS — Nolan Arenado homered against his former team, Adam Wainwright pitched a three-hitter into the ninth inning and the St. Louis Cardinals beat the Colorado Rockies 2-0 on Sunday.
Yadier Molina hit an RBI double, and Ryan Helsley got Josh Fuentes to ground into a game-ending double play with the bases loaded. St. Louis completed a three-game sweep and has won nine of 11 overall.
Arenado was acquired from the Rockies in a blockbuster trade in early February after the star third baseman spent the first eight years of his career with Colorado.
He said it felt strange playing against his old teammates during the weekend series.
"It was definitely weird," Arenado said. "Obviously, I know a lot of those guys. At the end of the day, it was a great series to win."
Arenado has reached safely in 18 of the past 20 games. His mom, Millie, was in attendance on Mother's Day, which made the home run even more enjoyable.
"It's just great to have moments like that with your family," St. Louis manager Mike Shildt said. "That's what life is all about. These are magic moments that people will cherish for a long time."
Wainwright (2-3) struck out five and walked three over 8⅓ innings, improving to 11-1 against the Rockies. He retired nine batters in a row at one point and eight straight during another stretch.
The 39-year-old right-hander fell two outs short of his 11th career shutout. His last one came in 2016. The veteran simply keeps plugging along.
"I can't even tell you how much younger I feel than when I was 36, 37. It's just not even close," Wainwright said. "I have a great time outperforming expectations."
Molina and Wainwright have made 279 starts together, which ranks them sixth all-time.
"This guy amazes me every time he takes the mound," Molina said.
Helsley earned his second major league save and first this season.
Arenado homered leading off the second against German Marquez (1-4), who allowed two runs, one earned, in six innings. Marquez struck out six and walked three.
Molina added a run-scoring double in the fourth.
St. Louis improved to 14-4 since April 23, the best record in the majors during that span.
The Rockies have lost 22 games — 13 by two runs or fewer — and dropped to a major league-worst 2-14 on the road.
"There were a couple situational at-bats where we didn't get it done early in the game," Colorado manager Bud Black said. "And then again we didn't get the big hit there in the ninth. We just couldn't cash in."
The Associated Press contributed to this report.
As pitchers decry MLB's foreign-substance crackdown, unfazed commissioner Rob Manfred says changes 'have gone very well'
NEW YORK — On-field exams of pitchers started Monday, a week after Major League Baseball commissioner Rob Manfred announced a crackdown on unauthorized grip substances.
How's it going so far? Depends on who you ask.
While players throughout baseball have offered several different takes — many have been outspoken and demonstrative, both in their media availabilities and in their mannerisms on the field — one person is unfazed by the fallout, and is as determined now as he was last week.
That's the man in charge of it all.
In an interview with The Athletic this week, in fact, the commissioner expressed satisfaction with early returns … or lack thereof.
"My view is the first two days have gone very well," he told the website on Wednesday. "We've had no ejections [for foreign substances], players in general have been extremely cooperative, the inspections have taken place quickly and between innings. Frankly, the data suggests that we are making progress with respect to the issues [in spin rate] that caused us to undertake the effort in the first place."
At the same time, Manfred — aware of the reaction around both leagues — realizes there is work ahead.
On Tuesday, Philadelphia Phillies manager Joe Girardi asked umpires to check Washington Nationals starter Max Scherzer for sticky substances. The Phillies suspected that Scherzer — who was touching his sweaty hair often, as he traditionally does — was doing something that could be looked into.
"It was suspicious for me," Girardi said.
Which was bothersome to Scherzer. By the third check, in fact, he had enough, tossing his glove and hat to the ground, unbuckling his belt, and saying "I got nothing" repeatedly.
"I understand the incident in Philadelphia was less than ideal, but that was one incident," Manfred said. "And we expect that we will continue, as the vast majority of cases so far, without that kind of incident."
While players, Scherzer among them, have turned their media availabilities into rants about the protocols, Manfred maintains his stance, and is steadfast in that communication from the commissioner's office has been efficient and effective.
"We were really transparent from the beginning of the year that this was an issue of concern to us and that things needed to change," he said. "That's why we were collecting information. We were clear in the March memo we sent out if things didn't change, there was going to be discipline. … Around the owners meetings there was a ton of publicity around the fact that things had not changed. In fact they had gotten worse.
"I just don't see any secret about where this was headed and I know for a fact there was plenty of opportunity for input in the process."
On Wednesday, New York Yankees reliever Zack Britton, along with Scherzer — both members of the players' association's executive subcommittee — called on Major League Baseball to end on-field checks by umpires and replace them with monitors who would conduct inspections in clubhouses, dugouts and bullpens.
"If I'm a young kid at the game and I'm asking my dad, 'Well, hey, what's going on? Why they getting checked?' What he's going to say? 'Well, they think everyone's cheating,'" Britton said before the Yankees hosted the Kansas City Royals. "I mean, is that what we want the game to be about, like we're assuming you're cheating? I just think it's a bad look."
He's not alone in that thinking, as people around the game examine the long term. Kansas City manager Mike Matheny warned opponents that if they act like Girardi and ask umpires to check Royals pitchers for sticky substances, it would provoke his team.
Manfred is aware of it all, and remains open to further communication. When pressed about the long-term plans, he was confident, yet guarded on Wednesday.
"I don't like to put my feet in the sand. We are two days in," he said. "I just don't have enough information to tell you that it's ironclad or that it's going to change."
Some of that thought process, perhaps, could change as more players speak out.
"I just think the optics are just absolutely embarrassing for our game, and that's not what I want to wake up and read about regarding our game in the morning," Britton said. " … There's a better way to do it. But it takes more than just me or other players saying it. It takes talking with MLB and sitting down and hashing something out to where we can enforce rules but not in the way that it's being enforced."
Of course, there's the potential — especially with social media being such a presence across baseball — that some of the on-field episodes do tarnish the game's image. That should be a concern both in clubhouses and the commissioner's office.
On Tuesday, Oakland reliever Sergio Romo was checked by the umpires after pitching the seventh inning. The veteran right-hander flung his belt onto the turf and dropped his trousers, raising the questions on if broadcast partners should limit coverage of the checks.
"In putting the plan together, we tried to come up with a plan that was … unobtrusive as possible given the practicalities of the game and the need to move the game along," Manfred said. "We thought the checks between innings was a good way to de-escalate them, [but] maybe is the right word [to use]. I don't think practically we can tell broadcast partners to not cover something that's on the field."
Some pitchers — Yankees ace Gerrit Cole, for instance — have been outspoken in Manfred's visibility throughout all of this. Cole, after a start last week, implored MLB to talk to him and the pitchers around the game who have to grip the ball and find ways to keep up with the system.
The media plays into this as well. Will Manfred be open and available to talk through these issues as the system moves forward?
Manfred is aware of the asks. And he wants all of baseball to know that he's not going to hide.
"Every year since I've been commissioner, with the exception of last year, I have had at least two availabilities a year," he said. "I fully expect this year I will get back on my regular routine.
"I have not been reluctant to talk on this topic. When people call, I am taking the call."
The Associated Press contributed to this report.
Cleveland Indians RHP Aaron Civale (finger) expected to miss 4-5 weeks
Cleveland Indians right-hander Aaron Civale has a sprained middle finger on his throwing hand and is expected to miss 4-5 weeks of game activity, the team said Wednesday.
Cleveland said Civale won't throw for 1-2 weeks.
Civale left in the fifth inning of Monday night's win over the Chicago Cubs. His 10 wins this season is tied with the Cubs' Kyle Hendricks for most in the majors.
Civale had a 3-2 count on Eric Sogard with two out when he was visited by manager Terry Francona and a trainer. The trainer examined Civale's right hand before the pitcher was removed.
The loss of Civale is a big blow for Cleveland, which is playing without ace Shane Bieber and right-hander Zach Plesac due to injuries. Civale is 10-2 with a 3.32 ERA in 15 starts.
Information from The Associated Press was used in this report.
New York Mets' Pete Alonso to defend Home Run Derby title, but Toronto Blue Jays' Vladimir Guerrero Jr. sitting out to stay fresh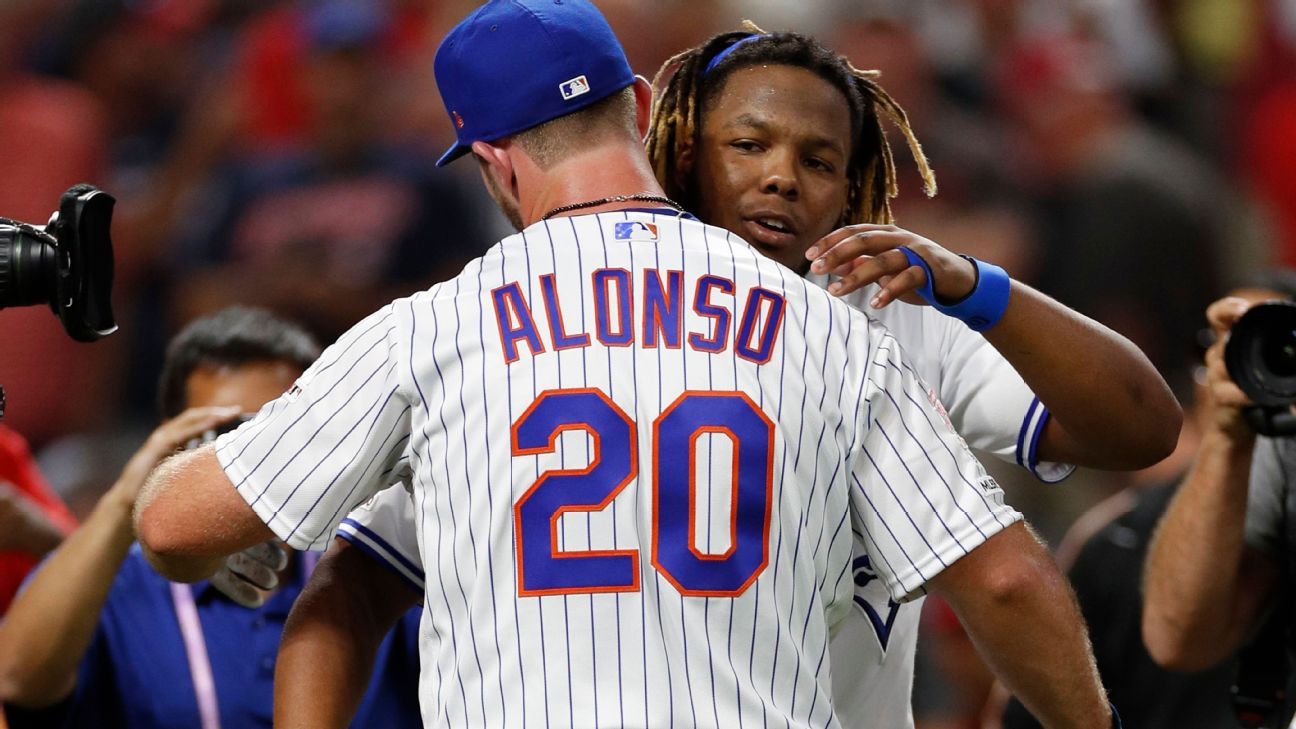 New York Mets slugger Pete Alonso will defend his Home Run Derby title in Colorado on July 12, but Toronto Blue Jays star Vladimir Guerrero Jr., who fell short by one home run in 2019, said Wednesday that he is sitting out the event.
Guerrero, who is tied for the major league lead with 23 home runs, told reporters he wanted to "take care of myself physically and mentally" in order to stay fresh for the second half of the season.
"I feel good physically," Guerrero said through an interpreter. "Everything is going well. There is a long way to go still. I just want to keep it that way."
Alonso won the Home Run Derby the last time it was held, in 2019 at Progressive Field in Cleveland. Alonso edged Guerrero by a score of 23-22 in the final round to capture the Derby title.
There was no Derby last year because of the COVID-19 pandemic.
Alonso, 26, has 11 home runs this season, but he has three career homers in six games at Coors Field in Denver.
"I had so much fun during the first one, so I was like, 'You know what? Let's do it again,'" he told reporters Wednesday. "I just had a blast. It's a really special moment, and as long as I have an opportunity to do it, I want to do it. Because it's something I always dreamt about as a kid. … It was a dream come true."
Alonso had his cousin, Derek Morgan, throw him pitches in the 2019 derby but will instead have Mets bench coach Dave Jauss as his pitcher this year, he said.
The first baseman will be joined by Los Angeles Angels star Shohei Ohtani, who shares the MLB lead of 23 homers this season with Guerrero.
Alonso said Wednesday that Ohtani has "stupid juice."
"He can hit it over the wall at pretty much any yard, so it will be fun," he told reporters.
Vlad Jr. said he decided to skip this year's event after consulting with his father, Hall of Famer Vladimir Guerrero.
The younger Guerrero said he'll be at the Derby as a spectator.
"I'm planning to take my camera with the mic on to record everything, and enjoy the moment and support the rest of the guys," he said.
The Associated Press contributed to this report.