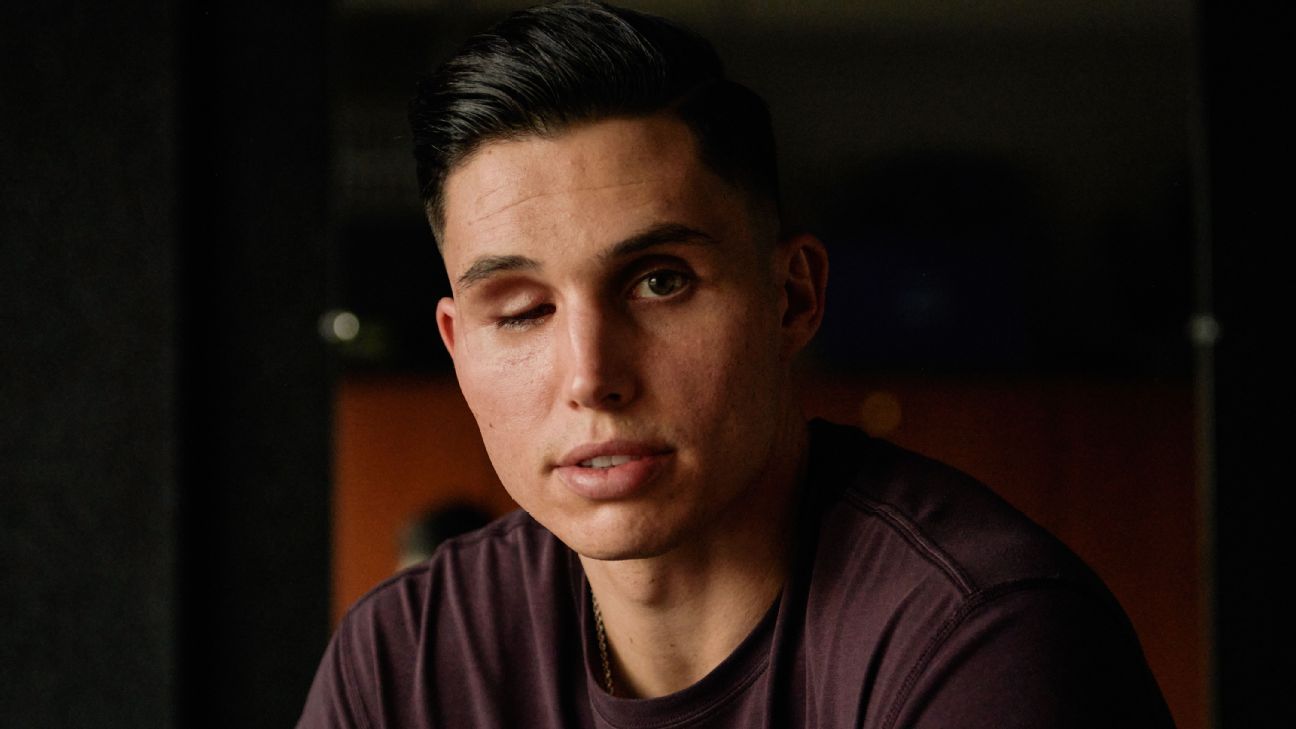 Drew Robinson, who lost his right eye in a suicide attempt last year, made the opening day roster for the San Francisco Giants' Triple-A affiliate and could play as soon as tomorrow, when the Sacramento River Cats open their season with a six-game series in his hometown of Las Vegas.
Robinson, 29, signed a minor league deal with the Giants over the winter, six months after he shot himself in the head. After a harrowing 20 hours that followed the attempt and more than a year of rehabilitation, a late-spring surge in Robinson's performance during minor league spring training convinced the Giants to place him one step from the team with the best record in the National League.
"I don't know if I'll be able to fully describe how excited I am for these next six games, but I know that this is going to be another powerful experience, and I'm so ready for it," Robinson told ESPN on Wednesday. "Our game isn't even until tomorrow, but I already had a hard time staying asleep last night because of how excited I am for these games and this experience as a whole.
"After going through most of my life not fully appreciating what was happening, I can promise that I'll be taking in every second of this season with a new understanding of how special all of this is."
Robinson's family, friends and doctors will gather at 7:05 p.m. PT Thursday at Las Vegas Ballpark, where Robinson spent much of the offseason taking live batting practice — and hit his first home run since he began his comeback attempt. His work at the stadium, just 2 miles from the house where his suicide attempt took place, convinced Robinson that his desire to play baseball again could be a reality.
He began the spring playing shortstop, a position Robinson hadn't regularly manned in nearly a decade, and struggled to adapt to its speed. When the Giants moved him to the outfield, where he played the majority of his 100 games with the Texas Rangers and St. Louis Cardinals from 2017 to 2019, Robinson's comfort returned.
Along with it came more offensive production. The concerns about the left-handed-swinging Robinson's ability to track pitches without his lead eye were palpable, but Robinson proved adept at discerning balls and strikes — and unleashing his massive power. He had rebuilt the rest of his body through a consistent workout regimen, adding nearly 20 pounds of muscle onto his 6-foot-1 frame and showing up at minor league camp a shredded 200 pounds.
Hard contact proved elusive early in spring training, but when Robinson squared balls up, they soared into the Arizona sky. He hit a pair of home runs, the latter a 450-foot shot on a high changeup. The Giants, whose support after the suicide attempt was vital in Robinson's recovery, were convinced. He wasn't just a great story. He was worthy of another shot at returning to the big leagues.
Even making it back to the minor leagues is stunning. The last player in the major leagues with one eye was Pittsburgh pitcher Whammy Douglas, who threw 47 innings in 1957. The questions about Robinson went far beyond the limitations having one eye might place on him, too.
For years, the vagaries of baseball had preyed on Robinson — the game's inherent failures, the up-and-down nature of a player who never quite got a toehold on a big league roster. His suicide attempt on April 16, 2020, surprised friends and family, who always had seen Robinson as the wisecracking, good-natured life of the party.
Four surgeries, including the removal of his eye that was damaged by a bullet, stabilized Robinson physically. Rebuilding him mentally was a far more difficult task, one that continues today through regular therapy, meditation and medication. It is the foundation that allowed Robinson to rejoin the sport that brought him joy and pain — and to apply all he has learned so that his family's fears of baseball sending him back to a dark place would be unfounded.
There were moments this spring that were frustrating, disappointing, problematic, but Robinson's perseverance won out. And now, with those closest to him there — his parents, his siblings and his best friend, Daiana Anguelova — he'll be where he belongs: playing professional baseball again.
Chicago Cubs' Zach Davies, three relievers combine for MLB's 7th no-hitter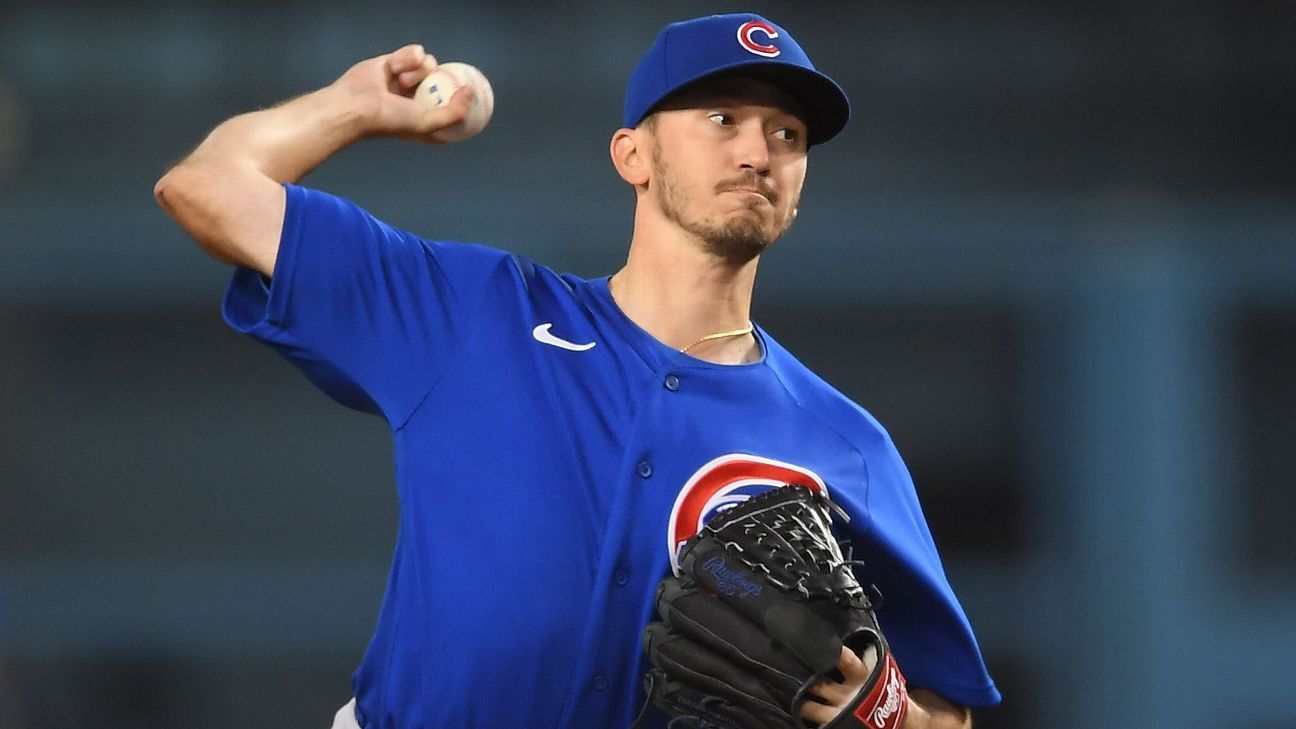 The Chicago Cubs threw their first combined no-hitter in franchise history as four pitchers shut down the Los Angeles Dodgers 4-0 on Thursday night.
It's the seventh no-hitter in baseball this season, the most ever before July 1.
Zach Davies pitched the first six innings on Thursday without giving up a hit, but he was pulled for a pinch hitter in the top of the seventh inning after 94 pitches.
Righty Ryan Tepera pitched a clean seventh inning, and lefty Andrew Chafin did the same in the eighth. After walking the leadoff hitter in the ninth, closer Craig Kimbrel finished off the 17th no-hitter in Cubs' history, striking out Cody Bellinger, Albert Pujols and pinch hitter Will Smith.
The Cubs walked eight batters, the most walks in a no-hitter since the Diamondbacks' Edwin Jackson walked eight in a 149-pitch no-hitter against the Rays in 2010.
Davies went into the game with a 4.66 ERA and 1.49 WHIP. He walked five batters in the first four innings but stranded them all. He set the Dodgers down in order over his final two innings.
Javier Baez and Willson Contreras provided the offense for the visitors, as they both took Dodgers starter Walker Buehler deep. The Cubs handed him his first loss since Sept. 21, 2019.
It's the sixth time in the past 50 years a defending World Series champion has been no-hit. It's the first time the Dodgers were no-hit since the Cubs did it to them in 2015 with Jake Arrieta on the mound. He starts against them on Friday.
Tampa Bay Rays' Kevin Kiermaier ends combined no-hit bid after Boston Red Sox pull Nick Pivetta
ST. PETERSBURG, Fla. — Kevin Kiermaier broke up a combined no-hit bid by the Boston Red Sox with a one-out double in the eighth inning and Manuel Margot scored on a wild pitch in the ninth to give the Tampa Bay Rays a 1-0 victory Thursday night.
Margot got Tampa Bay's second hit, a two-out single in the ninth off Matt Barnes (3-2). He stole second and went to third on a throwing error by catcher Christian Vazquez.
Joey Wendle was intentionally walked, and Margot dashed home on Barnes' wild pitch with Francisco Mejía batting.
Kiermaier lined his opposite-field double to left off Darwinzon Hernandez, the third Red Sox pitcher. The Gold Glove center fielder also threw out a runner at the plate in the seventh.
"It was a tied ballgame," Kiermaier said. "We were just trying to stay the course and try and get something going."
Boston starter Nick Pivetta was pulled with a runner on second and two outs in the seventh after throwing 100 pitches. His career high is 116.
"To be honest with you, it was the right call. It made the most sense," said Pivetta, who wanted to stay in the game. "We're all about winning."
Pivetta finished with eight strikeouts, two walks and one hit batter. He joined Babe Ruth, on May 20, 1916, against the St. Louis Browns, as the only Red Sox pitchers to be removed with a no-hitter after six or more innings.
"It was amazing," Boston manager Alex Cora said. "He was into it."
Boston was trying to throw the seventh no-hitter in the majors this season. That would have matched 1990, 1991, 2012 and 2015 for the most since 1900, one shy of the record eight in 1884 — the first season overhand pitching was allowed.
Despite a tough loss that dropped the Red Sox a half-game behind first-place Tampa Bay in the AL East, Cora saw a lot of positives.
"A lot of people, they didn't believe in this team before the season," he said. "I think the way we played against these guys tonight shows how good we are. We have a lot of work to do, we know that. We belong in the conversation, we really do."
"It's going to be a fun summer in Boston," Cora added.
Tampa Bay starter Michael Wacha, who took a no-hitter into the fifth, allowed one hit and two walks in five innings. He had seven strikeouts.
The Associated Press contributed to this report.
Follow Live: Cubs' Zach Davies working on no-hitter in Los Angeles