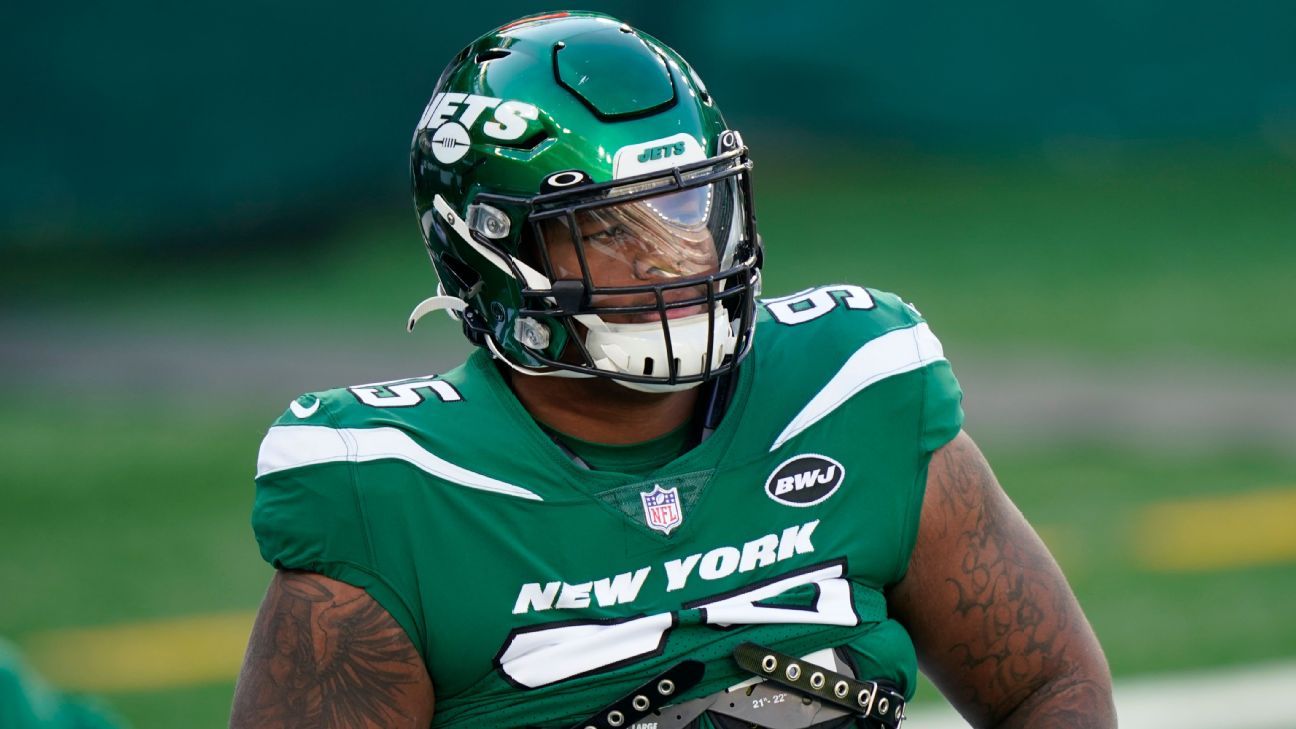 New York Jets defensive tackle Quinnen Williams, coming off a breakout season, will be sidelined eight to 10 weeks after sustaining a foot fracture last week during a workout at the team facility, league sources confirmed Tuesday.
Williams likely will have surgery to repair the injury, which was first reported by the NFL Network.
This means he will miss OTAs and minicamp. Based on the timetable, he should be ready in mid-July. The expectation is that he will be ready for the start of training camp, according to a source.
Drafted third overall in 2019, Williams emerged last season as the Jets' top defensive player. He recorded a team-high seven sacks and added two forced fumbles in 13 games.
Williams missed six games in his first two seasons, including the final two games of the 2020 season due to a concussion and neck injury.
The Jets bolstered their defensive line in free agency, signing three veteran players — defensive ends Carl Lawson and Vinny Curry, and tackle Sheldon Rankins.
The new coaching staff expects Williams to flourish in the new 4-3 front, which should allow him to play more aggressively than the previous 3-4 scheme.
"I absolutely love Quinnen," coach Robert Saleh said recently. "Really excited to get the seat belt off of his harness and let him go. In this scheme, to get him going vertical, to get all that mass moving in the direction that he needs to go, I'm really excited about the potential that he's going to have."
Alejandro Villanueva, Baltimore Ravens reach 2-year deal, source says
OWINGS MILLS, Md. — The Baltimore Ravens reached a two-year agreement with two-time Pro Bowl offensive tackle Alejandro Villanueva on Tuesday, a source told ESPN's Jeremy Fowler.
The deal is for $14 million and includes $8 million that is fully guaranteed, a source told ESPN's Adam Schefter.
After not drafting an offensive tackle last week, the Ravens added Villanueva to play right tackle and replace Orlando Brown Jr., who was traded to the Kansas City Chiefs on April 23.
Villanueva, 32, started at left tackle for the Pittsburgh Steelers for the past six seasons but would fit in with the Ravens' supersized offensive line on the right side. He ranked 18th last season in run block win rate — three spots higher than Brown (21st) — which should fit in with a Baltimore offense that ran the ball on a league-high 50.3% of plays from scrimmage last season.
The Ravens also get a safety net for left tackle Ronnie Stanley, who is coming off a season-ending ankle injury and hasn't played a full 16-game season in his five-year career. Villanueva made 90 starts at left tackle from 2015 to 2020 and reached the Pro Bowl in 2017 and 2018.
This potentially gives Baltimore one of the most formidable-looking offensive lines in the league with left tackle Stanley (6-foot-6, 315 pounds), left guard Ben Cleveland (6-6, 357), center Bradley Bozeman (6-5, 325), right guard Kevin Zeitler (6-4, 315) and right tackle Villanueva (6-9, 320).
By signing Villanueva after Monday, he will not cancel out any of Baltimore's compensatory picks. The Ravens are in line for two fourth-round comp picks in the 2022 draft after losing Matthew Judon and Yannick Ngakoue in free agency.
The Colts and Dolphins also had shown interest in Villanueva, sources told ESPN.
Villanueva is a former Army Ranger who served two tours in Afghanistan. He was part of two divisions, 10th Mountain and 75th Ranger Regiment, before becoming an NFL player.
He signed a four-year contract with Pittsburgh in July 2017, and he was a Pro Bowl selection in 2017 and 2018, during which time the Steelers' offensive line ranked among the league's best after giving up just 24 sacks each season. In his six seasons on the active roster, Villanueva started 90 of the 96 games in which he appeared.
One of the more recognizable offensive linemen in the league became part of the national anthem debate in 2017 when he became unintentionally separated from the team in Chicago as he tried to catch a glimpse of the flag during the national anthem. The team had previously decided to stay in the Soldier Field tunnel during the anthem, and Villanueva ended up standing alone outside the tunnel.
During the 2020 season, Villanueva again became part of a debate after he covered up the name of a police shooting victim on the back of his helmet with the name of a deceased Black Army Sgt. 1st Class whom he believed deserved the Medal of Honor for rescuing six soldiers from a burning vehicle in Iraq.
ESPN's Brooke Pryor contributed to this report.
Jimmy Garoppolo ready to help San Francisco 49ers rookie QB Trey Lance
SANTA CLARA, Calif. — San Francisco 49ers quarterback Jimmy Garoppolo remembers what it was like to be the rookie apprentice.
Now, that experience learning under Tom Brady with the New England Patriots will apparently shape his approach to working with newly draft Niners quarterback Trey Lance.
Appearing on the "Keyshawn, JWill & Zubin" show on ESPN radio, Garoppolo spoke publicly for the first time since the 49ers traded up to No. 3 in the NFL draft and used that selection on Lance.
"It's kind of coming full circle," Garoppolo said. "You go through this NFL career and you start as a young guy coming in. Tom kind of showed me the ropes. The competition between us was awesome. It really made me grow as a rookie and as a young player. So, that's kind of what me and Trey, we'll mold our relationship into that. But it will happen naturally. It's one of those things you can't force anything. Just let it come as it may."
Garoppolo, 29, actually isn't that far removed from being in a similar situation as what Lance is entering in San Francisco. Like Lance, Garoppolo came from an FCS school (Eastern Illinois for Garoppolo, North Dakota State for Lance), joined a team with Super Bowl aspirations and was expected to learn under a veteran before taking over.
Those memories still linger for Garoppolo, who texted Lance soon after the Niners drafted him.
"I try to use my own personal experiences and just what I went through, what helped me, what challenged me as a young player," Garoppolo said. "I'm going to use those tools that helped me and try to help Trey out. It's hard to come into this league, I know how it was coming from an FCS school to the NFL. It's a bit of an adjustment, the speed, whatever you want to call it, it's just different. So, whatever I can do to help, him I'll be more than happy."
Of course, Garoppolo never got the chance to step into the lead role in New England, which drafted him in the second round in 2014 and gave him just two starts before trading him to the 49ers for a second-round pick in 2017.
Garoppolo did become the starter in San Francisco, where he has carved out a 24-9 record as a starter (including playoffs) but has had two of the past three seasons wrecked by a torn ACL (he missed 13 games in 2018) and a pair of high ankle sprains (he missed 10 games in 2020).
Those injuries were the biggest reason that Niners coach Kyle Shanahan and general manager John Lynch made the move up to get Lance this offseason, as the 49ers sagged to a combined 10-22 record in those two seasons in which Garoppolo missed large chunks of time.
In January, Garoppolo acknowledged that he needed to find a way to stay healthy. But the 49ers soon began looking into their quarterback options, a process that eventually led them to Lance.
As Shanahan and Lynch have said, they maintained contact with Garoppolo throughout the process.
"The communication has been good," Garoppolo said. "There really hasn't been anything unsaid. Everything has been put on the table. I'm just happy to have the opportunity to play football. At the end of the day, that's what I'm here for, that's what I signed up for. As long as I have the opportunity to go out there and win some games and play good football, that's all you can ask for at the end of the day… All you really need is an opportunity. If you get an opportunity, you've got to take advantage of it and that's what I'm trying to do."
After drafting Lance, Shanahan made it clear there was no timetable or definitive plan for him to take the starting job and that he expected Garoppolo, who is slated to count $26.1 million against the 2021 salary cap, to remain with the team and continue as the starter.
"I want Jimmy to be here, and I want this kid brought along," Shanahan said on Thursday. "I want to see how (Lance) does, and if it turns into a competition, it turns into a competition. I'd be excited about that if he showed he was ready for it and stuff. But we know where Jimmy's at. (Lance) hasn't played football in a year. He hasn't been to an OTA. I'd love to get him out here, it'd be very hard for me to picture a situation where Jimmy's not here on Sunday. Because that would be, I think, very stressful for us, because Jimmy's a very good player and I think we can win with him. So, we'll play that by ear, but I expect Jimmy to be here and I'd be surprised if he wasn't."
And while Garoppolo seems to welcome the competition, he also acknowledged Tuesday that he plans to continue to compete and battle to hang on to the job that's been his for the past three-plus seasons.
"The chip will always be there," Garoppolo said. "That hasn't gone away at all. Since I got in the league, I've had that. I think that kind of comes from just the way you were raised and everything like that. My dad was an electrician, blue collar guy and I think it kind of just rubs off on you. It's kind of the way the league is going nowadays. Everybody is drafting young, wants to get the developmental guy and things like that, so I kind of know what it is. I've been on both sides of it now but at the end of the, like I said earlier, all you can really ask for is the opportunity. Once you get that, you've got to take advantage of it."
Cowboys face decision in 2022: Jaylon Smith or Leighton Vander Esch – Dallas Cowboys Blog
FRISCO, Texas — When Dallas Cowboys coach Mike McCarthy got together with defensive coordinator Dan Quinn last Friday morning, they began dreaming up ideas for the best way to use their 2021 first-round draft pick, linebacker Micah Parsons.
"We were starting to plan packages and personnel groups," McCarthy said. "We just want to get Micah here, get him comfortable in the room, and it is going to be more about selecting not only what he can do but how it fits everybody else. Once again, he is a multidimensional and multipositional player for us."
How the Cowboys make it work with the linebacker group of Parsons, Jaylon Smith and Leighton Vander Esch will be among Quinn's biggest challenges in taking over a defense that allowed a franchise-record 473 points in 2020.
Parsons was the highest-ranked defensive player on the Cowboys' draft board, according to owner and general manager Jerry Jones. McCarthy said Parsons could play all three linebacker roles and serve as a designated pass-rusher.
"I play with a lot of effort; that's what I think I do best," Parsons said. "I'm always trying to get to the ball. I'm like a ball hawk. See ball, get ball. 'Waterboy' type."
The Cowboys can hope Parsons is another Bobby Boucher.
Parsons, 21, seems to feel at home with the Cowboys. He grew up a Cowboys fan because of his father, Terrence. Micah was even comfortable enough to call the owner "my man, Jerry Jones." He visited The Star twice while a player at Penn State. His best game was his last game, the 2019 Cotton Bowl at AT&T Stadium, when he tied his career high with 14 tackles and had three tackles for loss and two sacks.
"There were, what, six, seven plays on his highlights on his point of attack tape that was on there," Cowboys executive vice president Stephen Jones said.
In the two days after Parsons was drafted, McCarthy was asked if he could be compared to Seattle Seahawks linebacker Bobby Wagner or two players from Quinn's past, Vic Beasley with the Atlanta Falcons and Bruce Irvin with the Seahawks. Wagner has been one of the best all-around linebackers in the NFL. Beasley and Irvin were more pass-rush threats.
"I don't think you can be one-dimensional in the league now with how many backs there are; receiving backs and tight ends that are going out into the slot," Parsons said. "Me being versatile will have me here for a long time."
Surely, Parsons will be on the field a lot in whatever role he earns from now until the start of the 2021 season.
But what happens with Smith, whose $7.2 million base salary is fully guaranteed, and Vander Esch, the Cowboys' first-round pick in 2018? Free-agent pickup Keanu Neal was viewed as a weakside linebacker, at least in sub packages, in addition to safety.
Either Vander Esch or Smith will be off the field if the Cowboys follow their sub-package percentage from the past few seasons and Neal, a safety by trade, plays a linebacker role.
McCarthy is trying to paint a positive picture in May that will look a lot different come September.
"Your base defense when you play with three linebackers off the ball, or two off the ball and one on the ball, it just — I'm trying not to be redundant here — it gives us tremendous flexibility," McCarthy said. "It definitely makes Leighton and Jaylon better."
The addition of Parsons, however, also puts a clock on Vander Esch and Smith. One will not be with the Cowboys in 2022, just purely out of economics and salary-cap issues.
The Cowboys did not pick up Vander Esch's $9.1 million fifth-year option for 2022, which would make him an unrestricted free agent after this season.
Smith is under contract through 2025, and his $9.2 million base salary next year becomes fully guaranteed on the fifth day of the league year. If the Cowboys released him before then, they would save $5 million against the cap.
Whoever plays better in 2021 would seem to have the better chance to be a Cowboy in 2022; Vander Esch with a new deal or Smith on his current deal.
Parsons is the present and the future at the position, but right now he is looking forward to learning from both of the more senior linebackers.
"I think they're going to take me under their wing and teach me how to be a pro football player and help me get better every day," Parsons said. "And we're going to push each other, and I think once we all come together, we'll play at an elite level. This defense can be the best defense in the National Football League."