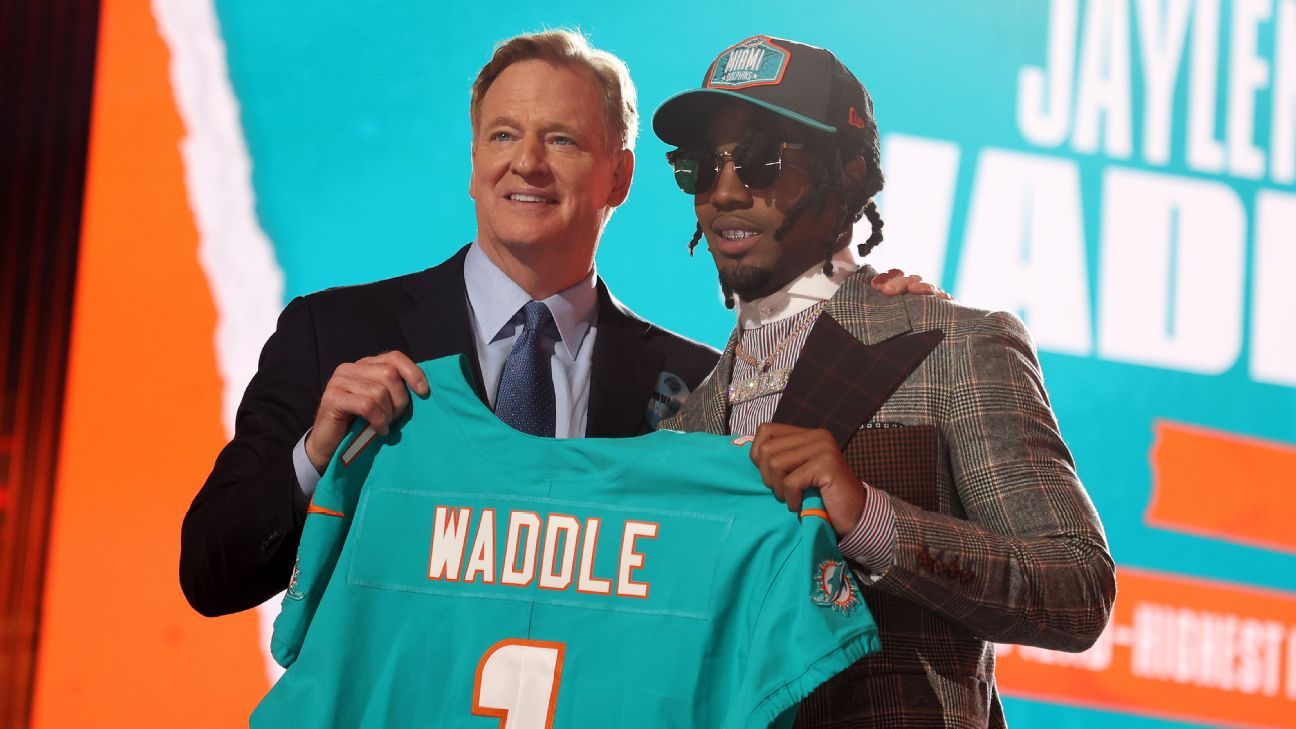 Regardless of whether they were first off the board or last, players selected in the 2021 NFL draft have this in common: Their dreams came true. Draftees across the league reacted to their wildest aspirations being realized in a variety of ways, some more shocking than others.
Offensive lineman Spencer Brown, a third-round draft pick out of Northern Iowa, continued a timeless Buffalo Bills tradition:
Bills third-round draft pick Spencer Brown continues the tradition, as the former Northern Iowa offensive tackle jumps through a table after being selected by the Bills.
Alabama Crimson Tide standout wide receiver Jaylen Waddle went viral for avoiding his family after being drafted No. 6 overall. The new Miami Dolphin provided context for how things really went down:
.@D1__JW saw your draft night memes 😂

📺 NFL Draft on NFLN pic.twitter.com/0LAXKj9PI0

— Miami Dolphins (@MiamiDolphins) April 30, 2021
Former Oklahoma Sooners defensive end Ronnie Perkins, now with the New England Patriots, expressed his shock about where he fell in the draft on social media:
Fuel to the fire 🔥 https://t.co/zVJX5LOix9

— Ronnie Perkins™ (@7avageszn) May 1, 2021
Other players shared heartwarming moments with loved ones after being selected:
Kwity Paye said his mom can retire after the Colts drafted him and she celebrates with her son.
The Vikings draft North Carolina linebacker Chazz Surratt whose dog joins the celebration.
.@HollywoodVon and fam were HYPE after finding out we drafted him! pic.twitter.com/5JPiF1p6Yv

— Miami Dolphins (@MiamiDolphins) May 1, 2021
Elijah Moore is taken 34th overall by the Jets and his family and friends are hyped.
Meanwhile, Bill Belichick's dog was present for another draft and seemed satisfied with the newest additions to the Patriots.
Another #PatsDraft in the books for this good boy. pic.twitter.com/pNLuML2IwE

— New England Patriots (@Patriots) May 1, 2021
A fantasy league bet that ended with 15-hour Waffle House trip
In this world it is often said that nothing can be certain. Well nothing except death, taxes and hilarious fantasy league fails. The Waffle House punishment has become popular on social media in recent years. The rules of this challenge are simple: The league's loser must stay in a Waffle House for 24 hours and each waffle consumed decreases the penalty by an hour.
On Thursday afternoon in Brandon, Mississippi, Lee Sanderlin, a reporter for the Clarion (Mississippi) Ledger, documented the journey of how he paid his fantasy football debt. Here are the highlights of his journey:
4:07 p.m. Sanderlin was just at the beginning of his quest, presumably hungry and still in high spirits.
I am coming to you live from a Brandon, Mississippi Waffle House. I, a total loser, came in last place in my fantasy football league. As punishment, I spend 24 hours in a Waffle House. Every waffle I eat shaves an hour off the clock. It's 4:07 Central. pic.twitter.com/oRugzU7rQT

— Lee Sanderlin (@LeeOSanderlin) June 17, 2021
Figured I'd enjoy the first 2 pic.twitter.com/Mr7xQMRPTs

— Lee Sanderlin (@LeeOSanderlin) June 17, 2021
5:39 p.m. Roughly an hour and a half into the mission. Clearly the next two waffles were not as pleasant as their predecessors.
Four waffles down. Been here for 1.5 hours, so that means I have 18.5 to go. I am already in immense discomfort. Please, somebody, launch me into the sun pic.twitter.com/LyyZObcmQ3

— Lee Sanderlin (@LeeOSanderlin) June 17, 2021
6:33 p.m. After a brief break in the parking lot, Sanderlin kept up his impressive pace and moved on to waffle No 5.
waffle number 5. Just hit the 2,000 calorie mark and feeling grrrrrreat pic.twitter.com/D9nltPbKJX

— Lee Sanderlin (@LeeOSanderlin) June 17, 2021
7:07 p.m. Signs of fatigue started to settle as exactly three hours had gone by.
7:07 CT. 3 hours, 4.75 waffles down. So many hours to go

— Lee Sanderlin (@LeeOSanderlin) June 18, 2021
9:01 p.m. He shared the roster that was responsible for his 24-hour sentence. The team was led by then-Philadelphia Eagles quarterback Carson Wentz. So basically, Sanderlin was destined for this fate early in the season.
Obviously, that's why I'm going on hour 6 in a waffle house my man. If I could finish this cold, concrete ass waffle I could shave an hour off https://t.co/YcNwa3Unmj

— Lee Sanderlin (@LeeOSanderlin) June 18, 2021
12:02 a.m. Apparently lucky seven doesn't apply when you're consuming that number of waffles.
Hahaha remember when I ordered a 7th waffle? Full crash and burn. Not gonna finish it. My body is in revolt/shutting down. It's time to sit out for a while. Gotta rest up for the stretch run. Right now I'm on pace to leave 10:07 a.m. CT.

— Lee Sanderlin (@LeeOSanderlin) June 18, 2021
Gonna ride the next few hours out from the comforts of the parking lot because my phone needs to charge. I'll a#let everyone know when I get back on the horse – hoping to make a strong push around 6:30 to get this thing in the house

— Lee Sanderlin (@LeeOSanderlin) June 18, 2021
2:08 a.m. Sanderlin brings up a valid point: A house is not a home.
The good news: I'm 10 hours and 6 waffles down. The bad news: I'm scheduled for 8 more hours, and I have no idea how I'll eat another waffle, let alone the remnants of no. 7 that have been staring me in the face for 3 hours now

— Lee Sanderlin (@LeeOSanderlin) June 18, 2021
6:26 a.m. Nearing the end of the road, a fraction of a waffle was the only obstacle hindering his freedom.
Let's do it pic.twitter.com/FN0CBsrijn

— Lee Sanderlin (@LeeOSanderlin) June 18, 2021
All that stands between me and going home in the next 30 minutes. So damn close. pic.twitter.com/2EgD4Dajdv

— Lee Sanderlin (@LeeOSanderlin) June 18, 2021
7:06 a.m. 15 hours and nine waffles later, consider the debt settled!
And we're out pic.twitter.com/79Er4rBxdP

— Lee Sanderlin (@LeeOSanderlin) June 18, 2021
ESPYS 2021 vote — Best Athlete, Men's Golf
Welcome to the 2021 ESPYS presented by Capital One, where you, the fans, get to help decide the stars of the show (aka the award winners). All the nominees for Best Athlete, Men's Golf have a strong case to be the winner. Last September, Bryson DeChambeau flexed his muscles at Winged Foot on the way to his first major title at the U.S. Open. Dustin Johnson won the Masters last November with a record 20-under par. In April at the Masters, Hideki Matsuyama became the first Japanese man to win one of golf's majors. In May, Phil Mickelson, at 50, became the oldest major win in golf history when he won the PGA Championship for his sixth major championship. Cast your vote and tune in to the ESPYS on July 10 at 8 p.m. ET on ABC.
Trevor Lawrence helps Jacksonville Jaguars fan's home decor dilemma
JACKSONVILLE, Fla. — You can apparently now add interior decorator to Trevor Lawrence's resume.
Jacksonville Jaguars fan Logan Nugent turned to the No. 1 overall pick after his fiancé, Amber Phommathep, nixed his idea of hanging three Jaguars jerseys in the living room of their new Jacksonville home. After a bit of negotiation, Phommathep agreed he could hang them — if he could somehow get Lawrence to acknowledge him.
So Nugent went to Twitter and put his request out there on June 9. He tagged Lawrence, defensive end Josh Allen and linebacker Myles Jack in the tweet laying out his fiancé's condition … and then he waited and hoped.
Eight days later, on Thursday, Lawrence replied: "HANG EM' UP!"
"It went crazy from then," Nugent said. "My phone hasn't stopped buzzing since 7 p.m. [Thursday] night."
The jerseys aren't up yet — the couple began moving into their home late this week — but Nugent hopes to have them hung by Sunday as he's still waiting to get Lawrence's teal jersey back from the frame shop. They're not sure where they'll be placed — it'll be either the wall opposite the TV or underneath the bar area — but Nugent ceded the order to Phommathep, who decided Lawrence's teal No. 16 will hang between Jack's black No. 44 and Allen's white No. 41.
There was some opposition, however, from one of the most beloved Jaguars players of all time. After Allen responded to Nugent's tweet by urging Lawrence to reply, Calais Campbell responded to Allen's tweet by saying "Not in the living room."
But Campbell, who is now with the Baltimore Ravens, did say he loves die-hard fans, though.
HANG EM' UP! https://t.co/0TPjVndkdc

— Trevor Lawrence (@Trevorlawrencee) June 18, 2021
Nugent and Phommathep are both Jacksonville natives and Jaguars fans, though their fervor for the team has grown significantly over the past several years. So much so that he and Phommathep took their engagement photos wearing Jaguars No. 21 jerseys — the number signified the year in which they are to be married — with "NUGENT" on the back.
The wedding is scheduled for Dec. 4, and the honeymoon will include attending the Jaguars' Dec. 12 game against Tennessee in Nashville.
Lawrence's tweet urging the jerseys be hung had generated more than 50,000 likes as of Friday evening.
"They don't have to do stuff like that [respond to fans' tweets], and I know they get tweets like this all day," Nugent said. "It's awesome."