The Atlanta Falcons made history Thursday night, selecting Florida tight end Kyle Pitts with the No. 4 overall pick in the NFL draft.
It marks the first time in NFL history that a tight end is the first non-quarterback selected in the draft, and the earliest a tight end has been drafted in the common draft era (since 1967).
"I've been waiting for that call my whole life," Pitts said Thursday night. "I see my phone ring and it's just — felt my heart drop. It's step one into the right direction, so I can't wait to get to Atlanta and start a new journey."
A tight end has been drafted No. 5 overall twice: Mike Ditka (Chicago, 1961) and Riley Odoms (Denver, 1972). Ditka is the only tight end taken in the top 10 to reach the Hall of Fame.
In more recent years, San Francisco took Vernon Davis No. 6 overall in 2006, Kellen Winslow II went No. 6 to Cleveland in 2004 and Detroit took T.J. Hockenson at No. 8 in 2019 and Eric Ebron at No. 10 in 2014.
Pitts becomes the second tight end to be taken in the first round by the Falcons in their history, joining Junior Miller, who went No. 7 overall in 1980. It's the highest Atlanta has ever taken a pass-catcher, too, just ahead Julio Jones at No. 6 in 2011.
The 6-foot-6, 246-pound Pitts should fit immediately in new Falcons coach Arthur Smith's offense. The Philadelphia native is a player Smith can use in line as a typical tight end, but he can also line up in the slot or even out wide to create positional mismatches. Falcons general manager Terry Fontenot referred to Pitts as a "special player" on Wednesday.
Pitts, the John Mackey Award winner, caught 43 passes for 770 yards and 12 touchdowns last season for Florida and had 100 catches for 1,492 yards and 18 touchdowns in his Gators career. He joins a Falcons offense that already features a bevy of pass-catchers for franchise quarterback Matt Ryan, including Jones, Calvin Ridley and Russell Gage.
Atlanta also has Hayden Hurst as its top tight end, but the Falcons have to decide whether to pick up his fifth-year option for 2022.
The $20 million question: When will Seahawks extend Jamal Adams? – Seattle Seahawks Blog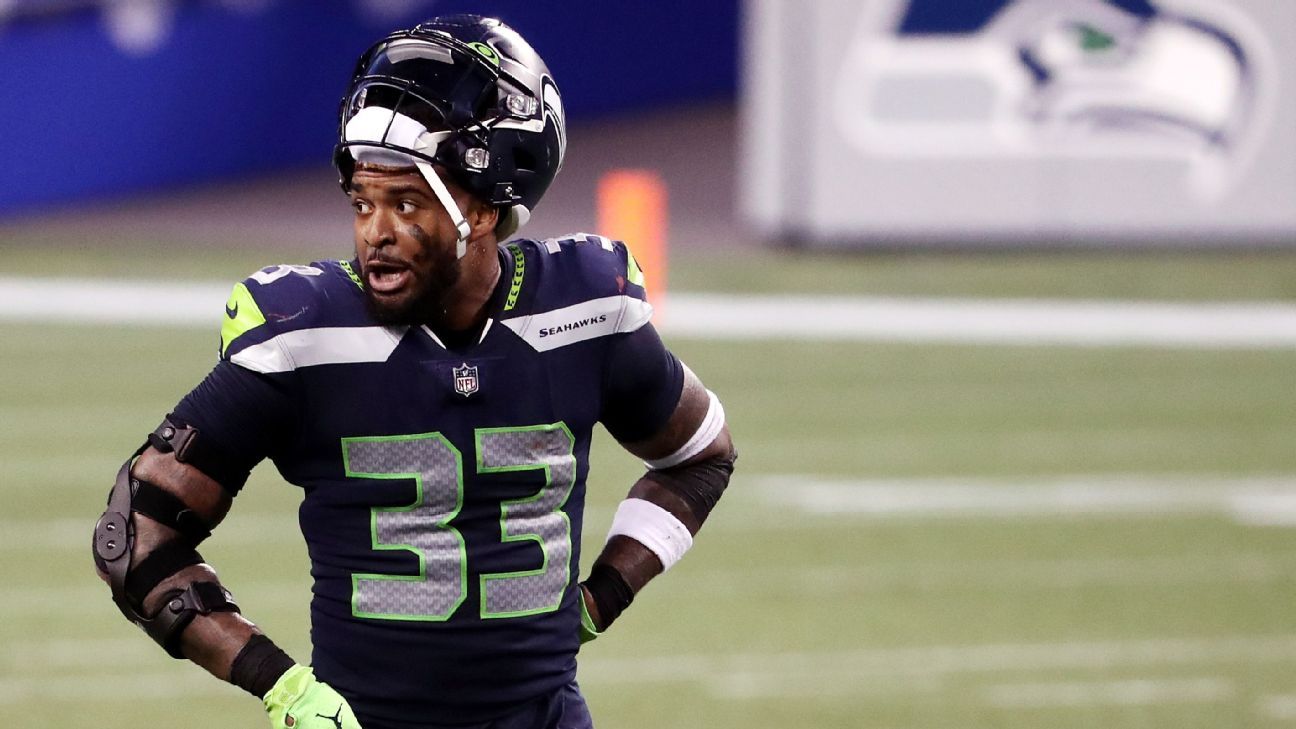 RENTON, Wash. — Anyone worried that the Seattle Seahawks have yet to extend Pro Bowl strong safety Jamal Adams this late into the offseason need look no further for reassurance than the trade they made last summer to acquire him.
The package the Seahawks gave the New York Jets included a pair of first-round picks as well as a third-rounder, an uncommonly steep price they would never have paid if they only planned on Adams being a one- or two-year rental.
Or, you could just take it from coach Pete Carroll.
"It's been ongoing and it's been amicable throughout," Carroll said last week about contract talks with Adams, who had an excused absence from minicamp to tend to a family matter. "We recognize that he's a fantastic football player and … it's a big contract process. But I know he knows he's been treated with a lot of respect and he's been very respectful towards the club as well.
"They've been good talks. It just hasn't been able to get settled at this point, but it's coming. We expect him for [training] camp, and everything should be fine."
Carroll's comments echoed what a Seahawks source previously told ESPN — that while there hasn't been much movement yet towards a new deal, there's still an expectation within the organization that it will get done.
By all accounts, it isn't so much a matter of if but when it will happen and how big Adams' deal will be. More specifically, how hard he'll push to be one of the NFL's highest-paid defenders or whether he'll be content with "merely" being the highest-paid safety.
That distinction currently belongs to the Denver Broncos' Justin Simmons, who signed an extension this offseason averaging $15.25 million. Ten defensive players make at least $20 million per season, and all but Los Angeles Rams cornerback Jalen Ramsey play pass-rushing positions.
"He's probably thinking that stratosphere, at least initially, " Joel Corry, a former NFL agent who now writes about contract matters for CBSSports.com, told ESPN. "I don't see Seattle coming anywhere near that."
That belief is based on the reality that in the NFL, your pay is generally determined — and sometimes limited — by your position. And it's hard for even the best players to break that standard. As Corry noted, the Arizona Cardinals' Budda Baker couldn't do it last year, despite being more versatile than a typical safety. Corry also pointed to Seattle's Bobby Wagner, who was considered one of the league's best defenders when he signed his extension two years ago. His $18 million average comfortably made him the highest-paid off-the-ball linebacker but was still within the scope of the market for that position.
"He wasn't in the $20 million-per-year range and he could have legitimately made that argument," Corry said. "So I think the [ceiling for Adams] is going to be Bobby Wagner. Plus the safety market is at $15.25 million. They're not going to stretch to $18.25 million from $15.25 million. That's a dramatic jump which typically hasn't happened with the safety market over the past couple of years."
But, like Wagner, Adams at least has a case to be paid beyond his position.
His 9.5 sacks in 12 games last year set the league's single-season record for a defensive back. That figure led the team, as did Adams' 14 tackles for loss and his 30 pressures which, according to ESPN Stats & Information, were 14 more than any other NFL DB. He rushed the passer on nearly one-fifth of opponents' dropbacks.
Adams didn't record an interception, keeping his career total at two and doing nothing to dispel the belief that he's not consistently strong in coverage. It didn't help that he was hurt all year. Adams missed four games with a groin injury and gamely played through injuries to both shoulders (including a torn labrum that needed surgery), two broken fingers (which also needed surgery) and a hyperextended elbow.
Despite that, the 25-year-old Adams made enough of an impact to earn his third Pro Bowl nod in four NFL seasons (he was also an All-Pro in 2019) and set himself up for a massive payday. And while the positional argument looks like it could be an obvious sticking point in negotiations, the Seahawks were well aware of that possibility when they acquired Adams, knowing they planned to use him like a pass-rusher as opposed to a traditional safety.
"We want him to be here long term, for sure," general manager John Schneider said before the draft. "He's a great player. We're really glad we made this trade to get him. He's going to be a very important part of our future."
Adams expressed a similar desire after the season, saying, "I sure pray that I am here. I love being a Seattle Seahawk. I love being a part of this organization."
Another reason why it isn't necessarily a cause for concern that his deal has yet to get done: Most of the Seahawks' big-money extensions in recent years were finalized early in training camp or well into it.
The timing of the most recent megadeal negotiated by Adams' agent, Kevin Conner, may also be instructive. It was an extension for All-Pro cornerback Tre'Davious White with the Buffalo Bills, which wasn't finished until a week before last season's opener. Ramsey quickly overtook him as the league's highest-paid cornerback when he signed a bigger deal four days later, presumably having waited on White to reset the top of the market first.
Corry believes Adams should play that waiting game now that All-Pro Tyrann Mathieu sounds optimistic about getting an extension from the Kansas City Chiefs.
"If the Chiefs made him the highest-paid safety to bring him in, presumably they're going to make him the highest-paid guy this time around," Corry said. "And any incremental raise over where the bar is now only helps [Adams]."
Corry's guess is that Adams' deal will average between $16 million and $17.5 million.
"Because to me, you're better off trying to rectify the difference between … safety and cornerback salaries, since cornerback took off last year and safety hasn't," Corry said. "That might be the better play and let that get you as close to Wagner as possible. But Wagner is the ceiling."
Antonio Gibson's growth could fuel Washington Football Team's attack – Washington Blog
ASHBURN, Va. — The improvement was obvious, even if it was just a spring practice with shoulder pads tucked in a storage room. Washington Football Team running back Antonio Gibson ran around the end on a tight zone play, pressing the line of scrimmage, and then made a tight cut outside for a gain of five yards.
It wasn't a spectacular play, but it was a notable one for this reason: Running backs coach Randy Jordan said that a year ago, Gibson would have immediately cut upfield for, perhaps, a gain of two. Gibson now knows better where he must be — and when. And he knows how to set defenders up.
"It's like night and day," Jordan said.
It's why Washington is excited about Gibson as the offseason closes — and it's why he'll be intriguing, and then some, for fantasy football players this season. As a rookie, transitioning from playing mostly receiver in college, Gibson rushed for 795 yards and 11 touchdowns.
In his first eight games, he averaged 4.34 yards per carry with seven runs of 10 yards or more. In his last six games — he missed two because of a turf toe injury — Gibson averaged 5.05 yards per carry with 14 runs of 10 yards or more.
"Last year was still a learning process for me," Gibson said. "I got the hang of it as the season went on and I started showing progress. But … I feel like I should be able to show a lot of different things this year."
Washington's coaches hope the offense benefits from the addition of players such as receivers Curtis Samuel, Adam Humphries and third-round pick Dyami Brown. They hope the offensive line was solidified by drafting tackle Sam Cosmi in the second round and signing veteran left tackle Charles Leno Jr., among other moves.
But Gibson's continued ascension will be equally vital to Washington's offense.
"You can tell he's matured, got a better feel and understanding," Washington coach Ron Rivera said of Gibson during minicamp this month. "Those natural instincts that you look for, the intangibles that guys that have been playing the positions their whole career naturally have. You start to see those come to light with Antonio. It's exciting."
Gibson improved as a rookie, especially in how he ran through the hole. Early in the season, he ran more upright and averaged just 1.44 yards after contact, according to ESPN Stats & Information. In the last five games he averaged 1.79 — a sign that he had matured but still had room to improve in this area. He also created more room; in the first five games he averaged 2.44 yards before contact compared to 3.4 the rest of the season.
The nominations for the 2021 ESPYS are full of NFL players. Cast your votes today.
Best Athlete, Men's Sports
• Tom Brady makes the cut
Best NFL Player
• Brady, Rodgers, Donald or Henry?
Best Team
• Can Tampa Bay take the title?
Best Play
• Murray and Metcalf magic
Best Breakthrough Athlete
• Herbert and Young among the nominees
Best Game
• Remember the Ravens
Washington also hopes for more improvement in the pass game. Gibson caught 36 passes last season. Whether or not he catches more passes this season, the hope is to use him in more passing situations — or run a greater variety of routes.
"The biggest thing for him is continuing to progress, not only as a runner but as a pass-catcher," Jordan said. "That's something we haven't really tapped in[to] a lot."
It's not just about his hands — Gibson showed he can catch well. In spring workouts, he caught passes in traffic down the seam, on slant routes and on wheel routes out of the backfield. Jordan said it's also a lot about the subtleties: where he aligns, what his splits are and how to execute the route at an NFL level.
"The more opportunities he has to do it, [the better] he'll get … at it," Jordan said.
Gibson also said he's confident regarding the turf toe injury that sidelined him for two games. He participated in all the workouts open to the media this offseason and did not show obvious ill-effects from the injury.
Gibson did not need surgery on the toe, but said, "Definitely something to monitor. I've been cutting and running full speed, making cuts I need to make. … But I definitely got to watch and make sure I stay up on my treatment so nothing goes south."
To help, Gibson said he trained at EXOS in Dallas this offseason. EXOS' Performance director Brent Callaway said they take a holistic approach, focusing not just on training but also on physical therapy and nutrition. They worked with Gibson's toe but then focused on other aspects, preparing him for the season and continuing to work on his nutrition. Callaway said Gibson already was good in those areas.
Gibson also earned his college degree from Memphis, becoming the first male member on both his mother and father's sides of the family to do so. He also welcomed a baby daughter.
"He was already a mature kid when we had him out of Memphis," Callaway said. "He's a man now. He's a guy with a career who understands what he needs to do to move forward. That's where he's changed. Physically he hasn't changed. It will be really neat to see where he goes in the next three to four years. Watching him during the course of the year and watching him accelerate away from safeties and do stuff a 230-pound player shouldn't be able to do … that's always eye-catching.
"He still has loads of speed and still has loads of change-of-direction ability. Now it's about getting that in the right condition so there aren't lingering problems with his foot."
That's why, with all the changes that took place on Washington's offense, Gibson's maturity at running back might provide the biggest boost.
Lions GM Brad Holmes aims to strengthen pipeline for future Black GMs – Detroit Lions Blog
DETROIT – With no official team activities planned the weekend of June 12, new Detroit Lions general manager Brad Holmes could've spent his entire Saturday afternoon with family, since much of his time has been consumed with work ever since he took over the role in January.
However, his priorities go beyond his role as a family man and GM, so he found a way to do both.
With his young son, B.J., resting peacefully over his shoulder, Holmes felt it was necessary to be a presence alongside head coach Dan Campbell at the 2021 Detroit Grand Prix on Belle Isle, where Campbell served as the event's grand marshal.
"And Brad Holmes is over here by the way, our GM," Campbell announced from the podium of the media center, before cheers from the crowd. "We're all new to this, but we're fascinated by it. … This means a lot to not only myself, but the gentlemen I'm with here, so we want to be a part of this community."
As one of five current Black GMs in the NFL, joining Martin Mayhew (Washington), Terry Fontenot (Atlanta), Chris Grier (Miami) and Andrew Berry (Cleveland), Holmes sees the importance of making his face visible to the public, especially in a city such as Detroit, which has a population that is approximately 79% Black, per the U.S. Census Bureau.
Even while trying to turn around a struggling franchise that hasn't won more than six games since 2017, Holmes doesn't want to get boxed into just football — he also wants to make an impact on the next generation.
"Now I'm in this position, in this city, and now I've got to expand it, and make sure I'm fully injected into the Black community here," Holmes, an alum of HBCU North Carolina A&T, told ESPN. "So, yeah, that Detroit Grand Prix was a great event, but what are the other avenues I can do specifically for the Black community that I can provide impact there? So that's very important for me to do."
Holmes' path to becoming the Lions' executive vice president and GM was set up by nearly two decades of experience with the Los Angeles Rams, which included various roles, most recently the director of college scouting. Holmes leaned on that experience when he passed over skill positions — particularly wide receiver after losing Kenny Golladay via free agency — in his first draft with the Lions to select Oregon offensive tackle Penei Sewell at No. 7 overall.
While Holmes is tasked with overseeing the Lions' football operations, his role has been collaborative with Campbell. He also reports to owner Sheila Ford Hamp and team president/CEO Rod Wood. Some critics have questioned his true power with seemingly so many voices involved, but he insists he has full control with the roster.
An example of this came during the Jared Goff for Matthew Stafford trade, where he took the lead from the beginning and executed the trade to bring the 2016 No. 1 overall pick to Motown. Beyond acquiring Goff, Detroit was also able to land what became 2021 third-round pick Ifeatu Melifonwu, as well as a 2022 first-round pick and a 2023 first-round pick in the process.
"Going back to the trade with Stafford, that was my third week on the job," Holmes said. "I didn't know that was coming that soon, but when it happened, I'll never forget Rod was like, 'That's your decision. That's your job. Look, if you want advice, you can ask me.' But there's nobody that directed me. But we do have a great team with great structure around me to offer the support and provide all the resources that I need, but I don't feel boxed in at all."
Trading Stafford wasn't something that he had in mind from Day 1 on the job, but once the opportunity presented itself, the move made sense.
"Yeah. Basically once the news broke, which we all knew when the news was gonna break, obviously we fielded a bunch of calls, and I just had to be very organized, do my due diligence, make sure that the dialogue and communication was where it was supposed to be, and it just kind of went from there," he said.
"But having the right structure and the resources around me with that decision process … ultimately it was on me, but the right structure was in place."
For Holmes, he can't forget about how others have helped him get to where he is, and how he can help empower others by giving them the right structure to succeed.
"Well, first of all, I'm very, very grateful that the Ford family opened up a search of diversity to give me an opportunity, but the first thing I've always said about the lack of diversity is that the pipeline has got to be strong," Holmes said. "So, when there's a lack of Black GMs, which obviously there are, and obviously the numbers are not nearly good enough. The process isn't good enough."
Although Holmes sees progress with the offseason GM hirings of himself, Fontenot and Mayhew, he aims to reinforce that pipeline.
"So, what can I do to improve the pipeline under my control? And then also, what can I do under my power to afford opportunities to others that I know are qualified and have a lot of upside and can have some success to become a GM and have the qualities? You've got to always give back, and you've got to make sure that those guys are in position to succeed," Holmes said. "To me, that's my focus in doing anything I can do. I know a lot of people helped me, starting off with the Fritz Pollard Alliance.
"They set up a lot of resources in place for me to have the tools that I need to be prepared, and then just mentors that I've had in the past. You know, Lawrence McCutcheon, Dick Daniels, 'Shack' Harris and those kind of guys, and being able to ask those guys for advice … Rod Graves, who was always spending time. Those guys there, I've got to do the same thing even with my early stages of this position. I have to do that because it wouldn't be right, but we have to improve because it's not good enough."