Leaders from Major League Baseball and the MLB Players Association met Tuesday for their first official negotiating session a little more than six months before the sport's collective bargaining agreement lapses, sources told ESPN.
The long-anticipated meeting between the sides marked the first foray into what many in the sport fear could be a contentious and protracted negotiation, with the possibility of a work stoppage upon the Dec. 1 expiration of the current deal. Relations between the league and players have grown combative in recent years, with both sides accusing the other of operating in bad faith amid multiple failed efforts to reach deals.
The league and union declined to comment on the discussions.
At the same time, baseball has found unprecedented economic success amid more than a quarter-century of labor peace, and players and officials likewise continue to express hope that the differences between the sides can be bridged during the next half-year of discussions. Owners and players both understand that the $10 billion-a-year industry could be gravely harmed by a labor dispute.
The meeting, held over videoconference, included dozens of people, including player leadership. It was the first negotiating session between the sides since the union turned down MLB's offer for a paused-and-shortened season with full pay that included expanded playoffs. Between those discussions and the failed negotiations about when to resume the delayed season in 2020 that led to commissioner Rob Manfred implementing a 60-game season, mistrust between the sides deepened and fostered the pessimism about the chances of an on-time agreement that percolate around the game.
Negative feelings on the players' side have festered since the last basic agreement was instituted Dec. 1, 2016, and further tilted the sport's economics in favor of the teams. Player salaries have dropped for three consecutive seasons — and are expected to fall in 2021, too. While the best players in the sport continue to reap massive windfalls — from the $300 million-plus contracts of Mookie Betts, Fernando Tatis Jr., Francisco Lindor and Gerrit Cole to the $40 million salary this year for Trevor Bauer — MLB's middle class has contracted significantly.
An overhaul of baseball's core economic system is highly unlikely, sources said, citing the limited amount of time to strike a deal and keep labor peace uninterrupted since 1995. The union nevertheless intends to target spending and competitive integrity — particularly the promotion of competition by all teams — among its priorities with a new deal. Players are also in favor of funneling money to players earlier in their careers, the potential for free agency before six years of service and a solution to — or at least remedy of — service-time manipulation.
MLB, whose efforts to tie an expanded postseason to a pause this season were rebuffed by the union this spring, is expected to pursue a larger playoff field than the 10 teams that will participate this October. The league has also spent significant time and effort looking at potential rule changes that would help increase action in games and speed them up, measures that could be considered at the bargaining table.
Joe Girardi, Jean Segura have confrontation as Philadelphia Phillies lose to Toronto Blue Jays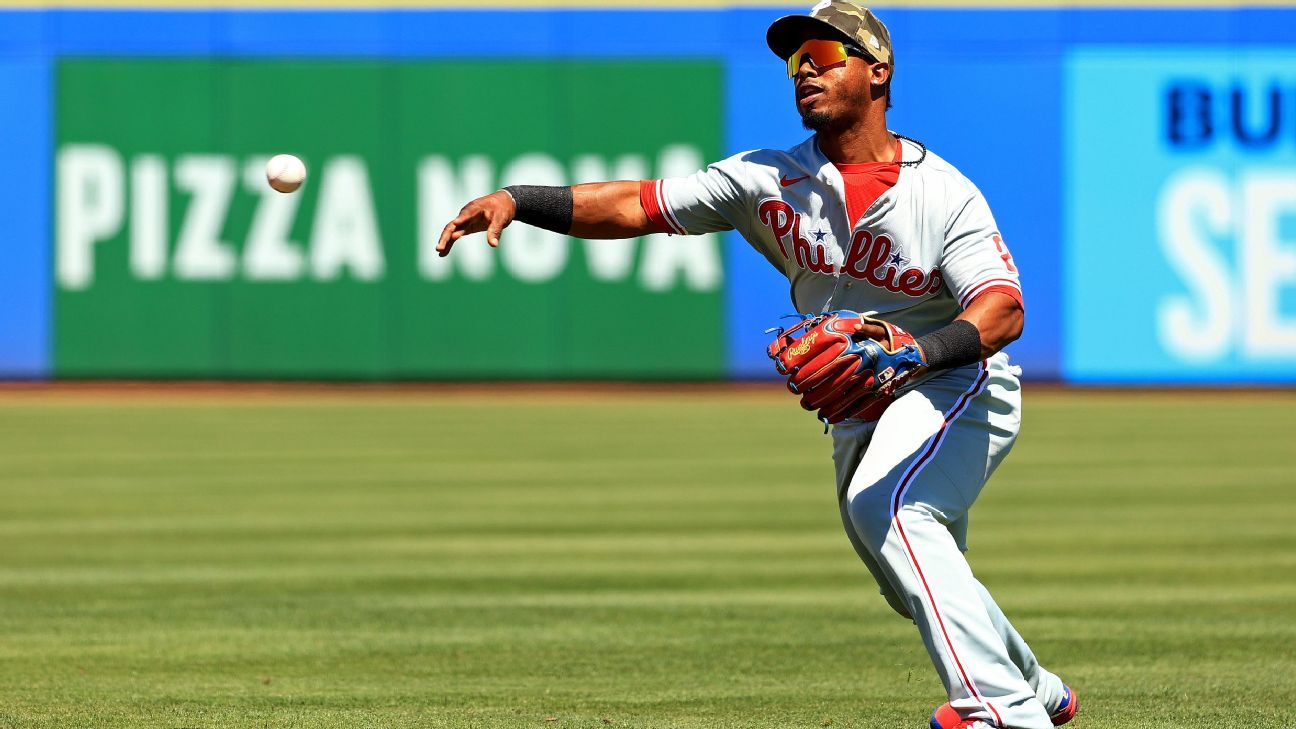 DUNEDIN, Fla. — The injury-depleted Philadelphia Phillies lost a game, another player and their temper.
Television cameras showed a confrontation in the dugout between Phillies manager Joe Girardi and second baseman Jean Segura during Sunday's 10-8 loss to the Toronto Blue Jays.
Segura committed two errors. One miscue came in the first inning when Segura misplayed a soft one-hopper by Randal Grichuk.
"That's a bench conversation, meant for the bench," said Girardi, who was asked about a half-dozen times about the incident. "You can ask all you want; you got everything you're going to get about it. I'm done with it."
At one point, Segura had to be restrained by coach Dusty Wathan.
"I didn't actually see it," Phillies first baseman Rhys Hoskins said. "Obviously, I heard it. It's heat-of-the-moment stuff, right. We're all competing. Everybody in the dugout wants to win the same amount. Sometimes that's what happens."
Marcus Semien and Bo Bichette hit consecutive first-inning homers, and Randal Grichuk had a two-run double in a five-run second as Toronto burst to an 8-0 lead.
Semien finished with three hits and three RBIs, and Vladimir Guerrero Jr. hit his 11th homer, a solo drive in the eighth that gave him home runs in three consecutive games.
"I feel comfortable with what I'm doing mechanically," Semien said. "That's always good when you don't have to worry about changing something every day. You're just able to focus on what you're looking for at the plate."
Toronto won for the sixth time in eight games, moving five games over .500 for the first time this season.
Philadelphia right fielder Bryce Harper (right shoulder soreness) and catcher J.T. Realmuto (sore left wrist) were both out of the lineup after leaving Saturday night's game early.
Harper replaced Scott Kingery in right in the sixth inning. Harper popped up a bunt for an out with two on and one out in the eighth with the Phillies down 9-4, then stranded two in the ninth with a game-ending strikeout on a full-count fastball from Jeremy Beasley, the eighth pitch of the at-bat.
Girardi said he talked with Harper about trying for a bunt hit in the sixth. The slugger took several big swings during his ninth-inning at-bat.
"I was concerned," Girardi said. "Talked about some different things. I talked to Bryce — he said he wanted to try and he was OK, so we let him do it. I trust the player. I thought he had some swings."
Kingery ran into the wall chasing a fly ball and later felt dizzy, and he will be evaluated.
Royals manager Mike Matheny calls for 'accountability' after game-ending call stands
CHICAGO — Add Kansas City Royals manager Mike Matheny to the list of people who have questioned motives behind video replay.
Matheny was on the wrong end of a review in the bottom of the ninth inning of his team's game against the Chicago White Sox on Sunday.
With two outs in a 3-3 tie, White Sox first baseman Jose Abreu came home on a wild pitch from reliever Wade Davis. Catcher Cam Gallagher retrieved the ball and went to tag Abreu, who slid in on the third base side of home plate. He was called safe on the field and the review upheld the call, which gave the White Sox a 4-3 win.
Replays showed Gallagher may have tagged Abreu on his jersey before he reached the plate.
"If we're going to use video replay, there needs to be some accountability," Matheny said after the loss. "I walked in here and had two different camera angles with this guy out. Tagged before he ever touched the plate. Very obvious. I don't know what they're doing, backing each other up, whatever it is. It's wrong."
Plays can only be overturned if video review shows a conclusive reason for it. Umpires in New York made the call with the umpires in Chicago on a headset — as is the norm. Anything short of a definitive angle to overturn a ruling means the call on the field stands.
"They have the opportunity to take that much time, and from appearances, it looks like they don't want to bring them [the players] back onto the field while they're here with this crowd," Matheny said. "It's just wrong and something has to be done about it."
The Sox were down 3-2 going into the ninth. They tied the score on a Yoan Moncada RBI single but Moncada was eventually thrown out at the plate by Whit Merrifield on a base hit to right by Yermin Mercedes. That sent Abreu to third after he was hit by a pitch earlier in the inning. Then Davis threw the wild pitch, bringing Abreu home.
"They said he was safe," White Sox right-fielder Adam Eaton said. "They even got replay. I had a pretty good view of it. Bang, bang play. Heck of a slide by Jose. We'll definitely take it."
Matheny disagreed.
"You could see the jersey move when he tagged him on the body," he said.
The result of the play meant the Sox and Royals split their four-game series.
Shane Bieber's record strikeout streak ends, as Seattle Mariners chase Cleveland Indians ace early
SEATTLE — Shane Bieber's record strikeout streak ended Sunday when the Seattle Mariners sent the Cleveland ace to an early exit.
Bieber had fanned at least eight in 20 straight games. But the reigning AL Cy Young Award winner fell just short against the Mariners, striking out seven in 4 2/3 innings.
Bieber left trailing 3-0 with the bases loaded in his shortest outing of the season.
The 25-year-old right-hander leads the majors with 92 strikeouts. Bieber started the season with 10 or more strikeouts in his first four outings, another major league record.
The last time Bieber didn't strike out at least eight in a regular-season game was his final start of the 2019 season. He struck out seven last year in a playoff start against the Yankees.
Bieber allowed a run in the first inning Sunday. In all of 2020, he allowed only one run in the first inning.
In the series finale, Cleveland is attempting to gain a split of the four games.
The Associated Press contributed to this report.