On Tuesday, former Minneapolis police officer Derek Chauvin was found guilty to the charges of second-degree murder, third-degree murder and second-degree manslaughter in the death of George Floyd.
Floyd, 46, died on May 25, 2020, while in Minneapolis police custody. Bystander videos showed that Chauvin held his knee on Floyd's neck for more than nine minutes, and the county medical examiner ruled the death a homicide. After the release of the video, the Minneapolis Police Department fired Chauvin and the three other officers involved, and Chauvin was charged with the three crimes. He pleaded not guilty to all three.
Last summer, athletes boycotted games in multiple leagues to protest the deaths of Black men and women caused by law enforcement. Here's what the sports world had to say about Tuesday's verdict:
ACCOUNTABILITY

— LeBron James (@KingJames) April 20, 2021
Love Wins.

— Russell Wilson (@DangeRussWilson) April 20, 2021
Accountability is now trending 📈

— Kevin Love (@kevinlove) April 20, 2021
Justice and Accountability! Things I never thought I would see. There's much more work to do, but this is an amazing start working toward the reform this country NEEDS!

— Karl-Anthony Towns (@KarlTowns) April 20, 2021
Sending love and strength to Minn today, to the family and community of #GeorgeFloyd and so many others. Whatever happens, #derickchauvin killed George, we know this. Let's continue to fight for a world where this doesn't happen. #DefundThePolice #BlackLivesMatter

— Megan Rapinoe (@mPinoe) April 20, 2021
WAY MORE WORK TO DO.

— Trae Young (@TheTraeYoung) April 20, 2021
God is good all the time…..✊🏾🙏🏾

— Donovan Mitchell (@spidadmitchell) April 20, 2021
I was going to make a celebratory tweet but then I was hit with sadness because we are celebrating something that is clear as day. The fact that so many injustices occurred to make us hold our breath toward this outcome is really telling.

— NaomiOsaka大坂なおみ (@naomiosaka) April 20, 2021
Thank God…guilty! Justice has been served!!

— Earvin Magic Johnson (@MagicJohnson) April 20, 2021
It's a beautiful thing when the judicial system works as it's intended! 👏🏾

— Lance Briggs (@LanceBriggs) April 20, 2021
Today, justice was served for George Floyd.

His loved ones can hopefully sleep easier.

The time to collectively examine the treatment of Black people, in particular Black boys/men, by some law enforcement is long overdue.

The path to healing must begin. #BlackLivesMatter

— Billie Jean King (@BillieJeanKing) April 20, 2021
I don't celebrate the demise of another persons life no matter what they've done but I do celebrate JUSTICE, TRUTH AND RIGHTEOUSNESS because for so long that has been void of the criminal justice system in America for black and brown people. #Justice #Truth #Righteousness

— Matt Forte (@MattForte22) April 20, 2021
This should be the norm! No person or profession should be above the law. It won't bring George Floyd back but I'm glad justice was finally served.

— Darius Butler (@DariusJButler) April 20, 2021
I hate that we have to celebrate something like this but justice isn't something we are used to in this country

— Jordan Bell (@1jordanbell) April 20, 2021
YESLORD🙏🏾

— Robert Williams (@rob_williamsIII) April 20, 2021
This is justice.

— Natasha Cloud (@T_Cloud4) April 20, 2021
Love. Peace. Justice. ♥️

— Allen Robinson II (@AllenRobinson) April 20, 2021
Wow all guilty on all 3 counts… won't get back https://t.co/KYR1onkba7 Floyd's life… how long will chauvin serve/be sentenced?

— cameron jordan (@camjordan94) April 20, 2021
This is just the beginning! A lot more work to be done. 🙏🏾🖤

— Touki Toussaint (@ToukiToussaint) April 20, 2021
justice

— Ja Morant (@JaMorant) April 20, 2021
Let's make this the new normal. Accountability is served #GeorgeFloyd

— Renee Montgomery (@ReneeMontgomery) April 20, 2021
Accountability is all we ever wanted.. May your soul Rest In Peace. #GeorgeFloyd

— CountOnAG (@Amir_Garrett) April 20, 2021
I hate to be negative on a day a family can at least get a semblance of retribution for the murder of their loved one. But to act as if this is some monumental step, is disheartening. The fact that we all collectively held our breath when waiting for that verdict..

— Imani McGee-Stafford (@imanitrishawn_) April 20, 2021
Thank you God. Wrong is Wrong!

— Joe Haden (@joehaden23) April 20, 2021
Today we saw some accountability for the murder of George Floyd. The fight for equality and police reform is far from over. I will continue to fight for real change, and as always, I encourage others from the hockey community to join.

— JT Brown (@JTBrown23) April 20, 2021
— Minnesota Vikings (@Vikings) April 20, 2021
Timberwolves statement after Derek Chauvin is found guilty of the murder of George Floyd:
"We are hopeful today's decision can serve as a step forward, but it does not ease the physical and emotional pain that continues in an environment where systemic racism exists." pic.twitter.com/cUqj2qefmK

— Malika Andrews (@malika_andrews) April 20, 2021
— Minnesota Lynx (@minnesotalynx) April 20, 2021
United Are We. pic.twitter.com/VfMFzAjnGd

— Minnesota Gophers (@GopherSports) April 20, 2021
My hope is that today's verdict will begin the long-process of healing for the Floyd family, the BIPOC community, and the city of Minneapolis. My full statement can be found on LinkedIn – but, simply put, I stand with you today and always. https://t.co/VRGSZYqhDT pic.twitter.com/15aw4Z6kGU

— Marc Lore (@marc_lore) April 20, 2021
— Cleveland Cavaliers (@cavs) April 20, 2021
Joe Tsai and Clara Wu Tsai stand with George Floyd's family, and our organization remains committed to working to end systemic racism and injustice. https://t.co/rYeXJ7DpR9 pic.twitter.com/IRFxMTE1xI

— Brooklyn Nets (@BrooklynNets) April 20, 2021
— Pittsburgh Penguins (@penguins) April 20, 2021
— Golden State Warriors (@warriors) April 20, 2021
— New Jersey Devils (@NJDevils) April 20, 2021
— Buffalo Sabres (@BuffaloSabres) April 20, 2021
— Minnesota Wild (@mnwild) April 20, 2021
NBPA Executive Director Michele Roberts and NBA Commissioner Adam Silver released the following joint statement today: pic.twitter.com/r0XQkLssOb

— NBA (@NBA) April 20, 2021
MLBPA Executive Director Tony Clark issued the following statement pic.twitter.com/3xmGIM1qem

— MLB Players (@MLB_PLAYERS) April 20, 2021
Joe Girardi, Jean Segura have confrontation as Philadelphia Phillies lose to Toronto Blue Jays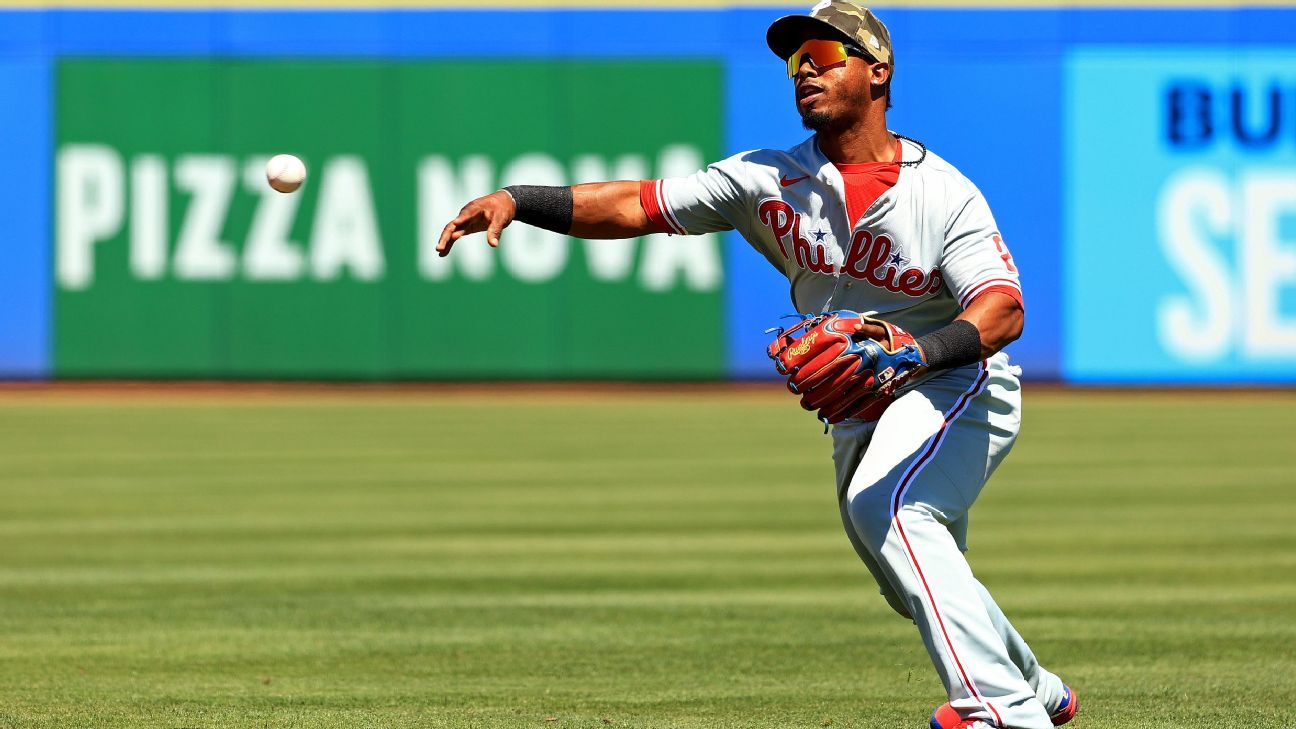 DUNEDIN, Fla. — The injury-depleted Philadelphia Phillies lost a game, another player and their temper.
Television cameras showed a confrontation in the dugout between Phillies manager Joe Girardi and second baseman Jean Segura during Sunday's 10-8 loss to the Toronto Blue Jays.
Segura committed two errors. One miscue came in the first inning when Segura misplayed a soft one-hopper by Randal Grichuk.
"That's a bench conversation, meant for the bench," said Girardi, who was asked about a half-dozen times about the incident. "You can ask all you want; you got everything you're going to get about it. I'm done with it."
At one point, Segura had to be restrained by coach Dusty Wathan.
"I didn't actually see it," Phillies first baseman Rhys Hoskins said. "Obviously, I heard it. It's heat-of-the-moment stuff, right. We're all competing. Everybody in the dugout wants to win the same amount. Sometimes that's what happens."
Marcus Semien and Bo Bichette hit consecutive first-inning homers, and Randal Grichuk had a two-run double in a five-run second as Toronto burst to an 8-0 lead.
Semien finished with three hits and three RBIs, and Vladimir Guerrero Jr. hit his 11th homer, a solo drive in the eighth that gave him home runs in three consecutive games.
"I feel comfortable with what I'm doing mechanically," Semien said. "That's always good when you don't have to worry about changing something every day. You're just able to focus on what you're looking for at the plate."
Toronto won for the sixth time in eight games, moving five games over .500 for the first time this season.
Philadelphia right fielder Bryce Harper (right shoulder soreness) and catcher J.T. Realmuto (sore left wrist) were both out of the lineup after leaving Saturday night's game early.
Harper replaced Scott Kingery in right in the sixth inning. Harper popped up a bunt for an out with two on and one out in the eighth with the Phillies down 9-4, then stranded two in the ninth with a game-ending strikeout on a full-count fastball from Jeremy Beasley, the eighth pitch of the at-bat.
Girardi said he talked with Harper about trying for a bunt hit in the sixth. The slugger took several big swings during his ninth-inning at-bat.
"I was concerned," Girardi said. "Talked about some different things. I talked to Bryce — he said he wanted to try and he was OK, so we let him do it. I trust the player. I thought he had some swings."
Kingery ran into the wall chasing a fly ball and later felt dizzy, and he will be evaluated.
Royals manager Mike Matheny calls for 'accountability' after game-ending call stands
CHICAGO — Add Kansas City Royals manager Mike Matheny to the list of people who have questioned motives behind video replay.
Matheny was on the wrong end of a review in the bottom of the ninth inning of his team's game against the Chicago White Sox on Sunday.
With two outs in a 3-3 tie, White Sox first baseman Jose Abreu came home on a wild pitch from reliever Wade Davis. Catcher Cam Gallagher retrieved the ball and went to tag Abreu, who slid in on the third base side of home plate. He was called safe on the field and the review upheld the call, which gave the White Sox a 4-3 win.
Replays showed Gallagher may have tagged Abreu on his jersey before he reached the plate.
"If we're going to use video replay, there needs to be some accountability," Matheny said after the loss. "I walked in here and had two different camera angles with this guy out. Tagged before he ever touched the plate. Very obvious. I don't know what they're doing, backing each other up, whatever it is. It's wrong."
Plays can only be overturned if video review shows a conclusive reason for it. Umpires in New York made the call with the umpires in Chicago on a headset — as is the norm. Anything short of a definitive angle to overturn a ruling means the call on the field stands.
"They have the opportunity to take that much time, and from appearances, it looks like they don't want to bring them [the players] back onto the field while they're here with this crowd," Matheny said. "It's just wrong and something has to be done about it."
The Sox were down 3-2 going into the ninth. They tied the score on a Yoan Moncada RBI single but Moncada was eventually thrown out at the plate by Whit Merrifield on a base hit to right by Yermin Mercedes. That sent Abreu to third after he was hit by a pitch earlier in the inning. Then Davis threw the wild pitch, bringing Abreu home.
"They said he was safe," White Sox right-fielder Adam Eaton said. "They even got replay. I had a pretty good view of it. Bang, bang play. Heck of a slide by Jose. We'll definitely take it."
Matheny disagreed.
"You could see the jersey move when he tagged him on the body," he said.
The result of the play meant the Sox and Royals split their four-game series.
Shane Bieber's record strikeout streak ends, as Seattle Mariners chase Cleveland Indians ace early
SEATTLE — Shane Bieber's record strikeout streak ended Sunday when the Seattle Mariners sent the Cleveland ace to an early exit.
Bieber had fanned at least eight in 20 straight games. But the reigning AL Cy Young Award winner fell just short against the Mariners, striking out seven in 4 2/3 innings.
Bieber left trailing 3-0 with the bases loaded in his shortest outing of the season.
The 25-year-old right-hander leads the majors with 92 strikeouts. Bieber started the season with 10 or more strikeouts in his first four outings, another major league record.
The last time Bieber didn't strike out at least eight in a regular-season game was his final start of the 2019 season. He struck out seven last year in a playoff start against the Yankees.
Bieber allowed a run in the first inning Sunday. In all of 2020, he allowed only one run in the first inning.
In the series finale, Cleveland is attempting to gain a split of the four games.
The Associated Press contributed to this report.