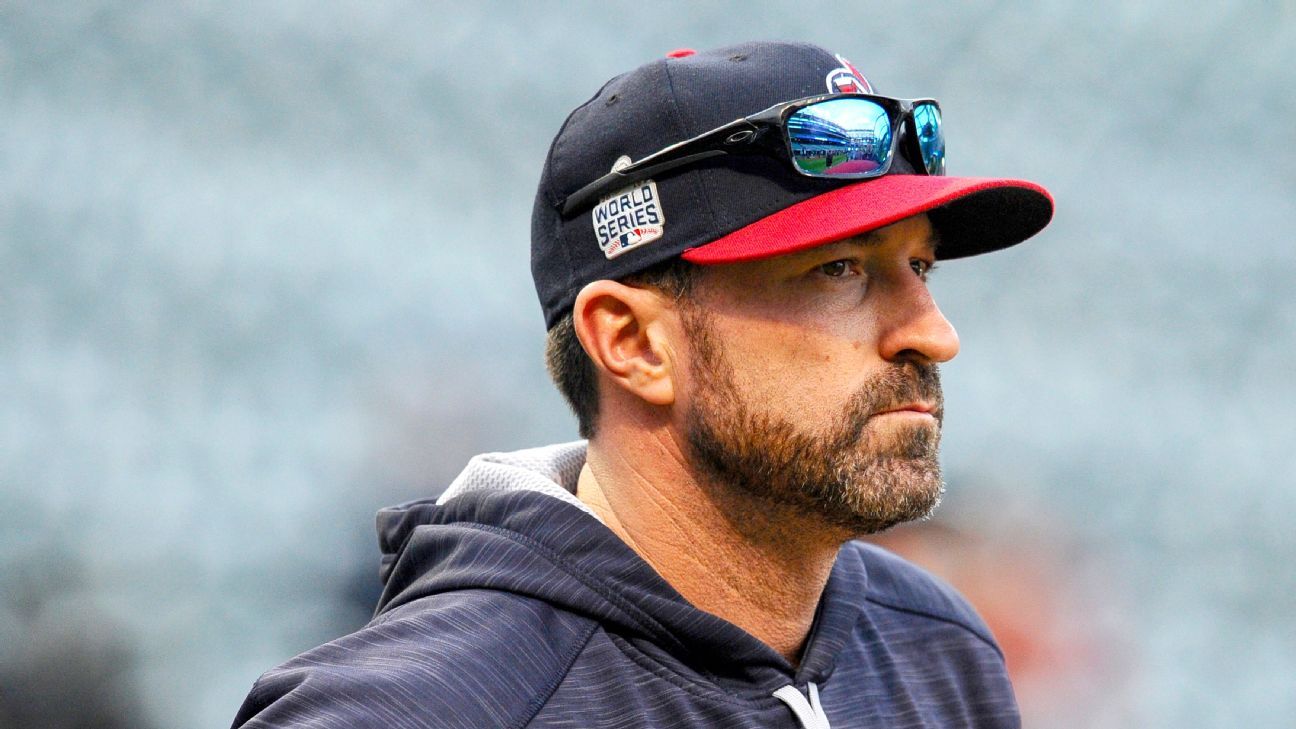 CLEVELAND — Indians president of baseball operations Chris Antonetti said Wednesday that he couldn't comment on his previous remarks about Mickey Callaway's conduct due to Major League Baseball's ongoing investigation into sexual harassment allegations against the team's former pitching coach.
Antonetti joined Terry Francona for the manager's Zoom availability from training camp in Arizona, a day after a story by The Athletic said several former Indians employees had come forward in the past month to say the team's front office was aware of Callaway's behavior.
The unidentified employees responded to Antonetti's public comments on Feb. 4 that he didn't know about Callaway's lewd actions until he read a previous Athletic story.
At the time, Antonetti said "there had never been any complaints against Mickey in his time with us, either to me or to our human resources department or other leaders."
Antonetti was asked Wednesday if he stood by his earlier comments.
"I very much want to answer that," he said. "At this point I'm not able to. The last time we talked, the investigation had not yet started, so I had more latitude with what I was able to share. With the ongoing investigation, the most important thing is that the investigation is able to maintain its integrity, its thoroughness, its impartiality.
"And I don't want to do anything that would jeopardize that investigation. As importantly, we look forward to learning what that investigation reveals so we can make sure that we address everything in totality and not in piecemeal."
On Tuesday, Francona said there was no deliberate attempt to cover up for Callaway, who was with the Cleveland team from 2010 to 2017 — serving as the pitching coach for five years — before he was hired as manager of the New York Mets.
Callaway has been suspended as the Los Angeles Angels pitching coach, pending the outcome of MLB's investigation.
Antonetti said he should have been the one to deliver the team's message Tuesday, not Francona. He reiterated that the team is "fully cooperating with the investigation."
In the most recent story, the husband of a woman who had an extramarital affair with Callaway contacted the Cleveland team multiple times to complain about his behavior in 2017. Callaway told The Athletic that "any relationship in which I was engaged has been consensual, and my conduct was in no way intended to be disrespectful to any women involved.″
One Cleveland employee told The Athletic that Callaway's behavior was "the worst-kept secret in the organization."
Antonetti, who has been with the Cleveland organization since 1999, said the team has already taken steps toward "building an inclusive culture."
Milwaukee Brewers' Corbin Burnes sees huge gains from a little tweak
The difference between fighting for survival in the big leagues and potential greatness? In the case of Milwaukee Brewers right-hander Corbin Burnes, just a little tweak in the way he grips a baseball.
It's not an exaggeration to suggest that two seasons ago, Burnes was the worst pitcher in the majors, when he went 1-5 with an 8.82 ERA and allowed a staggering 17 home runs in 49 innings. His transformation began that offseason, when he started tinkering with a new pitch; then he broke out in 2020 and nearly won the National League ERA crown with a 2.11 mark. And now, he is the hottest pitcher on the planet.
The 26-year-old Burnes dismantled a struggling Chicago Cubs offense in a 7-0 victory on Wednesday, striking out 10 batters with no walks and two hits over six innings. His season line after three starts: 1-1, 18⅓ IP, 4 H, 1 R, 0 BB, 30 SO.
"Somebody just told me the no walks, 30 strikeouts," Brewers manager Craig Counsell said after the game. "That has to be pretty historic to start a season, I'm not sure, but that's an incredible stat."
It is historic. Only three pitchers have begun a season with more strikeouts without issuing a walk:
Kenley Jansen, 2017: 51
Adam Wainwright, 2013: 35
Noah Syndergaard, 2017: 31
In 2019, the league hit .330 off Burnes. They're hitting .067 off him in 2021, as Burnes has fanned 30 of the 62 batters he has faced. The difference-maker: a wicked cutter that would make Mariano Rivera proud.
What's interesting is that the pitch actually started out as a slider that Burnes tried to develop after that disastrous 2019 season.
"I had the idea in the offseason to throw two sliders," Burnes said on a Zoom call with reporters on Tuesday. "It was the slider we'd seen previously in '18 and '19 and then a harder, tighter slider, which eventually kind of turned into this cutter. So, at one point, I was throwing two different sliders — one with a little more depth, one with a little bit more horizontal — and the curveball for more vertical, so I was going to come in with three breaking pitches. When we got into spring training, we realized it was going to be more of a cutter, and that's when we made a few tweaks: Let's make it an actual cutter versus a slider with some depth and I wouldn't worry about things blending together."
That minor tweak in grip — from slider to cutter — changed everything. In 2019, Burnes had primarily been a four-seam fastball/slider pitcher, mixing in a few curves and changeups. The problem: Batters absolutely destroyed his fastball, hitting .425 against it. According to Mike Petriello of MLB.com, Burnes' wOBA allowed on his fastball was the second worst of the pitch-tracking era (since 2008).
Now, in ownership of this unhittable cutter, Burnes has essentially ditched the four-seamer. Against the Cubs, he threw 42 cutters out of his 81 pitches and just nine fastballs (seven of those two-seamers). Yes, it also helps when that cutter comes in at 97 mph and is part of a lethal six-pitch arsenal: cutter, curveball, slider, changeup, two-seamer, four-seamer.
It's not all as simple as having one new pitch, of course. Burnes throws exclusively out of the stretch now. He said he has focused on getting the curveball and changeup to the same level as the cutter and slider. He is pitching with supreme confidence.
"Mentally, I've been locked in for 18 innings," he said.
As was the case with Rivera, the cutter apparently came pretty easy to Burnes, a natural outgrowth of his fastball.
"I've always been able to spin the ball really well; that's kind of been my calling card," Burnes had said Tuesday. "Even throwing a four-seam fastball, in the past it's always had a little bit of cutting action to it. In '18, we were able to get away with it. In '19, it was one of those things where I didn't have the command of it. I could throw it in the strike zone, but I didn't know where it was going to be.
"With a few things we cleaned up, with a few ball positioning things in the hand, we were able to take it and basically it's the cutter. When I throw it, I'm thinking through the process of throwing a four-seam fastball. For me, I think that's why it's become such an easy pitch. It's something I've thrown my entire life."
There's no reason to think he can't sustain this new level, other than he has to prove he can do it over 30 starts. The list of pitchers who can match his velocity, movement and pitch selection — that list might start and end with Jacob deGrom — is short. Burnes looks like a legitimate Cy Young contender.
Chicago White Sox left-hander Carlos Rodon throws no-hitter against Cleveland Indians
CHICAGO — Chicago White Sox left-hander Carlos Rodon came two outs away from a perfect game but threw the first no-hitter of his career in an 8-0 win over the Cleveland Indians on Wednesday night.
Rodon, 28, threw 114 pitches in the complete game, looking as strong at the end of the contest as he did at the beginning.
"I can't believe it," Rodon said on the game telecast afterwards.
With one out in the ninth inning, Rodon hit Roberto Perez in the foot, ending his chance at perfection. But the lefty then got Yu Chang looking on strike three and Jordan Luplow grounded out to third base.
Josh Naylor had opened the ninth inning with a slow roller to first baseman Jose Abreu, who barely got to the bag before Naylor. The call on the field was ruled an out, which was upheld by video review.
It's the second White Sox no-hitter in as many seasons; Rodon's teammate, Lucas Giolito, threw one last season on Aug. 25 against the Pittsburgh Pirates.
Rodon was the third overall pick in the 2014 amateur draft but injuries have plagued his career. He was non-tendered by the White Sox this past December only to sign back with them on a 1-year deal for $3 million.
Tony La Russa is now the first manager to oversee two no-hitters in the American League and two in the National League, having been in the dugout Dave Stewart in 1990, Jose Jimenez in 1999 and Bud Smith in 2001.
Pete Rose to sell picks for baseball, other sports through website
Pete Rose's baseball predictions are for sale for $89 a month.
Rose announced Wednesday that he was joining Upicktrade, a pick-selling website based in Mexico that recently made headlines in the U.S. with a short-lived partnership with the Vegas Golden Knights of the NHL. Rose will be making daily predictions about baseball and other sports.
Rose, who turned 80 on Wednesday and resides in Las Vegas, was banished from baseball in 1989 after an investigation revealed that he had bet on the game while managing the Cincinnati Reds. He has appealed to be reinstated multiple times but has been denied, most recently in 2015 by then first-year commissioner Rob Manfred.
During a conference call with the media Wednesday, Rose said he won't be placing wagers on his picks and doesn't believe working for the sports betting site would damage his chances of getting into the Hall of Fame.
"By me working with Upick, I'm not hurting Rob Manfred. I'm not trying to show him up by doing that," Rose said. "I'm trying to make a living like everyone else. I'm not making a bet on the baseball game; I'm picking a baseball game. I'm using my knowledge to pick a game for whoever is working with Upick.
"But picking games on Upick don't make me a bad person," he added. "It's not me trying to give baseball a black eye, because I'm not. I love baseball."
It has been over 30 years since Rose's banishment, and Major League Baseball is now embracing the legal sports betting market in the U.S. MLB has partnered with bookmakers, and select stadiums have announced plans to install retail sportsbooks.
Rose said he understands baseball's change of heart on sports betting.
"Why is baseball doing what they're doing? Because of the dollars, because there's money in it," he said. "Baseball was kind of stubborn for so many years, worried about gambling. But gambling is a big part of our country right now."
Legal sportsbooks are operating in more than 20 states and the District of Columbia, with another wave of jurisdictions preparing to launch sports betting markets in the near future.
Upicktrade, which is based in Guadalajara, Mexico, partnered with the Golden Knights in February. Just days after the deal was announced, the Knights terminated the partnership with no explanation.