OWINGS MILLS, Md. — On March 2, 2018, Lamar Jackson stood at the podium of the NFL combine not as one of the top quarterbacks in the draft but one of the bigger storylines.
Jackson repeatedly expressed no intention of switching positions after a rumor circulated teams wanted the Heisman Trophy winner to work out as a wide receiver.
"I'm strictly a quarterback."
"Whoever likes me at quarterback, that's where I'm going."
"No sir, I'm a quarterback."
Three years later, Jackson has become a unanimous NFL MVP, won more games than any other quarterback since taking over as the Ravens' starter midway though the 2018 season and produced some of the most memorable highlights in the league.
Here's a look at the top 10 moments of Jackson's NFL career:
10. Remarkable COVID return
Date: Dec. 8, 2020
Where: M&T Bank Stadium, Baltimore
Final: Ravens 34, Cowboys 17
What happened: Two days after coming off the reserve/COVID-19 list, Jackson shook off an up-and-down season and again resembled one of the most dangerous players in the league. He threw two touchdowns and ran for a 37-yard touchdown despite one full practice leading up to the game. This performance came after he experienced "a little flu-like symptoms" after testing positive on Thanksgiving and he still couldn't taste or smell.
What was said: "He's going to give you whatever [effort] he has, and it turned out that he had a lot tonight. That was good to see. I don't think you could predict that." — Ravens coach John Harbaugh
Stat to remember: With his fourth career touchdown run of at least 30 yards, Jackson tied Kordell Stewart for the most by a quarterback since 1950.
9. Historic MNF debut
Date: Nov. 25, 2019
Where: L.A. Memorial Coliseum, Los Angeles
Final: Ravens 45, Rams 6
What happened: Jackson became the first player to throw five touchdown passes in a Monday Night Football debut, according to the Elias Sports Bureau. With the backdrop of the Hollywood sign and the bright lights of prime time, Jackson completed 15-of-20 passes for 169 yards passing and ran for 95 yards. He did all of this despite not playing in the final 14 minutes, 43 seconds.
What was said: "He is one of a kind; he's pretty special. We got our faces peeled off." — Rams safety Eric Weddle
Stat to remember: Jackson led the Ravens to touchdowns on all six of his drives, marking the first time in 11 years an NFL team had accomplished this (the last to do so was the 2008 New Orleans Saints).
8. Juke and spin TD in Kansas City
Date: Sept. 22, 2019
Where: Arrowhead Stadium, Kansas City, Missouri
Final: Chiefs 33, Ravens 28
What happened: With the Ravens trailing 33-22 late in the fourth quarter, Jackson attempts to rally Baltimore with what would become his most memorable play in defeat. Outracing Emmanuel Ogbah to the edge, Jackson did a stutter-step at the Chiefs' 4-yard line to fake out Tyrann Mathieu before spinning around Daniel Sorensen to cross the goal line.
What was said: "The quarterback made some big-time plays. Kudos to him." — Chiefs defensive tackle Chris Jones
Stat to remember: Jackson has 899 scramble yards the last three seasons, which ranks fourth in the NFL over that time.
7. Statement in first prime-time game
Date: Dec. 22, 2018
Where: StubHub Center, Carson, California
Final: Ravens 22, Chargers 10
What happened: In his first prime-time game, Jackson transformed the Ravens from a novelty to title contender by beating a Chargers team that had won 10 of its previous 11 games. Jackson upended Los Angeles more with his arm than his legs, hitting tight end Mark Andrews in stride for a 68-yard touchdown in the third quarter. This was Jackson's best throw of his rookie season.
What was said: "We can play with anyone. That was a great team. We can fight, and everyone sees it now." — Jackson
Stat to remember: At the time, Jackson's throw to Andrews was the Ravens' longest touchdown pass in two years.
6. Eclipsing Vick
Date: Dec. 12, 2019
Where: M&T Bank Stadium, Baltimore
Final: Ravens 42, Jets 21
What happened: Jackson broke Michael Vick's single-season rushing record by a quarterback, and he accomplished the feat in only Week 15. On the opening drive, he faked a handoff to running back Mark Ingram and ran for a hard-fought five yards to surpass his childhood idol's mark of 1,039 yards set in 2006. When it was announced at the stadium that Jackson had set a new milestone, he didn't show any emotion. Sitting on the bench, he looked at the video board and then turned his attention to a tablet with quarterbacks coach James Urban.
What was said: "Me vs. Lamar, 40 Yard Dash on natural grass but he has to wear rollerblades. Who's buying the PPV?" — Tom Brady on Twitter about 30 minutes after Jackson set the record
Stat to remember: In the same game in which he surpassed Vick, Jackson also became the first player in league history to produce at least 4,000 passing yards and 1,500 rushing yards in his first 30 career games.
• Free-agency game plans for all 32 teams
• How Lamar stiff-armed his combine critics
• Signs point to Jaguars switching to a 3-4 D
• Why LT Williams' free agency is a rare case
• Matthew Willig's wild path to Hollywood
5. "Best run I've ever seen by a QB"
Date: Jan. 10, 2021
Where: Nissan Stadium, Nashville, Tennessee
Final: Ravens 20, Titans 13
What happened: Jackson won the first playoff game of his career by jumpstarting a comeback with the second-longest postseason run by a quarterback. With Baltimore trailing 10-3 late in the second quarter, Jackson dropped back to pass before bursting through the middle of the Titans defense for a 48-yard touchdown. This was the longest scramble of Jackson's career.
What was said: "It's the best run I've ever seen by a quarterback." — Harbaugh
Stat to remember: Jackson traveled 71.2 yards of distance from snap to the moment he crossed the pylon, according to NFL NextGen Stats. That's the most yards Jackson has totaled on a play as a ball carrier.
4. Taking charge in Seattle
Date: Oct. 20, 2019
Where: CenturyLink Field, Seattle
Final: Ravens 30, Seahawks 16
What happened: With the game tied at 13 late in the third quarter, Jackson came to the sideline ticked off that a promising drive stalled at the Seattle 8-yard line. As kicker Justin Tucker was lining up for the kick, Harbaugh saw the upset look on Jackson's face and reconsidered his decision on fourth-and-2. "You want to go for it," Harbaugh asked as Jackson walked past him. Jackson stopped and quickly turned to his coach, saying, "Yeah, I want to go for it! Let's get it!" Jackson went back onto the field, kept the ball and powered his way into the end zone, giving Baltimore a lead it would never relinquish.
What was said: "I don't know how to describe what a competitor Lamar Jackson is. He wants to win at everything all the time, and we feed off that. He carries that. I think that's who we are as a team. That's why he fits us so well. It showed today. You saw that fire." — Harbaugh
Stat to remember: Jackson ran for 116 yards and a touchdown in Seattle, becoming the first quarterback in the Super Bowl era with 100 yards rushing and a touchdown run in consecutive games, according to ESPN Stats & Information.
3. "Not bad for a running back"
Date: Sept. 8, 2019
Where: Hard Rock Stadium, Miami Gardens, Florida
Final: Ravens 59, Dolphins 10
What happened: In the 2019 season opener, Jackson answered questions about whether he could throw the ball by tossing five touchdown passes and recording a perfect passer rating. He completed 17-of-20 passes for 324 yards in three quarters of work.
What was said: After the game, Jackson was asked whether he proved to people he was going to throw the ball in 2019. He flashed a smile and responded, "Probably not. Not bad for a running back."
Stat to remember: Jackson finished with a 24.8% completion rate above expectation in Week 1, according to NFL NextGen Stats.
2. The Cincinnati spin
Date: Nov. 10, 2019
Where: Paul Brown Stadium, Cincinnati
Final: Ravens 49, Bengals 13
What happened: The defining play of Jackson's MVP season was a 47-yard touchdown run that was part Michael Vick, part Barry Sanders. Midway through the third quarter, Jackson raced to the Bengals' 32-yard line where he eluded linebacker Nick Vigil and safety Shawn Williams by pivoting and corkscrewing himself with a nasty spin move. The spin maneuver — which he had choreographed a day earlier — generated six million views on the NFL's official Twitter field by Monday morning.
What was said: "They'll be watching that run for decades and decades. That's one that everyone in the country is going to see by tomorrow afternoon." — Harbaugh told his coaches on the headset after the run
Stat to remember: Jackson reached 18.59 mph, according to NFL NextGen Stats. It marked the 25th time he had hit at least 18 mph as a ball carrier in the first nine games of 2019.
1. The Cleveland comeback
Date: Dec. 14, 2020
Where: FirstEnergy Stadium, Cleveland
Final: Ravens 47, Browns 42
What happened: With the Ravens in a must-win situation to reach the postseason, Jackson misses most of the fourth quarter with cramping in his legs and arms and Baltimore watches a 34-20 lead turn into a 35-34 deficit. Returning with two minutes remaining, Jackson scrambles on fourth-and-5 and throws a 44-yard touchdown to Marquise "Hollywood" Brown on his first play back.
What was said: "Superman showed up right on time!!" — Dez Bryant on Twitter
Stat to remember: That touchdown pass increased Baltimore's chances of reaching the playoffs from 56% to 82%, according to ESPN Stats & Information.
In memo, NFL outlines rules for offseason program, with only minicamp being mandatory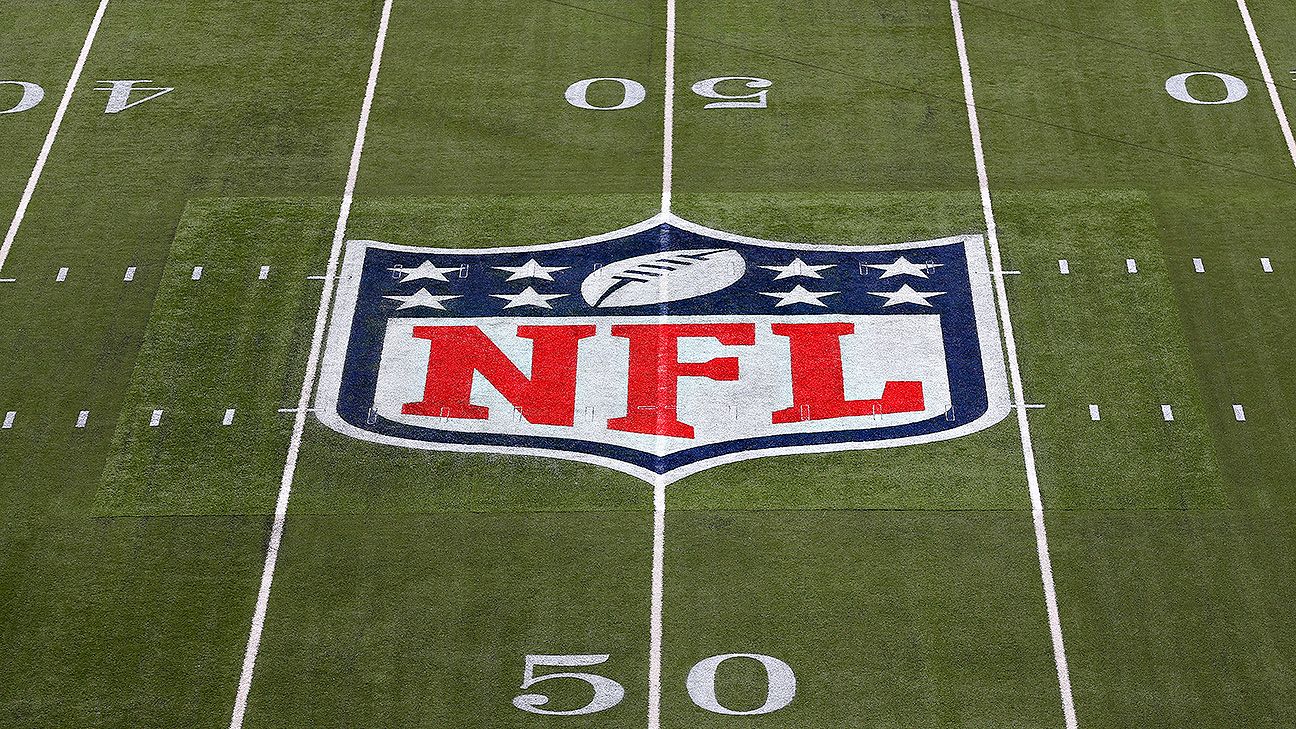 The NFL on Wednesday sent a memo to teams outlining rules for its offseason programs — rules the league has decided to impose after failing to reach agreement with its players' union on some key aspects.
The parts of the offseason program that are voluntary under the CBA — everything but the annual mandatory June minicamps — will remain so. But while the NFLPA has publicly called for the entire offseason to be conducted virtually in light of the ongoing coronavirus pandemic, the league is telling teams that on-field work will be permitted.
Phase 1 of the offseason program, which reflects what the players requested, will run from April 19 through May 14. All meetings will be conducted virtually, and no on-field work will be permitted. The league says it wants to use this phase to focus on vaccine education efforts and making vaccines available to players, team staff and their families as soon as their various local regulations permit.
Phase 2 will run from May 17 through May 21. It will remain voluntary and meetings will remain virtual, but on-field drills will be permitted under the normal Phase 2 guidelines (which prohibit contact and limit the amount of time spent on the field per day). Annual post-draft rookie minicamps will be held in the week of Phase 2.
Phase 3 will be a traditional Phase 3 that runs from May 24 through June 18 and will include the normal 10 days of voluntary OTA work as well as the mandatory minicamps. Meetings during this phase will be allowed to be conducted virtually or in-person, and applying the COVID-19 rules about testing, contact tracing and limits on the numbers of people allowed in various parts of the team facility.
Players who participate in meetings or workouts virtually will still be entitled to their $250 per diems, which was an important part of the NFLPA's request during the negotiations on offseason programs.
The league will not require players or staff to be vaccinated, but it is waiting to hear back from the NFLPA on its vaccine-related proposal that would ease COVID restrictions on vaccinated players and on teams with personnel that reaches a certain percentage threshold of vaccinations. Under the league's proposal, players who have been vaccinated would be subject to less testing and fewer contact tracing restrictions and would have more freedom of movement around the team facility and outside of it. Teams with players and staff who reach a certain percentage of vaccinations would be subject to more relaxed COVID protocols, as teams in other professional leagues have been.
The NFLPA has said publicly that it believes the offseason program should be exclusively virtual, and it is urging its members not to attend the portions of the program that are voluntary under the CBA. The union does recognize that 203 players have workout bonuses in their contracts that require them to attend offseason workouts to receive those bonuses, and it is not actively discouraging those players from doing so, although the union is trying to articulate a broader message that players should stop agreeing to contracts that include bonuses for attending voluntary offseason workouts.
LB Vince Williams re-signing with Pittsburgh Steelers
Inside linebacker Vince Williams is re-signing with the Pittsburgh Steelers on a one-year deal, sources told ESPN's Jeremy Fowler.
The Steelers released Williams in March in one of their moves to get under the salary cap. He told Fowler then that he had a lot of football left and was eager to provide veteran leadership and play for a team that needs it.
He started 14 games last season, finishing with 70 tackles and three sacks. His usage jumped significantly last season after the departure of Mark Barron, playing 65% of defensive snaps, up from 37% the year before.
Williams, 31, was a full-time starter for the Steelers in three of the past four seasons.
A sixth-round draft pick by Pittsburgh in 2013, he has appeared in 121 games, with 69 starts, and has two interceptions (including a pick-six), 20.5 sacks and 333 solo tackles in eight seasons with the franchise.
Williams has indicated that he will think about retirement after this season and has considered getting into coaching.
ESPN's Brooke Pryor contributed to this report.
Why the Philadelphia Eagles could have another NFL draft trade up their sleeve – Philadelphia Eagles Blog
PHILADELPHIA — When it comes to the Philadelphia Eagles' draft-day plans, it feels like there's another shoe yet to drop.
Step 1 was executed March 26 when the Eagles moved back from No. 6 to No. 12 overall in a deal with the Miami Dolphins that fetched a 2022 first-round pick. The Eagles will now have as many as three first-round picks in the 2022 NFL draft — capital they can use to build around quarterback Jalen Hurts or pursue another quarterback should Hurts not live up to expectations.
While the trade back likely cost them the chance to pick a playmaker like LSU receiver Ja'Marr Chase or Florida tight end Kyle Pitts (assuming one of them makes it to the No. 6 pick) in the 2021 NFL draft (April 29-May 1 in Cleveland, ESPN/ESPN App), the deal made sense from a macro perspective for an Eagles team in a state of transition. That said, they can't afford to whiff on this year's first-round pick.
Which brings us to a logical Step 2 in the plan: moving back up in the first round to grab one of their targeted prospects.
Let's say they're interested in landing Alabama cornerback Patrick Surtain II, believing he can be a critical piece in defensive coordinator Jonathan Gannon's secondary-centric scheme. If they stand pat at No. 12, there's a good chance he is scooped up before then — perhaps by the rival Dallas Cowboys at No. 10. That would sting. And there's no guarantee South Carolina cornerback Jaycee Horn will make it to them, either.
The Eagles have the most picks in this year's draft with 11, including No. 37 overall and a pair of third-rounders. There's virtually no shot they use them all. They have the resources to move up a few slots — say, to the Carolina Panthers' spot at No. 8 or the Denver Broncos' at No. 9 — and grab a player they covet while still holding on to the three first-round picks next year.
If it's a receiver they're after, the same logic applies. Sure, they could sit and hope one of the Alabama wideouts — DeVonta Smith or Jaylen Waddle — slides to them, but hope is not a strategy. If they want one of them, go get 'em.
Another option for the Eagles is to package the No. 37 pick to acquire an additional first-rounder. The Eagles could entice a team in the back end of the first round to move out with a combination of picks, or even include tight end Zach Ertz — who is expected to be traded before the start of the season — as part of the deal. The Buffalo Bills, as an example, could use a boost at tight end. They hold the No. 30 pick and showed interest in Ertz earlier this offseason.
Bill Belichick has made a total of 82 draft day trades since becoming the Patriots head coach in 2000.

The next closest team is the Eagles, with 61 in that timeframe.

New England currently owns 10 picks in the draft, starting with 15th overall.

— Field Yates (@FieldYates) April 12, 2021
Outside of the players mentioned, value picks at No. 12 include offensive linemen Alijah Vera-Tucker of USC and Rashawn Slater of Northwestern, as well as Michigan defensive end Kwity Paye. While any of those picks would fit the Eagles' credo of investing in the trenches, they each come with questions that you'd rather not have to grapple with when picking this high up: are Vera-Tucker and Slater guards or tackles at the next level? Why didn't Paye's production match his ability?
There are no sure things in the draft, and the hit rate for linemen is historically higher than either receiver or cornerback. But the Eagles need to walk away with a blue-chip prospect — one they're fired up about and universally behind. Moving up is the only way to guarantee they're successful in that venture.
They can't execute this plan alone, of course; Philadelphia needs to find a team willing to swap picks and move back. Assuming the Eagles can find a dance partner, they have the capital and plenty of incentive to leapfrog NFC East rivals Dallas and the New York Giants, who hold the No. 11 pick, to land their guy.