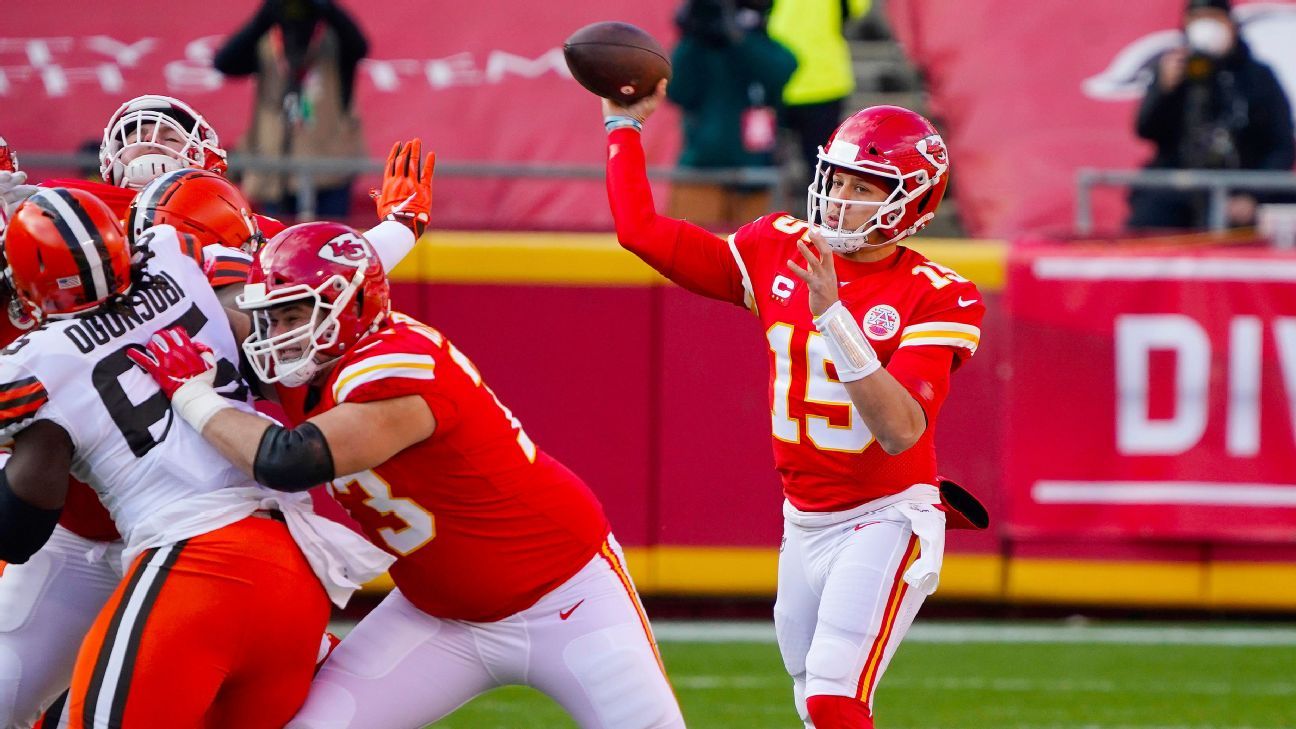 The Chiefs took a 6-0 lead on the game's first drive when Patrick Mahomes ran the ball in from 1 yard out. Mahomes could have pitched on the option to Darryl Williams but kept it himself and scored easily. Mahomes has now scored in each of the Chiefs' past three postseason games going back to last season. Harrison Butker missed the extra point attempt.
It was Mahomes' third straight playoff game with a rushing touchdown, the longest streak by a quarterback since Steve Young across the 1994-95 postseasons, according to ESPN Stats & Information.
QB Patrick Mahomes leads a methodical opening drive for a 1-yard scorepic.twitter.com/2N5Fr7u

— Kansas City Chiefs (@Chiefs) Jan. 17, 2021
After he scored, Mahomes threw the ball way up into the upper deck.
QB Patrick Mahomes throws ball into standspic.twitter.com/38OOeTQ

— chiefs kingdom (@_dawnw81) Jan. 17, 2021
LB Thomas Davis to sign 1-day deal with Carolina Panthers and retire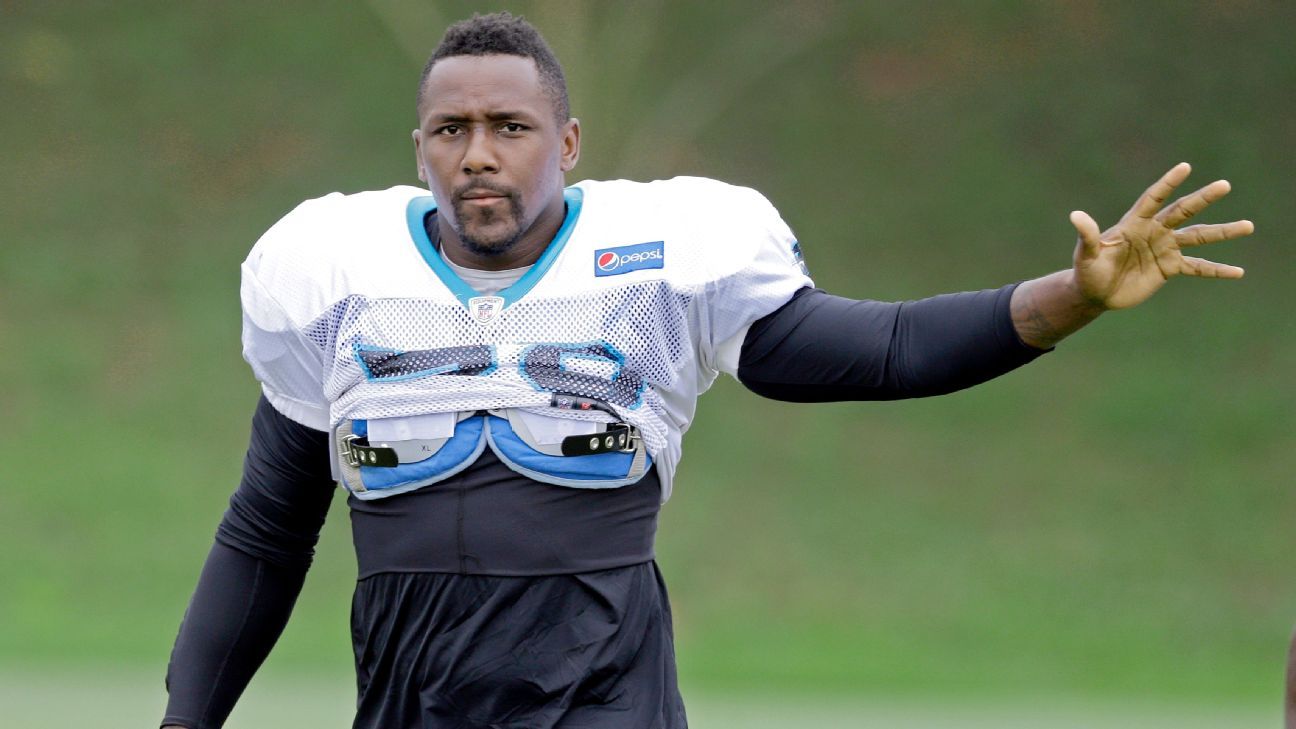 CHARLOTTE, N.C. — Three-time Pro Bowl linebacker Thomas Davis will end his NFL career where it began in 2005.
Davis, 37, announced Wednesday on Instagram he will sign a one-day contract with the Carolina Panthers on March 11 so he can retire with the club. He was released by the Washington Football Team earlier in the day.
"I will officially be returning to the place my heart has been all along," Davis wrote on Instagram. "[Panthers] thank you from the bottom of my heart for this opportunity."
Davis played his first 14 seasons with Carolina after being selected with the 14th pick of the 2005 NFL draft out of Georgia. He was released following the 2018 season, then spent 2019 with the Los Angeles Chargers and 2020 with former Panthers coach Ron Rivera at Washington.
At Carolina, Davis became the first player in NFL history to overcome ACL surgery on the same knee (right) three times. All three of his Pro Bowl appearances came after the third surgery. He also won the Walter Payton NFL Man of the Year Award in 2014.
Davis, considered the heart and soul of the defense during Carolina's 2015 run to Super Bowl 50, played the title game two weeks after breaking his arm in the NFC Championship Game. He had seven tackles in a 24-10 loss to the Denver Broncos.
He remains Carolina's all-time leader in tackles with 789, ahead of former teammate Luke Kuechly with 690.
Giants release WR Golden Tate in cost-cutting move
EAST RUTHERFORD, N.J. — Wide receiver Golden Tate has been released by the New York Giants in a cost-cutting move, a source told ESPN's Adam Schefter on Wednesday.
The move creates $6 million in cap space for the Giants, $10 million if he is designated a post-June 1 cut. Tate was to make $8.5 million and count $11 million against the cap in 2021.
The Giants also cut veteran linebacker David Mayo on Wednesday, a source told ESPN. Mayo suffered a torn meniscus in his left knee last August and was placed on injured reserve for the entire season.
Tate, 32, caught 35 passes for 388 yards and two touchdowns last season. It was the least productive season since his rookie year, in part because he missed four games and started just four, serving as the Giants' third receiver behind Sterling Shepard and Darius Slayton.
The lack of playing time and opportunities led to some frustration following a prime-time loss to the Tampa Bay Buccaneers on Nov. 2. Tate was caught on camera yelling "throw me the ball!" after his spectacular leaping touchdown grab late in the fourth quarter to put the Giants in position to tie the score.
His wife, Elise, ranted that night on Instagram about Tate's lack of opportunities, and Tate later liked a tweet that suggested he should be cut and given an opportunity to sign elsewhere.
Tate did not travel with the team to the following week's game against the Washington Football Team, but Giants coach Joe Judge was extremely complementary of Tate's team-first approach the remainder of the season.
Tate also got into a fistfight on the field with Los Angeles Rams cornerback Jalen Ramsey following an early-season matchup.
The Giants signed Tate to a four-year deal worth $36.3 million with $22.95 million guaranteed after trading Odell Beckham Jr. in 2019.
Tate has played 11 years with the Seattle Seahawks, Detroit Lions, Philadelphia Eagles and Giants, making a Pro Bowl and winning a Super Bowl as one of the league's most productive receivers.
The former Notre Dame star has 695 career catches for 8,278 yards and 46 receiving touchdowns. He's also tied for first in yards after the catch (4,248) with Antonio Brown since entering the league in 2010.
Arizona Cardinals GM giving Larry Fitzgerald 'space' to make decision on 2021
TEMPE, Ariz. — It's early March, and Arizona Cardinals wide receiver Larry Fitzgerald has yet to announce his intentions for the 2021 season.
But the Cardinals are letting the 17-year veteran take his time.
Arizona general manager Steve Keim said during a video conference call Wednesday that he didn't have anything to report on Fitzgerald's status for the upcoming season.
"I've said it a few times that you know he deserves that space," Keim said. "At some point in time, I'm sure we'll talk to him here in the near future."
Fitzgerald, 37, has played the past five seasons on one-year contracts each worth $11 million, which has led the 11-time Pro Bowler to have to make a decision on his future each of those years. The latest he had decided to play since 2016 was Feb. 15 in 2018.
But Keim said he doesn't need Fitzgerald make a decision by the start of the league year on March 17, despite the lowered league-wide salary cap.
Fitzgerald, who'll turn 38 in August, has said in the past that when he decides to retire, he'll just walk away quietly, not wanting the pomp and circumstance or farewell tour that sometimes accompanies players' retirements.
Keim joked that Fitzgerald is waiting to announce his decision on purpose.
"Knowing him, he's probably just trying to make me sweat," Keim said. "But, no, I don't know. it's a private thing for a player, and we've always given Larry space and he's taken his time, which, again, there's nobody that deserves that more than him."