Sparked by cornerback Taron Johnson's record-tying 101-yard interception return for a touchdown in the third quarter, the Buffalo Bills defeated the visiting Baltimore Ravens 17-3 on Saturday night to advance to the AFC Championship Game for the first time since the 1993 season.
The second-seeded Bills will face the winner of Sunday's game between the Cleveland Browns and Kansas City Chiefs (CBS, 3:05 p.m. ET).
If the defending Super Bowl champion Chiefs win, the Bills will travel to Arrowhead Stadium for the game next Sunday at 6:40 p.m. ET.
If the Browns win, the AFC Championship Game will be played in Orchard Park, New York, next Sunday at 6:40 p.m. ET.
The last time the Bills played in the AFC Championship Game was Jan. 23. 1994. They beat the visiting Chiefs in that game to earn their fourth straight trip to the Super Bowl (a game they would lose for the fourth straight year).
The Bills' return to prominence under fourth-year head coach Sean McDermott has had Western New York buzzing, with Saturday night's game played before approximately 6,700 fans at Bills Stadium that sounded more like 67,000 on NBC's television broadcast. The stadium had been closed throughout the regular season due to COVID-19, but state and local officials put together a plan for the postseason that allowed attendees who registered a negative COVID-19 test to attend.
Johnson's 101-yard interception return of Ravens quarterback Lamar Jackson – which tied the NFL's record set by Green Bay's George Teague in 1993 — helped break things open on a windy Saturday night.
Just as it appeared the Ravens were driving for a potential tying touchdown on a march that lasted more than eight minutes, Jackson didn't seem to see Johnson cut underneath on third-and-goal from the 9-yard line.
Johnson, a third-year cornerback from Weber State, raced untouched 101 yards, with NFL Next Gen Stats clocking him with a max speed of 20.39 miles-per-hour on the play. Not even the speedy Jackson, who was clocked with a max speed of 20.66, could catch him.
On the Ravens' next drive, Jackson was knocked out of the game after taking a hit and having his head bang against the turf. The Ravens announced he was in the concussion protocol, and the Bills closed things out against backup Tyler Huntley.
It was much tighter in the first half.
The Bills' pass-first plan- when the teams went to halftime tied at 3 after normally reliable Ravens kicker Justin Tucker missed two field goals – was an outside-the-box approach.
Buffalo didn't call a rushing play in the first quarter. According to Elias, the Bills are the only team in the last 60 postseasons to have no rushing plays in the first quarter of a playoff game.
Buffalo ended the half with three total rushes — one on a scramble by quarterback Josh Allen on a designed pass play, and another coming with Allen's kneel-down on the final play.
The three rushes tied for the fewest in the first half of a playoff game over the last 70 seasons, joining the Green Bay Packers (2016 NFC Championship Game), St. Louis Rams (1999 divisional round) and Houston Oilers (1990 wild card round).
The Bills notably turned to the run on their opening drive of the second half, which produced the game's first touchdown — a 4-yard catch-and-run by receiver Stefon Diggs, who became the first Bills player with a receiving touchdown in consecutive playoff games since Pro Football Hall of Famer Thurman Thomas (1995-96).
Houston Texans release running back Duke Johnson, source says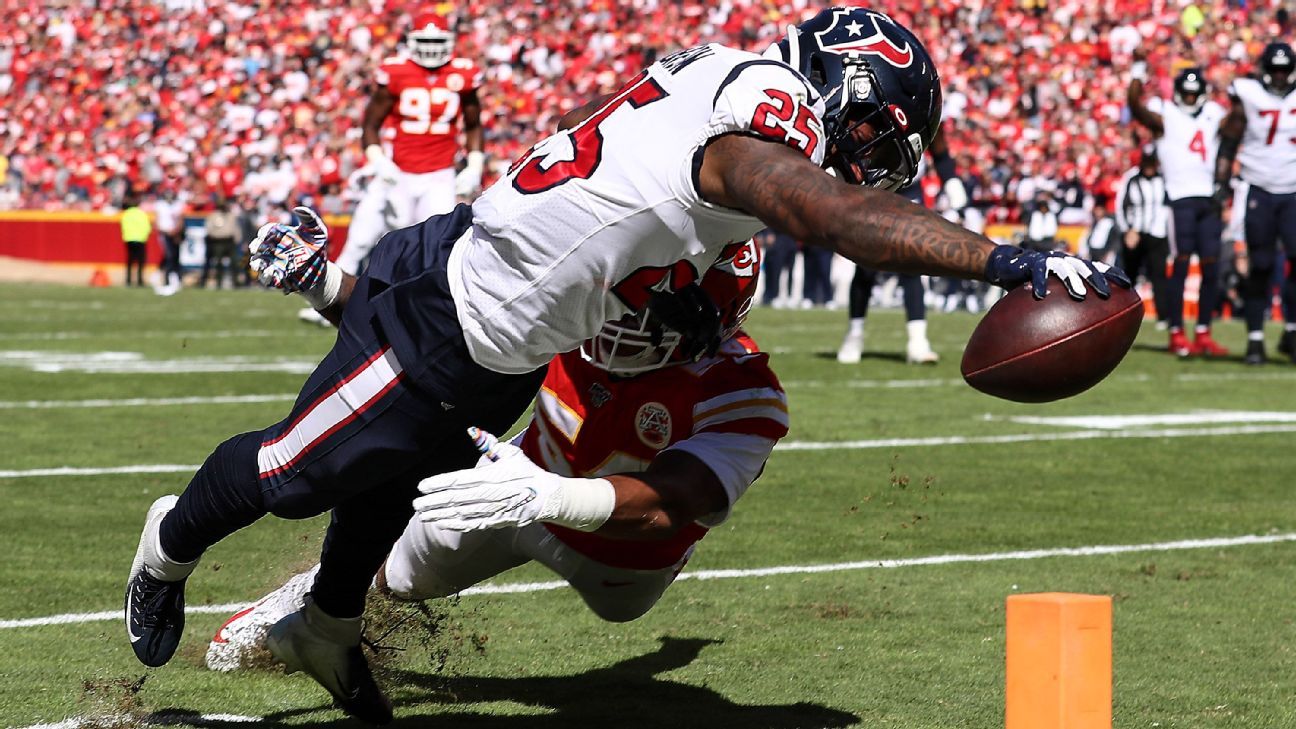 The Houston Texans have released running back Duke Johnson, a source told ESPN's Adam Schefter on Friday.
The Texans acquired Johnson from the Cleveland Browns during training camp in 2019 for a third-round pick.
In 11 games for the Texans last season, Johnson rushed for 235 yards and a touchdown on 77 carries. The pass-catching running back had a career-low 28 receptions for 249 yards and a touchdown.
Johnson backed up Carlos Hyde in 2019 and David Johnson in 2020. During the 2020 season, he started in place of David Johnson when the starter missed time due to a concussion and spending a week on the COVID-19 list.
NFL's minority hiring rate for open jobs nearly doubled
The number of minority hires for open positions in the NFL nearly doubled to 34.6% in 2021.
According to the league's demographics study obtained Friday by The Associated Press, the minority hirings included: three general managers, two head coaches, three offensive coordinators, six defensive coordinators, four special teams coordinators, three quarterbacks coaches.
The minority hiring rate was 18.8% in 2020. Interview requests for minority candidates increased to 47% from 22% in 2020.
Twelve of the 28 candidates interviewed for head coaching positions were minorities. David Culley (Texans) and Robert Saleh (Jets) were hired. Kansas City Chiefs offensive coordinator Eric Bieniemy was passed over despite receiving an interview request from each of the seven teams looking for a new head coach.
The data shows minority head coaches have been given second opportunities at a higher rate than white coaches. From 2000 to present, eight of 21 fired minority coaches (38.1%) got another head coaching job. Of the 115 fired white coaches, 22 (19.1%) got a second chance.
New York Giants' Nate Solder intends to play in 2021 after opting out last season
EAST RUTHERFORD, N.J. — New York Giants offensive tackle Nate Solder intends to play in 2021 as long as the situation is right, he told ESPN in a phone conversation this week.
Solder, who opted out this past season because of concerns for his family with COVID-19, has yet to have that conversation with the team about his future. He was considered a high-risk opt-out and his contract tolled.
He is scheduled to make $10 million in 2021 while costing $16.5 million against the salary cap this upcoming season.
The Giants haven't been in a rush to make any moves with the new league year still almost three weeks away. Like everybody else, they're waiting to see the official salary cap number for the 2021 season. Then they're expected to meet with the veteran tackle.
Solder, 32, was the Giants' starting left tackle in 2018 and '19 after signing a lucrative free-agent contract. He had spent the previous seven years of his career with the New England Patriots, where he won a pair of Super Bowls.
The decision to opt out last season centered around Solder's family. His oldest son Hudson has battled cancer. So has Nate. Solder and his wife Lexi also had a newborn.
Solder had said late last year on the Sports Spectrum podcast with former NFL quarterback Brock Huard that if he had another opportunity to play, he would probably take it. He also noted that he was still working out, but hadn't prioritized his conditioning and weight lifting like he would during a normal football season.
The Giants now have a decision to make if they are going to move forward with Solder. They would save $6 million this season against the salary cap if he's released, and $10 million if they made it a post-June 1 cut.
New York drafted a pair of tackles in last year's draft, including Andrew Thomas with the No. 4 overall pick out of Georgia. Thomas started at left tackle and, despite early struggles, got better as the season progressed.
Third-round pick Matt Peart is expected to compete for the starting right tackle spot this year. Cameron Fleming, who started last season, is a free agent.