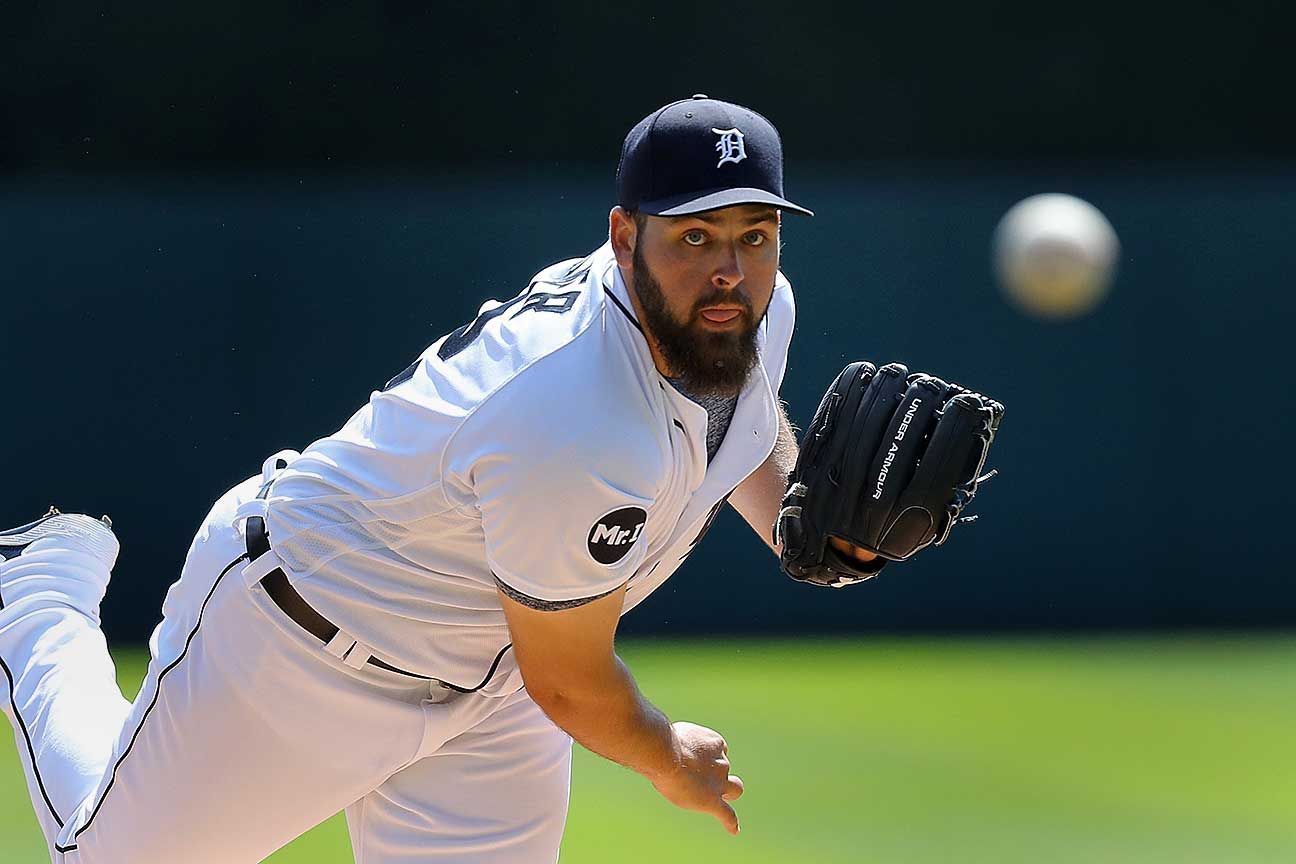 DETROIT — Right-hander Michael Fulmer and the Detroit Tigers agreed Tuesday to a $3.1 million, one-year contract that avoided arbitration.
The 2016 AL Rookie of the Year went 0-2 with an 8.78 ERA in 10 starts last season after missing all of 2019 because of Tommy John surgery. He earned $1,037,037 in prorated pay from a $2.8 million salary.
Eight Tigers remain eligible to swap proposed salaries Friday: right-handers Jose Cisnero, Buck Farmer and Joe Jimenez, left-handers Matt Boyd and Daniel Norris, shortstop Niko Goodrum, third baseman Jeimer Candelario and outfielder JaCoby Jones.
Detroit also announced that Steve Chase has been promoted to major league strength and conditioning coach after 16 seasons working in the organization's player development system. He spent the last six seasons as minor league strength and conditioning coordinator.
Los Angeles Dodgers' Trevor Bauer pitches shutout inning vs. San Diego Padres with one eye closed
GLENDALE, Ariz. — Trevor Bauer immersed himself into a budding rivalry between the Los Angeles Dodgers and the San Diego Padres with one eye closed.
The Dodgers' prized offseason acquisition navigated through his first inning against the Padres on Saturday afternoon by pitching mostly with his right eye closed, a training method he said he utilizes frequently as a means to make himself uncomfortable.
"I figured if they can't score off me with one eye open, it's gonna be difficult to score off me with two eyes open," Bauer said after throwing three scoreless innings from the Dodgers' facility. "Just having a little bit of fun."
Bauer didn't go into specifics for why he occasionally chooses to keep an eye closed, though Dodgers manager Dave Roberts mentioned that it had something to do with recalibrating his command.
"I think there might have been one curveball I think he did with both eyes closed," Roberts said while holding his laughter. "I don't know, but there is a method to his madness."
Bauer, 30, said he routinely keeps at least one eye closed in bullpen sessions, while playing long toss and when facing hitters over the offseason, adding that he likes "making myself uncomfortable and throwing different stuff my way and trying to find a solution for it."
Bauer gave up a single to Jurickson Profar to begin his outing, capping a nine-pitch at-bat, then issued a walk to Tommy Pham before retiring the next three batters, the last two on strikeouts. Over the next two innings — with both eyes open, apparently — he retired six of the seven hitters he faced.
The Padres were coming off a Friday night game and didn't play most of their starters, which meant Bauer didn't get another crack at Manny Machado, who is famously batting .588/.667/.1.412 against him in 17 career plate appearances. Bauer previously made a YouTube video analyzing Machado's success against him, and Dodgers president of baseball operations Andrew Friedman joked about the desire to figure something out against Machado shortly after signing Bauer to a three-year, $102 million contract last month.
Bauer joked that Machado was "already ducking me" by not making the trip.
When the games begin counting, Bauer he'll have plenty of chances against him.
"Just wait," Bauer said behind a wry smile. "It's gonna be a fun year."
Veteran left-hander Jose Alvarez, San Francisco Giants agree to 1-year deal
SCOTTSDALE, Ariz. — Left-handed reliever Jose Alvarez signed a $1.15 million, one-year contract with the San Francisco Giants on Saturday.
The 31-year-old will look to build off momentum he had with the Phillies last season when he posted a 1.42 ERA over eight outings. He was struck by a 105 mph line drive in the groin area Aug. 20 against Toronto and didn't pitch for the rest of the year.
Alvarez allowed just one earned run over 6 1/3 innings before the injury, holding right-handed hitters to 3 for 15 with one extra-base hit. He pitched for second-year Giants manager Gabe Kapler for Philadelphia in 2019.
The deal that includes a club option for 2022 worth $1.5 million for the veteran reliever. Alvarez would receive a $100,000 buyout if the Giants decline the option.
Also, the Giants announced right-hander Jordan Humphreys was claimed off waivers by the San Diego Padres.
Seattle Mariners prospect Jarred Kelenic sidelined by knee strain
PEORIA, Ariz. — Seattle Mariners top prospect Jarred Kelenic will be sidelined due to a strained adductor muscle in his left knee.
Mariners general manager Jerry Dipoto said an MRI on Saturday revealed the injury. No timeline was given for the outfielder's return.
"While disappointed that Jarred will be sidelined, we are relieved that the long-term outlook is positive," Dipoto said. "We all look forward to seeing him back on the field in the near future."
Kelenic appeared to be injured during his first at-bat on Friday against the Chicago White Sox. Kelenic reached on an error, but appeared bothered after reaching first base. Kelenic remained in the game and was replaced an inning later.
The 21-year-old Kelenic, who hit Seattle's first home run of spring training earlier this week against the Cubs, has been the center of attention during spring training.
Kelenic's arrival in the majors was part of comments made by former team president and CEO Kevin Mather that indicated Seattle was considering manipulating Kelenic's service time.
Kelenic and his agent lashed out at the Mariners in comments made to USA Today following Mather's resignation last month. After homering earlier this week Kelenic said he's using those words as motivation.
"I'm a competitor," Kelenic said. "I'm a very driven person as it is. Having said that, you know, something like this comes up and I think you can look at it one of two ways: One, you can sit and pout about it, or you can use it as motivation and let it drive me even more. That's kind of where I'm at. Each and every day I'm letting this drive me."