FLORHAM PARK, N.J. — When Joe Douglas was introduced as the New York Jets' general manager, he thanked about a dozen people from his past, including Doug Pederson. He mentioned Pederson among a handful of members from the Philadelphia Eagles' organization, saying, "We will walk together forever in the history of pro football" — a reference to their Super Bowl title in February 2018.
No doubt, the bond of a championship is strong. We're about to find out how strong.
Pederson is looking for a job after being fired Monday by the Eagles; Douglas is looking for a coach after a 2-14 disaster that resulted in Adam Gase's ouster. Under ordinary circumstances, this would be a no-brainer for the Jets. You have a Super Bowl-winning coach on the market (the Jets haven't had one of those since Bill Parcells) and he happens to be tight with the GM.
• Latest news on open coaches' jobs in NFL »
• Play the NFL head coach match game »
• McManus: What's next for Eagles, Wentz? »
• Smith: Herbert the focus for Chargers »
• Cimini: Jets can learn from Gase debacle »
Thing is, these circumstances aren't ordinary. Pederson went down hard in Philly, hard and ugly, capped by his controversial decision to pull rookie quarterback Jalen Hurts in Week 17. It fueled allegations of tanking, and that's not the kind of stink that washes away easily. It would travel with him up the New Jersey Turnpike if he were to get hired by the Jets, who don't need another retread that has to explain what went wrong in the previous job (see: Gase).
The Jets can do better than Pederson. On Monday, they interviewed Tennessee Titans offensive coordinator Arthur Smith and New Orleans Saints secondary coach Aaron Glenn, which brings the total to nine known candidates. In my opinion, the most qualified candidates are San Francisco 49ers defensive coordinator Robert Saleh and Buffalo Bills offensive coordinator Brian Daboll, who has received "serious interest" from the Jets and Los Angeles Chargers, ESPN's Sal Paolantonio reported.
Will Douglas reach out to Pederson? It wouldn't be a surprise if he wants to discuss the position. After all, they spent three years together. Douglas, who said last week he's looking for a "great partner," has maintained a good relationship with Pederson. But it's premature to say Pederson's sudden availability means he jumps to the top of the Jets' list. At this point, he's viewed as a fallback candidate. Besides, Pederson is planning to take some time to mull his future and whether he wants to coach in 2021, according to Paolantonio.
Pederson beat New England and coach Bill Belichick in Super Bowl LII with a backup quarterback (Nick Foles), and he made the playoffs in three straight seasons — the kind of stuff that doesn't happen by accident. But there have been too many red flags over the past year to anoint him as the Jets' savior. The Eagles went 4-11-1 in a terrible NFC East division, quarterback Carson Wentz regressed significantly and the Wentz-Pederson relationship reportedly went kaput somewhere along the way. Then, of course, there was the Week 17 debacle, which created the perception Pederson quit on his team.
Two years ago, the Jets made the mistake of hiring Gase immediately after he was fired by the Miami Dolphins. It would be the definition of delusion to try it again with Pederson. A fired coach often times needs a year away from the crucible of the job, time to decompress and take stock. Pederson could benefit from a respite, especially after a taxing few months on the job in Philly.
In the mean time, the Jets will continue with their search, probably narrowing their focus this week and setting up second interviews (in-person) with their main targets. So far, the interviews have been virtual. As promised, Douglas has cast a wide net, speaking with so-called hot coordinators (Saleh and Daboll) and fast-rising talents (Glenn and Los Angeles Rams defensive coordinator Brandon Staley).
He couldn't go wrong with Saleh or Daboll, who can't be hired until the Bills are eliminated. Saleh is a proven coordinator with an energetic, upbeat personality, a la Pete Carroll, one of his mentors. He'd be the anti-Gase, someone who would galvanize the entire team. Daboll has a winning pedigree (five Super Bowl rings as a New England Patriots assistant) and impressive DNA (Belichick and Alabama's Nick Saban). He also has received widespread credit for his work with Bills quarterback Josh Allen. This matters to the Jets, who need someone to fix Sam Darnold or groom a rookie.
Douglas has a big decision to make. If he's smart, he will put friendship aside and take a pass on Pederson.
Buffalo Bills propose delaying NFL hiring process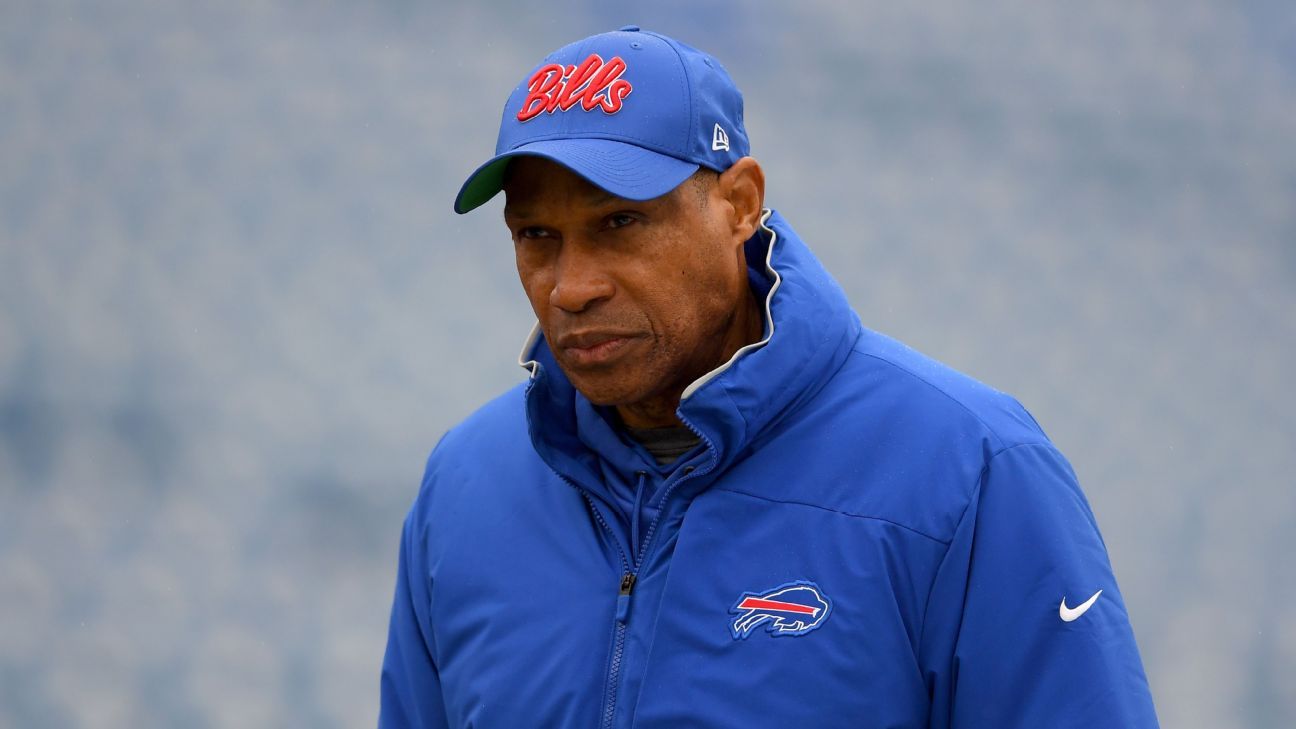 BUFFALO, N.Y. — The Buffalo Bills submitted a rule change to the NFL, proposing that any coaching or front-office interviews wait until after the conference championship games and any hiring until after the Super Bowl, a league source confirmed Wednesday.
Sports Illustrated's MMQB was the first to report the story.
The proposal could be voted on during the NFL owners meetings this offseason.
The Bills' proposal doesn't come as much of a surprise considering the attention their assistant coaches received throughout their playoff run in 2020. Offensive coordinator Brian Daboll was interviewed by the New York Jets and Los Angeles Chargers and defensive coordinator Leslie Frazier was interviewed by the Houston Texans. Assistant general manager Joe Schoen was also interviewed by the Carolina Panthers.
Bills general manager Brandon Beane was vocal about his opinion of the current rule during a recent appearance on Cris Collinsworth's podcast, saying it was "tough to ask" coaches to focus on both their upcoming interviews and the game ahead of them.
"To me, it's an unfair process," Beane said. "Personally, I would love to see the hiring backed up so when you're trying to win this game, you work all year … and now you're having guys have to think, in the back of their head, 'I don't want to lose this opportunity with Houston.' If I'm Leslie Frazier, 'I want to make sure I'm ready for that interview, but I've got to get ready for the Baltimore Ravens and stop Lamar Jackson.'
"I really hope the league will continue to look at moving this thing back, whether it's after the championship games or after the Super Bowl. I know that's a long time, but I'm at least going to try and ask for that so that these guys don't have to worry about it."
Beane also mentioned that sometimes the losing coach in a playoff game gets the job and the winning coach is passed over because the interviewing team is "tired of waiting." He mentioned Tampa Bay Buccaneers coaches Todd Bowles and Byron Leftwich, as well as Kansas City Chiefs offensive coordinator Eric Bieniemy as victims of that process.
Neither Daboll nor Frazier was hired this offseason.
"It's definitely a subject I hope the league takes into consideration this year," Beane said. "Because Leslie Frazier — he deserves a head-coaching job, Brian does, too."
Beane said he was "disappointed" that Frazier was not hired by the Texans after Buffalo lost to Kansas City in the AFC Championship Game.
The Bills aren't the only team interested in changing this rule. ESPN's Mike Triplett reported that the Saints and head coach Sean Payton have been pushing for this as well.
Detroit Lions, ex-Las Vegas Raiders WR Tyrell Williams reach deal, source says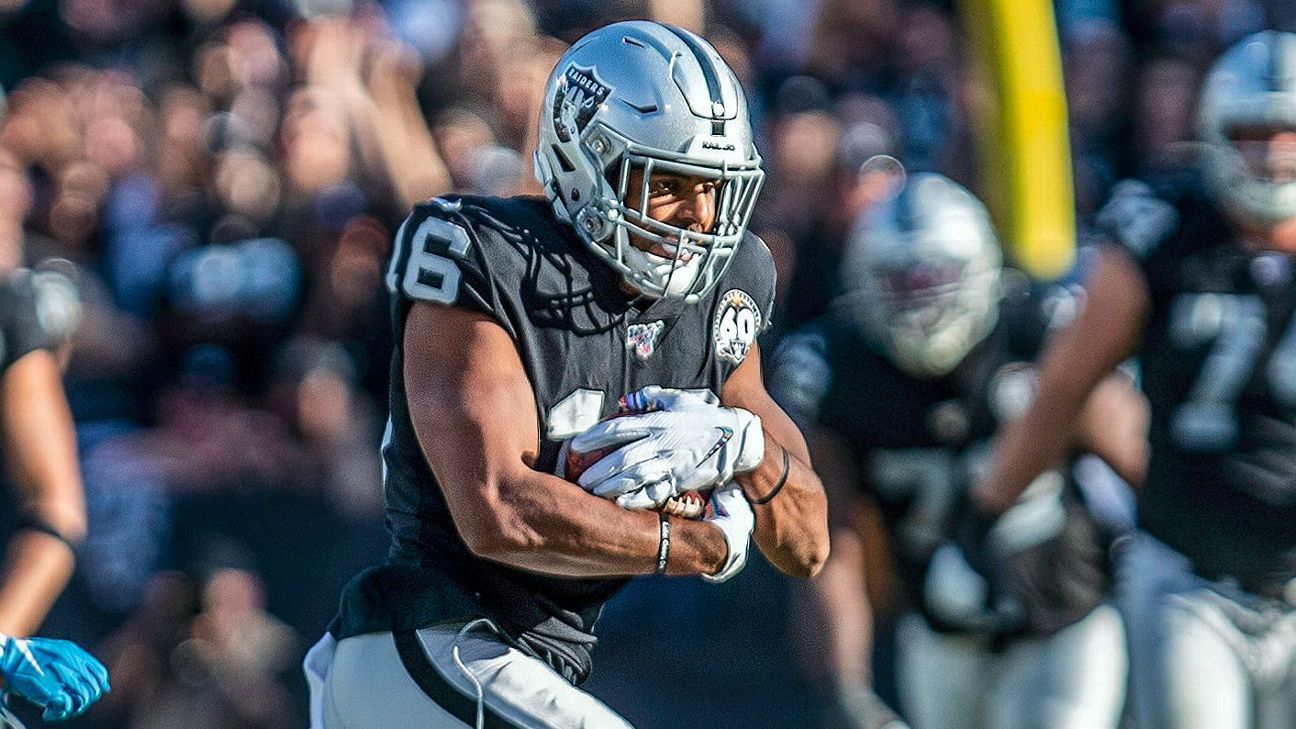 Former Las Vegas Raiders wide receiver Tyrell Williams reached agreement on a one-year deal worth up to $6.2 million with the Detroit Lions, a source told ESPN's Adam Schefter.
The Lions might have a revamped wide receiver corps in 2021 as Kenny Golladay, Marvin Jones Jr. and Danny Amendola are set to become free agents later this month.
Williams, who missed the entire 2020 season because of a torn labrum in his shoulder that required surgery, was released by the Las Vegas Raiders last month.
He signed a four-year, $44.4 million contract that included $22 million guaranteed with the Raiders as a free agent in 2019. All the guaranteed money has been paid out in his contract and the Raiders saved $11.6 million against their cap by releasing him.
Williams, who turned 29 in February, had 42 catches for 651 yards and six touchdowns for the Raiders in 2019. But plantar fasciitis in both feet slowed him and he missed two games.
He spent the first four seasons of his career with the Chargers and had 155 receptions for 2,530 yards and 17 touchdowns in 55 games. His best season came in 2016 when he had 69 receptions for 1,059 yards and seven touchdowns.
New York Jets GM Joe Douglas open to Sam Darnold offers, downplays idea of trading for a star player
FLORHAM PARK, N.J. — The New York Jets, who once considered quarterback Sam Darnold an untouchable asset, are open to listening to trade offers.
"I will answer the call if it's made," general manager Joe Douglas said Wednesday in a video conference with reporters, confirming previous reports that the Jets are willing to field inquiries.
The Jets are facing a major quarterback decision: Stay with Darnold, draft a replacement with the second overall pick or perhaps pursue Houston Texans star Deshaun Watson if he becomes available — a potential scenario that Douglas downplayed.
Douglas said he's in no rush to make a quarterback decision, but there's a pressing deadline with regard to safety Marcus Maye, a pending free agent whose agent lashed out at the Jets on Tuesday night on social media. The GM dismissed the criticism, saying the goal is to sign Maye to a long-term contract. Failing that, they could use the franchise tag by next Tuesday's deadline.
The quarterback drama remains the headline, especially in light of Darnold's struggles.
At the 2019 trading deadline, Douglas said he'd listen to offers on every player except a franchise quarterback – and he put Darnold in that category. Clearly, that position has changed. Since the end of the season, the organization has remained non-committal on Darnold.
"As it pertains to Sam, we think Sam is a dynamic player in this league with unbelievable talent," Douglas said. "He really has a chance to hit his outstanding potential moving forward. (But) if calls are made, I will answer them."
The Jets have received multiple calls from interested teams, ESPN's Adam Schefter reported previously. Their plan is to evaluate the top quarterbacks in the draft before making a decision on Darnold. The top candidate with the No. 2 pick is thought to be BYU's Zach Wilson. Douglas said they're gathering "as much information — good information — as we possibly can" on the available quarterbacks. Another option is sticking with Darnold and trading the second pick for a haul of draft picks.
The wild card is Watson. With two first-round picks in the upcoming draft, and two more in 2022, the Jets have the ammunition to pull off a trade of that caliber.
By rule, Douglas is prohibited from commenting directly on Watson, but he didn't seem enthused about the prospect of trading significant draft capital for one player. That, of course, could be posturing.
"Obviously, we have a lot of different scenarios and a lot of different rabbit holes we can go down," he said, responding to a general question about a potential blockbuster deal. "Not to get so much into a hypothetical question, but I just go back to (our philosophy).
"For us to get to where the great teams are, the most consistent teams are, you do that through the draft. It's the most team-friendly market in sports. For us to be a team that's consistently competing for Super Bowls, we have to hit on our draft picks."
The Jets have a history of trading away top draft picks. They traded unhappy safety Jamal Adams last summer, and now Maye — his former sidekick — appears to be disenchanted with negotiations. Agent Erik Burkhardt tweeted the Jets "refuse to take care of their best player, captain and team-voted MVP."
…Yet refuse to take care of their best player, Captain, & team-voted MVP in his prime who had several All-Pro votes…and who played out his entire rookie deal and even changed positions on his contract year (after they got rid of last yrs All-Pro safety). ✌🏼

— Erik Burkhardt (@ErikBurkhardt) March 3, 2021
Douglas brushed it off, indicating it's part of the business and negotiations. He said they've had "productive conversations" with Maye's agents, adding, "Our plan hasn't changed. We're in the process of working to have Marcus be here long term."