With TD pass vs. Jacksonville Jaguars, Matthew Stafford now has TD vs. every team but Detroit Lions
It took a dozen seasons, but Matthew Stafford has now scored on them all.
With a 1-yard touchdown pass to T.J. Hockenson in the third quarter during the Detroit Lions' 34-16 victory over the Jacksonville Jaguars, the 32-year-old quarterback completed the journey of throwing a touchdown pass against every team he's played against in the NFL.
Stafford had played Jacksonville twice before in his career, threw for over 250 yards in each of those games but didn't throw a ball into the end zone. And after two rushing touchdowns by the Lions in the first half, it looked like it might happen again.
Then Stafford took three straight throws to the end zone from the 1-yard line, connecting on his third one to be able to say he'd done it against every team except Detroit, the squad he's played for his entire career.
It was also Stafford's 265th touchdown pass of his career.
Stafford said there wasn't a particular focus to get him the touchdown, and therefore the touchdown mark.
"Not really. It was entirely too hard to score down there on a couple of those," said Stafford, who was wearing a suit for his post-game Zoom conference because it was the only way he could transport his garment back to Michigan after the game. "I was trying to throw another one to Hock earlier and [Jason] Cabinda thought it was coming to him and he knocked it out. It was a tough series to get it in there but it was nice to score.
"I'm just happy that our team got in the end zone, run or pass. Obviously we got a couple rushing touchdowns today, which was awesome, and I know the guys up front love that, I know the guys on the sideline love that, it's awesome to watch us run it in so I was proud of the guys up front for doing that but as far as I go, I just wanted to score. Cool that we had the touchdown, nice that I got the stat. I'll just keep it moving."
Stafford is the 27th quarterback to achieve the feat, according to the Elias Sports Bureau.
Jimmy Garoppolo, 49ers bounce back with win vs. Los Angeles Rams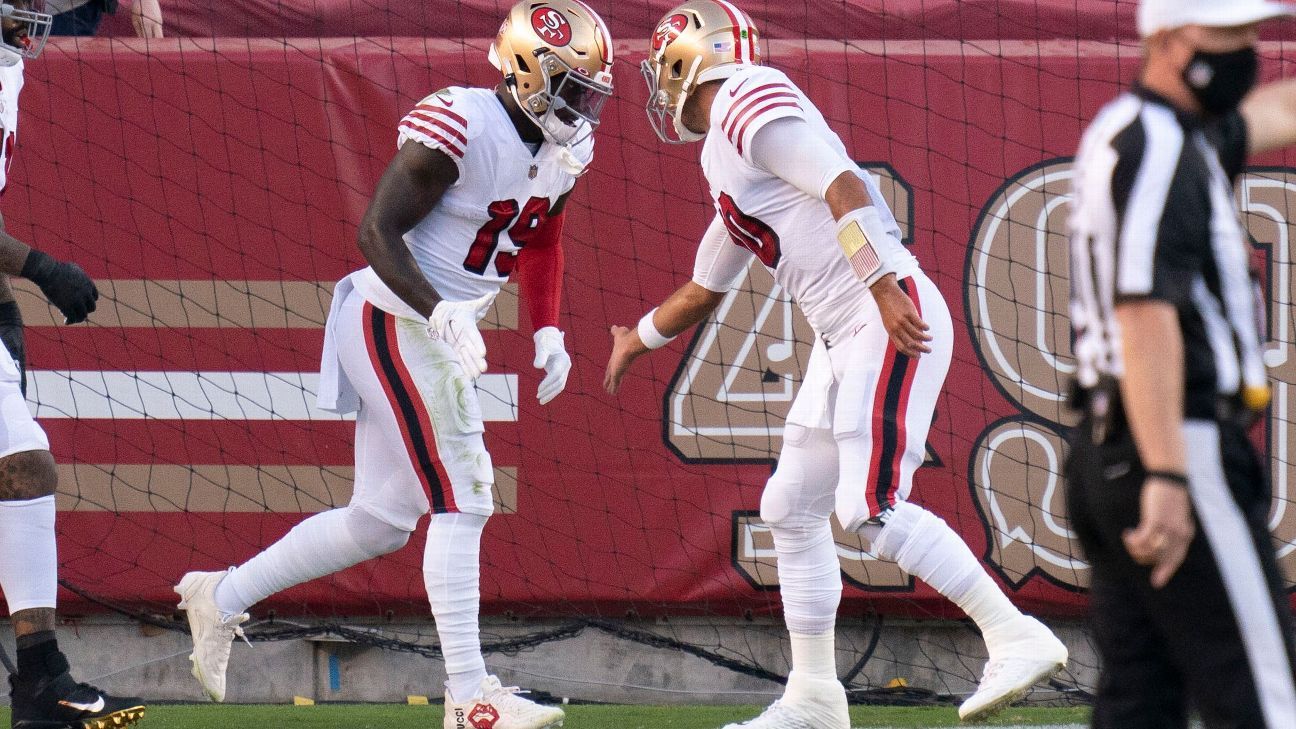 SANTA CLARA, Calif. — After a blowout loss to the Miami Dolphins that many San Francisco 49ers called embarrassing, the Niners spent this past week hammering home the need for a sense of urgency Sunday night against the Los Angeles Rams.
Lest their 2020 season slip away before they even reach the halfway point, the Niners and quarterback Jimmy Garoppolo made it clear from the game's first possession that this week would be different.
With coach Kyle Shanahan pressing the right buttons, Garoppolo shaking off his halftime benching from last week and a stingy defense, the Niners jumped to an early lead and held on for a much-needed 24-16 bounce-back win against the Rams on Sunday night.
The 49ers improved to 3-3 with the win, which also was their first at Levi's Stadium this season. They also avoided becoming the first Super Bowl losing team to have a record below .500 through six games since the 2016 Carolina Panthers.
To make it happen, the Niners got off to a hot start in which Shanahan set Garoppolo up for early success with a number of short throws that got the offense rolling on the game's opening possession.
Coming off a career-low QBR of 1.4 last week against the Dolphins that ended with him benched in favor of C.J. Beathard at halftime, Garoppolo completed four passes on the first drive, all of which were behind the line of scrimmage.
But the Niners picked up 88 yards after the catch on a drive that only covered 76 yards of actual field, as Garoppolo averaged negative-4.9 air yards per attempt. As it turned out, that drive gave Garoppolo the confidence needed to later push the ball to the intermediate levels as he posted his best performance of the season on his still recovering high right ankle sprain.
Garoppolo finished 23-of-33 for 268 yards with three touchdowns and no interceptions for a passer rating of 124.3. Garoppolo is the first Niners quarterback since Jeff Garcia in 2003 to throw for 200-plus yards with three touchdowns in the first half of a game.
Tight end George Kittle served as Garoppolo's primary target, finishing with seven catches for 109 yards and a touchdown.
The defense, meanwhile, held the Rams to four-of-12 on third down and cornerback Jason Verrett came up with his first interception since Sept. 11, 2016 to kill a Rams drive in the end zone.
Tua Tagovailoa makes NFL debut in Miami Dolphins' blowout win
MIAMI GARDENS, Fla. — The Miami Dolphins crowd rose to its feet, making more noise than it had at any point during a 24-0 victory over the New York Jets as rookie quarterback Tua Tagovailoa jogged onto the field for his first NFL action.
Ryan Fitzpatrick waved his arms up and down in hopes of pumping up the crowd even louder. Other teammates clapped and hugged the sideline in anticipation.
Nearly a year since Tagovailoa suffered a scary, potentially career-ending hip injury at Alabama on Nov. 16, 2019, it was Tua Time.
In the final minutes of the game, Dolphins coach Brian Flores told Tagovailoa to warm up, and with a little over two minutes left, Tagovailoa entered the game, throwing his first two NFL passes, both completions.
Chants of "Tua" rang out as he ran onto the field.
"I know there was some excitement when he went in. I'm happy for Tua," Flores said.
Fitzpatrick added: "That was just a cool moment for him, just the reception from the crowd that was here and us on the sideline."
Tagovailoa also became the first left-handed quarterback to complete a pass since Kellen Moore did so for the Dallas Cowboys in Week 17 of the 2015 season.
"Yeah, I definitely could hear it. There's nothing else playing in the stadium, so I could hear that," Tagovailoa said. "And that was awesome. But to just be out there with my teammates, being my first time, and getting the support and love from them, I think that was super awesome. And then you have a 16-year vet like Fitz, who has no animosity toward it, as well, who's just been supportive that entire time. Good drive, bad drive, he comes to the sideline and just talks through his process with why he did some things. I'm very fortunate to have a mentor like him who is just very encouraging on the field and then this guy is, like, he's just very personable off the field, as well."
After the game, Tagovailoa returned to the field, sitting down at the middle of the 15-yard line alone in full uniform for about 10 minutes soaking in the moment.
Tua Tagovailoa went back to the field and he's sitting around the 15-yard-line in full uniform. It looks like he's soaking this moment in.

On November 16, 2019, Tua suffered a potentially career-ending injury. On October 18, 2020, he threw his first NFL passes. pic.twitter.com/q5OHSNQe2c

— Cameron Wolfe (@CameronWolfe) October 18, 2020
He tried to find the spot where his Dolphins drive ended and then FaceTimed his parents, who couldn't be there to see him play. They watch almost every game, and he wanted to share the moment with him. He said the conversation was emotional particularly because of everything it took for him to get back on that field.
"The biggest thing that really stands out to me is just being able to make my parents proud," Tagovailoa said. "Whether that's Tua as a football player, Tua as a person, Tua as a son, I think that's what brings me the most joy is seeing how happy my parents get and then seeing how happy my family gets, as well, with who I am and also what I do."
Tagovailoa's first pass came on a naked bootleg in his own end zone, and he throw a short pass over two Jets defenders to running back Patrick Laird for a 2-yard completion. His second pass was also impressive, a 7-yard completion to receiver Jakeem Grant for the team's only third-down conversion of the game.
"The naked in your own end zone isn't the easiest of plays, and he went in and completed that one and then completed the third-down, so I think that was a cool moment for him," Fitzpatrick said. "Just the reception, too, of the fans that were here. And everybody on the sideline. We're all excited to get him out there."
Tagovailoa declared himself healthy, and he proved he could make the mobile plays that made him special at Alabama.
"It was just a glimpse of what's going to be to come," said Dolphins defensive tackle Christian Wilkins, who gave Tagovailoa a bear hug after the game.
Pittsburgh Steelers defeat Cleveland Browns, move to 5-0 for just second time
PITTSBURGH — Before facing the Cleveland Browns, Pittsburgh Steelers defensive lineman Cam Heyward said the team wasn't focused specifically on targeting quarterback Baker Mayfield's bruised ribs.
But he did say the plan was to inflict "good punishment."
And that's exactly what the Steelers did, sacking Mayfield four times and intercepting him twice in a 38-7 win that gave Pittsburgh just the second 5-0 start in franchise history and first since 1978. It was also the Steelers' first win against a team with a winning record this season.
"That was varsity ball today," coach Mike Tomlin said. "They stepped up and stepped up big all across the board."
It wasn't all good news, though, as inside linebacker and defensive playcaller Devin Bush went out with a knee injury in the second quarter. A source told ESPN's Adam Schefter that the injury is an ACL tear and Bush will need season-ending surgery.
The 2019 first-round pick played every defensive snap until the injury. He was replaced by Robert Spillane, who had just one defensive snap before this season.
Even without Bush, the Steelers dominated the Browns (4-2).
"As a D-line and as a defense, you want to make sure he's thinking about the rush," Heyward said of Mayfield on Wednesday.
There's little doubt that's exactly what Mayfield was thinking about throughout the game until he was pulled late in the third quarter for Case Keenum. Mayfield was pressured on 52% of his dropbacks, the highest mark of his career.
"Baker is a heckuva a guy that wants to go out there and fight for this team," Heyward said after the game. "But as a D-line, as a defense, we want to affect the quarterback, punish the quarterback. Good punishment, I didn't mean anything, to play any illegal football. It's my job to get after the quarterback."
The Steelers found early success with their blitz, getting a sack and a Minkah Fitzpatrick pick-six on their first two. Fitzpatrick's interception and score, his first of either this season, gave the Steelers a 10-0 lead just a few minutes into the first quarter.
The pick-six also came on third down, a trouble area for the Steelers' defense in the previous week's win against the Eagles. That wasn't the case Sunday, as the Steelers allowed the Browns to convert just 1 of 12 third downs and none of their three fourth-down attempts.
"We had a better plan," Tomlin said of the third-down success. "It starts with us as coaches and then the guys performed better, and they finished it off. But we were both JV last week, players and coaches, and we got better this week."
Tomlin added of Fitzpatrick's interception: "It sent a message to them that third down wasn't going to be easy sledding today, and we needed it, obviously."
On the next drive, the Steelers forced another three-and-out, this time with a Bud Dupree sack of Mayfield on third-and-6.
"Baker is a good quarterback," Dupree said. "At the end of the day, he's one of those top-notch guys. Respect is due. We don't really think about hurting a player. We just go out and we hit him a couple of times. We know his ribs hurt … but we don't intentionally go in and try to hurt somebody."
The Steelers have recorded three or more sacks in six consecutive games, going back to the 2019 season finale against the Ravens. The streak ties the longest in franchise history with the 1994, 2001 and 2004 seasons. The Steelers are also only the second team in league history, joining the 1985 New York Giants, with at least three sacks and an interception in each of their first five games of the season.
Before he was replaced by Keenum, Mayfield completed 10 of 18 attempts for 119 yards with one touchdown and two interceptions for a passer rating of 54.9.
The Browns entered the game with one of the league's best rushing attacks, but it was shut down by the Steelers, who managed to balance bringing pressure on Mayfield with slowing Kareem Hunt better than they did a week ago, when they faced running back Miles Sanders and the Eagles.
Hunt averaged 3.1 yards per carry, picking up 40 yards on 13 carries.
Instead it was the Steelers who dominated in the rushing game, taking advantage of Cleveland's subpar safeties. James Conner racked up 101 yards on 20 carries and scored the team's first offensive touchdown for a 17-0 lead in the second quarter. Receiver Chase Claypool and running back Benny Snell Jr. also managed to score rushing touchdowns.
The Steelers' ground game finished with 129 yards on 37 carries and three touchdowns, while the defense held the Browns' rushing attack to just 75 yards on 22 carries.
"We didn't have to throw many in the second half when you have a lead like that," Ben Roethlisberger said. "It felt like an old Bill Cowher offense."
After posting an anemic offensive performance without Roethlisberger last season, the Steelers have scored at least 26 points in each of their first five games for the first time in franchise history. Last season, the team scored 26 or more points in just four games.
With a 38-7 lead thanks to Snell's fourth-quarter touchdown, Roethlisberger went to the bench for the final eight minutes of the game, allowing Mason Rudolph to play one drive.
"This is a good football team coming in here," Roethlisberger said. "Our first AFC North game. We wanted to kind of play good football. And we wanted to do it on all phases, and I don't know the last time I came out of the game with eight minutes to go, so that's a good feeling."