Will Acuna rake? Could Kershaw pitch? Key questions for NLCS Game 7
Because the baseball gods are feeling generous in the 2020 MLB playoffs, we get a second Game 7 this weekend, as the Dodgers and Braves play a win-or-go-home game for the National League pennant and a trip to the World Series against the AL champion Tampa Bay Rays.
With so much at stake, we asked senior MLB writers Alden Gonzalez, David Schoenfield and Jeff Passan about the key questions for the Dodgers, Braves and the matchup going into Game 7 on Sunday.
L.A.'s key questions
Who starts for the Dodgers?
That hasn't been announced, but it is seemingly down to three choices: Tony Gonsolin, Julio Urias and Brusdar Graterol. The latter would be used as an opener, of course, and it makes sense for a couple of reasons. The Dodgers deployed Graterol as an opener during practice runs toward the tail end of the regular season. Also, it would be beneficial to ensure that their best reliever — at this moment, at least — faces the best part of the Braves' lineup. Gonsolin, who would be on normal rest following an 88-pitch start in Game 2, is in line to pitch the majority of the innings. But Julio Urias, who threw a career-high 101 pitches in Game 3, could provide an inning or two as a bridge. — Gonzalez
Does Clayton Kershaw make an appearance?
That is the fascinating question. Kershaw was hanging out in the bullpen for Game 6, just in case an emergency presented itself. In all likelihood, he will also be in the bullpen for Game 7, waiting for a potential call. The Dodgers would like to avoid using him for three reasons: First, they can save him to start Game 1 of the World Series; second, he was scratched from his scheduled start earlier this week because of back spasms; and finally, he hasn't been great when used out of the bullpen on short rest, the most recent example coming in Game 5 of last year's NL Division Series. But if the game is close, and Dave Roberts needs an inning or two before getting to his high-leverage relievers, the thought of Kershaw standing in that bullpen might be tempting. Again. — Gonzalez
Can Cody Bellinger find it at the plate?
Bellinger struggled to find consistency with his mechanics throughout the regular season, has four hits and nine strikeouts in 23 at-bats in this series and is batting .238/.333/.476 in the postseason. He has hit some balls hard, but he hasn't had much to show for it. The Dodgers have had a couple of big first innings in this series, most notably their 11-run output in Game 3, but they haven't been able to carry that over. In their Game 5 win, they scored three first-inning runs against Max Fried but didn't do anything else thereafter, putting a lot of pressure on their bullpen and their defense. Both those areas came through, but the Dodgers can't count on that again. They need more consistent production from their offense. They need Bellinger to be a catalyst again. — Gonzalez
Atlanta's key questions
How long do the Braves stick with Ian Anderson?
The 22-year-old has just nine career starts — including three scoreless outings in the postseason — but has obviously been impressive, with a 1.31 ERA, one home run in 48 innings and a .154 batting average allowed. His changeup has been his big weapon as batters have hit just .076 against it and he's not afraid to throw it to right-handers.
Still, it's a big moment for an inexperienced rookie. This is the 19th Game 7 in an LCS or World Series since 2000 and rookies have started just three times: Walker Buehler in Game 7 of the 2018 NLCS, Daisuke Matsuzaka for the Red Sox in the 2007 ALCS (and he had plenty of big-game experience in Japan) and John Lackey for the Angels in the 2002 World Series. (And if Tony Gonsolin starts for the Dodgers, he'd make No. 4!)
The Dodgers are known for their very patient approach and they worked Anderson for five walks in four innings in his Game 2 start. He escaped without any damage, however, as he allowed just one hit and got out of a bases-loaded jam in the third inning when Will Smith grounded out. Still, even if he's sailing along, don't look for him to go deep into the game. Braves manager Brian Snitker still has a strong bullpen and the way the game is managed these days, a quick hook is likely in order no matter who starts.
Of the six Game 7's since 2016, including the Astros-Rays game on Saturday, the longest a starter has gone was Zack Greinke's 6 ⅓ innings in Game 7 of last year's World Series. Only three other times did a starter even make it through five innings — Max Scherzer matched up against Greinke and Charlie Morton twice, in the 2017 ALCS for the Astros and then Saturday against the Astros. So even if Anderson is throwing up more zeroes — 15 ⅔ innings so far in the postseason — don't be surprised if he's out of there after four or five innings.
Snitker said he had no special message for Anderson or his team. "They know what we're doing. They're very aware that this is Game 7, and shoot, we'll go out there and let her fly. A Game 7 is another baseball game. It's not fourth and one and let me get the first down. It's a baseball game and you have to treat it as such. It's Game 7, it's going to be fun, we like how we're stacked up, we like who's pitching." — Schoenfield
How do the Braves navigate through Corey Seager and the heart of the Dodgers lineup?
Seager has been the big bat for the Dodgers, hitting .375 with five home runs and 11 RBIs in the series. Once Anderson is out of there, you might think the decision would be to make sure a lefty is in there to face Seager … except four of the five home runs have come off left-handers, including one off A.J. Minter in Game 2 and one off Tyler Matzek in Game 5. So maybe it's not the left-handers who face Seager — remember, a reliever has to face three batters, unless it's the end of an inning — and you worry more about Mookie Betts in the leadoff spot and Justin Turner hitting third, so it's the right-handers who face the top of the lineup.
One thing for sure: Everybody is available. No Braves reliever pitched in both Games 5 and 6. Chris Martin did throw 30 pitches in Game 6, so he's the only who might be slightly compromised. Minter threw 42 pitches in Game 5 as the starter, but was so dominant with seven strikeouts in three innings that he's certainly on option. The one guy who has been pitching high-leverage situations who we might not see is Will Smith, who gave up seven home runs in 16 innings in the regular season and then the big one to the Dodgers' Will Smith in Game 5 and also walked two batters in Game 4. So most likely it's some combination of Matzek, Minter, Shane Greene, Martin, perhaps side-armer Darren O'Day if it's a two-out situation and then closer Mark Melancon. That's plenty of depth to get through nine innings. – Schoenfield
Will Ronald Acuna Jr. do anything?
The Braves are hitting .263/.333/.450 in the series, but Acuna hasn't done much damage, hitting .190 with no home runs and two doubles. He has struck out 34% of the time in the postseason, so the swing-and-miss has been a problem the entire postseason. Needless to say, having him on base in front of Freddie Freeman and Marcell Ozuna is a big factor. Those two have been raking. The Braves were the best fastball-hitting team in the majors — in fact, they were the best fastball team in the majors in 13 years — but the Dodgers have been beating Acuna with a lot of fastballs up in the zone and then breaking balls away. — Schoenfield
Matchup wild cards
What's the matchup worth tuning in to see?
Freddie Freeman vs. Brusdar Graterol. There are only two regulars Graterol hasn't faced in the NLCS: Acuña and Freeman. It may happen in the first inning. It may happen in the seventh or eighth or ninth. Freeman has seen 28 fastballs this season at 98 mph-plus. He took 16 for balls, fouled off four, flew out three times, swung and missed twice, singled, doubled and grounded out
In other words, if Graterol puts a heater in the zone, Freeman is not likely to stare at it. And considering his propensity to do damage, it's the sort of face-off that could swing the entire series. — Passan
Who's a sneaky, unlikely hero?
Nobody in the NLCS is hitting the ball as hard as the Dodgers' Joc Pederson — and the longer Anderson goes, the likelier he is to remain in the game. Pederson has put the ball in play 14 times in the NLCS. Ten of them have been at greater than 100 mph — and the other four were at 99 mph, 89.7 mph, 88.3 mph and 83.5 mph. Pederson was so pedestrian during the regular season, keeping him on the bench as a pinch hitter seemed like an option. Roberts has stuck with him against right-handers, and he has repaid that not only by smashing the ball but making contact. Pederson, who throughout his career has been something of a strikeout artist, has punched out just twice in the NLCS. — Passan
What's a strategic element that could come into play?
Work around the three-batter-minimum rule for pitchers by aiming for heavy platoon matchups that could be the third out of the inning. Remember: The minimum does not apply when an inning is over, and for a Braves team that carried 15 pitchers (!) on its 28-man postseason roster, it can leverage that to its advantage.
The Dodgers almost certainly are not going to want to play matchups in the early innings — not if it's bound to leave them prone in later, potentially more important situations — so if ever A.J. Pollock is up with two outs? Burn Darren O'Day. If Cody Bellinger is in the same situation? Burn Grant Dayton or, if it's important enough, Will Smith. Managers must treat every out in a Game 7 as if the season depends on it, and with as many pitchers as the Braves have, each inning presents them an opportunity to use the final out to gain an advantage. — Passan
Atlanta Braves bemoan Game 7 baserunning blunder — 'It was huge'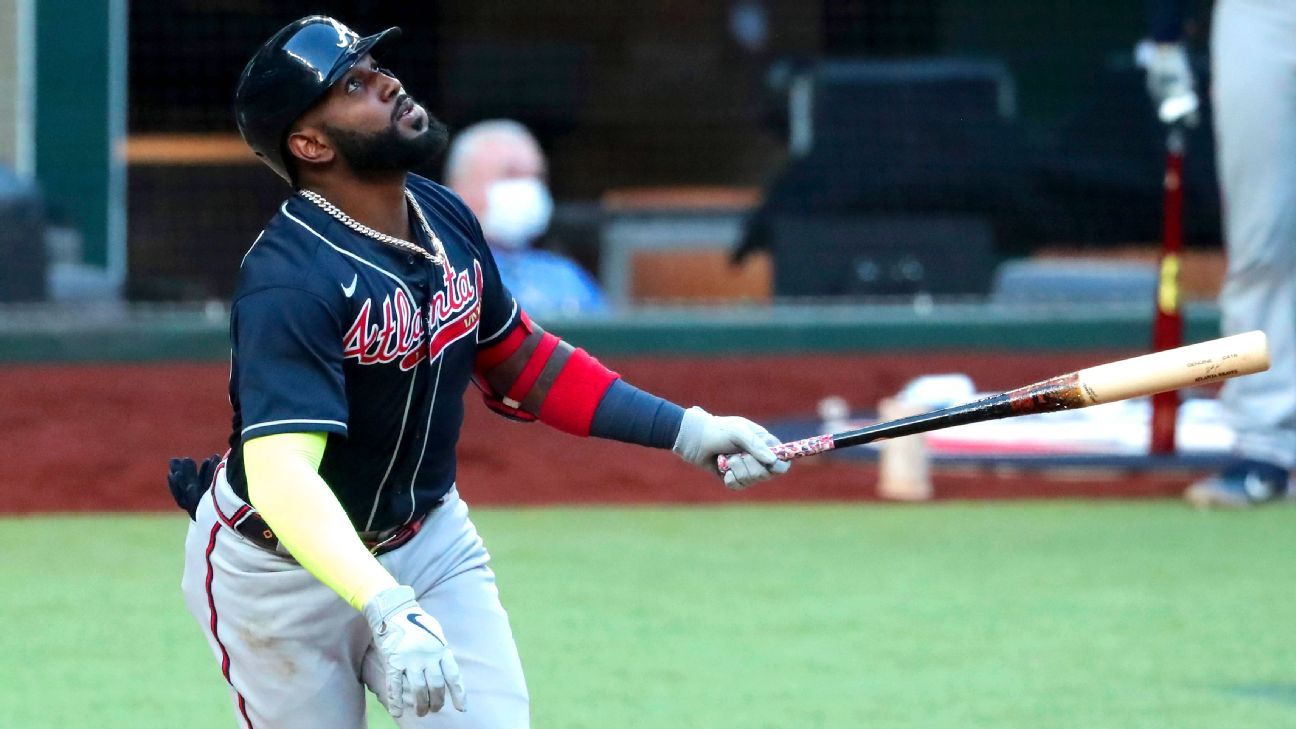 ARLINGTON, Texas — The Baby Braves still have some growing up to do, although they're getting closer.
Another baserunning blunder with the lead cost Atlanta dearly, and the Braves' bats went cold after that in losing Game 7 of the NL Championship Series 4-3 to the Los Angeles Dodgers on Sunday night.
A year after imploding in a deciding Game 5 of their Division Series against St. Louis, the Braves fell short in their first NLCS since 2001 with their sixth straight loss in a winner-take-all game. Atlanta couldn't hold a 3-1 series lead in an NLCS for the first time after winning each of the previous three with that commanding lead.
Dodgers relievers retired 17 of the final 18 Braves batters, all following a baserunning mishap that will haunt Atlanta this offseason.
The Braves went ahead 3-2 in the fourth inning on Austin Riley's single and had runners at second and third with no outs before a wild double play just about wiped out the inning.
Dansby Swanson broke for home on Nick Markakis' sharp grounder hit right at third baseman Justin Turner, who was playing well off the line. Turner threw to catcher Will Smith to trap Swanson in a rundown as Riley rounded second.
Smith returned the ball to Turner, who dived to tag Swanson midway down the line. Turner quickly got up and threw the ball to shortstop Corey Seager, waiting at third to tag out Riley, who hesitated between second and third.
Even worse, the bizarre 5-2-5-6 double play ended with Markakis still on first.
"It was huge," Braves manager Brian Snitker said. "It's hard to score runs in the postseason. The infield's back so you see the ball up the middle. That's where normally we're a really good baserunning team. We just did the fundamental things wrong."
Two days after becoming first starter or reliever to strike out seven in three or fewer innings in the postseason, A.J. Minter gave up the lead to his first batter, Enrique Hernandez, leading off the sixth. Chris Martin surrendered Cody Bellinger's go-ahead solo shot with two outs an inning later.
"We made some mistakes," Snitker said. "We shot ourselves in the foot a couple of times that really hurt. Games like these, runs are so hard to come by, you pretty much got to play flawless baseball."
Minter's 42-pitch outing for three scoreless innings at the start of Atlanta's 7-3 loss in Game 5 was the left-hander's longest since May 6, 2015, for Texas A&M, when he tore an elbow ligament.
Starter Ian Anderson couldn't keep his team in front for the first time in the 22-year-old's brief postseason career. He extended a scoreless streak to start his postseason career to 17 2/3 innings — the second-longest by a rookie in the past 100 years — before Smith's tying two-run single in the third.
The right-hander, who won his first two postseason starts, ended up with the third-longest scoreless inning streak to begin a postseason career, behind Hall of Famer Christy Mathewson (1905-11) and Joe Niekro (1980-81).
Anderson was the youngest starter in a winner-take all game since 21-year-old Jaret Wright for Cleveland in Game 7 of the 1997 World Series, won 3-2 by Florida.
MLB playoffs 2020 – Dodgers-Rays World Series matches up baseball's best
After going through an extra round of playoffs in the expanded 2020 MLB postseason and being pushed to the limit in the league championship series, the top seed in each league has advanced to the World Series.
The Los Angeles Dodgers, who had the best record in baseball this year and haven't won it all since 1988, face the Tampa Bay Rays — who were the best team in the American League and have never won the Fall Classic — in the World Series, which begins Tuesday night in Arlington, Texas.
Here's what makes this is a series to watch, plus the odds, keys to victory and more.
The odds say …
The Dodgers have a 69.8% chance of winning the series. (Projections from ESPN's Bradford Doolittle.)
How they got here

Rays: Powered by a dominant pitching staff that features three potential aces in Blake Snell, Charlie Morton and Tyler Glasnow, Tampa Bay ran away with the AL East race and edged out the Oakland Athletics for the league's best mark. Brandon Lowe was the only true offensive standout in a lineup that finished 12th in the majors with 289 runs scored and produced a team OPS of .753.
Wild Card Series: Defeated Toronto Blue Jays 2-0
AL Division Series: Defeated New York Yankees 3-2
ALCS: Defeated Houston Astros 4-3
---
Dodgers: Once L.A. acquired Mookie Betts from the Boston Red Sox in February, the Dodgers became the odds-on World Series favorite. They did not disappoint, racing to a 43-17 record and posting a plus-136 run differential, both by far the best in baseball.
Wild Card Series: Defeated Milwaukee Brewers 2-0
National League Division Series: Defeated San Diego Padres 3-0
NLCS: Defeated Atlanta Braves 4-3
---
Series schedule
at Arlington, Texas
Game 1: Tuesday, Fox
Game 2: Wednesday, Fox
Game 3: Friday, Fox
Game 4: Saturday, Fox
Game 5: Sunday, Fox (if necessary)
Game 6: Oct. 27, Fox (if necessary)
Game 7: Oct. 28, Fox (if necessary)
---
Three reasons the Rays will win the series
1. Their pitching staff is more rested
To state the obvious, winning Game 7 against the Astros was the priority for the Rays. If that had failed, these words would not be necessary, and if Kevin Cash had to use every Rays pitcher from Nick Anderson to Dennis Quaid, he would have done it. But Cash didn't have to empty his pitching tank. With Charlie Morton, Anderson and Peter Fairbanks combining to shut down Houston on just 114 pitches, the Rays will begin the World Series after two days off with a rejuvenated pitching staff.
The Dodgers, of course, not only had to play on Sunday to finally overcome the Braves but their top two starters (Walker Buehler, blisters and Clayton Kershaw, back) both have physical clouds circling above. There's no reason to think that will definitely factor in to the World Series, but both are the kind of maladies that can resurface at inopportune times.
2. Rotation setup
Even more important than the rest factor, I just like how the Rays' probable progression of starters sets up better than the Dodgers'. Cash might have ideas of his own, but if rotation usage during the postseason is any guide, then Tyler Glasnow should start Game 1 on five days' rest. His career ERA on four or fewer days of rest is 5.21; on five days or more, it's 3.57.
Game 2 should belong to Blake Snell on normal rest. His career ERA on normal rest is 3.27. Game 3, after an off day, goes to Morton on five days' rest, and his career ERA with more than normal rest is 3.63. Also, because of the calendar in place for the World Series, Morton not only is lined up for Game 3 but could come back and start a potential Game 7 on normal rest. Morton is the all-time leader in Game 7 wins.
Game 4 goes to Ryan Yarbrough, most likely. By then, Yarbrough would have not pitched since Oct. 13. However, the long down period combined with the sudden influx of off days during the matchup means Cash can use Yarbrough in relief early in the series. And he might want to: The Dodgers' team OPS against soft pitches thrown by lefties this season is just .659, ranking 17th in the majors. The average pitch thrown by the southpaw Yarbrough this season has been just 81.4 mph.
Then it resets: Glasnow could go on normal rest in Game 5, Snell with five days' rest in Game 6 and, as mentioned, Morton if it comes down to a winner-take-all contest. Yes, when you get to the playoffs, the best-laid pitching plans usually go awry. But the off days built into the schedule also will benefit Cash's deep bullpen. He should have little reason to deploy one of his big three starters in anything but a traditional role during the Fall Classic.
3. Bullpens, bullpens, bullpens
There is a lot of intrigue about the Andrew Friedman-built Dodgers coming up against his original team in the Rays, built by an iteration of the front office for which he helped set the template. In some ways, that justifies the heavy favorite's status Los Angeles is likely to enjoy. After all, you take everything the Rays do to get an edge, transplant it to L.A. and combine it with the massive resources of the Dodgers. Just one example from back when teams got to have fans in attendance: You can take any three recent Rays season attendance totals, add them together and it's less than the typical one-season attendance count at Dodger Stadium.
You see the difference in resources when it comes to the star power on the Dodgers and the payroll that the likes of Mookie Betts and Clayton Kershaw command. However, the equalizer in this mismatch of resources can be found in the respective bullpens.
Think of the issues the Dodgers have had lately when it comes to sketching out the end of their games, as the closer/non-closer status of Kenley Jansen has taken on soap operatic proportions. The Rays, on the other hand, have several closers, and all of them are comfortable getting more than three outs, if needed. And they have that plethora of options not because Fairbanks or Anderson or Diego Castillo aren't good enough to be a ninth-inning saves guy. It's because they all are.
So in Game 7 against the Astros, Cash could summon Anderson — one of the handful of best relievers in the game right now — to take the ball from Morton in the sixth inning. Cash could do that because he had Castillo and Fairbanks, among others, in his hip pocket. And he didn't even have to use Castillo. — Bradford Doolittle
Three reasons the Dodgers will win the series
1. They have the better offense
The Dodgers averaged 5.82 runs per game in the regular season to the Rays' 4.82. The Dodgers have star hitters up and down the lineup with no easy outs, in addition to good hitters on the bench. What they do better than any other team is wait for their pitch. Only the Yankees had a lower chase rate, and only the Astros struck out less often. This approach was best exemplified by the big home run Will Smith hit off Braves reliever Will Smith in Game 5 of the NLCS. Smith didn't swing at the first five pitches. On the sixth pitch, a fastball, he hit a three-run home run.
Meanwhile, the Rays led the majors in strikeouts and relied heavily on the red-hot Randy Arozarena in the ALCS. Arozarena hit .321 while the rest of the Rays hit .183. The Rays have relied very heavily on homers in the postseason to score their runs, with 71.9% coming via the home run as compared to 41.5% in the regular season. That's not necessarily a bad thing, as long as you hit a lot of home runs; but that's going to be a tough approach against a Dodgers pitching staff that had the second-lowest rate of home runs allowed in the regular season. Then you have to factor in that all seven games will be staged at Globe Life Field, which has played as a tough home run park.
2. They have the better bullpen
Wait … what? OK, I know the Dodgers' bullpen wasn't completely lockdown in the NLCS, but here's a reminder that they had a 2.74 bullpen ERA as compared to 3.37 for the Rays. Maybe the Dodgers don't have one pitcher as statistically dominant as Nick Anderson, but Anderson has been scored upon in four of his seven postseason appearances. Plus, Kevin Cash mostly relies on three relievers — Anderson, Diego Castillo and Peter Fairbanks — in the biggest moments. The second tier of relievers — Ryan Thompson, John Curtiss, Aaron Loup — don't throw as hard and are vulnerable.
The Dodgers, meanwhile, go seven or eight deep in quality relievers, and that's before factoring in that they might use just four starters with the two off days, so they could move Dustin May or Tony Gonsolin to the pen. With the Rays' mix-and-match lineup, it's also a big key that the Dodgers have two power lefties in Jake McGee and Victor Gonzalez, so Dave Roberts will be able to match up depending on where the Rays are in the lineup. Perhaps most importantly, it appears that Kenley Jansen has regained his mojo, allowing Roberts to plan on him for the ninth inning and use the relievers accordingly.
3. They're due
No, nothing scientific in this analysis. The Dodgers have been a great team for a long time now, with eight straight division titles. You wonder if coming back from that 3-1 deficit against the Braves actually helps remove some of the added pressure. A few days ago, they were down and out, one loss away from another disappointing end to a season. And now they're in the World Series. It's almost like bonus baseball.
Clayton Kershaw is lined up to start Game 1, and here's a little suggestion: Don't start him on regular rest in Game 5. That's been a problem game for him in his two previous World Series. In 2017, he was great in Game 1, then allowed six runs in Game 5 (Astros cheating noted). In 2018, he wasn't great in either start but allowed three home runs in Game 5 to the Red Sox. The Dodgers have the luxury of five good starters, a deep bullpen and two off days. Throw in Kershaw's back issue that forced him to move a start back in the NLCS and giving him a couple of extra rest days before a potential Game 6 start makes sense. That would still allow Walker Buehler to go in Game 3 and then Game 7 on regular rest. — David Schoenfield
Cody Bellinger's go-ahead HR in Game 7 completes Los Angeles Dodgers' comeback to reach World Series
ARLINGTON, Texas — Comebacks complete, crises averted, the Los Angeles Dodgers are back in the World Series, determined to do what they couldn't the last two times they tried: end a championship drought of more than three decades.
Cody Bellingers mammoth seventh-inning home run unknotted a tense, tied game, and Julio Urias vanquished the vaunted Atlanta Braves lineup for the final nine outs in the Dodgers' 4-3 win in Game 7 of the National League Championship Series on Sunday night.
Once trailing 3-1 in the series — and down for the first five innings of Game 7 — the Dodgers clawed back with their not-so-secret weapon: the home run. Los Angeles hit 16 in the series, tying an LCS record, and rode Kiké Hernandez's pinch-hit shot in the sixth, followed by Bellinger's an inning later, to hand Atlanta its latest sporting gut punch. Urias, typically a starter but pitching in a fireman role, was dynamic over the final three innings and secured the win.
Corey Seager, who dominated the series with five home runs and 11 RBIs, was named MVP of the NLCS.
Now comes the hard part for the Dodgers: four more wins — four wins that proved elusive in 2018 against Boston, were just out of their grasp in 2017 against Houston and last were theirs in 1988, the year Kirk Gibson hit his famous walk-off home run in Game 1 of the World Series.
Since then, the Dodgers have habitually flirted with greatness, winning the last eight NL West division championships and teetering on the precipice of a title. To do so this time, they'll need to beat the Tampa Bay Rays, who nearly blew a 3-0 lead in the American League Championship Series before holding on against the Astros in Game 7 on Saturday.
The Dodgers foisted on Atlanta another heartbreak courtesy of Bellinger, the reigning NL MVP whose struggles this season relegated him to the No. 6 spot in the lineup this postseason. Reliever Chris Martin, who had carved through the three previous hitters he faced, peppered the outside corner against Bellinger, who spoiled pitches to stay alive with two strikes. On the eighth pitch of the at-bat, Martin left a fastball over the heart of the plate, and Bellinger hammered it 417 feet to right-center field, a majestic shot that left a pro-Dodgers crowd of 10,920 at Globe Life Field screaming with joy.
The Braves had three cracks at one win and their best starters, Max Fried and Ian Anderson, lined up on full rest for Games 6 and 7. They proceeded to lose all three and still have not been to the World Series since 1999.
Atlanta had its opportunities, too. The Braves scored in the first inning on two walks and a Marcell Ozuna single, then in the second on a Dansby Swanson home run. A two-run single from Dodgers catcher Will Smith off Anderson in the third tied the game. Atlanta followed its first-inning formula, with Austin Riley providing the single to regain the lead, 3-2.
Already there had been chaos. The Braves giving away two outs on a boneheaded baserunning play by Riley and Swanson in the top of the fourth. The Dodgers stranding eight runners in the first four innings, including the bases loaded in the bottom of the fourth. And that madness didn't relent as the game continued, either.
In the top of the fifth, Freddie Freeman, who would have been series MVP had the Braves won, launched a towering shot off Dodgers reliever Blake Treinen. For the second consecutive day, his back against the right-field wall, his legs splayed in the air, Mookie Betts leapt for an incredible catch, this one saving a home run.
After trading for Betts in February and signing him to a $365 million contract extension, the Dodgers believed they had assembled a roster talented enough to end their 31-year championship drought. That hope lives on, and among Betts and Seager, starter Walker Buehler and the array of live arms — and even Hernandez, the utilityman whose pinch-hit home run off A.J. Minter was the Dodgers' first to tie a playoff game or put them ahead since Gibson in '88.
It's an opportunity for redemption, too. The Dodgers remain chapped about 2017, when they dropped the seventh game to an Astros team that eventually was exposed for cheating with a sign-stealing scheme. While the 2018 Red Sox that beat the Dodgers didn't participate in nearly as elaborate a system, they likewise were disciplined by Major League Baseball for running afoul of technology-use rules.
These Dodgers' aspirations have been bigger than the NL pennant since they returned from the pandemic- and labor-induced delay to play a 60-game season. The Dodgers clearly were the best team in baseball during the regular season, going 43-17 and outscoring opponents by 136 runs. Both Los Angeles and Atlanta cruised through their wild card and division series matchups and entered the NLCS undefeated.
From there unfolded a series that until the seventh game hadn't seen a close, back-and-forth tussle, despite both teams playing well at times. Game 7, on the other hand, won't be easy to forget.