Playoffs? Bears, now 5-1, emerge as serious postseason contenders – Chicago Bears Blog
The Chicago Bears need to be taken seriously.
Look, Chicago has flaws — plenty of them. The overall offense, not good enough. The rushing offense, not nearly good enough. The offensive line, yikes. The quarterback play, inconsistent.
What cannot be disputed is the club's record after six games. Following Sunday's 23-16 victory over the Carolina Panthers, the Bears are 5-1 for the first time since former coach Lovie Smith's final season in 2012.
Entering this season, there were 102 teams that started 5-1 since the NFL went to 12 playoff teams in 1990 and 85 went on to make the playoffs (83.3%), according to ESPN Stats & Information.
Ironically, the Bears ended up missing the playoffs despite their hot start in 2012, but the NFL expanded the playoff field to 14 teams for 2020.
Add it all up; the Bears are in prime position to challenge for their second playoff berth in three years under coach Matt Nagy. For all the grief Nagy takes about the offense (much of it justified) the Bears are 25-14 (including playoffs) since he took over.
For comparison's sake, the Bears are light-years ahead of where they used to be. Former coach John Fox won 14 games in three years, and Marc Trestman went 13-19 before the Bears fired him in 2014.
Chicago's schedule turns tougher in Week 7 with a Monday night road game against the Los Angeles Rams. The month of November presents even stiffer challenges with matchups versus New Orleans, Tennessee and Green Bay.
By virtue of winning five of their first six, the Bears have built a cushion where they can absorb some losses later in the season and still be OK.
You don't have to love the Bears. You just have to respect them.
QB Breakdown: Nick Foles played solid, not spectacular football. Foles finished 23 of 39 for 198 yards, one touchdown, one interception and one rushing touchdown. Foles sometimes makes bad decisions. The veteran quarterback floated a terrible pass into tight coverage that Carolina easily intercepted in a key moment. Usually, Foles is generally smart with the football. The 31-year-old sees the field well and understands where receivers are supposed to be, and a testament to that is seven different Bears caught passes on Sunday. The Bears trust Foles. That's unlikely to change anytime soon — even though the offense leaves a lot to be desired.
Nick Foles uses a quarterback sneak to squeeze into the end zone for a 1-yard touchdown.
Pivotal play: The Panthers appeared on the verge of tying the game late in the second quarter after officials whistled Bears defensive lineman Akiem Hicks for a neutral zone infraction on fourth down. The penalty gave Carolina first-and-goal from the 3-yard line, but the Bears defense slammed the door shut. Pro Bowl cornerback Kyle Fuller made a touchdown-saving open-field tackle on Teddy Bridgewater on second down, and on the next play, defensive coordinator Chuck Pagano dialed up the blitz with linebacker Roquan Smith that forced an errant Bridewater throw to D.J. Moore. The Panthers had to settle for another field goal, and in the process, squandered the chance to get momentum back on their side.
Kicker controversy? Last year's feel-good story, kicker Eddy Pineiro, (injured reserve/groin) might need to look for a new home. Veteran kicker Cairo Santos has filled-in admirably for Pineiro, who has been sidelined with a groin injury since the summer. Pineiro made 23 of 28 field goal attempts in 2019, but that feels like ancient history. Santos has been just as good, if not better. Santos booted a career-long 55-yard field goal on Sunday. Through six games, Santos is 10 of 12 on field goals, including the game-winner vs. Tampa in Week 5. Santos' history with Nagy — dating back to their time together in Kansas City — only helps the kicker's cause.
Encouraging trend: The Bears have tight ends who can actually play. Last season, Chicago tight ends combined for two touchdown receptions, tied with the New England Patriots for fewest in the NFL. Chicago overhauled the position in the offseason when it signed veterans Jimmy Graham and Demetrius Harris in free agency and drafted Cole Kmet in the second round out of Notre Dame. The moves have paid dividends. Bears tight ends have already made five touchdown receptions thus far in 2020. The latest occurred on Sunday when Kmet made a difficult 9-yard touchdown grab (in traffic) for the first score of the game. Kmet and Graham combined for seven receptions on the afternoon.
Aaron Lynch ending retirement to re-join Jacksonville Jaguars
JACKSONVILLE, Fla. — Defensive end Aaron Lynch has unretired and been reinstated to the Jacksonville Jaguars' exempt list. He must go through five days of COVID-19 testing and could be eligible to return to the facility as soon as Monday.
Lynch, who signed a one-year contract with the Jaguars in May, retired on Aug. 18 because of personal reasons. He was going to provide much-needed depth to a defense that had already lost nose tackle Al Woods (opt out), defensive end/tackle Rodney Gunter (heart problem), and linebacker Lerentee McCray (opt out).
Lynch has 20 sacks and 10 pass breakups in 73 games with San Francisco and Chicago. That's the most of any player on the Jaguars' defense.
In addition, the Jaguars designated kicker Josh Lambo to return from injured reserve. The team has 21 days to promote him to the active roster. Head coach Doug Marrone said the team had hoped Lambo would be able to play in this Sunday's game at the Los Angeles Chargers but it depends on how Lambo's hip feels later in the week.
If Lambo can't play, the Jaguars will use Jon Brown, who attempted his first field goal and PAT in a game at any level of football in last Sunday's loss to Detroit. When Brown hit a 32-yard field goal, the Jaguars become the first team since the 1970 merger to have a different player attempt a FG/PAT in five consecutive games.
'You gonna hit some holes today?' Kenyan Drake motivated by mom ahead of MNF – Arizona Cardinals Blog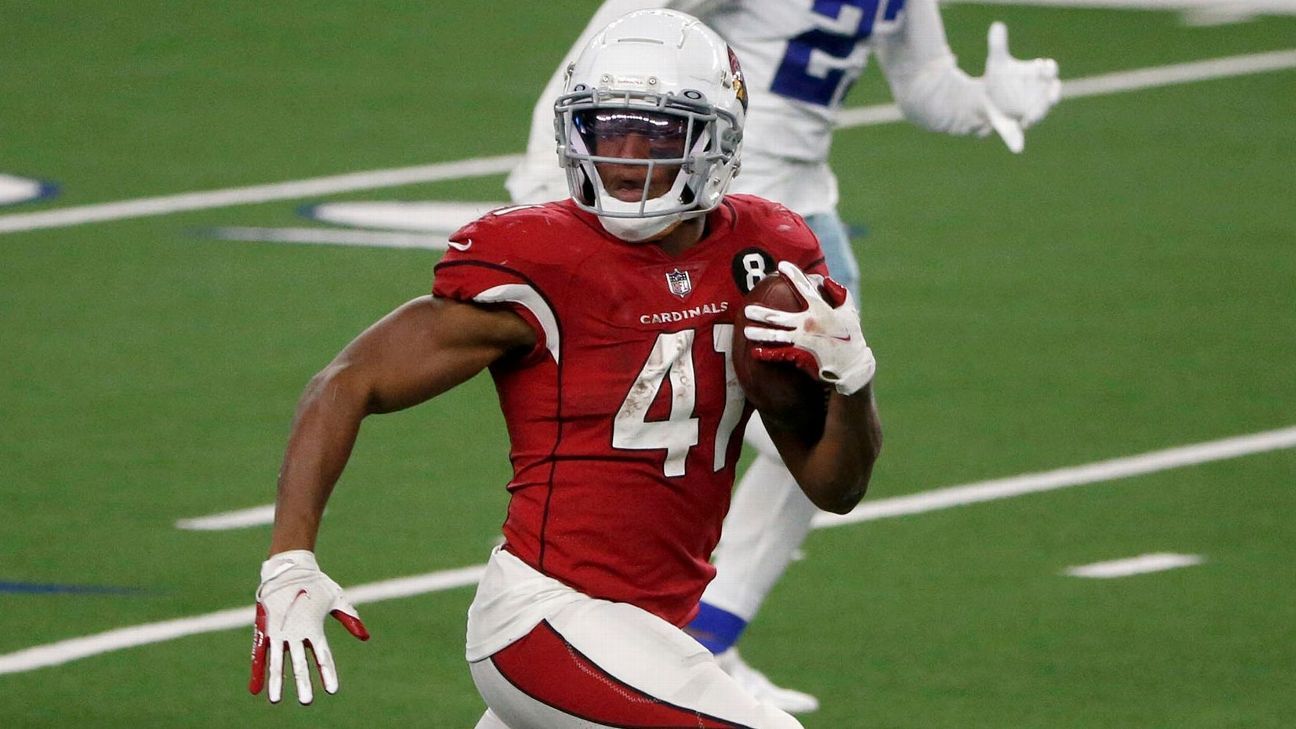 TEMPE, Ariz. — The motivation behind running back Kenyan Drake's breakout performance for the Arizona Cardinals on Monday came from a familiar yet unlikely source.
After they hadn't talked on the phone all of last week, the first thing Drake's mother said, even before "hello," ahead of the Monday's matchup with the Dallas Cowboys was: "Hey, son, you gonna hit some holes today?"
Drake got the point.
He ran for 164 yards and two touchdowns during a 38-10 blowout of the Cowboys on Monday Night Football, his first 100-yard game of the season.
• Just how bad is the NFC East?
• '96 Jets say culture change needed
• Giants' Judge has some Philly fans
• Why Hopkins honors Denmark Vesey
• Schottenheimer on Wilson's brilliance
"It just kind of lit a fire under me," he said. "I was just ready to go out there and play ball.
"It just kind of really hit home when your own mom is not liking what she sees out there, so I really just kind of had to buckle up and go out there and just play ball, get north and south, and make them tackle me going forward. And I feel like we had a lot of success, and hopefully we can just keep that going in the right direction."
Drake said his mom went to his games "now and then" while he was growing up, and the two usually talk on the phone at least weekly. Those conversations include some football talk, but they wouldn't typically get into the nuances of the games.
But she's not afraid to speak her mind, Drake said.
"As long as I'm healthy and happy, she's happy," he said. "So for her to kind of speak up about, I guess, the schematics and what she sees, obviously is glaring. So whatever mom says, I got to go out there and do my best to get that done, so I hope I made her proud."
Seattle Seahawks one of teams looking at Antonio Brown
With Antonio Brown's suspension eligible to end after Week 8, the Seattle Seahawks are now positioned to make a push to sign him, though they're not alone, league sources told ESPN.
Both of Seattle's quarterbacks, Russell Wilson and Geno Smith, are friends with Brown, worked out with him during the offseason and have remained in touch with him about the idea of bringing him to Seattle, sources said. The organization is intrigued by the idea of matching Brown with an MVP candidate like Wilson in an offense that already is as potent as any in the league.
However, other teams also have expressed interest, and Seattle and Brown have not started official contract talks, making a Seattle match not a lock. There has been more and more activity around Brown in recent days, and teams are positioning themselves to make a move so that the wide receiver is ready to play as soon as he's reinstated.
The NFL suspended Brown for eight games without pay for multiple violations of the league's personal conduct policy, the league announced in July.
Brown had been the subject of an NFL investigation after an accusation of sexual misconduct at his home by an artist who was working there in 2017. He also pleaded no contest in June to a felony burglary with battery charge and two lesser misdemeanor charges related to a January incident with a moving truck company outside his home in Hollywood, Florida.
The NFL is also investigating a lawsuit filed by Brown's former trainer, alleging that she was sexually assaulted by him.
Sources confirm a Washington Post report that the NFL investigation remains open and no conclusions have yet been reached.