Dallas Cowboys QB Andy Dalton can make up to $4 million in incentives
Dallas Cowboys quarterback Andy Dalton, elevated to the starting role because of Dak Prescott's season-ending injury, has playing time and postseason incentives in his contract worth up to $4 million, according to a review of his contract.
Dalton will make $1 million if he leads the Cowboys to the playoffs and plays in 35% of their regular-season plays. He will make an additional $500,000 if he leads Dallas to an opening-round postseason win and plays half the snaps.
Dalton will make an additional $500,000 if he leads Dallas to a second-round postseason win and plays half the snaps. He will make $750,000 if he leads Dallas to an NFC Championship Game win, and another $1.25 million to lead them to a Super Bowl win.
Dalton, 32, is scheduled to be a free agent after this season and figures to garner attention from multiple teams if he is successful with the Cowboys. The three-time Pro Bowler replaced the injured Prescott last Sunday and rallied Dallas (2-3) to a victory over the New York Giants.
After starting 133 games during his nine-year run with the Cincinnati Bengals, Dalton said he wants to help the Cowboys' high-powered offense avoid a drop-off without Prescott when they take the field Monday night against the Arizona Cardinals.
"I've been in a lot of different systems and kind of been through it all, so I like everything that we're doing, and my job is to keep this thing exactly how Dak had it," Dalton said Friday. "Dak was playing really well, and we don't feel like we want there to be any drop-off since he's not going to be in there."
Green Bay Packers QB Aaron Rodgers no match for Tampa Bay Buccaneers' defense, picked off twice in loss
Don't tell Aaron Rodgers that Super Bowl LV is at Raymond James Stadium.
That hasn't been the Green Bay Packers quarterback's happy place.
Twice he has left Tampa, Florida, injured: a shoulder in 2008 and a calf in 2014.
He showed up there Sunday hoping for something different, saying this past week: "I'm hoping the third time is the charm."
There was nothing charming about Sunday. Rodgers threw a pair of interceptions, including a rare pick-six, and the Packers (4-1) lost for the first time this season, 38-10 to Tom Brady and the Tampa Bay Buccaneers (4-2).
"You don't ever want to lose like this," Rodgers said. "I felt like we needed a little bit of a wake-up call at some point this season because things have been so good and there's been so much talk maybe outside the building about the ease with which we're moving the ball on offense and scoring. I think we needed kind of a kick in the ass a little bit. There's a little bit of wake-up to stop feeling ourselves so much and get back to the things that got us to this position. I think this would be, unfortunately but fortunately, something we can really grow from."
Rodgers had been interception-free on his first 156 passes of the season, but on No. 157, he threw one to Bucs safety Jamel Dean. It turned into something even more rare for Rodgers: a pick-six. Before that play, Rodgers had thrown 6,214 times in his career and only two of those had been intercepted and returned for scores. On his 6,215th throw, it happened for a third time. That's merely one pick-six for every 2,071 throws, but two of them have come at Tampa Bay (the other was his first ever, in 2009).
"That s— happens," Rodgers said. "I haven't had a lot of those over the years. But the wind was blowing pretty good right to left, and like I said, I felt good about the spot. I knew it was tight, we've hit throws like that, but I missed on my spot by probably a foot, or so. And the kid made a good play."
Dean's 32-yard interception return for a touchdown when he jumped an out route by wide receiver Davante Adams in the second quarter started a run of 38 consecutive points by Tampa Bay after the Packers led 10-0. Two passes later, Rodgers got picked off again — this one on another throw intended for Adams, a slant that appeared to be deflected by cornerback Carlton Davis or tipped by Adams. Either way, it landed in the hands of safety Mike Edwards.
It was just the second time in Rodgers' career that he has thrown interceptions on consecutive first-half drives (and the first time in nearly seven years).
"Definitely swung the momentum in their favor and when we came back out. Give all the credit in the world to Tampa," Packers coach Matt LaFleur said. "The first [interception], Aaron threw with some anticipation, and the corner squatted all over it and made a good play. Second one, I knew we had a miscommunication out there. We weren't in the right look. … Regardless, probably should've popped a timeout. Didn't look right. Sure enough, it got batted around and got picked. A significant part of the game."
Until those two throws, it looked like another Rodgers-led Green Bay masterpiece was in the works. The Packers dominated the first quarter with a field goal and a touchdown (a 1-yard run by Aaron Jones) on the first two drives. Even after it turned quickly to a 14-10 Bucs lead, Rodgers had his chances. He missed a wide-open Marcedes Lewis for what might have been a 75-yard touchdown to kill one drive, and then got sacked to end the next one after Jamaal Williams missed a blitz pickup.
"I don't feel like we ever got into a rhythm, or even the 10 points to start the game," Rodgers said. "We had off-scheduled plays to keep our drives alive. They deserve credit — they got us out of our rhythm."
The Bucs' swarming defense pressured Rodgers 12 times, the most anyone has gotten to Rodgers this season. Rodgers went just 2-of-7 for 10 yards with four sacks and a scramble when pressured. Bucs defensive coordinator Todd Bowles blitzed Rodgers 17 times, and Rodgers went 5-of-14 with two sacks and both of his interceptions. It was tied for the most blitzes he has faced over the past two seasons, according to ESPN Stats & Information research.
"I thought Todd mixed it up really, really good with his fronts, blitzes [and] coverages," Bucs coach Bruce Arians said of Bowles. "You don't usually get Aaron confused — I don't think I've ever seen him confused. When you start running him down and chasing him out of there — early in the game he chased out and he made a lot of plays. We just kept chasing, it hemmed him up a little bit and we got some hits on him. The defensive line, linebackers and the secondary — it was a great defensive performance."
Rodgers finished 16-of-35 for 160 yards without a touchdown and the two interceptions before coach Matt LaFleur let Tim Boyle finish the game. Rodgers' passer rating of 35.4 was the second-lowest in a game he has started and didn't leave because of injury. His only worse rating was on Dec. 14, 2014, at Buffalo (34.3).
Rodgers dropped to 1-3 against the Bucs at Raymond James Stadium, but at least he came away healthy this time.
The same can't be said for at least one other key member of the offense. All-Pro left tackle David Bakhtiari left in the second half with a chest injury and did not return. The Packers finished the game with Rick Wagner at left tackle. They also finished the game without a pair of defensive starters: DT Tyler Lancaster (shoulder) and safety Darnell Savage (quadriceps).
Although Bakhtiari couldn't finish the game, LaFleur said the preliminary indication is that it's not a long-term issue.
While there's still a long way to go, this game could have implications down the road, especially when it comes to playoff-seeding tiebreakers. Under Rodgers, the Packers have played in four NFC Championship Games. All of them have been on the road. If this loss means the Packers would have to go back to Tampa before the Super Bowl, they might not have to worry about where the final game of the 2020 season will be played.
"You can never really get comfortable in this league," LaFleur said. "As soon as you get comfortable, you get your butt whipped."
Minnesota Vikings QB Kirk Cousins — Won't finish season if interceptions continue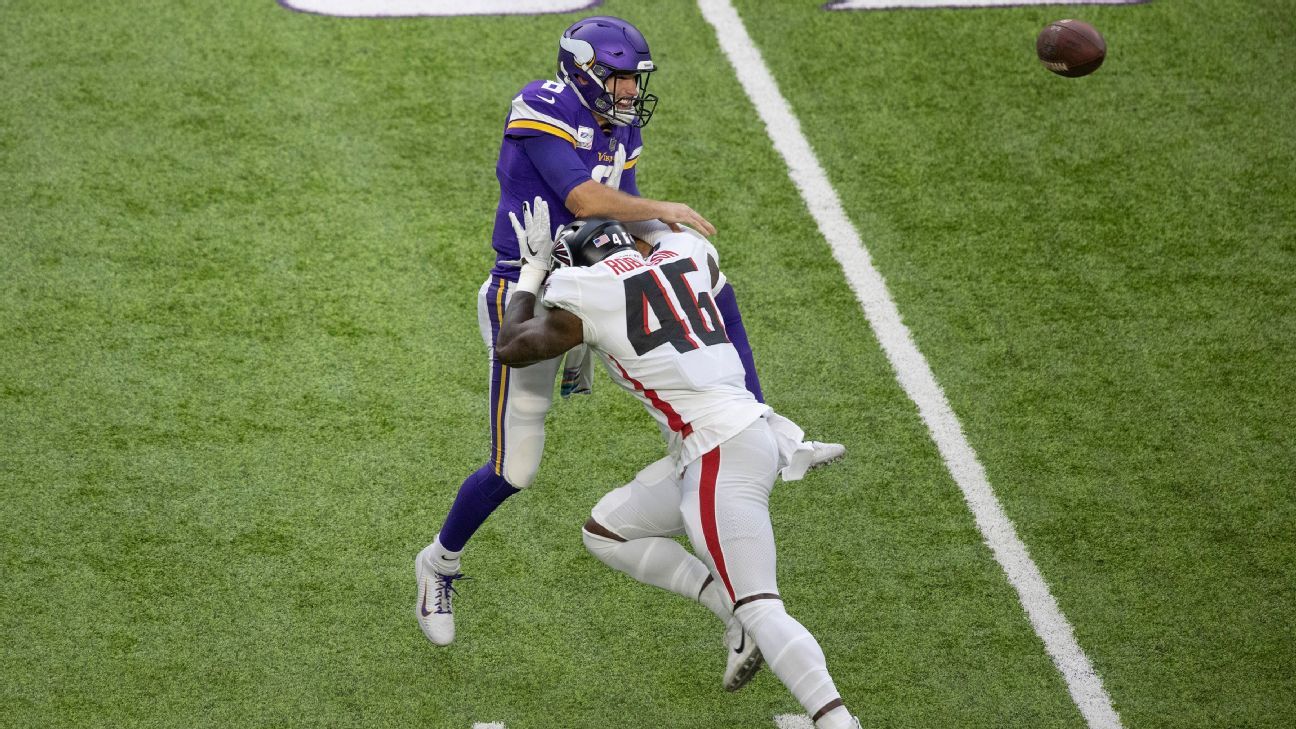 MINNEAPOLIS — Mike Zimmer didn't give much thought to whether he would pull Kirk Cousins amid a first half in which the Minnesota Vikings' quarterback threw three interceptions that resulted in an eventual 40-23 loss to the Atlanta Falcons, replying with a simple "no" when asked if he considered making a change.
But although the head coach dispelled any notion over the QB's job security, Cousins is aware of the consequences that could come if his interception trend picks up following the Vikings' bye week.
"The reality is if the pace I'm on in terms of the interceptions, if that were to continue, I won't finish the season," Cousins said. "I won't — you know what I mean? There's a little bit of, you got to improve. Whether it's them telling me, 'Hey, we gotta improve,' or them pulling me; we got to get better. That's what the rest of the season will be about for me, is trying to protect the football as best I can. Because when you turn the ball over, it really hurts your chances to win. I know that. I just need to improve as we look ahead to the rest of the season."
The three interceptions Cousins threw before halftime Sunday were his most in a first half in his career, according to ESPN Stats & Information. Cousins was given a two-year, $66 million extension in March that keeps him under contract in Minnesota through the 2022 season. In six games, the 32-year-old quarterback leads the NFL with 10 interceptions; he tossed just six in 2019.
"I need to correct it," Cousins said. "I need to finish the season with a different story, regarding the interceptions, so that's something I need to improve with the remaining games we have. I don't know that I'd limit it to the interceptions. I think it's just the entire offensive performance. It's just, I need to be better, we need to be better."
Minnesota won the coin toss and started the game on offense. Cousins threw an interception on the first play of the game on a pass intended for rookie Justin Jefferson. Atlanta linebacker Deion Jones returned the ball to the Vikings' 24-yard line, where the Falcons jumped out to a 7-0 lead after orchestrating a five-play drive that went 29 yards and ended with QB Matt Ryan hitting Julio Jones for a 20-yard touchdown.
From that point, the Vikings never were able to recover and truly test the previously winless Falcons.
"I thought the first one was the worst one, if you will," Cousins said of his three interceptions. "First play of the game, and the coverage was not confusing. It was just a zone drop, and I simply forced the football into coverage, tried to do too much. That's a mistake I may have made in Year 1, but I'm disappointed that I would do that now. The second one, third down, saw Cover 2, felt them squeeze Adam [Thielen], doubled Adam, and wanted to replace the squeeze with throwing it to Justin, and the cloud corner jumped it and made a good play. The third one, was just trying to work the bender to [Chad] Beebe. My arm got hit, and obviously it went up in the air and was intercepted."
Cousins finished the game having completed 24 of 36 passes for 343 yards with three touchdowns and three interceptions.
As the Vikings head into their Week 7 bye with a 1-5 record, the worst start in Minnesota since 2013, the opportunity for introspection and potential changes is on the minds of many within the franchise.
"I think that's something we need to look at here starting tomorrow when we get back in and figure out where we're at, where we plan on going and kind of go from there," Zimmer said.
Jefferson, drafted 22nd overall, reached another career milestone in the loss with his third 100-yard receiving day (166 yards, 2 TDs). The last Vikings rookie to reach that feat was Randy Moss in 1998 (4). Jefferson is also the second player in NFL history with 500 or more receiving yards through his first five career games (537).
Joe Judge gets first win as New York Giants sneak by Washington
EAST RUTHERFORD, N.J. — The New York Giants put one on the board. Barely.
Coach Joe Judge and the Giants got their first win of the season, a wild, sloppy 20-19 victory over the Washington Football Team on Sunday that was sealed with a two-point conversion stop with 36 seconds remaining.
It was Judge's first career victory as a head coach. The Giants celebrated by throwing water on him in the locker room, and quarterback Daniel Jones said he presented Judge with a game ball.
Judge was hired earlier this year after spending the previous eight seasons in New England working mostly with special teams. He dropped his first five games as a head coach.
Washington coach Ron Rivera gave Judge and the Giants their opportunity late in regulation. Known as "Riverboat Ron" for his sometimes risky gambles, Rivera went for the win instead of an extra point to tie it after Cam Sims scored on a 22-yard TD catch from Kyle Allen. But on the ensuing conversion attempt, Allen's pass fluttered harmlessly to the ground after he scrambled out of the pocket and was hit as he threw.
"I want to win. I'm playing to win. I'm trying to get our players to understand this is how we do things. We do things to the max. We play to win games," Rivera said. "It bugs me because we lost. It pisses me off; I want to win games. I don't care that it's my first year [here]. I don't care that we have a group of young guys that have to learn. They will learn how to win."
Rivera's decision didn't surprise the Giants, who used a defensive call on the game-deciding play that was put into the game plan on Friday and ironed out Saturday. It worked as Allen couldn't find his initial target and was forced to unsuccessfully freelance.
"I was actually expecting them to go for two," Judge said. "They've been aggressive in a lot of situations this year, and Ron has always been aggressive as a head coach. You know, a lot of times when you're on the road, that is a decision you're going to make right there."
At this point, the Giants (1-5) and Judge will take a win any way they can get one. It doesn't matter that Allen seemingly fumbled them the game with 3:29 remaining, but then drove Washington down the field for what seemed to be the tying score. That's when Rivera got frisky.
Maybe this should've been expected. With these teams and this year's NFC East, nothing is conventional.
Washington (1-5) and the Giants will both be only one game back of first place in the division if the Dallas Cowboys lose to the Arizona Cardinals on Monday night.
The win wasn't pretty for the Giants. They squandered an early 13-3 lead and made some head-scratching plays throughout, including a costly interception thrown in the end zone late in the third quarter by Jones.
Jones now has committed at least one turnover in 17 of 18 career starts. He did throw his first touchdown pass — 23 yards to Darius Slayton in the first quarter — since Week 1.
But it was the Giants' defense that made the key play late in this one. Kyler Fackrell sacked Allen and rookie Tae Crowder returned it 43 yards for a score to give the Giants the lead for good with 3:29 remaining. On this day, Mr. Irrelevant was relevant. Crowder was the final pick in this year's draft.
With the Giants' win, only the New York Jets remained winless entering Sunday's late afternoon games.
It took six weeks, but this was exactly what Judge needed to give his program some validation. Judge said he was proud of his team and happy they got to see tangible results from their hard work.
"We finally got our win," Giants defensive lineman Leonard Williams said. "We've been working hard and finally got to see some of the fruits to our labor. It was obviously an ugly win though."
The two teams combined for just 577 yards and three turnovers. Washington dropped its fifth straight.