Washington Football Team rookie Chase Young ruled out with groin injury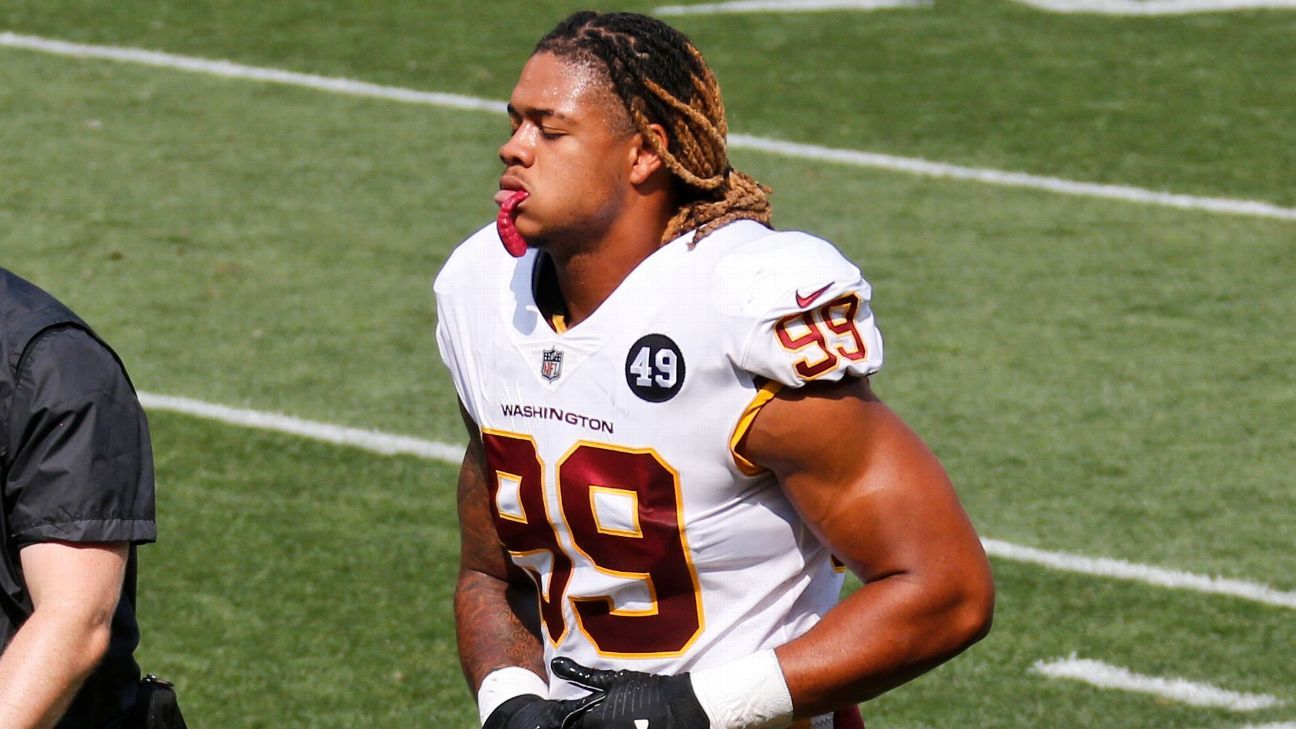 Washington Football Team rookie defensive end Chase Young left the team's 34-20 loss to the Cleveland Browns on Sunday in the second quarter with a groin injury.
It wasn't what Washington needed in a game it could have won; nor is it what it needs with the Baltimore Ravens up next.
Washington coach Ron Rivera said both Young and defensive tackle Matt Ioannidis will get checked out Monday to determine the extent of their injuries. Ioannidis left the game in the first half with an arm injury.
Washington hosts Baltimore next week. The team doesn't want to lose Young for any game, but especially not one that pits it against a quarterback such as Lamar Jackson.
Young, the No. 2 overall pick in the April draft, had been what Washington hoped for in the first two games — recording 2.5 sacks and playing the run well.
Young returned to the sideline in the second half Sunday, with his right thigh heavily wrapped. Instead of delivering hits on the field late in the game, he was reduced to giving pep talks to quarterback Dwayne Haskins. Haskins had thrown three interceptions in the game; he said Young told him Young would still root for him even if "we were down 40."
"Chase is a high-level-energy guy out there," Rivera said. "He's a guy who helps spark the organization."
Which is why it would be bad if he had to miss any time. Washington's strength is its defensive line — and the depth it boasts. On Sunday, though, without Young and Ioannidis for most of the game, Washington was reduced to only six linemen.
"The hard part is you can't keep guys as fresh as you'd like them, and you're constantly exposed," Rivera said. "Our D-line played their butts off and gave us a chance, but eventually it wears you down, and that's what happened."
Defensive end Montez Sweat had a big day minus Young, recording a sack and four of Washington's five hits on Browns quarterback Baker Mayfield. Sweat forced him into an intentional grounding, as well.
"Montez showed us he's a force to be reckoned with," Rivera said.
But losing Young hurt, particularly his athleticism on the edge.
Young rushed Mayfield on a third-down play early in the second quarter. At the end of the play, Young appeared to be slightly affected by his leg. He walked to the locker room, where, according to the Fox broadcast, it got worse and he was quickly ruled out.
Washington does have veteran Ryan Kerrigan to replace Young. Young missed time in camp with a hip flexor.
Washington also has depth inside with Daron Payne, Jonathan Allen and Tim Settle, but Ioannidis is one of its better pass rushers. He has 1.5 sacks this season after recording 8.5 last year.
"You definitely notice it," said Washington corner Kendall Fuller of losing two linemen. "We also have that next-man-up mentality."
Giants' Joe Judge, from Philly area, has converted some Eagles fans – New York Giants Blog
EAST RUTHERFORD, N.J. — They say absence makes the heart grow fonder. That might not be the case for Joe Judge when he returns home to Philadelphia on Thursday.
He will be coaching the rival New York Giants against the Philadelphia Eagles at Lincoln Financial Field (8:20 p.m. ET, Fox). The Giants' first-year coach is coming back to face his childhood team for the first time in his current role.
Judge, who grew up in the Philadelphia suburb of Doylestown, Pennsylvania, will have a large group of friends and family in the building. They aren't going to miss this one. The total count is expected to exceed the 30 tickets Judge originally requested.
• Game picks from our NFL experts »
• PickCenter » | ESPN Chalk »
More NFL coverage »
They're all welcome — with one caveat.
"My only rule with everybody that shows up that I either grew up with or [have] blood ties with: They've got to wear blue," Judge said. "I respect their love for the Eagles, for being from the town. But, hey, look, man, you ain't showing up and cheering against my kids' Christmas now. So you better put on some blue and cheer for us."
Make no mistake: Even in a stadium with a limited number of fans (about 7,000) because of COVID-19 restrictions, the Philadelphia native and Giants coach doesn't expect a friendly welcome.
The decimated Eagles (1-4-1) are desperate for a victory, and their fans are unhappy with the state of the team heading into the matchup with the Giants (1-5), who won their first game against the Washington Football Team on Sunday.
"I'll probably buy a helmet, too, because my in-laws are already buying batteries," Judge joked during a conference call Monday.
The Giants weren't all that popular to the Judge family and most of their friends until he was hired on Jan. 8. They are die-hard Philadelphia fans, and Sundays were about the Eagles when Judge was growing up, even if his favorite player was Miami Dolphins quarterback Dan Marino.
"In the house, it was definitely the Eagles," said childhood friend Frank Panariello, who went by "second-string Joey" when he lived at the Judges' house while Joe was in college. "We were all around. Even when I was there, it was football. Saturday was football because of college — especially when we were in college, with Joe at Mississippi State and everything — and the NFL days, even [when Joe was] with the Patriots, his brother [Jimmy] was still an Eagles fan. He's a Patriot, but you still root for the Eagles.
"The Super Bowl was a tough one. Rooted for the Patriots, though," he said of the Eagles' 41-33 win against New England in Super Bowl LII on Feb. 4, 2018.
Making the switch to the Patriots, with whom Judge worked as an assistant for eight years, was natural. But for the most part, his friends could still cheer the hometown Eagles without guilt.
Inheriting Giants fandom has been a more arduous task, even if Judge's family have done it without hesitation for their favorite coach. The division rivals are located some 90 miles apart.
"I told him I hope that [Giants] contract includes witness protection from Eagles fans," high school teammate Matt Stairiker said of Judge being hired.
This surely wasn't the way friends and family envisioned this unfolding. Anybody but the Giants, Dallas Cowboys or Washington Football Team would've been more palatable. Twenty years or so ago, Judge coaching the Giants would have been blasphemous.
"She would've probably said, 'Can you try for the Eagles?'" Panariello said of Judge's mom, Denise, a school principal. "I know his dad would've had some words. That's for sure."
Judge's wife and kids are expected to make the trip, assuming they can figure it out with school Friday morning. Panariello and Stairiker will be among the crew of close friends in the building Thursday.
At this point, the Big Blue mandate is easy for them. Judge's friends are full converts and plan to support their pal at the expense of their former obsession.
Panariello had arranged to get tickets for a crew of six, but that plan wasn't going to fly. There are perks that come with this job.
"Joe was like, 'Wait a minute. Why don't you just have me do this for you guys?' He was like, 'I'd love to have you there as a group.'
"My reason for it was we just wanted to be there to support him. We'd get there somehow for him, and he was like, 'Nah, absolutely not!'"
All that matters is that friends will be there — as will Judge's family, including uncles, cousins and more.
This will be the fourth time Judge has coached against the hometown Eagles. The first was in 2015, when a group of his friends made the trip to New England to witness a 35-28 Eagles victory that included a pair of special-teams touchdowns against Judge's unit. If that didn't make for some awkward postgame conversation, Super Bowl LII certainly did.
Panariello made the trip to Minnesota for that game, in which the Eagles won their first Super Bowl. He not only rooted for New England but also turned down the opportunity to attend the Eagles' postgame celebration party to spend time with his friend.
"He was like, 'Hey, you a little happy?'" Panariello recalled after seeing the team he rooted for most of his life win its first Super Bowl. "I was like, 'Can I say it? Yeah. You already won a couple.'"
Judge then returned to Philadelphia when the Patriots beat the Eagles 17-10 in November 2019 at Lincoln Financial Field.
That was special. But this is different, even if Judge downplays it all in his self-deprecating way.
"To be honest with you, it's not my first time going back to Philly as an opposing coach," he said Monday. "It's a great city. It has great, passionate fans. It's an excellent team. It's obviously a great rivalry. I grew up watching these games. They were always tough games, blue-collar-type games when the Eagles and the Giants were playing when I was growing up watching the games.
"Again, you're so focused on the opponent, the emotion doesn't really get tied into it. We just know we have a heckuva team we have to match up against."
The Patriots (and Eagles) are in the past for Judge now, but Thursday's game won't be the first time he has seen family or friends in Giants blue.
"My brother walked around in a [Lawrence Taylor] jersey his entire life, I think, mostly to make us mad because we were all rooting for the Eagles," Judge said. "Eventually you get used to seeing it, and you understand why he was wearing it."
Now the Giants jerseys worn by family members have a much different meaning.
NFL MVP watch 2020 – Can anyone catch Russell Wilson? Is Ryan Tannehill a legitimate contender?
Somehow in spite of COVID-19 outbreaks and the weekly shuffling of the schedule, the NFL has made it through six full weeks of the 2020 season. NFL MVP awards aren't won on five or six games alone, but the leading candidates are starting to build their cases. So who is deserving of consideration through this point in the season?
A panel of eight analysts voted on the top 10 players in the MVP race. We then used those eight sets of rankings to determine our top five candidates overall, using Heisman Trophy-esque scaling for each ranking. We'll also look at a few names who have seen their MVP stock either spike or plummet in the early going. Here are the top five players off to an MVP-caliber start.
Jump to:
Top five | Just missed | Stock watch


2020 stats: 1,502 passing yards, 19 TDs, 3 interceptions (plus 153 rushing yards) in five games
Seattle's offensive philosophy has changed in 2020, and it has Wilson at the top of the MVP standings as the unanimous No. 1 candidate among our eight voters. The Seahawks' quarterback has never received a single vote for the award but is looking to change that in his ninth season.
His most recent outing gave us one of many MVP-caliber moments. While he threw for only 217 yards in Week 5, Wilson led his team on a 94-yard, 102-second drive down the field late in the fourth quarter, while converting twice on fourth down, to come from behind and beat the Vikings in thrilling fashion.
Wilson has 19 passing touchdowns in his first five games of the season and needs four more on Sunday against Arizona to break the record Peyton Manning set in 2013 for the most through a team's opening six contests (22). Wilson also leads the NFL in passer rating (129.8) and touchdown percentage (11.2%), and ranks second in completion percentage (72.8%).
---
2020 stats: 1,699 passing yards, 15 TDs, 1 interception (plus 165 rushing yards and 1 rushing TD) in six games
Mahomes became the fastest player in NFL history to reach 90 passing touchdowns (in 37 games) after he threw two of them in a Week 6 win over Buffalo. He started the 2020 season right where he left off, after winning a Lombardi Trophy and Super Bowl ring eight months ago.
But the scary part is the Chiefs don't need their elite QB playing at an MVP level every week to win games. Kansas City leaned heavily on its rushing attack to beat the Bills. According to ESPN Stats & Information, the Chiefs' 46 rushing attempts on Monday are tied for the most in a game by an Andy Reid team in his career as a head coach. In spite of teams trying to take away the Chiefs' biggest strength, Mahomes still has the third-most passing touchdowns (15), ranks second in QBR (86.9) and is on pace for more than 4,500 passing yards this season.
---
2020 stats: 1,374 passing yards, 13 TDs, 2 interceptions (plus 45 rushing yards) in five games
Rodgers looked awful against the Bucs in Week 6 and was caught off guard — throwing two interceptions, which the Packers quarterback referred to as "an anomaly." If that's the case, we should expect to see him bounce back to where he was during his first four games — a stretch that included a 13-0 TD-INT ratio.
This season is shaping up to be special for the Packers, and Rodgers is still very much the engine that makes Green Bay's offense go. He's maximizing the talent around him, from Davante Adams to Aaron Jones, and ranks top-five in touchdowns, passer rating and adjusted yards per attempt, the latter of which is a great sign for the Packers offense considering Rodgers' willingness to sling the ball downfield. Through five games, Rodgers has 19 passes of 20-plus yards and five of 40-plus yards.
Rex Ryan asserts that defensive pressure on Aaron Rodgers is the key to defeating the Packers.
2020 stats: 1,368 passing yards, 13 TDs, 2 interceptions (plus 77 rushing yards and 1 rushing TD) in five games
Many expected Tannehill to decline after his career-best season in 2019. So much for that. Since replacing Marcus Mariota as the starter in Tennessee, Tannehill has led the Titans to an 11-3 record while throwing for 3,062 yards and compiling a 31-6 TD-INT ratio.
The Titans rank fourth in offensive efficiency this season, and though a lot of their wins have come on the back Derrick Henry, don't overlook the type of performances Tannehill has strung together. That includes going 30-for-41 for 364 yards and four touchdowns in a wild win over Houston to get his team to 5-0.
---

2020 stats: 1,711 passing yards, 16 TDs, 4 interceptions (plus 143 rushing yards and 3 rushing TDs) in six games
Allen had bad showings in back-to-back losses to the Titans and Chiefs but remains in the MVP mix for now. The Bills' QB led his team to a 4-0 start and emerged as an early favorite for the award upon completing 70.9% of his passes for 1,326 yards (nine yards per attempt) and 12 touchdowns along with a 122.8 passer rating. The way Allen performed early, albeit while beating up on teams like the Jets, Dolphins and Rams, had him in the same sentence with Wilson, Mahomes and Rodgers.
But as of late, that hype has dwindled. Though he has shown considerable improvement this season, Allen can't turn in performances like he did against the Chiefs and the league's 23rd-ranked defense (14-of-27 passing for 122 yards, 2 TDs, INT) if he wants to stay in the MVP conversation.
---
Just missed
Aaron Donald, DT, Los Angeles Rams: The 2018 Defensive Player of the Year is always in the mix here, though defensive tackles are rarely ever given the league's highest honor. At 29, Donald hasn't slowed down and leads the league in sacks with 7.5. He has been one of the most disruptive players in the NFL for years, ranking third in sacks through 100 games, and will continue to be in the conversation for the MVP as long as he has outings like he did against Washington (four sacks). That performance marked his fifth career game with at least three sacks, the most by any player since he entered the league in 2014.
Derrick Henry, RB, Tennessee Titans: Henry led the league in rushing in 2019 and has shown no signs of slowing down after signing a mega-extension this offseason. The 247-pounder rushed for 212 yards (an average of 9.6 yards per carry) and two touchdowns against the Texans, which was his third game with 200 yards rushing since 2018. Meanwhile, the rest of the NFL has had just three players reach that feat in the same span. He is looking to become just the fourth running back to earn MVP honors since 2001. The fact that Tennessee's offense flows through Henry will continue to help bolster his chances, and many could argue the reason Tannehill is a strong early MVP candidate himself is because of what Henry has done to keep Tennessee undefeated entering Week 7.
Ben Roethlisberger, QB, Pittsburgh Steelers: Big Ben finished just outside of the top five after playing just six quarters last season. Roethlisberger's arm strength isn't where it was when he led the NFL in passing yards in 2018 — his 7.0 air yards per attempt are his lowest through the Steelers' first five games since this was first tracked by ESPN in 2006 — but the way he's playing has the Steelers off to a 5-0 start and in the conversation as the NFL's best team. The Steelers QB is completing 69.1% of his passes (his best through five games since 2015), has thrown 11 touchdowns to just one interception and posted his eighth-highest QBR (60.3) through five games.
Also received top-10 votes: Lamar Jackson, Tom Brady, Alvin Kamara, Myles Garrett, Derek Carr, Stefon Diggs, Kyler Murray, DeAndre Hopkins, Ryan Fitzpatrick and Cam Newton
---
Stock up

Lamar Jackson, QB, Baltimore Ravens: The reigning MVP doesn't look like he did last year at this point but looked more the part in the Ravens' Week 6 win over the Eagles. Jackson rushed for 108 yards and a touchdown in the 30-28 win, which was the first time this season when his running ability appeared to be as big of a threat as it was last season. His passing has been all over the place, from a 275-yard, three-TD performance on 20-of-25 passing in a Week 1 win over the Browns to completing just 51% of his passes for 180 yards and 2 TDs in a victory over Cincinnati in Week 5.

Kyler Murray, QB, Arizona Cardinals: Murray took down San Francisco, last year's Super Bowl runner-up, in Week 1 and has become a stealth candidate for the MVP award over the past few weeks. After dismantling the Cowboys on Monday night, the type of game he needed to further himself in the MVP mix, Murray became the third player in NFL history to record 30 passing and 10 rushing touchdowns in his first 25 career games.
---
Stock down
Cam Newton, QB, New England Patriots: It may not be time for the Patriots to hit the panic button, but the same can't be said for Newton's MVP chances. He looked like he was back to his 2015 MVP form in New England's first three games, even in a loss to the Seahawks in which he threw for 397 yards. Newton said he was "extremely frustrated" with his play after a Week 6 loss to the Broncos, and it's not difficult to understand why. He's an MVP-caliber player and isn't consistently playing like one. His five rushing touchdowns and 56.3 rushing yards per game are great, but his passing is a mixed bag. He has just two passing TDs in four starts and ranks 27th in ESPN's adjusted QB rating.
Chiefs can't wait to add Le'Veon Bell to a loaded offensive lineup – Kansas City Chiefs Blog
COVID-19 protocols forced new Kansas City Chiefs running back Le'Veon Bell to watch his new team from afar Monday.
But Bell provided support over social media during the Chiefs' 26-17 victory over the Buffalo Bills. At one point he simply tweeted "I can't wait" and added a smiling face emoji with heart-shaped eyes.
I can't wait 😍

— Le'Veon Bell (@LeVeonBell) October 19, 2020
The Chiefs feel much the same way about adding Bell to an already loaded offensive lineup that includes quarterback Patrick Mahomes, tight end Travis Kelce, wide receiver Tyreek Hill, running back Clyde Edwards-Helaire and others.
"He's going to be another weapon," Mahomes said. "He's somebody who's had tremendous success in this league for a long time now and he's still in the prime of his career. He's 28 years old, so he's going to come in and make plays happen.
"Having him, Clyde, Darrel [Williams], Darwin [Thompson], all these guys that can come in and run the football and keep just going at the defense over and over again, it'll open up the passing game and it'll help me out a little bit, too."
The Chiefs didn't need Bell against the Bills. They ran 46 times for 245 yards, both being bests in their 7 1/2 seasons under coach Andy Reid. Edwards-Helaire ran for 161 yards.
Edwards-Helaire stands to lose some playing time to Bell, but if the Chiefs run anywhere near as much as they did against the Bills, there will be more than enough for both players.
Edwards-Helaire sounded ready to share.
"Another guy coming in, another piece to the puzzle," he said of Bell. "I just feel like we can only go up. Le'Veon, the guy's older than me. I'm still in my rookie year. So ultimately, anything I can do to pick his brain and gain any knowledge from him, I'm there for it."
It will ultimately be the job of Reid, offensive coordinator Eric Bieniemy and running backs coach Deland McCullough to decide how the playing time will be split. Reid indicated he didn't consider the job to be a problem.
"We don't turn away good players, and he's a good one," Reid said. "It's exciting to have him around, and we'll see how he does. He's got to get in and get in the playbook and learn everything, but he's a pretty smart kid and been doing it a long time, so I don't think he'll have a problem with that.
"I think if you talk to Clyde, Clyde will sleep well tonight, as I think the other backs will. To add one more guy, I don't think any of them will complain there."