Follow live: Raiders' Gruden searching for first win vs. Belichick's Patriots
Carson Wentz leads Philadelphia Eagles' late-game surge to beat New York Giants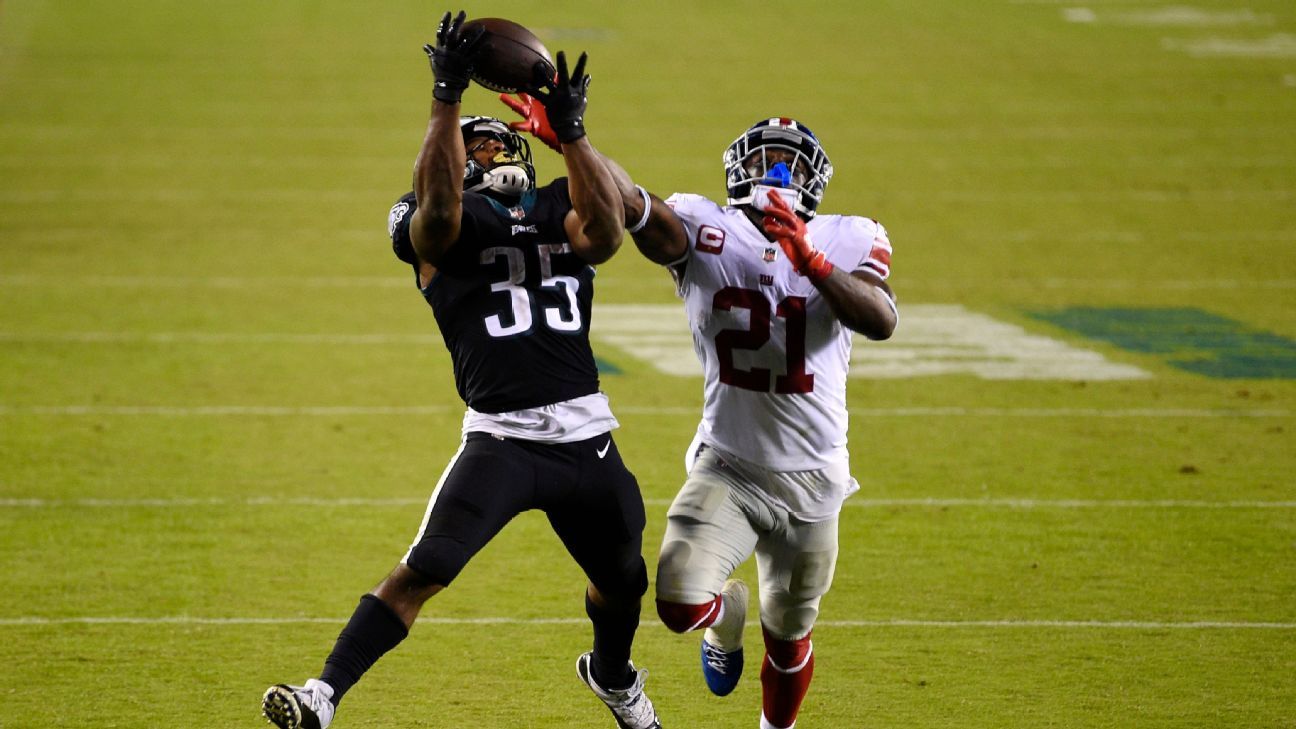 PHILADELPHIA — Carson Wentz and the Philadelphia Eagles did it again, roaring back late in the game to upend the New York Giants, 22-21, and put themselves in the driver's seat in the lowly NFC East.
In the process, they extended their winning streak over the Giants to eight games.
Wentz led a pair of touchdown drives in the fourth quarter after struggling for much of the night, and put the Eagles ahead with a beauty of a pass to running back Boston Scott down the right sideline for an 18-yard touchdown with 40 seconds remaining.
He finished 25-of-43 for 359 yards with three touchdowns (2 passing, 1 running) and an interception.
Wentz has had a sometimes bumpy start to the season — his 10 interceptions through seven games is the most by an Eagles quarterback since Sam Bradford in 2015 — but he's picked up the pace over the last three games, and continues to show a penchant for late-game heroics.
The win was reminiscent of their Week 14 win over the Giants last year, in which they overcame a 17-3 deficit to in 23-17 in overtime. That kick-started a four-game winning streak that put the Eagles in the playoffs.
They could be on a similar trajectory this season despite their 2-4-1 record. According to the ESPN Power Football Index, their chances of winning the division shot up to 61 percent with the win.
The Eagles defense generated three turnovers, including a Brandon Graham strip sack of Daniel Jones late in the game to seal the victory.
Tripped up — Giants' Daniel Jones falls on a break away to the end zone
Daniel Jones is gone! Well … almost.
The Giants quarterback seemed destined for an 88-yard touchdown. Until the turf got him.
With nobody in sight, Jones had a certain touchdown disappear midway through the third quarter when he stumbled and fell at the Eagles' 8-yard line. It still was the longest quarterback run since 2015, when Marcus Mariota had an 87-yard scamper against the Jacksonville Jaguars. Jones reached a max speed of 21.23 miles per hour, the fastest by a quarterback since 2018.
DJ'S GOT TURBO SPEED

Watch Live: https://t.co/y8glCzPbFy pic.twitter.com/AYHl51kypH

— New York Giants (@Giants) October 23, 2020
It drew laughs on the Giants sideline and across the NFL Twitterverse.
Come on Daniel……… 😂😂😂 Boy fell like he was in a horror movie!!

— Gerald McCoy (@Geraldini93) October 23, 2020
I mean i can't even say anything cause i would never be able to run that far either 😂😂😂😂

— Patrick Mahomes II (@PatrickMahomes) October 23, 2020
The slo mo killing me lol … he was sliding low key

— DIGGS (@stefondiggs) October 23, 2020
Yo if the Giants don't score here that's going to be bad

— Reggie Bush (@ReggieBush) October 23, 2020
Fortunately for New York, it eventually scored three plays later on a one-yard run by running back Wayne Gallman.
Follow live: Wentz guides Eagles to second TD of game