San Diego Padres' Mike Clevinger (elbow) may miss wild-card round of MLB playoffs
San Diego Padres right-hander Mike Clevinger is uncertain to pitch in the wild-card round of the playoffs after being diagnosed with an elbow impingement in his throwing arm, according to the team.
Padres general manager A.J. Preller told reporters Friday that they would not rule Clevinger out, but the plan is to wait and see how he feels after receiving a cortisone shot.
Clevinger left his start Wednesday against the Los Angeles Angels after one inning and underwent an MRI.
Obtained in a blockbuster trade with the Cleveland Indians on Aug. 31, Clevinger is 2-1 with a 2.84 ERA in four starts since joining the Padres.
The Padres (34-22) already have clinched their first playoff berth since 2006.
Follow live: Kershaw, Dodgers face Rays in pivotal Game 5 with series tied
Cody Bellinger back in center field for Los Angeles Dodgers in World Series Game 5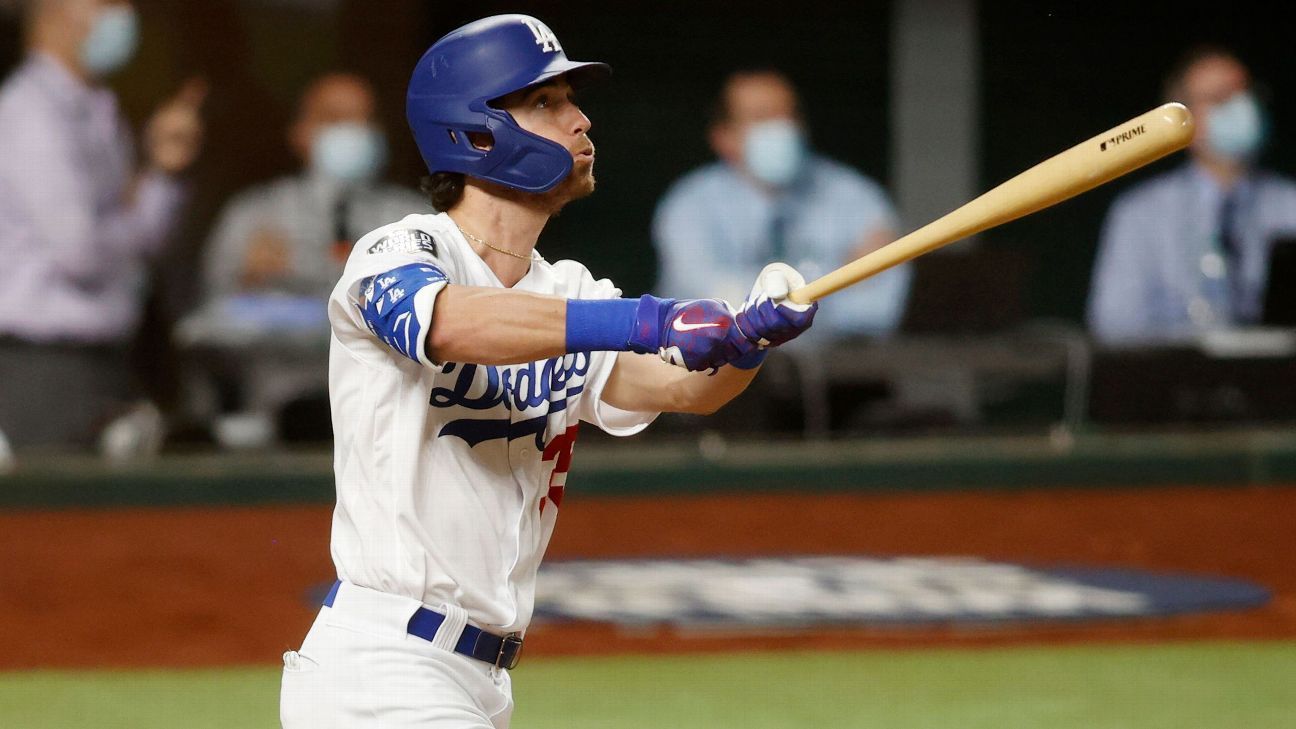 ARLINGTON, Texas — Cody Bellinger was set to return to center field for the Los Angeles Dodgers in Game 5 of the World Series on Sunday, and second baseman Brandon Lowe moved up a couple of spots in Tampa Bay's batting order.
The roof will be closed Sunday night because of dreary conditions and an increasing chance of rain into the night.
Bellinger, a National League Gold Glove finalist, was listed in center field for Game 5 after he was a late switch to designated hitter a night earlier because of back stiffness.
The wild game-ending play Saturday night, on which the Rays scored two runs to win 8-7, began on Brett Phillips' softly hit ball that was misplayed by Chris Taylor in right-center. Taylor had started the game in left, but finished in center after Joc Pederson entered as a pinch-hitter for A.J. Pollock, who had started in center instead of DH as planned.
Against Rays right-hander Tyler Glasnow in Game 5, Pederson was slated to start in left and Taylor at second base. Will Smith, the catcher Saturday night, was listed as the Dodgers' DH, while Austin Barnes would catch lefty ace Clayton Kershaw.
The top six in the Dodgers' batting order where unchanged: right fielder Mookie Betts, shortstop Corey Seager, third baseman Justin Turner, first baseman Max Muncy, Smith and Bellinger, followed by Taylor, Pederson and Barnes.
Tampa Bay, despite facing a left-hander for the second game in a row, moved Lowe up from fifth to third in the batting order after he hit his third opposite-field homer in the Series on Saturday night. The only position change was Joey Wendle at third base instead of Mike Brosseau.
As for Tampa Bay's batting order, leadoff hitter Yandy Diaz, DH Randy Arozarena were again in the top two spots, with left fielder Manuel Margot still in the cleanup spot. The rest was changed from Game 4, with left fielder Hunter Renfroe batting fifth, ahead of Wendle, shortstop Willy Adames, center fielder Kevin Kiermaier and catcher Mike Zunino.
Brett Phillips needed IV after Tampa Bay Rays' dramatic Game 4 World Series win
ARLINGTON, Texas — A night Tampa Bay Rays hero Brett Phillips won't soon forget ended with him getting an IV solution not long after winning Game 4 of the World Series with a bottom-of-the-ninth base hit to right field. Phillips was dehydrated and had a migraine after celebrating with his teammates.
"Almost passed out," Phillips said Sunday afternoon. "I didn't realize I was dehydrated. I had to get an IV. My resting heart rate was over 140 [beats per minute] just lying there."
Phillips was mobbed by his teammates in the outfield after rookie Randy Arozarena crossed home plate with the winning run in a wild, 8-7, win. The excitement got the best of him when he returned to the clubhouse.
"They had to cover my eyes with a towel because I had a pounding migraine," Phillips stated. "I wasn't looking at the light and had to slow down the breathing. Was just relaxing and hanging out."
Teammate Joey Wendle was asked if he had ever seen the guy that wins the game go get an IV afterwards.
"We were celebrating after the game and we were at the part where we were going to give him a shoutout and someone said he's not here," Wendle said. "He went to the trainer's room. That's a first time for me."
After Phillips began to feel better, he eventually checked his phone only to find many, many messages from friends, family and former teammates.
"I had a little over 500 text messages," he said. "I went to bed at 4 a.m. after replying to every single one of those text messages."
Players from around the league like Ryan Braun, Adam Wainwright, Liam Hendriks and Whit Merrifield all reached out to congratulate Phillips.
"It was really special for me just to see people say, 'There was no one better that deserves it. You were a good teammate,'" Phillips said. "Stuff like that means the most to me."
Many in Phillips' family, including his wife, left the game early but he didn't take it personally.
"I told them I'm glad that they left," Phillips explained. "I'm a firm believer that everything happens for a reason and who knows, if they would have stayed, if that would have happened."