Terry Francona set to join Cleveland Indians' postseason bubble
Cleveland Indians manager Terry Francona will not return to the dugout during the regular season but is slated to join the team's postseason bubble.
The 61-year-old has missed 42 games because of gastrointestinal surgery and blood-clotting issues.
"It gives Tito an opportunity to be around the team, even if it's not in the dugout," president of baseball operations Chris Antonetti said.
The Indians beat the Chicago White Sox 3-2 on Wednesday to move within two games of the AL Central lead with their second straight last-at-bat victory.
The Associated Press contributed to this report.
World Series 2020 – Is L.A.'s latest bullpen meltdown the start of an all-time October disappointment?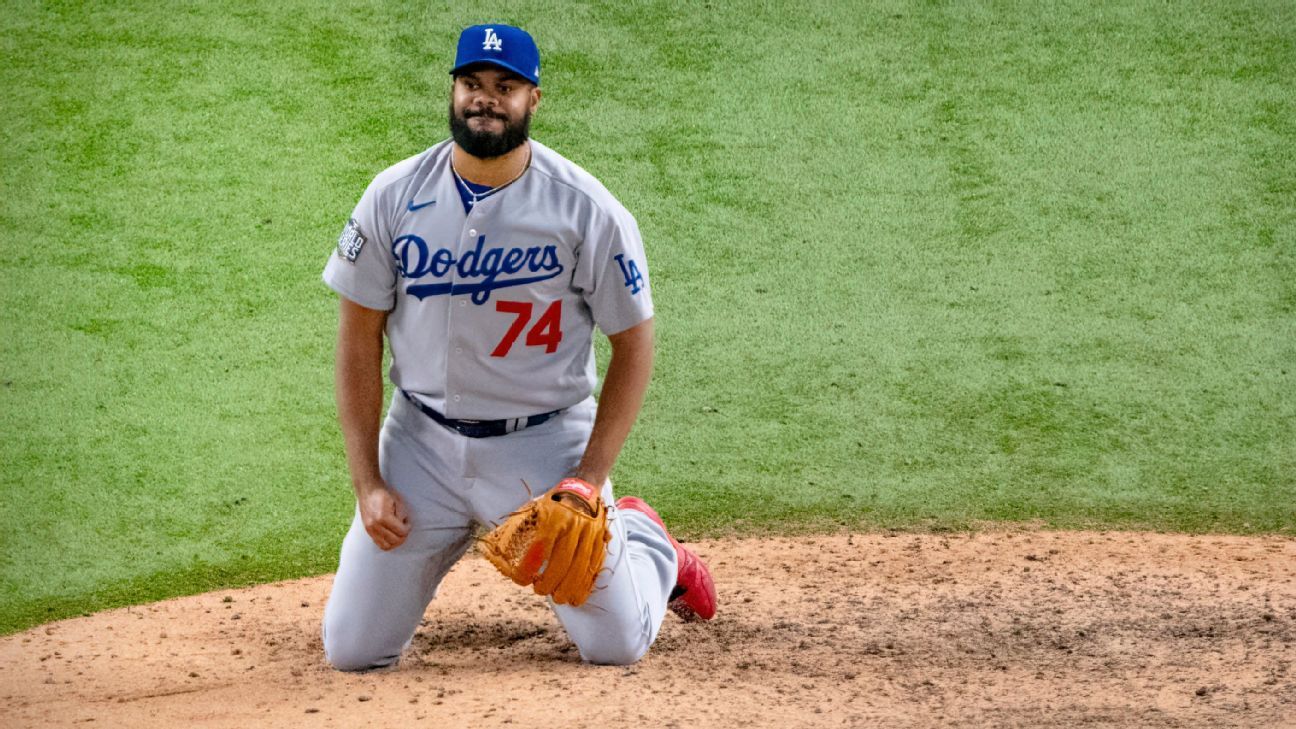 ARLINGTON, Texas — Both the allure of and the disgust for this time of year can be captured in how the minute details profoundly impact what resonates. If Kevin Kiermaier's shattered-bat, ninth-inning blooper is hit an inch or two more shallow, Enrique Hernandez probably pulls off a diving catch, and maybe we're talking about how Justin Turner — the local kid who watched Kirk Gibson from his grandmother's living room — has his childhood team one win away from a championship.
If home plate umpire Chris Guccione pulls the trigger on a 1-2 cutter that tailed slightly outside on Randy Arozarena, the final out is recorded, and maybe we're talking about how Kenley Jansen — the demoted longtime closer who earned his way back at the perfect time — recorded the most important save of his life.
If Pedro Baez throws his dominant changeup to Brandon Lowe in a crucial sixth-inning at-bat and doesn't give up the home run that spiraled everything out of control, maybe we're talking about how Clayton Kershaw — of all people — can pitch the Los Angeles Dodgers to a World Series title on Sunday.
Instead, it's manager Dave Roberts' bullpen management. It's Chris Taylor's bobble. It's Will Smith's drop. It's Jansen's mental lapse. It's an 8-7 loss to the Tampa Bay Rays and a Series suddenly, shockingly, tied at 2. It's the Dodgers, reeling after the most improbable of ninth-inning comebacks, and how they somehow bounce back from this.
"We can't let this beat us," Jansen said late Saturday night. "We have to let it go."
Jansen, who worked to simplify his delivery earlier this month, was unquestionably sharp when he took the mound hoping to protect a one-run lead. The one-out single he allowed to the No. 9-hitting Kiermaier, which fell just beyond Hernandez in shallow center field, was hit 64 mph. The two-out, game-winning single by Brett Phillips, hit to nearly the exact same spot, traveled 83 mph. Both were flares.
"I didn't give up one hard hit," Jansen said. "What can I do?"
Taylor — playing center field as part of the ripple effect that began with Cody Bellinger having to move to designated hitter because of a stiff lower back — lifted his head to watch the speedy Randy Arozarena as he began his turn of third base and briefly lost sight of the baseball, prompting an aggressive send by Rays third-base coach Rodney Linares.
Taylor retrieved the ball quickly and threw to Dodgers first baseman Max Muncy. Arozarena tumbled. He was primed for a rundown. But Smith, the Dodgers' 25-year-old catcher, wasn't aware. He attempted to field the throw and make a quick swipe with his glove, but the baseball squirted away. If Smith knows where Arozarena is, maybe he takes his time and secures the ball first. And if Jansen is backing up the play, rather than standing directly in front of it, maybe the game extends into extra innings.
"Yeah," Turner said afterward, "that was uncharacteristic of us."
Game 4 began to turn in the bottom of the sixth, when Baez replaced Blake Treinen with two on, one out and Lowe up to bat. Opposing left-handed hitters slugged .111 off Baez's changeup this season. But with the count at 2-2, Baez shook off a sign for the changeup, threw a four-seam fastball instead and watched it travel 399 feet for a go-ahead, three-run homer.
After Baez recorded the next two outs, Roberts greeted him in the dugout and told him he was finished. Then the Dodgers got a two-out, pinch-hit, two-run single by Joc Pederson in the top of the seventh and retook the lead. Then Roberts asked Baez to come back out for the bottom half.
"I take blame for having him go back out," Roberts said. "We were down, I told him he was finished, and so to ask him to go back out and to see how he felt — he said he felt good — but I shouldn't have [told him he was finished after the sixth] and just kinda kept him burning a little bit."
Baez gave up a game-tying home run to Kiermaier. Then the Dodgers retook the lead on an eighth-inning, two-out single by Corey Seager, and the Rays somehow walked it off against Jansen, who suffered the fourth blown save of his postseason career — all of which have come in the World Series. The Dodgers became the second team to lose a World Series game despite accumulating 15 hits and the eighth team to lose a World Series game in the bottom of a ninth inning they originally led.
The Dodgers steamrollered through the regular season, swept through the first two rounds of these expanded playoffs, fought all the way back from a 3-1 deficit in the National League Championship Series and clearly hit their stride offensively through the first four games of this series, setting an assortment of records for home runs and two-out hits. Their best players were thriving. Their pitching was in order. After so many great teams came up just short this time of year, it seemed like everything was lining up for them to finally win it all.
Then it all unraveled.
Before the Rays' walk-off, Baseball-Reference's championship win probability added gave the Dodgers an 81% chance to win the World Series. After 13 seconds of madness, their chances were down to 52%, representing the second-highest single-play shift in a non-clinching World Series game.
The question now: Can the Dodgers recover?
"It's tough," Roberts said. "We have to digest it, but we have to move on."
Tampa Bay Rays stun Los Angeles Dodgers in World Series Game 4 on dramatic finish at plate
ARLINGTON, Texas — The Tampa Bay Rays won Saturday night's Game 4 on one of the wildest finishes in World Series history, capitalizing on a disastrous error by the Los Angeles Dodgers to secure an 8-7 come-from-behind victory and tie the series at 2-2.
With two outs and two strikes in the ninth inning, Brett Phillips, a seldom-used outfielder, laced a single to center field off Dodgers closer Kenley Jansen, bringing in the tying run.
That's when things got wild.
Center fielder Chris Taylor kicked the ball, and Rays outfielder Randy Arozarena, who started on first, never stopped running. Taylor threw the ball to first baseman Max Muncy, who relayed it to catcher Will Smith. Arozarena had stumbled around third and was going to be out by 30 feet — until Smith dropped the ball and the ricochet allowed Arozarena to dive home and prompt a celebration that ended with the Rays running gleefully into the outfield.
The 116th World Series entered Saturday without a signature game on its ledger. Safe to say after Game 4, that's no longer the case.
"Once I saw Randy slip, I was like, 'Aw, shoot, at least we tied it up,' and then [Smith] missed the ball," said Phillips, who had entered the game as a pinch runner in the eighth. "I don't know what happened, but then he scored. The next thing I know, I'm airplane-ing around the outfield and I get dogpiled and here I am."
Rays manager Kevin Cash tried to describe his emotions as he watched the final play at the plate unravel.
"The moment the ball left Phillips' bat, we knew we had a tie ballgame, and then everything that happened afterward, Randy's not used to having to run like that," Cash said. "Normally he's used to just trotting. So it threw him off for a little bit getting tripped up there between third and home. But Phillips, man, give that guy a lot of credit. I don't know when the last time he got an at-bat was. Pretty impressive what he just did against one of the game's best closers.
"Happened so fast, I didn't know what to do. Gave a bunch of hugs, just in disbelief."
The emotional pendulum swung wildly in Game 4, with the Dodgers overcoming a pair of blown leads by the same relief pitcher to put themselves in a position for Clayton Kershaw, the fulcrum of the team that has won eight consecutive division titles but lost in its two previous World Series tries, to secure a title in his Game 5 start Sunday.
The Rays ended that dream in classic fashion — on a wild sequence that Dodgers manager Dave Roberts described as "an unperfect storm."
"I'm about to live 15 years shorter," the Rays' Brandon Lowe said. "I think that kind of sums it up. My God, I think I lost 10 years on that last play. God, that's a storybook baseball game if I've ever been a part of one. That was insane."
On the final play, only Taylor was charged with an error. Dodgers third baseman Justin Turner said there was no way for Smith to have known Arozarena fell.
"He was trying to catch the ball and put a quick tag down. If he'd have known he fell, he probably would have taken his time and made sure he caught it," Turner said. "Not sure what happened in center. That's uncharacteristic for us."
It had looked grim for the Rays, with blown leads galore all game, thanks to the teams going blow for blow and scoring in eight consecutive half-innings, a World Series record.
With the score tied at 6-6 going into the eighth, Taylor led off with a double off Rays reliever Nick Anderson. A failed sacrifice and groundout later, Anderson needed only to retire Corey Seager to escape the inning. Anderson was not the first pitcher to try and fail on this night or this postseason. Seager looped a single into center field, scoring Taylor and pushing the Dodgers ahead 7-6.
It was the Dodgers' seventh run of the night scored with two outs and their 17th of the series.
Los Angeles' bullpen, so permeable in the prior innings, attempted to go into lockdown mode over the final two. After Adam Kolarek secured the first two outs in the eighth, rookie Brusdar Graterol punctuated the third out with his signature celebration.
In the ninth, Jansen tried to work around a single to Kevin Kiermaier and walk to Arozarena. With two outs, on a 1-2 count against Phillips, who hit .196 in the regular season and was 0-for-2 in the playoffs this year, Jansen left a cutter over the plate that Phillips rapped into center.
And thus ended a chaotic game that lasted 4 hours, 10 minutes, featured the series' first lead changes and enraptured the crowd of 11,441 at Globe Life Field.
Jansen, when asked afterward if the Dodgers had beaten themselves in the ninth, said he didn't feel that way, explaining that he had given up "soft contact" and describing Phillips' winning hit as "another grenade single."
"I didn't give up one hard hit — I mean, what can I do?" Jansen said. "Can't do anything with that. I threw the pitches where I wanted to. Credit to the hitters — like I said, a broken-bat single, a bloop single. You can't, you can't. Ain't no time to hang our hats. Tomorrow is another day."
Jansen added, "Can't let this beat you, can't let this beat us. Like I said, we have been here before. Have to let it go, regroup quickly, come in and play baseball tomorrow. We know who we are, we know what we are capable of. And Tampa played hard today. We can't let this beat us or beat ourselves."
For the second consecutive game, Turner homered in the top of the first inning, this one off Rays starter Ryan Yarbrough, who lasted 3⅓ innings until Tampa Bay turned the game over to its bullpen. By then, the Dodgers held a 2-0 lead, with Seager hitting his record-tying eighth home run this postseason.
An inning later, Arozarena, the rookie outfielder, broke that tie, hammering his ninth of the postseason and third of the World Series to halve the Dodgers' lead. Arozarena also tied Pablo Sandoval for the most hits in a single postseason with 26.
Los Angeles answered with Seager scoring his second run of the night on a Muncy shot in the fifth. Tampa Bay countered with a monstrous Hunter Renfroe home run, which helped chase starter Julio Urias, who went 4⅔ innings and started the carousel of Dodgers relievers.
Roberts turned to right-hander Pedro Baez to face the left-handed Lowe with two on in the bottom of the sixth, and Lowe proceeded to smash his third opposite-field home run of the series, putting the Rays ahead 5-4.
The lead didn't last long. Seager singled and Turner doubled — both went 4-for-5 on the night — and, after a pair of strikeouts and an intentional walk to load the bases, Joc Pederson smashed a single off the glove of the diving, shifted Lowe to score a pair. It was 6-5 Dodgers.
That lead didn't last long, either. Baez, still in the game, gave up a no-doubt home run to Kiermaier, setting up the Seager heroics, which set up the Phillips heroics, which set up perhaps the wildest end to a World Series game yet.
"What a great team effort on this win. It took almost 28 guys," Phillips said. "That's what special about this team. Just all come together, our one goal is to win. We don't rely on one guy. It takes everyone, and man, baseball is fun."
The Associated Press contributed to this report.
Tampa Bay Rays' Brett Phillips revels in World Series Game 4 heroics
ARLINGTON, Texas — Florida native Brett Phillips grew up watching his Tampa Bay Rays in the 2008 World Series. Twelve years later, he helped his hometown team to a World Series-tying victory.
Phillips singled home the tying run off Los Angeles Dodgers reliever Kenley Jansen in Game 4 on Saturday night, starting a wild sequence that led to the winning run scoring after the Dodgers fumbled the relay throw home.
It was Phillips' first at-bat in more than two weeks and his first hit since Sept. 25.
"That's why baseball is so special," Phillips said after the 8-7 victory. "Anyone can come up on any given night and help the team win. We've proven that since I've been here."
Phillips was a midseason acquisition from Kansas City but was mostly used this month as a pinch runner and for defense. When he came to the plate, with two outs and two on in the ninth inning and his team down a run, he never let doubt enter his mind.
"For myself, it was having this unrelenting belief that I was going to come in and help the team or do a job like I'm asked," Phillips said. "It's why I'm here. We're major league baseball players. We wouldn't be here if we couldn't do that."
Phillips shrugged off a borderline strike two call and then singled to right field on a 92 mph cutter from Jansen. Kevin Kiermaier scored from second to tie the score, and soon after, Randy Arozarena crawled home after falling down as Dodgers catcher Will Smith fumbled the relay throw.
Then the celebration began.
"After we won, I took off like an airplane," Phillips said. "Because I thought it was cool. Little did I know, I exhausted all my energy doing the airplane. Then all the guys caught up to me and were yelling. Next thing I knew I had no energy or breath to yell. I had to get out of the doggy pile because I was this close to passing out. It was out of pure excitement and pure joy."
The joy of winning the game is heightened by the fact that Phillips grew up in the Tampa Bay area and followed the Rays as kid. He was asked if this was the sort of dream moment he imagined when he was young.
"Yeah, it's definitely crossed my mind," he said. "Just like every other kid out there. Definitely want to extend some advice to all the kids out there — keep dreaming big. These opportunities are closer than you think. Keep dreaming big, kids, and having that unrelenting belief. … Things like this happen. It's awesome."
Phillips' wife missed most of the postseason due to work but had arrived in Texas just in time for Game 4. He said getting the big hit was akin to the excitement of getting married, ranking those two things as the best moments of his life. He was asked how he stayed so calm in the batter's box after not seeing live pitching since earlier this month.
"I think it was thinking about all the texts I would have got if I didn't come up clutch there," he said with a laugh. "From all my best friends being like, 'Yo, come on, what was that?' I said it before, just having an unrelenting belief things were going to work out for the best. And it did."
Phillips was 3-for-20 for the Rays in the regular season and wasn't even on the ALCS roster, but his teammates were as confident as he was when he stepped to the plate.
"I knew that Phillie was going to get the job done," Brandon Lowe said. "I don't know why, I just really liked the matchup with him at the plate right there. I thought he was going to do something good.
"[As] soon as he hit the ball, my heart was going a million miles an hour. I saw Randy trip, my heart stopped. I saw the ball go by him, my heart started pounding again. … What a way to finish a ball game."
Phillips said he was thankful for the opportunity, giving most of the credit to his manager, calling Kevin Cash one of the best in the game.
"Shows again why Cash is the man, letting me get an at-bat there because I'm sure he was probably like, 'Oh, no. Oh, no. We gotta go to the last guy on the bench,'" Phillips said. "This is the best feeling in the world. Next to getting married to my wife last November."
The Dodgers and Rays are tied 2-2 with Game 5 on Sunday night.