Tampa Bay Rays wrap up first AL East crown since 2010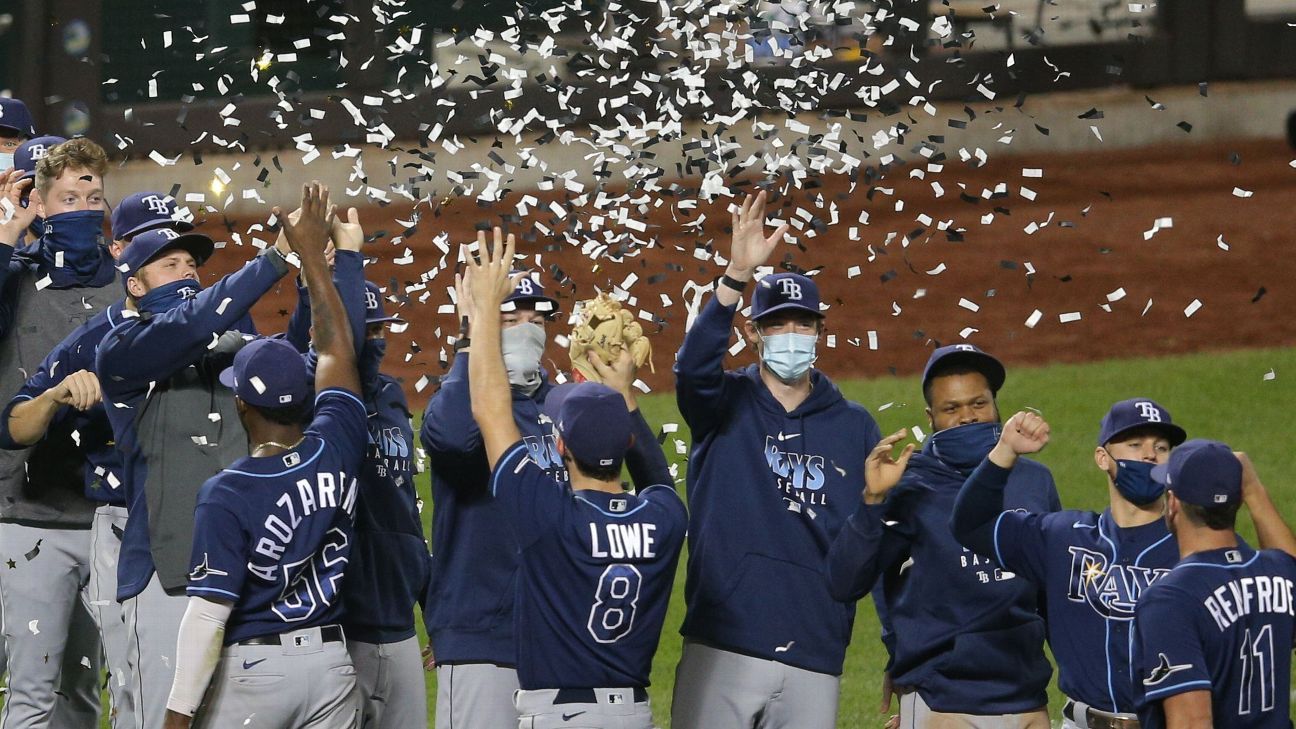 NEW YORK — Randy Arozarena homered twice and the Tampa Bay Rays clinched their first AL East title in 10 years Wednesday night with an 8-5 victory over the New York Mets.
Joey Wendle and Brandon Lowe also went deep for the Rays, who will be home at quirky Tropicana Field for a best-of-three first-round playoff series beginning next Tuesday.
It is the third division crown in franchise history for the thrifty Rays, who also won the AL East in 2008 and 2010. After missing a chance to clinch Tuesday, they went into Wednesday again needing just a win or a New York Yankees loss against Toronto to lock up the division championship.
The Rays (37-20) broke a 2-all tie in the sixth and took care of business themselves.
Los Angeles Dodgers eye first title in 32 years as Tampa Bay Rays try to force Game 7
After all the oddities of the MLB regular season and postseason, the 2020 World Series pits baseball's top two teams against each other. While we've grown accustomed to seeing the Dodgers playing for the championship, this is the first Fall Classic for the Rays since 2008 and only the second in franchise history.
Here's what you need to know for Game 6 on Tuesday, including a look at the pitching matchup, predictions, odds, other key numbers and more.
Key links: Viewers guide | Schedule | Playoff Baseball Classic
What's on tap

World Series Game 6: Tampa Bay Rays (Blake Snell) vs. Los Angeles Dodgers (Tony Gonsolin), 8:08 p.m. ET Tuesday in Arlington, Texas
ARLINGTON, Texas — The Dodgers have been here before, with the ability to clinch their first World Series title since 1988. But they'll have to accomplish it without using any of their best starters. Tony Gonsolin will get the ball just as he did in Game 2. That was the only contest in which the Rays scored first — a huge factor in their chances to win.
As recently as Monday, Tampa Bay manager Kevin Cash lamented his strategy when playing from behind as compared with playing while ahead. The Rays have such a deep group of relievers, it's mitigated when they're used to put out damage instead of protecting a lead.
Cash has already stated he'll be aggressive in using those relievers if, in fact, Tampa Bay gets ahead early. So don't expect a long outing from Blake Snell unless he's just mowing down the Dodgers. Cash admitted being precise with his matchups against the deep L.A. lineup is essential when protecting a lead. In his mind, this game could be decided in those opening innings.
The Dodgers have scored in the first inning in each of the past three games, with the Rays barely squeaking out a Game 4 win. Can they play from behind, if needed, once again? They don't want to find out. The Rays are an MLB-best 31-7 when scoring first, including in Game 2. — Jesse Rogers
---
Running World Series odds
Dodgers 86.8%; Rays 13.2%
---
Game 6 predictions
Rogers: This is an easy prediction, just like all baseball games. The Dodgers are only susceptible when they don't have one of their stud starters on the mound. A clinching win in a bullpen game isn't in the cards for them, not when the Rays have shown the fight they have all season. Tampa Bay scores early — which is essential — then deploys its relievers to perfection, winning Game 6. The Rays' Game 2 win will be the blueprint. Rays 6, Dodgers 3.
David Schoenfield: I always root for a seven-game series and we've come this far, but I picked the Dodgers over the Rays in six back in March, again in July and again at the start of the postseason. And that's how it's going to play out. Tony Gonsolin and five relievers are going to contain a Tampa Bay offense that is hitting just .214 in the playoffs. Blake Snell keeps it close for four or five innings, but that's been his limit, and the Dodgers will break it open late, including another home run from Corey Seager. Kenley Jansen gets the final out. Dodgers 7, Rays 3.
Dan Mullen: Even though I predicted the Dodgers to win this series in six games going in, it's very tempting to pick the Rays tonight because (a) Game 7s are fun! and (b) it has proved very foolish to count this Tampa Bay team out. But I am going to stick with my original prediction that tonight's game will end with a (unique) Dodgers' title celebration in Arlington.
Blake Snell needed 88 pitches to get through 4⅔ innings in Game 2 and L.A. is likely to wait him out again in Game 6, meaning the Dodgers will see lots of Rays relievers they've already seen in this series, and that plays into L.A.'s hands. Dodgers 7, Rays 4.
---
Stat of the day
If the Rays are going to force a Game 7, the Tampa Bay bullpen will likely play a huge role. The Rays' Game 6 starter, Blake Snell, has been lights-out this postseason — well, at least through the first four innings of his starts. Snell, who had a no-hitter going against the Dodgers through four innings in Game 2, was knocked out in the fifth in that game. Overall this October, he has posted a 1.35 ERA and a .530 opponent OPS from the first inning through the fourth. After the fourth, those numbers balloon to 12.46 and 1.373, respectively.
---
Social media post of the day
This picture of Max Muncy admiring his mammoth home run is The definition of art pic.twitter.com/tV9dBPcs7g

— David Rosenthal (@_therealdrose) October 26, 2020
---
Best moment of the MLB playoffs to date
In Game 4, when Rays journeyman Brett Phillips' two-out hit off Dodgers closer Kenley Jansen — Phillips' first hit since the regular season, after Jansen walked Randy Arozarena — in the ninth scored Kevin Kiermaier from second for a 7-7 tie and then, improbably, plated Arozarena as well when catcher Will Smith lost the ball at home plate for a Rays walk-off win. Just like that, the World Series was evened up, making it a best-of-three showdown between L.A. and Tampa Bay.
Arozarena tripped and fell before scoring 😳😳😳 #WorldSeries pic.twitter.com/mt71CJLF2D

— ESPN (@espn) October 25, 2020
---
The running MLB playoffs MVP
Randy Arozarena has gone from an unknown outfielder to this October's breakout star. Going into the playoffs, you might have been asking, "Who is this guy?" But the Rays' trade for him has been a huge factor in their postseason run. Arozarena is now a living, breathing postseason record book in cleats, having set MLB marks for home runs (nine), hits (27) and total bases (59). What's more, he has been flashing some leather in the outfield and some sweet celebration dance moves on the field.
Doug Mathis, Brendan Sagara to share pitching coaching duties for Rangers
ARLINGTON, Texas — The Texas Rangers plan to utilize Doug Mathis and Brendan Sagara as co-pitching coaches in 2021, with Mathis directing from the dugout and Sagara working out of the bullpen.
The pair replaces Julio Rangel, whose contract wasn't renewed after two seasons on the job. Rangers pitchers combined for a 5.07 ERA over the past two years, ranking 26th in the majors despite the success of veterans Lance Lynn and Mike Minor.
The Rangers announced the change Monday, saying Mathis and Sagara will split duties and responsibilities while trying to mold a young pitching staff.
Mathis, 37, was Texas' bullpen coach last season, his first on the staff of third-year manager Chris Woodward.
The 47-year-old Sagara was set to be the pitching coach with Texas' Triple-A team in Nashville but instead coached at the club's alternate training site after the minor league season was canceled. This will be Sagara's first major league coaching role after also working in player development with the Chicago Cubs and Miami Marlins.
Texas also announced that Bobby Wilson was named catching coordinator and will work with catchers at the major and minor league levels. The 37-year-old Wilson ended a 17-year playing career in 2019 and had planned to manage the Rangers' Double-A affiliate in Frisco this season. He also worked at the alternate site before joining the major league staff near the end of the regular season.
World Series 2020 — Dodgers fans have taken over 'neutral' site with L.A. one win from a title
ARLINGTON, Texas — The Tampa Bay Rays were the home team these past three nights. If not for their white pants, you might not have known it. Over the past three weeks, as they situated themselves inside a quasi-bubble in Texas' metroplex, the Los Angeles Dodgers have commandeered Globe Life Field and made it their own, growing weirdly comfortable with a new ballpark that still lacks an identity. Their fans have tagged along, traveling en masse, increasingly more so as the wins have stacked up and an elusive championship has drawn closer.
In Saturday's Game 4, after yet another highlight-reel play in the second inning, a "MOO-KIE" chant began and grew so loud that Mookie Betts himself couldn't help but break character and crack a smile. In Sunday's Game 5, a stadium of 11,437 people booed Dodgers manager Dave Roberts as he walked to the mound to take the baseball away from Clayton Kershaw in the sixth inning.
He, uh, didn't smile.
"I didn't get a chance to see the boos turn to cheers, but that's OK," Roberts, managing a smirk, said after navigating the Dodgers through the 4-2 victory that put them one win away from a championship. "It's passion. The fans have passion, so that's good."
Several prominent members of the Dodgers spent the spring worried that the coronavirus pandemic would prevent an exceedingly talented team from ever playing together. As their dominant season progressed, many of them lamented that their passionate fans couldn't truly experience this journey with them. Then the Dodgers swept through the first two postseason rounds and Major League Baseball allowed the Texas Rangers' home ballpark to host customers at about 25% capacity.
Loyalties seemed split throughout the National League Championship Series — but then the Dodgers overcame a 3-1 deficit against the Atlanta Braves, welcomed the small-market Rays and basically took over. On Sunday night, with Kershaw on the mound in a pivotal swing game, this place was practically theirs.
The Dodgers are one win away from the championship, in a Texas ballpark they have claimed as their own. It sounded like this … pic.twitter.com/hyFbPybzwe

— Alden Gonzalez (@Alden_Gonzalez) October 26, 2020
"It's a home game," Harry Bawann, 41, said. "If it wasn't for all the sound effects trying to help Tampa out, this would be a home game."
Bawann and his friend, Ricardo Manzanares, acquired tickets thinking they'd be watching the Dodgers with a chance to win it all. Then came Game 4's bottom of the ninth, a two-out single from Brett Phillips, a bobble from Chris Taylor, a stumble from Randy Arozarena, a muff from Will Smith and one of the most improbable comebacks ever.
Shortly after the Dodgers finally captured their third victory 24 hours later, ticket prices for Game 6 had increased by 48% since the start of the week, according to TickPick. The average ticket price stood at $750 about five minutes before midnight on the East Coast and would undoubtedly increase from there.
Hector Razo, 40, arrived as part of a group of at least 15 Dodgers fans from Los Angeles, each of whom paid $400 to get through the door. Jeff Murillo, a 52-year-old Dodgers fan living in Houston, was joined by his wife and two kids and paid $4,000 for all of them. Nicole Estrada, 39, paid $800 for Game 3, $500 for Game 4 and was prepared to pay a lot more for Game 5.
"This whole year has been really tough on a lot of people and for the city of L.A.," Estrada said, "and for us to come together, in another state, it's momentous and it's historic."
The concourse level of Globe Life Field has become a walking gallery of Dodgers jerseys, from Betts and Kershaw to Don Drysdale and Fernando Valenzuela to Vin Scully and Sandy Koufax. One man also wore a Dodgers-themed wrestling mask. Another sported a fake beard in honor of Justin Turner. And one woman, Alen Aivazian, rocked an Elton John-inspired Dodgers jacket that was covered in Swarovski crystals and cost five figures.
David Siegel, 62, was at the game when Kirk Gibson hit his famous pinch-hit home run for the Dodgers in 1988 at Dodger Stadium but also when Reggie Jackson hit three home runs for the New York Yankees at Yankee Stadium to win Game 6 in 1977. This year, of all years, he hopes to watch the Dodgers clinch a World Series title in person for the first time.
"That," he said, "would mean everything."
It might mean even more to Kershaw, who has spent a dozen years working diligently in pursuit of that goal and might finally achieve it in his hometown. Through two starts against the Rays, Kershaw boasts a 2.31 ERA and two wins, putting him squarely in the conversation for World Series MVP honors. For Game 5, when he gave up only two runs in 5⅔ innings and worked out of a two-on, none-out jam, he was able to accommodate an additional 10 people or so with nosebleed seats.
"This year's been just special — weird, special, different — in a lot of ways," Kershaw said. "I don't wanna say it's working out the way I want it to because being at Dodger Stadium would be awesome, too, but to get to have family and friends, to get to have as packed a house as it can be, and make it seem like it's all Dodger fans, is very special."
Chris Gutierrez is a 26-year-old nursing student who said he paid more than $1,000 to sit a section up on the third-base side. The three people with him are all nurses who have been working the frontlines of a COVID-19 pandemic that has claimed more than 225,000 American lives, an unavoidable reality that adds a layer of discomfort to all this.
They all had initial reservations about gathering this way, but they also didn't want to miss an opportunity to watch these Dodgers. Since then, they've found comfort in a Globe Life Field staff that has been exceedingly diligent about cleaning surfaces, separating large groups and forcing patrons to wear their masks.
It has helped them enjoy what's in front of them.
"This is a piece of normality," Gutierrez said, "and it means the world."