Steve Cohen to hire Sandy Alderson as president of New York Mets if sale approved
Sandy Alderson will be returning to the New York Mets as the team's president under new owner Steve Cohen.
The deal is contingent on the sale of the Mets from the Wilpon and Katz families to Cohen being approved by Major League Baseball club owners. At least 23 of the 30 owners will need to approve the transaction.
"If I am fortunate enough to be approved by Major League Baseball as the next owner of this iconic franchise, Sandy Alderson will become president of the New York Mets and will oversee all Mets baseball and business operations," Cohen said Thursday in a statement obtained by the New York Post.
"Sandy is an accomplished and respected baseball executive who shares my philosophy of building an organization and a team the right way. I am excited to have Sandy in a key leadership role with the Mets if my purchase of the team is approved."
Alderson, 72, served as general manager of the Mets from 2010 to 2018. He was diagnosed with cancer at the end of the 2015 season and had surgery, and he took a leave of absence in June 2018 after announcing his cancer had returned and said he did not deserve to return because of the team's poor record.
The Mets received word from the New York Yankees at a high executive level that current Yankees general manager Brian Cashman was not available to them, sources told ESPN's Buster Olney on Thursday.
Alderson was hired by the Oakland Athletics in January 2019 as senior adviser to baseball operations. Alderson previously spent 17 seasons with the Athletics, including serving as the team's vice president of baseball operations while the A's won the 1989 World Series during a run of three consecutive American League titles (1988-90).
Los Angeles Dodgers-Tampa Bay Rays World Series TV ratings average drops 32% below previous low
ARLINGTON, Texas — The Los Angeles Dodgers' six-game win over the Tampa Bay Rays received an average television rating 32% below the previous World Series low.
The six games on Fox averaged a 5.2 rating, 12 share and 9,785,000 viewers, Nielsen Media Research said Wednesday. The previous low was a 7.6 rating, 12 share and 12,660,000 viewers for the San Francisco Giants' four-game sweep of the Detroit Tigers in 2012.
This year's rating was down 36% from the 8.1 rating, 16 share and average of 14,067,000 viewers for the Washington Nationals' seven-game win over the Houston Astros last year.
Los Angeles' 3-1 win in Game 6 on Tuesday night drew a 6.8 rating, 15 share and an average of 12,627,000 viewers, down from a 9.6 rating, 19 share and average of 16,551,000 viewers for Washington's 7-2 win in Game 6 last year.
Last year's Series average was boosted by Game 7, when the Nationals' 6-2 win drew a 13.1 rating, 25 share and an average of 23,217,000 viewers.
Fox said when Spanish-language coverage on Fox Deportes and streaming platforms were included, Game 6 averaged 13,215,000 viewers.
The audience for the Dodgers' first title clincher since 1988 peaked at 14,351,000, Fox's largest Tuesday night audience since Game 6 last year.
Game 6 drew a 27.5 rating and 48 share in Los Angeles, the highest for the Dodgers in the market since the Game 7 loss to Houston in 2017 drew a 36.7 rating and 56 share. The final game drew an 18.2 rating and 33 share in Tampa, Florida, the highest for the Rays there since the fifth and final game of the 2008 World Series against Philadelphia drew a 29.8 rating and 42 share.
This year's Series averaged a 21.2 rating and 40 share in Los Angeles, and a 15.2 rating and 29 share in Tampa.
The rating is the percentage of television households tuned in to a broadcast. The share is the percentage viewing a telecast among those households with TVs on at the time.
Ratings have been lower for sports this fall, a drop possibly attributable to lower viewership during the coronavirus pandemic and competition from programming related to the presidential election.
Colorado Rockies opt for $6 million buyout to Daniel Murphy
DENVER — The Colorado Rockies declined infielder Daniel Murphy's $12 million option on Wednesday, bringing a close to his two-year stint with the team.
Murphy, 35, will receive a $6 million buyout.
He never really flourished at hitter-friendly Coors Field after signing a $24 million, two-year deal — with a mutual option for '21 — in December 2018. He hit .269 with 16 homers and 94 RBIs in 172 games with the Rockies. He dealt with a finger injury in his first season in Denver.
Colorado brought in Murphy to play first base, but he was replaced this season by Josh Fuentes, who's the cousin of Rockies All-Star third baseman Nolan Arenado. Fuentes batted .306.
Murphy is a three-time All Star and a .296 career hitter with the New York Mets, Washington Nationals, Chicago Cubs and the Rockies.
St. Louis Cardinals not picking up 2021 option on Kolten Wong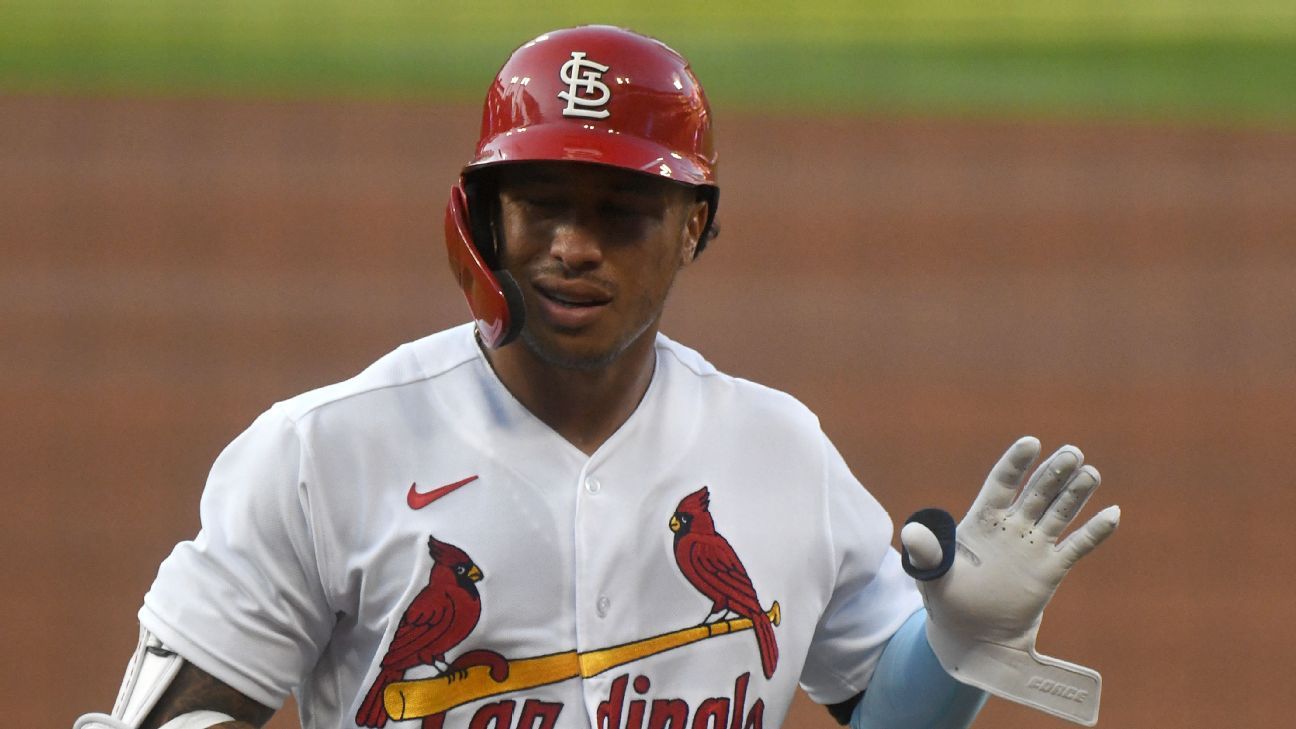 The St. Louis Cardinals on Wednesday declined Kolten Wong's $12.5 million option for the 2021 season, allowing their longtime second baseman to become a free agent.
The Cardinals will pay Wong a $1 million buyout.
"We have both agreed to keep the door open," Cardinals president of baseball operations John Mozeliak told reporters, according to the St. Louis Post-Dispatch.
If the Cardinals do not re-sign Wong, Tommy Edman would be the team's starting second baseman, Mozeliak said.
Wong, 30, hit .265 with a home run and 16 RBIs in 53 games this season. In eight seasons with the Cardinals, he has a .261 average with 53 home runs and 281 RBIs.