Call a game from 2,300 miles away? Washington radio crew gets it done – Washington Blog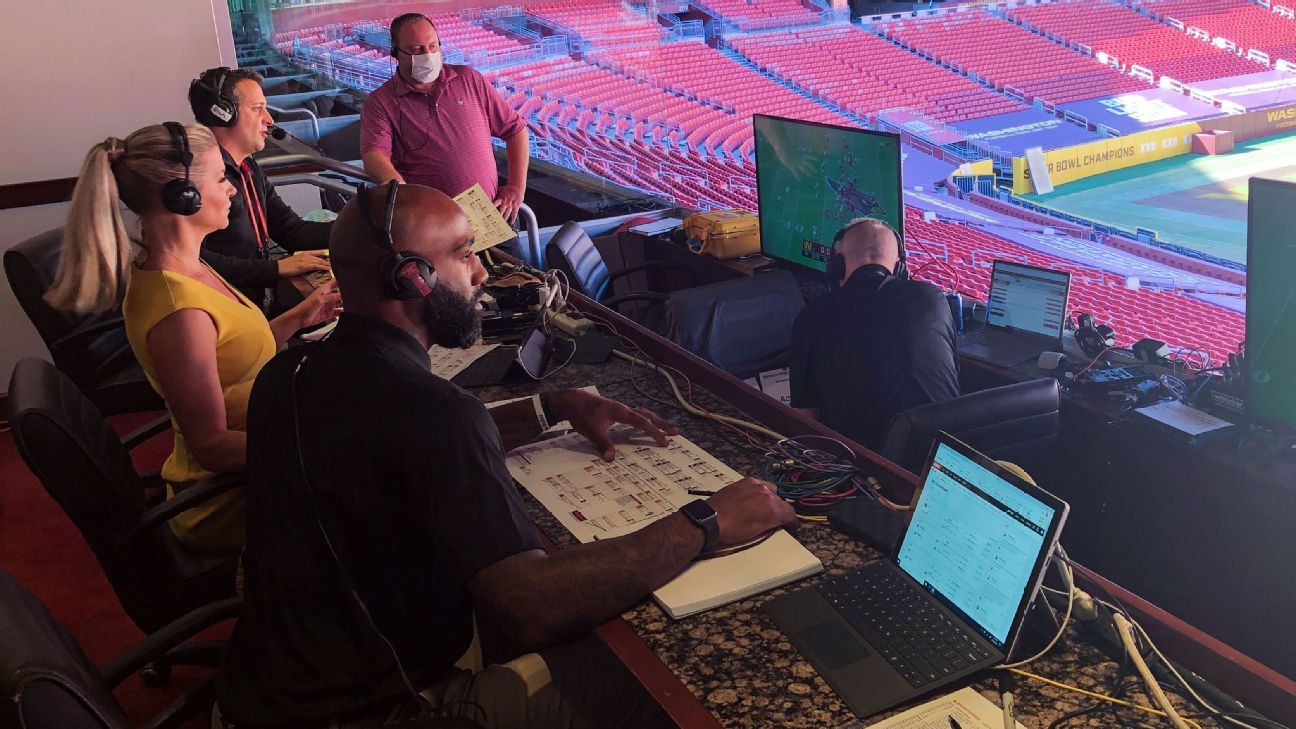 LANDOVER, Md. — It's 90 minutes before kickoff and, as the Washington Football Team radio broadcast crew prepares for the Week 2 game against the Arizona Cardinals, there's no buzz in the stadium. There isn't even a player. In fact, it's eerily quiet, save for a handful of workers in the booth and TVs playing in a lounge area. Less than 20 people are inside the stadium.
That's what happens when the game being played is 2,300 miles away from FedEx Stadium.
"It's bizarre; totally bizarre," said WFT broadcast producer Chris Johnson.
• Game picks from our NFL experts »
• PickCenter » | ESPN Chalk »
More NFL coverage »
It's also the new reality of the NFL. Because of the coronavirus pandemic, it is expected that few teams will be sending radio broadcast crews on the road, following the lead of other pro sports leagues. The result: challenges and a touch of anxiety.
"The biggest fear is the unknown," said Julie Donaldson, Washington's senior vice president of media and content, an hour before kickoff. She's also a reporter and analyst on the broadcast that includes fellow analyst DeAngelo Hall and play-by-play announcer Bram Weinstein.
A league spokesman said they haven't told teams their crews cannot travel. But for Washington, having a coach, Ron Rivera, who is dealing with cancer factors into the team's decision.
"With coach's health, our approach must be flexible," Washington president Jason Wright told ESPN.
The league has made it easier for teams that don't send radio crews on the road by providing them a real-time, non-delayed video feed of the TV broadcast. NFL Films provides this service for the league's international partners so they can call games in their own language. In Washington's booth, they set up two big-screen TVs — one had this feed; the other provided an All-22 sideline view to help Hall.
During the Week 2 game, the crew had a producer, engineer and an audio producer streaming the feed to the team website. But what the broadcast crew lacked was experience.
Each member of Washington's crew is new to their position: Donaldson, the first woman to be a regular on-air member of an NFL team's radio broadcast booth, had spent the previous 10 years at NBC Sports Washington as a host and reporter; Hall played 14 years at cornerback in the NFL and also works for the NFL Network; Weinstein has been a longtime radio host and is a former ESPN sports anchor.
None of them were hired until this summer so, to prepare, they would gather at Donaldson's house or at Washington's practice facility to call games off a TV feed. They did this four times in the past month, not realizing how much it would come in handy.
"If we tried to do that [game] cold off the TV, it would be a lot worse than it was [Sunday]," Weinstein said. "If the camera shows the wrong thing or takes you to the wrong place, you're in no-man's land. When I was at SportsCenter, sometimes they rolled the wrong video and it's harrowing for a few seconds. Those few seconds feel like a year. You learn to deal with it."
In those practice sessions, they could stop and talk about how they handled certain situations, especially when trying to make sure everyone in a three-person booth gets a chance to talk. On Sunday, there was no stopping to talk.
"It's a challenge," Hall said. "I think I did a good job in Week 1 because I was able to use my eyes. … [Now] you have to comment on what they [show on TV]. My eyes are what make me able to do what I do. But we've all got to deal with it."
In Washington's Week 1 home opener against the Philadelphia Eagles, Hall said he'd scan the sidelines after plays looking for clues, checking on quarterback Dwayne Haskins Jr. among others. They couldn't do that last Sunday. If there was a commercial break, they were left staring at an empty field.
"You're able to stay in the moment," Hall said of watching a game live. "It's different when you can feel that energy."
And, sometimes, the TV feed is just wrong. With 30 seconds left in the third quarter, Arizona faced a second-and-5 from the Washington 20-yard line. Except the TV showed it as third-and-5. After Arizona managed three yards on the play, Weinstein's voice rose because it appeared the Cardinals were going for it on fourth-and-2. But, after a few seconds, the error was discovered by the radio crew. When they're at a game, they can see the down-and-distance markers and not worry about what's shown on TV.
The Washington Football Team broadcast crew, in only its second game together, was faced with a difficult task Sunday: Calling a game when you're 2,300 miles away. They handled it well, but there were challenges – like on Ron Rivera's challenge. Video by John Keim
There were other times they noticed a difference: When Rivera threw a challenge flag with 7:29 left in the game, nobody in the booth knew why.
"I only barely caught that out of the corner of my eye," Weinstein said. "We're sitting there going, 'I don't even know what that's about.' For sure you get caught in moments like that."
Turns out, the challenge was for Arizona having 12 men on the field.
"We would have seen the whole field and seen the 12th guy running off," Hall said of the difference of relying on the TV versus seeing it live.
Later in the game, Weinstein had to delay a touchdown call on an 11-yard run by running back Antonio Gibson. He was hit inside the 1-yard line and fell at the goal line. The TV announcers immediately called a touchdown, but with the sound off, the broadcast crew needed verification from the officials. The camera zoomed in on Gibson and while some Washington players celebrated, there was still doubt.
As Johnson said, they couldn't see the referees and TV didn't put up a touchdown graphic for nearly five seconds. That's an eternity on a radio call. Though Johnson was on a feed with the satellite truck at State Farm Stadium, he only hears the communication in the truck and not the audio feed from the game.
"If we see the field of play," said Johnson, who has worked in college and NFL booths since 2000, "we see the stripes go up in the air with the touchdown call."
But it's not as if the radio crew spent time discussing their predicament. Instead, they focused on their notes or talked about the game or a playcall. Hall wanted Washington to target wide receiver Terry McLaurin more, believing he could beat cornerback Patrick Peterson. McLaurin finished with seven catches for 125 yards.
They're too busy acclimating to their new roles, not to mention enjoying them, to be frustrated about not working at an away game. Hall would excitedly point to an open wide receiver or slightly rise from his seat in anticipation of a big play. In those moments, it didn't matter where the action was occurring.
Weinstein's voice filled the booth with excitement after scoring plays. Donaldson stares intently at the screen, sometimes motioning her arm forward as a player runs. When running back J.D. McKissic had a nice run, she quickly shared with the listeners one of the many nuggets stored in her brain: how the coaches feel he creates problems for a defense and can run well inside despite being only 5-foot-10, 195 pounds.
"I don't think they were fazed at all by the difficulties," Johnson said.
Early in the broadcast (heard at The Team 980 and WMAL 105.9FM/630AM in the team's coverage area) the crew mentioned they weren't at the game and, at one point, Hall broke down a good coverage by referring to a player at the bottom of the screen.
"I say bottom of the screen because we're looking at it on the TV," Hall told listeners.
In Washington's Week 1 rally against the Eagles, the group agreed they could feel momentum changing. Donaldson kept her eye on the Washington sidelines and could tell listeners the defensive line was huddling together, or that a player — linebacker Cole Holcomb — was limping off the field or getting looked at by a trainer.
Though Washington had a mini-rally in Arizona, the booth wondered if there was any legitimate momentum or a mirage. During this time, as they called the game, the field in front of them at FedEx Stadium was being doused by the sprinkler system.
"This is a very emotional game," Donaldson said. "From play to play, emotions swing up and down. Part of a job as storytellers is to convey that through the airwaves. That's where we're at a big disadvantage. It impacts the storytelling. We're stuck painting a picture off a picture someone painted for us."
Because there are things they can't get from a TV feed, Donaldson said it puts extra pressure on her to gather good information throughout the week.
"For me, it's trying to get in touch with as many players and coaches as possible," she said. "The conversations I have with them that become relevant during the game."
After Sunday's game, the crew treated their day as if they'd played in a game, wondering what they could do better and rehashing what they learned.
"The whole situation is surreal," Johnson said. "It's hard to comprehend that we came to an empty stadium, an empty parking lot, for a road game and called it from the home stadium."
Despite the challenges, there's an understanding that they are fortunate to be calling games. And even though there was no buzz in the stadium, the same internal excitement as in the opener sprung up when the game began.
"It's a little different when you're staring out into an expanse and nobody's there," Weinstein said. "But the same feelings were drawn up again today. … We'll do whatever they give us. Whatever we get, we'll make it work."
Miami Dolphins coach Brian Flores says starting Tua Tagovailoa is what's best for team
Miami Dolphins coach Brian Flores confirmed Wednesday that rookie Tua Tagovailoa will be the team's starting quarterback moving forward.
Flores said the Dolphins feel that starting Tagovailoa is what's best for the team, citing the rookie's performance in meetings, walkthroughs and practices.
"He's gotten more comfortable — accuracy, decision-making have been good in practice. … We're comfortable and confident that he'll be able to competitive in those games when that time comes," Flores said.
Flores also noted that he was disappointed that he didn't address the QB change with the team before ESPN and other outlets reported Tuesday that Tagovailoa would replace popular veteran Ryan Fitzpatrick.
Flores said he will talk to the team and apologize about that, noting it was not how he wanted the team to find out.
Giants' Joe Judge, from Philly area, has converted some Eagles fans – New York Giants Blog
EAST RUTHERFORD, N.J. — They say absence makes the heart grow fonder. That might not be the case for Joe Judge when he returns home to Philadelphia on Thursday.
He will be coaching the rival New York Giants against the Philadelphia Eagles at Lincoln Financial Field (8:20 p.m. ET, Fox). The Giants' first-year coach is coming back to face his childhood team for the first time in his current role.
Judge, who grew up in the Philadelphia suburb of Doylestown, Pennsylvania, will have a large group of friends and family in the building. They aren't going to miss this one. The total count is expected to exceed the 30 tickets Judge originally requested.
• Game picks from our NFL experts »
• PickCenter » | ESPN Chalk »
More NFL coverage »
They're all welcome — with one caveat.
"My only rule with everybody that shows up that I either grew up with or [have] blood ties with: They've got to wear blue," Judge said. "I respect their love for the Eagles, for being from the town. But, hey, look, man, you ain't showing up and cheering against my kids' Christmas now. So you better put on some blue and cheer for us."
Make no mistake: Even in a stadium with a limited number of fans (about 7,000) because of COVID-19 restrictions, the Philadelphia native and Giants coach doesn't expect a friendly welcome.
The decimated Eagles (1-4-1) are desperate for a victory, and their fans are unhappy with the state of the team heading into the matchup with the Giants (1-5), who won their first game against the Washington Football Team on Sunday.
"I'll probably buy a helmet, too, because my in-laws are already buying batteries," Judge joked during a conference call Monday.
The Giants weren't all that popular to the Judge family and most of their friends until he was hired on Jan. 8. They are die-hard Philadelphia fans, and Sundays were about the Eagles when Judge was growing up, even if his favorite player was Miami Dolphins quarterback Dan Marino.
"In the house, it was definitely the Eagles," said childhood friend Frank Panariello, who went by "second-string Joey" when he lived at the Judges' house while Joe was in college. "We were all around. Even when I was there, it was football. Saturday was football because of college — especially when we were in college, with Joe at Mississippi State and everything — and the NFL days, even [when Joe was] with the Patriots, his brother [Jimmy] was still an Eagles fan. He's a Patriot, but you still root for the Eagles.
"The Super Bowl was a tough one. Rooted for the Patriots, though," he said of the Eagles' 41-33 win against New England in Super Bowl LII on Feb. 4, 2018.
Making the switch to the Patriots, with whom Judge worked as an assistant for eight years, was natural. But for the most part, his friends could still cheer the hometown Eagles without guilt.
Inheriting Giants fandom has been a more arduous task, even if Judge's family have done it without hesitation for their favorite coach. The division rivals are located some 90 miles apart.
"I told him I hope that [Giants] contract includes witness protection from Eagles fans," high school teammate Matt Stairiker said of Judge being hired.
This surely wasn't the way friends and family envisioned this unfolding. Anybody but the Giants, Dallas Cowboys or Washington Football Team would've been more palatable. Twenty years or so ago, Judge coaching the Giants would have been blasphemous.
"She would've probably said, 'Can you try for the Eagles?'" Panariello said of Judge's mom, Denise, a school principal. "I know his dad would've had some words. That's for sure."
Judge's wife and kids are expected to make the trip, assuming they can figure it out with school Friday morning. Panariello and Stairiker will be among the crew of close friends in the building Thursday.
At this point, the Big Blue mandate is easy for them. Judge's friends are full converts and plan to support their pal at the expense of their former obsession.
Panariello had arranged to get tickets for a crew of six, but that plan wasn't going to fly. There are perks that come with this job.
"Joe was like, 'Wait a minute. Why don't you just have me do this for you guys?' He was like, 'I'd love to have you there as a group.'
"My reason for it was we just wanted to be there to support him. We'd get there somehow for him, and he was like, 'Nah, absolutely not!'"
All that matters is that friends will be there — as will Judge's family, including uncles, cousins and more.
This will be the fourth time Judge has coached against the hometown Eagles. The first was in 2015, when a group of his friends made the trip to New England to witness a 35-28 Eagles victory that included a pair of special-teams touchdowns against Judge's unit. If that didn't make for some awkward postgame conversation, Super Bowl LII certainly did.
Panariello made the trip to Minnesota for that game, in which the Eagles won their first Super Bowl. He not only rooted for New England but also turned down the opportunity to attend the Eagles' postgame celebration party to spend time with his friend.
"He was like, 'Hey, you a little happy?'" Panariello recalled after seeing the team he rooted for most of his life win its first Super Bowl. "I was like, 'Can I say it? Yeah. You already won a couple.'"
Judge then returned to Philadelphia when the Patriots beat the Eagles 17-10 in November 2019 at Lincoln Financial Field.
That was special. But this is different, even if Judge downplays it all in his self-deprecating way.
"To be honest with you, it's not my first time going back to Philly as an opposing coach," he said Monday. "It's a great city. It has great, passionate fans. It's an excellent team. It's obviously a great rivalry. I grew up watching these games. They were always tough games, blue-collar-type games when the Eagles and the Giants were playing when I was growing up watching the games.
"Again, you're so focused on the opponent, the emotion doesn't really get tied into it. We just know we have a heckuva team we have to match up against."
The Patriots (and Eagles) are in the past for Judge now, but Thursday's game won't be the first time he has seen family or friends in Giants blue.
"My brother walked around in a [Lawrence Taylor] jersey his entire life, I think, mostly to make us mad because we were all rooting for the Eagles," Judge said. "Eventually you get used to seeing it, and you understand why he was wearing it."
Now the Giants jerseys worn by family members have a much different meaning.
NFL MVP watch 2020 – Can anyone catch Russell Wilson? Is Ryan Tannehill a legitimate contender?
Somehow in spite of COVID-19 outbreaks and the weekly shuffling of the schedule, the NFL has made it through six full weeks of the 2020 season. NFL MVP awards aren't won on five or six games alone, but the leading candidates are starting to build their cases. So who is deserving of consideration through this point in the season?
A panel of eight analysts voted on the top 10 players in the MVP race. We then used those eight sets of rankings to determine our top five candidates overall, using Heisman Trophy-esque scaling for each ranking. We'll also look at a few names who have seen their MVP stock either spike or plummet in the early going. Here are the top five players off to an MVP-caliber start.
Jump to:
Top five | Just missed | Stock watch


2020 stats: 1,502 passing yards, 19 TDs, 3 interceptions (plus 153 rushing yards) in five games
Seattle's offensive philosophy has changed in 2020, and it has Wilson at the top of the MVP standings as the unanimous No. 1 candidate among our eight voters. The Seahawks' quarterback has never received a single vote for the award but is looking to change that in his ninth season.
His most recent outing gave us one of many MVP-caliber moments. While he threw for only 217 yards in Week 5, Wilson led his team on a 94-yard, 102-second drive down the field late in the fourth quarter, while converting twice on fourth down, to come from behind and beat the Vikings in thrilling fashion.
Wilson has 19 passing touchdowns in his first five games of the season and needs four more on Sunday against Arizona to break the record Peyton Manning set in 2013 for the most through a team's opening six contests (22). Wilson also leads the NFL in passer rating (129.8) and touchdown percentage (11.2%), and ranks second in completion percentage (72.8%).
---
2020 stats: 1,699 passing yards, 15 TDs, 1 interception (plus 165 rushing yards and 1 rushing TD) in six games
Mahomes became the fastest player in NFL history to reach 90 passing touchdowns (in 37 games) after he threw two of them in a Week 6 win over Buffalo. He started the 2020 season right where he left off, after winning a Lombardi Trophy and Super Bowl ring eight months ago.
But the scary part is the Chiefs don't need their elite QB playing at an MVP level every week to win games. Kansas City leaned heavily on its rushing attack to beat the Bills. According to ESPN Stats & Information, the Chiefs' 46 rushing attempts on Monday are tied for the most in a game by an Andy Reid team in his career as a head coach. In spite of teams trying to take away the Chiefs' biggest strength, Mahomes still has the third-most passing touchdowns (15), ranks second in QBR (86.9) and is on pace for more than 4,500 passing yards this season.
---
2020 stats: 1,374 passing yards, 13 TDs, 2 interceptions (plus 45 rushing yards) in five games
Rodgers looked awful against the Bucs in Week 6 and was caught off guard — throwing two interceptions, which the Packers quarterback referred to as "an anomaly." If that's the case, we should expect to see him bounce back to where he was during his first four games — a stretch that included a 13-0 TD-INT ratio.
This season is shaping up to be special for the Packers, and Rodgers is still very much the engine that makes Green Bay's offense go. He's maximizing the talent around him, from Davante Adams to Aaron Jones, and ranks top-five in touchdowns, passer rating and adjusted yards per attempt, the latter of which is a great sign for the Packers offense considering Rodgers' willingness to sling the ball downfield. Through five games, Rodgers has 19 passes of 20-plus yards and five of 40-plus yards.
Rex Ryan asserts that defensive pressure on Aaron Rodgers is the key to defeating the Packers.
2020 stats: 1,368 passing yards, 13 TDs, 2 interceptions (plus 77 rushing yards and 1 rushing TD) in five games
Many expected Tannehill to decline after his career-best season in 2019. So much for that. Since replacing Marcus Mariota as the starter in Tennessee, Tannehill has led the Titans to an 11-3 record while throwing for 3,062 yards and compiling a 31-6 TD-INT ratio.
The Titans rank fourth in offensive efficiency this season, and though a lot of their wins have come on the back Derrick Henry, don't overlook the type of performances Tannehill has strung together. That includes going 30-for-41 for 364 yards and four touchdowns in a wild win over Houston to get his team to 5-0.
---

2020 stats: 1,711 passing yards, 16 TDs, 4 interceptions (plus 143 rushing yards and 3 rushing TDs) in six games
Allen had bad showings in back-to-back losses to the Titans and Chiefs but remains in the MVP mix for now. The Bills' QB led his team to a 4-0 start and emerged as an early favorite for the award upon completing 70.9% of his passes for 1,326 yards (nine yards per attempt) and 12 touchdowns along with a 122.8 passer rating. The way Allen performed early, albeit while beating up on teams like the Jets, Dolphins and Rams, had him in the same sentence with Wilson, Mahomes and Rodgers.
But as of late, that hype has dwindled. Though he has shown considerable improvement this season, Allen can't turn in performances like he did against the Chiefs and the league's 23rd-ranked defense (14-of-27 passing for 122 yards, 2 TDs, INT) if he wants to stay in the MVP conversation.
---
Just missed
Aaron Donald, DT, Los Angeles Rams: The 2018 Defensive Player of the Year is always in the mix here, though defensive tackles are rarely ever given the league's highest honor. At 29, Donald hasn't slowed down and leads the league in sacks with 7.5. He has been one of the most disruptive players in the NFL for years, ranking third in sacks through 100 games, and will continue to be in the conversation for the MVP as long as he has outings like he did against Washington (four sacks). That performance marked his fifth career game with at least three sacks, the most by any player since he entered the league in 2014.
Derrick Henry, RB, Tennessee Titans: Henry led the league in rushing in 2019 and has shown no signs of slowing down after signing a mega-extension this offseason. The 247-pounder rushed for 212 yards (an average of 9.6 yards per carry) and two touchdowns against the Texans, which was his third game with 200 yards rushing since 2018. Meanwhile, the rest of the NFL has had just three players reach that feat in the same span. He is looking to become just the fourth running back to earn MVP honors since 2001. The fact that Tennessee's offense flows through Henry will continue to help bolster his chances, and many could argue the reason Tannehill is a strong early MVP candidate himself is because of what Henry has done to keep Tennessee undefeated entering Week 7.
Ben Roethlisberger, QB, Pittsburgh Steelers: Big Ben finished just outside of the top five after playing just six quarters last season. Roethlisberger's arm strength isn't where it was when he led the NFL in passing yards in 2018 — his 7.0 air yards per attempt are his lowest through the Steelers' first five games since this was first tracked by ESPN in 2006 — but the way he's playing has the Steelers off to a 5-0 start and in the conversation as the NFL's best team. The Steelers QB is completing 69.1% of his passes (his best through five games since 2015), has thrown 11 touchdowns to just one interception and posted his eighth-highest QBR (60.3) through five games.
Also received top-10 votes: Lamar Jackson, Tom Brady, Alvin Kamara, Myles Garrett, Derek Carr, Stefon Diggs, Kyler Murray, DeAndre Hopkins, Ryan Fitzpatrick and Cam Newton
---
Stock up

Lamar Jackson, QB, Baltimore Ravens: The reigning MVP doesn't look like he did last year at this point but looked more the part in the Ravens' Week 6 win over the Eagles. Jackson rushed for 108 yards and a touchdown in the 30-28 win, which was the first time this season when his running ability appeared to be as big of a threat as it was last season. His passing has been all over the place, from a 275-yard, three-TD performance on 20-of-25 passing in a Week 1 win over the Browns to completing just 51% of his passes for 180 yards and 2 TDs in a victory over Cincinnati in Week 5.

Kyler Murray, QB, Arizona Cardinals: Murray took down San Francisco, last year's Super Bowl runner-up, in Week 1 and has become a stealth candidate for the MVP award over the past few weeks. After dismantling the Cowboys on Monday night, the type of game he needed to further himself in the MVP mix, Murray became the third player in NFL history to record 30 passing and 10 rushing touchdowns in his first 25 career games.
---
Stock down
Cam Newton, QB, New England Patriots: It may not be time for the Patriots to hit the panic button, but the same can't be said for Newton's MVP chances. He looked like he was back to his 2015 MVP form in New England's first three games, even in a loss to the Seahawks in which he threw for 397 yards. Newton said he was "extremely frustrated" with his play after a Week 6 loss to the Broncos, and it's not difficult to understand why. He's an MVP-caliber player and isn't consistently playing like one. His five rushing touchdowns and 56.3 rushing yards per game are great, but his passing is a mixed bag. He has just two passing TDs in four starts and ranks 27th in ESPN's adjusted QB rating.