Atlanta Falcons special teams coach Ben Kotwica takes blame for onside kick fail vs. Dallas Cowboys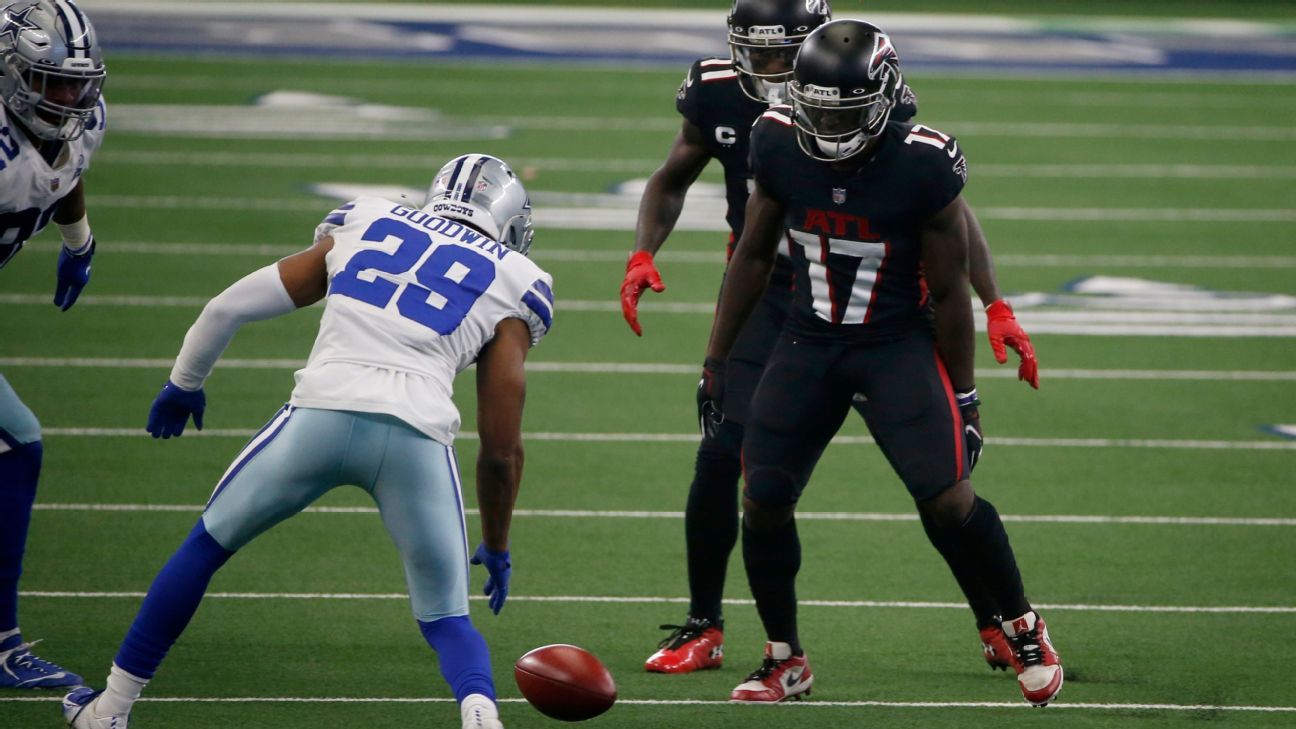 Atlanta Falcons special teams coach Ben Kotwica took blame for the failed onside kick recovery that proved costly in last Sunday's 40-39 loss to the Dallas Cowboys, but said he reminded his special teams players to aggressively get the ball during a timeout.
Kicker Greg Zuerlein and the Cowboys perfectly executed the onside kick, which was recovered by Dallas defensive back and former Falcon C.J. Goodwin. Several Falcons — Kotwica singled out tight end Jaeden Graham and wide receiver Olamide Zaccheaus — froze up and failed to aggressively recover the ball before it rolled 10 yards, which allowed the Cowboys to jump on it with 1 minute, 48 seconds left. Then Zuerlein nailed the 46-yard field goal to win it.
Falcons owner Arthur Blank, during an interview with SiriusXM NFL radio, said it was clear on tape that the players didn't understand the rules. Head coach Dan Quinn, speaking a little more than an hour before Blank's interview, said his players did understand the rules. Quinn said although he and Blank might have disagreed on how to talk about it, they both agreed "100 percent" that it shouldn't have happened.
"We should have aggressively gotten on the football," Kotwica said. "Those are smart guys. They're intelligent. They're hard-working. Shoot, one went to Yale (Graham) and the other one went to UVA (Olamide Zaccheaus). And so, we should have aggressively got on the ball as it got close to the restraining line.
"You know, I'm responsible for it. I'm responsible for everything the unit does and fails to do. It's something that was looked at. We've made the corrections; talked to the players. And we'll do a better job and look forward to Sunday's opportunity."
Kotwica insisted he reminded his players how to approach the situation during the timeout that preceded the onside kick.
"You asked about the timeout. I remember one of my last words were, 'Hey, go get the ball,"' Kotwica said. "That's one of the foundations of our program here: the ball, the battle, the brotherhood. Yes, as that ball gets closer to the restraining area, we would like to get on that football."
The special teams units go over such scenarios on Saturday on the field along with a special hands-team meeting the same morning. The Falcons have had good practice with onside kick scenarios with kicker Younghoe Koo arguably the best at them.
One thing Kotwica did mention is that injuries affected who was on the field for the hands team. One of the players injured was linebacker Foye Oluokun, who has recovered a couple of Koo's onside kicks in games. Oluokun suffered a hamstring injury against the Cowboys and missed the second half.
Kotwica didn't mention Oluokun by name, but he did say he would evaluate the scheme and the personnel on the unit moving forward.
Kotwica didn't think there was miscommunication among the frontline players and the ones behind. For the frontline guys, if a ball is coming "hot" or above the head, you go block. If it's a slow roller or something that can be fielded cleanly, it's be aggressive and go get it.
Kotwica started his news conference by giving the Cowboys credit.
"I think first thing, you've got to get Dallas and Greg credit on a great kick," Kotwica said Thursday. "In the onside kick world, we recovered a couple last year. Matter fact, I think last week we talked about the one that we recovered against Seattle. But in this case, the tables were turned.
"I would tell you this: On that play, when Greg put the ball down, and we called timeout and we were aware that he had a kick that was going to spin and roll, and I would tell you when that ball came off the foot, it's tough to project that that thing is going to go 10 yards. I was standing there when it came off of Greg's foot. It went along the 38, the 39-yard line. It was going parallel. Initially, I didn't think it was going 10 yards."
Kotwica went on to say how his players knew what to do in that scenario.
"As the ball begins to cross the 39, 40-yard line, now you get into options and decision-making," he said. "Our players knew that they could go into the restraining area and recover the ball. But they also knew that as they went into the restraining area to recover the spinning football, that there's a risk that if they don't recover it cleanly, that gives the kicking team the opportunity to recover the ball because then it becomes a live ball.
"…. There's option there. I would tell you that obviously, hindsight is 20/20. We want to aggressively get the ball."
The special teams blunder has the Falcons 0-2 going into this week's matchup with the 2-0 Chicago Bears.
Seattle Seahawks RB Chris Carson week-to-week with foot sprain
RENTON, Wash — Seattle Seahawks running back Chris Carson is considered week-to-week after an MRI confirmed a mid-foot sprain, coach Pete Carroll said Monday.
Carson suffered the injury in the first half of Sunday night's 37-34 overtime loss at the Arizona Cardinals and did not return to the game.
"There's something there that we could see," Carroll said of Carson's MRI. "It's just week-to-week, so we'll see what happens. We don't know. He was real determined to say, 'I can go with it,' but we won't know until the end of the week, for sure."
That's just the start of the injuries the Seahawks (5-1) are dealing with in a suddenly banged-up backfield.
Veteran Carlos Hyde and rookie fourth-round pick DeeJay Dallas were their only available tailbacks by the end of Sunday night's game, after Carson and Travis Homer went down hurt. But Carroll is unsure of Hyde's status for this week due to tightness in his hamstring. The coach said Homer has a knee bruise and not an injury, adding, "So that's something he has a chance to recover from."
The Seahawks have no other tailbacks on their active roster or practice squad. Rashaad Penny, their 2018 first-round pick, is still on the physically unable to perform list as he works his way back from a knee injury. Carroll said Penny is "getting close" to practicing, but the coach didn't give the impression Penny would begin doing so this week.
It's a potentially problematic situation for the Seahawks given how COVID-19 protocols make it difficult for teams to adjust to injuries on the fly. Players must go through several days of testing before they're allowed to enter an NFL facility. That will make it impossible for the Seahawks to sign a free agent in time to reinforce their backfield for this week's home game against the San Francisco 49ers (4-3), unless that running back had already started or completed his testing.
The Seahawks are hoping to have All-Pro strong safety Jamal Adams back this week, but Carroll said it isn't clear whether he'll be ready to practice by Wednesday. Adams has missed the past three games with a groin injury. Seattle had its bye during that span.
"I talked to him on Saturday before we left, and his workouts are going great and all that," Carroll said of Adams. "He really wants to get back, but he's going to have to show it that he's capable of doing all the stuff that we need him to do football-wise. Because he's so close to being back, I think this will carry into late in the week and we'll see how it works out. But I can't tell you conclusively right now."
Carroll expects defensive end Rasheem Green (neck) to practice this week with the hope of playing next week. He has been on injured reserve, as has wide receiver Phillip Dorsett. Carroll said Dorsett is running at 90 percent capacity but isn't sure if Dorsett will practice this week.
Cornerback Shaquill Griffin is also dealing with a nagging hamstring injury in addition to the concussion he suffered against Arizona, Carroll said.
The 2,875 yards Seattle's defense has allowed this season are the most through six games in NFL history, according to the Elias Sports Bureau.
Struggling New York Jets QB Sam Darnold gets pep talk from Adam Gase
Coming off one of the worst statistical games of his career, New York Jets quarterback Sam Darnold received a pep talk and a vote of confidence from coach Adam Gase.
"I just keep thinking, 'He's 23, none of this can be easy,'" Gase said Monday, adding that he spoke with Darnold on Sunday night. "He's a guy that did so much good in college and won a lot of football games. Things haven't always gone as smoothly as everybody always hopes when they get to the NFL."
The Jets haven't won any games this season, as Darnold — expected to make a big jump in the second year under Gase — has shown signs of regression. The slump has fueled questions about Darnold's future, with speculation the Jets might draft Clemson star Trevor Lawrence if they land the top pick.
In Sunday's 18-10 loss to the Buffalo Bills, Darnold passed for only 120 yards with two interceptions for a 31.1 passer rating, the second-lowest of his career. It was a horrible offensive performance by the Jets (0-7), who managed only four yards in the second half — the team's fewest yards in a half in 40 years.
Gase absolved Darnold of any blame, putting it squarely on the offensive line, which allowed six sacks. Gase said "it was collapsing quick on him" and he "didn't have a lot of time to throw the ball." When he did, the throws were tight-window attempts.
In five starts, Darnold has twice as many interceptions (six) as touchdown passes (three). His numbers have declined from last season in all the major statistical categories.
Gase, hired to develop Darnold, insisted his pupil isn't going backward.
"If you look at it statistically, we're not good anywhere statistically," he said. "What I see in practice a lot of times, I see things that were better than last year. When we get to games, we just have to figure out a way to protect him and let him get in rhythm. I saw some really good things the first half [Sunday]. Then it started getting really muddy in the second half."
Darnold said he remains upbeat, although he admitted his interception at the end of the first half was "a terrible mistake, something I truly feel won't happen again." He called it a "dumb decision," a pass into heavy coverage.
He was under duress throughout the game, as the Bills cranked up their safety blitzes in the second half. Offensive coordinator Dowell Loggains, calling plays for the first time, had no answers.
The rebuilt offensive line was supposed to be improved this season, but it has allowed 24 sacks.
"I think everyone is frustrated. I don't think it's unique to Sam," guard Greg Van Roten said. "We need to put him in a position to be successful. If we, as an offensive line, are playing like we did [Sunday], we're not giving him a chance to show what he can do.
"And that's not fair to him. That's not fair to the team."
Cowboys DC Mike Nolan feels heat after hot sauce mishap during conference call
FRISCO, Texas — When the Dallas Cowboys practice Wednesday, defensive coordinator Mike Nolan might be on the injury report. The reason? Tabasco.
Nolan had to step away from his weekly conference call with reporters Monday because he got some hot sauce in his eye in the middle of answering a question about the effectiveness of pass rusher DeMarcus Lawrence.
"He's been active every week as far as, I think, disrupting the quarterback. He's escaped several times to do that," Nolan said. "Obviously, the frustration for him as well is — look, it's when he misses them. Whoop, excuse me. I've got something in my eye. Just had some Tabasco on my finger and it went in my eye, that wasn't good. Ugh. Terrible, geez. I'm sorry."
It's been that kind of season for Nolan.
The Cowboys are on pace to allow 555 points this season. They have given up 243 points so far, which is more than they have given up overall in 11 seasons in franchise history, not counting the strike season in 1982, and equal to what they allowed in 1992.
Nolan was able to clean out his eye and return to the news conference.
"My eye feels a lot better," Nolan said. "But it was burning."