Carolina Panthers' Christian McCaffrey likely out 'multiple weeks' with ankle injury, source says
Carolina Panthers running back Christian McCaffrey is expected to be sidelined "multiple weeks" with the ankle injury he suffered Sunday, a source told ESPN's Adam Schefter.
He suffered the injury with 13:30 remaining in their 31-17 loss to the Tampa Bay Buccaneers.
He had 19 rushes for 59 yards and two touchdowns and four catches before the injury, which occurred during a 7-yard touchdown run. He walked off the field with a limp after the touchdown and did not return.
The Panthers made McCaffrey the NFL's highest-paid running back during the offseason with a four-year, $64 million extension.
McCaffrey is coming off a 2019 season in which he became the third player in NFL history to have 1,000 yards rushing and receiving in the same season.
ESPN's David Newton contributed to this report.
What if Jon Gruden had never been traded by the Raiders to the Bucs? – Las Vegas Raiders Blog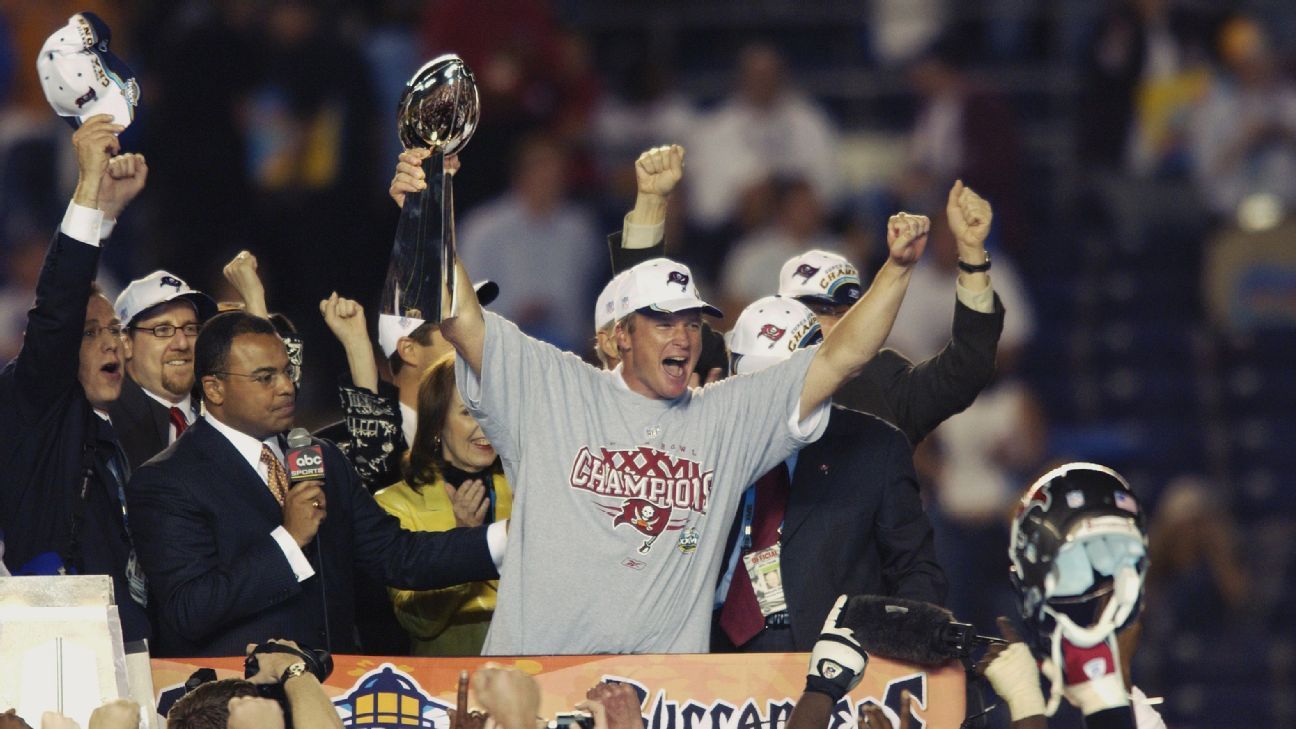 HENDERSON, Nev. — The rumors had been percolating all year. So much so that Jon Gruden took the time to address them in team meetings throughout the 2001 season.
"I'm not going anywhere," Gruden would insist to his Raiders team. "I know what you're hearing about Notre Dame. I like it here. I'm not going anywhere. I want to be here."
Gruden was in his fourth season as the then-whiz kid coach of the then-Oakland Raiders, and his team had quickly become a power, having already played host to an AFC Championship Game. But contract negotiations on an extension had stalled midseason, and Gruden was linked to jobs ranging from Notre Dame to Ohio State in college to, yes, Tampa Bay in the NFL.
And when the Raiders dropped four of their last six games, including the final three, to close out the regular season and finish 10-6, there was a thought that the rumors had become a real distraction. That Gruden might have lost the team.
Losing to the New York Jets in the regular-season finale not only dropped the Raiders out of a first-round bye and into a wild-card round playoff game, it set in motion a course of events the franchise has tried for nearly two decades to course correct. And with the Tampa Bay Buccaneers set to play the now-Las Vegas Raiders on Sunday in this, Gruden's third season back with the team, it picks at a certain scab.
What if Gruden had never been traded from the Raiders to the Buccaneers on Feb. 18, 2002?
'Dude, what are we going to do?'
Charles Woodson, Gruden's first draft pick, stood to ask a question of the coach in his standing-room-only return media conference on Jan. 9, 2018.
"Is there a no-trade clause in your deal?" Woodson asked, before those assembled roared in laughter, and Gruden, smiling widely, answered affirmatively.
• J.J. Watt still focused on ring with Texans
• Burrows' deep struggles no concern
• Bridgewater a franchise QB in Carolina
• Pats WR not getting enough separation
• Gregory key to Dallas' pass rush woes?
Nearly 16 years earlier, there was no laughing. No grinning. No guffaws. Just shock and awe. Yes, even with a half-season of rumors flooding the streets of Silver and Blackdom.
Because even as Lincoln Kennedy landed in Honolulu for the Pro Bowl the first week of February 2002, it seemed a done deal that Gruden would be gone. So Kennedy gathered with fellow Pro Bowlers Rich Gannon and Tim Brown to talk about a likely future.
"I was like, 'Dude, what are we going to do?'" said Kennedy, then the Raiders right tackle and now the team's radio analyst. "What the f— are we going to do? We've got to hire from within."
But the trade to the Buccaneers, who had moved on from Tony Dungy and were flirting with Bill Parcells, did not become official until nine days after the Pro Bowl.
That's when Kennedy spoke with Al Davis.
"He told me, his words were, 'I never liked it when teams would interfere with coaches under contract,'" Kennedy recalled Davis saying. "He told me, 'Tampa Bay came to me and they said they wanted Gruden' and [Davis] said, 'I felt that I put the price tag so high that they wouldn't agree to it. And they did. Gruden is no longer our coach.' So, I hung up after I talked to him."
The king's ransom for Gruden that Davis thought Tampa Bay would never pay? Two first-round draft picks. Two second-round draft picks. And $8 million to boot.
"After the trade went down, we all met with Mr. D," Kennedy said. "I put in my two cents and said I thought [the new coach] should be [Bill] Callahan. He knows the system, we can keep everything the same. [Marc] Trestman? He was the quarterbacks coach, but Callahan had the run game and Trestman was developing the pass game, but I think Rich had said he wanted Callahan and not Trestman … and Callahan was the offensive coordinator anyway."
That string of events mentioned earlier?
Follow this road map: the Raiders, perhaps distracted by constant reports of Gruden's departure, fall out of a playoff bye and into a road game at the New England Patriots, where Tom Brady and the Tuck Rule awaited. Yes, it's Gruden's final game of his first tenure. Callahan replaces Gruden and the offense gets more explosive as Gannon becomes the 2002 NFL MVP and the Raiders glide into Super Bowl XXXVII. Except …
Guess who is waiting?
"With the way we were rolling, the only person who could beat us was the guy who knew us better than we knew ourselves," Kennedy said. "We just had that way about us."
A 48-21 blowout loss to Gruden's Buccaneers later, the Raiders have had only one winning season since. Gruden lasted until 2008 in Tampa Bay and was, fittingly enough, put out to pasture by the Raiders and, yes, JaMarcus Russell. Nine seasons in ESPN's Monday Night Football booth ensued before Mark Davis was able to bring Gruden back to the Raiders.
In his first tenure, the Raiders were on the verge. But as the late Al Davis said in 2009, "The Tuck Game was the undoing of a lot of things."
Said Kennedy: "Here's the thing — if we had won the Super Bowl [in Gruden's last year], I think we would have become a powerhouse because we were returning everybody the following year."
Except …
"If we weren't playing against him," Kennedy said of Gruden, "we would have won the Super Bowl."
'Can't look back at what if's'
Of course, there was always the prevailing thought that Al Davis had become annoyed with Gruden's conservative playcalling — where was the vaunted vertical game? — as well as "Chucky" becoming the face of the franchise sans Lombardi trophies and was, well, simply done. At least, the conventional wisdom went, Ken Stabler and Marcus Allen led the Raiders to titles before their respective public feuds with the iconoclast owner led to their ousters.
Gruden, though, was always beloved by Raiders alumni. Yes, even the old-school guys who never played for him. Guys like Jim Otto, Jack Tatum, Phil Villapiano, Cliff Branch, Willie Brown, Tom Flores, George Atkinson and Raymond Chester — all of whom showed up for a private party in Gruden's honor at Raiders sports bar "Ricky's" in San Leandro, California, in 2009, when Gruden rocked a Raiders visor and a white Bo Jackson throwback jersey. The restaurant was asked to take down photos of the gathering from its website, for fear of Davis seeing who was in attendance and interpreting it as disloyalty.
But it was Mark Davis who brokered peace with Gruden, bringing him back to light the Al Davis Torch in memory of his father on Nov. 18, 2012.
And it was a "six- or seven-year dance" the younger Davis did with Gruden before finally convincing him to return to the Raiders.
"There was no question I wanted to have him as the head coach of this organization," said Davis, who assumed role of managing general partner upon his father's death on Oct. 8, 2011.
But Davis would not touch the question: What if Gruden had never been traded?
"I can't look back at what if's?" Davis told ESPN.com this week. "Are you kidding me? What if Franco Harris didn't catch that ball? What if Rob Lytle did fumble the ball? What if Tom Brady fumbled? What if this? What if that? You could do that every day.
"What if? If. If. If."
Told "if" is the biggest word in the English language, Davis howled.
"Most irrelevant, too," he said.
And Gruden, besieged with news of COVID-19 and potentially being without his starting offensive line this weekend, was in no mood to reminisce, either.
"That's a loaded question," said Gruden, who has said he never wanted to leave the Raiders in the first place and acknowledged his being inducted into Tampa Bay's Ring of Honor in 2017 served as a springboard to get him back into coaching.
"I'm just concentrating on this game, honestly. It's a great opportunity for both teams to try to get another win. I try not to get too deep, too philosophical. I had a great time in Tampa. A lot of my best friends are still there and live there. So, I'm looking forward to competing."
Yes, against his old team in the Buccaneers, and an old foil in "Tuck Rule" Tom Brady.
Tampa Bay Buccaneers adding Antonio Brown all about maximizing Tom Brady's window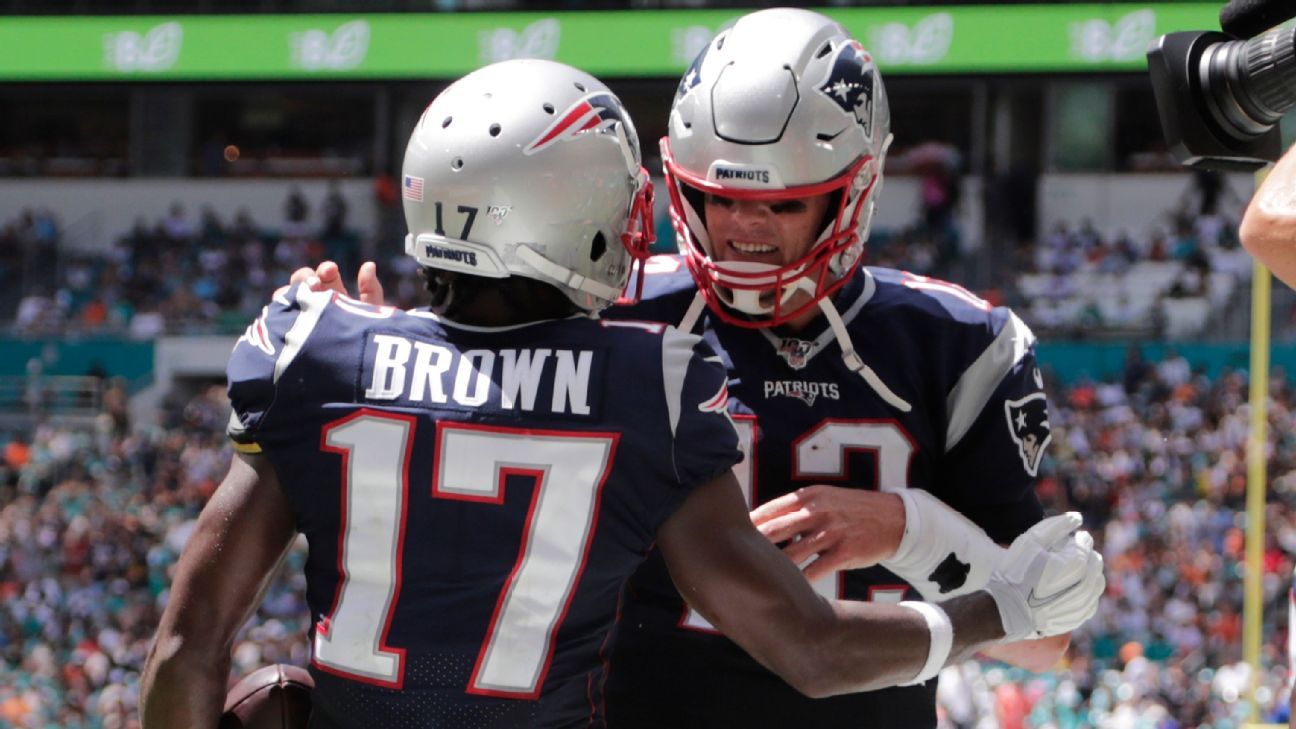 TAMPA, Fla. — Nearly seven months to the day after Tampa Bay Buccaneers coach Bruce Arians said "it's not gonna happen" with Antonio Brown, the Bucs have agreed to a deal with the controversial, but highly talented wide receiver who last played for Arians in 2011 with the Pittsburgh Steelers.
It wasn't coach-speak, Arians is a straight-shooter. He called Brown "too much of a diva" and said he wasn't a fit for the Bucs' locker room, even with quarterback Tom Brady campaigning for him behind closed doors. But that was before injuries began to mount in the Bucs' receiving corps.
Pro Bowl wide receiver Mike Evans has been hobbled by an ankle injury since Week 4 and has barely been able to practice. Their other Pro Bowl receiver, Chris Godwin, has missed three games because of concussion and a hamstring strain. Their speedy deep threat Scotty Miller has been hampered by a hip/groin injury. And tight end O.J. Howard — who had become a big part of the screen game — went to injured reserve with a ruptured Achilles.
The result? Brady's top receiver against the Chicago Bears was rookie Tyler Johnson, who he'd never completed a pass to prior to Week 5. And if the Bucs want to not only make the postseason but make a run at a Super Bowl with Brady, they realize that their window is tight and, they need reinforcements at a position that's been hit hard by injuries.
It's the same reason they signed A.Q. Shipley as a backup center, so that if something happened to Ryan Jensen, Brady could take snaps from an experienced center. It's the same reason they signed running backs Leonard Fournette and LeSean McCoy — to ensure Brady had experienced running backs to pair with Ronald Jones and Ke'Shawn Vaughn — who could help in the passing game.
So how will Arians handle Brown, whom he's publicly traded barbs with, had a tryout with the New Orleans Saints that included a camera crew entourage that infuriated members of the Saints coaching staff, once cursed out former Steelers defensive coordinator Dick LeBeau and arrived to Oakland Raiders camp in a hot air balloon.
The feeling inside the organization is Arians personality is strong enough to handle him. Arians has never had a problem giving anyone a piece of his mind — as seen by his expletive-filled tirades in practice — and he coached Brown with the Steelers. Brown also has ties to several members of Arians' coaching staff, like offensive assistant Antwaan Randle-El, who was his teammate in 2010.
But the person who can make the biggest impact in all, and who can hold Brown in check, is Brady, whom Brown developed an immediate connection with in New England. In their one and only game together with the Patriots, Brown had four catches for 56 yards and a touchdown in a 43-0 win over the Miami Dolphins. The Patriots released Brown less than two weeks after signing him.
Brady has had success keeping troubled teammates in check when others have failed, examples include including LeGarrette Blount, Martellus Bennett, Corey Dillon, Randy Moss and Aqib Talib. But Brown's off-the-field issues are serious — two cases where he was accused of sexual misconduct and a felony charge of battery and burglary. He will need to be held in check at all times.
This move signifies just how much influence Brady has on this organization. Brown's personality is in contrast to Evans, Godwin, Miller, Johnson, Justin Watson, Jaydon Mickens and Cyril Grayson — players who don't complain when the ball doesn't get thrown their way.
Brown won't be eligible to play until Week 9, but it's an important rematch against the Saints, whom they have a half-game lead on in the NFC South but lost to in Week 1.
Washington QB Dwayne Haskins fined for breaking team's coronavirus-related protocols
ASHBURN, Va., — The Washington Football team fined quarterback Dwayne Haskins for violating the team's COVID-19 protocols, a source told ESPN's Adam Schefter.
Haskins made a reservation for a family friend at the team hotel the night before Washington played at the New York Giants last week. The team fined him $4,833 — the maximum it could have fined him was $14,650, a source told Schefter. Another source said Haskins had made a reservation for this person, but it was caught before the person arrived, so there was never any contact.
Washington has not had any positive test cases since the team reported for training camp in late July. The team also was the first to pull its scouts off the road in the spring when the pandemic hit and among the first to close its building.
Haskins, the 15th overall pick in 2019, was inactive for the game, a 20-19 loss. Washington benched him two weeks ago in favor of Kyle Allen.