Detroit Tigers manager Ron Gardenhire retires effective immediately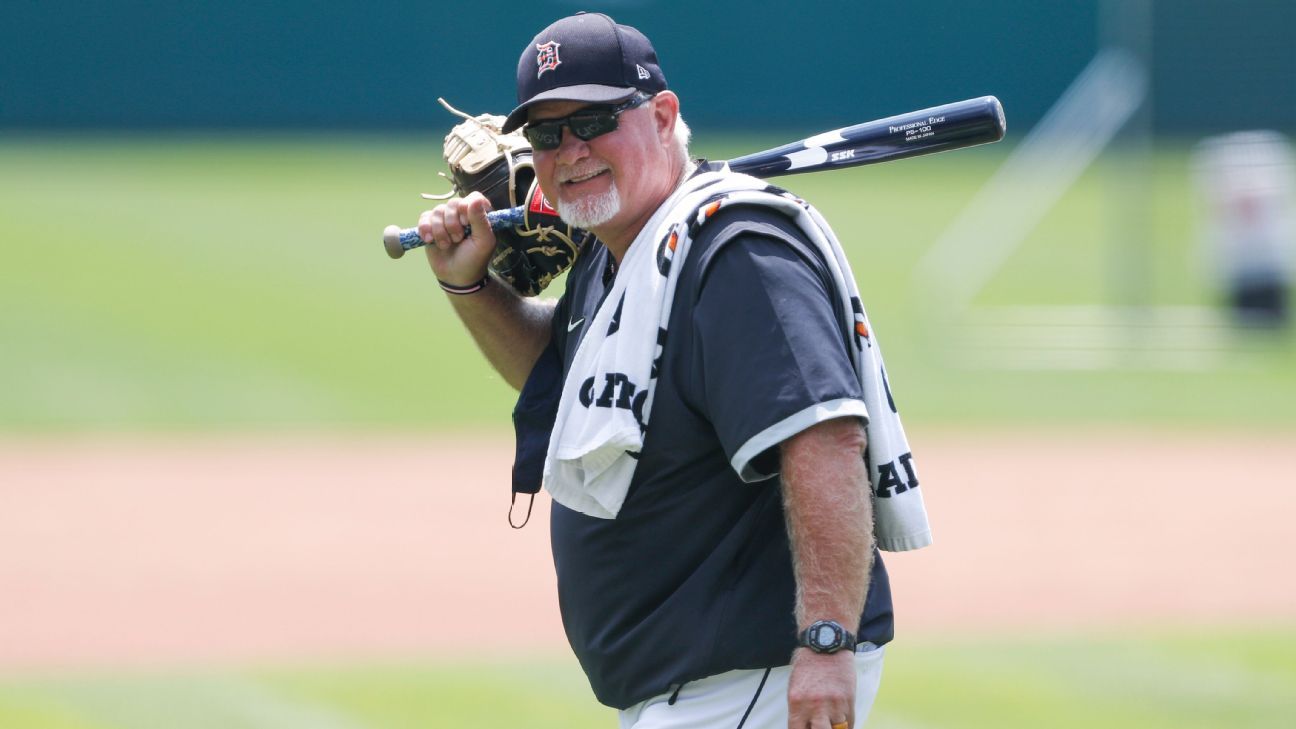 DETROIT — Tigers manager Ron Gardenhire announced his retirement Saturday prior to Detroit's game against the Cleveland Indians.
The announcement came in an abruptly called video conference around 5 p.m. General manager Al Avila said the retirement was effective immediately.
Bench coach Lloyd McClendon will take over as manager for the rest of the season, which is scheduled to end Sept. 27. Detroit was 21-29 heading into Saturday night's game and was unlikely to make the postseason.
Gardenhire, who turns 63 next month, was in his third season as Detroit's manager after he previously had a successful run with the Minnesota Twins. He has had to oversee a significant rebuild with the Tigers that included a 114-loss season in 2019.
Gardenhire said he hasn't been feeling well and needs to take care of himself. He missed time recently because of stomach issues, and he indicated Saturday that the stress of managing was difficult.
"First off, I'd like to congratulate Gardy for having one of the best managerial careers in baseball history," Avila said in a statement. "His leadership and hard work over three seasons with our ballclub has helped move us towards our goal of bringing winning baseball back to Detroit. His positive impact on our young players will be felt for years to come."
The Associated Press contributed to this report.
MLB Playoffs Daily – Braves look to KO Dodgers; Rays try again
For the fifth straight day, we have a league championship series doubleheader. Welcome to the excess that is the 2020 MLB playoffs. This time, two teams face elimination as the Astros have their backs to the wall for the third straight game and the powerhouse Dodgers are staring at the prospect of having their season end at the hands of the Braves.
Here's a breakdown of the games, some numbers to know, a hot take of the day and more as you prep for Friday.
Key links: Power Rankings | Predictions | Schedule, bracket | Playoff Baseball Classic
What's on tap
All times Eastern; all series best-of-seven played at neutral sites
American League Championship Series Game 6: No. 1 Tampa Bay Rays (Blake Snell) vs. No. 6 Houston Astros (Framber Valdez), 6:07 p.m. ET in San Diego
Obviously, the Astros burned through the bulk of their best relievers in Game 5 and closer Ryan Pressly has thrown two days in a row — although only 30 pitches. "This is the postseason. There are no off days," he said. So he'll be ready to go. Really though, Astros manager Dusty Baker isn't in terrible shape. He can go Valdez to Cristian Javier and then to Pressly if needed. If somebody other than those three pitches, the Rays are probably scoring some runs.
The Rays, however, are hitting just .200/.285/.363 in the series. They haven't been able to string together many rallies unless a home run is included. Indeed, 71.4% of their runs in the postseason have come via the home run. Home runs are good! But so are singles and doubles, and the Rays need a few more of those. Brandon Lowe did homer on Thursday, snapping a 1-for-33 skid, but that leaves his postseason average at .089. Willy Adames is hitting .118 in the postseason. The Rays need something from those two. Snell has gone 5⅔, 5 and 5 innings in his three playoff starts. In Game 1 against Houston, he allowed just one run, pitching around six hits and two walks even though he had just two strikeouts. He threw 105 pitches and had trouble putting Astros batters away.
Certainly, the Rays aren't desperate yet. But, as was the case with the 2004 Red Sox against the Yankees, if Houston wins Game 6, it feels like all the pressure in Game 7 will fall on the Rays. — David Schoenfield

National League Championship Series Game 5: No. 2 Atlanta Braves (TBD) vs. No. 1 Los Angeles Dodgers (Dustin May), 9:08 p.m. ET in Arlington, Texas
Just as expected, the guy with seven career starts and a 5.91 ERA outpitched one of the game's legends, and Bryse Wilson's effort helped put the Braves one win away from their first World Series trip since 1999. Most importantly, Wilson went six innings, allowing Braves manager Brian Snitker to minimize his bullpen usage, a key for Game 5 since this will be an all-in bullpen game for the Braves. Given the extraordinary depth Snitker has, that strategy can work, although it helps knowing you have Max Fried in your back pocket for Game 6.
As for the Dodgers, this must now feel like climbing Mount Everest without oxygen. I don't know how fair this is, but we're reminded of the extremely soft schedule the Dodgers played this season. Of their 60 games in the regular season, only 13 came against teams that finished with a winning record — 10 against the Padres and three against the A's (they went 8-5). Even their wild-card series came against a sub-.500 Brewers team, then they beat a Padres team basically without its top two starting pitchers. As good as the Dodgers have been, they haven't been tested until now — and now they're in danger of being sent home with a big, fat "F" in this series (except for one inning).
I don't know what Dodgers manager Dave Roberts' pitching strategy will be, but it seems whatever he does with his bullpen — going back to the 2017 World Series — usually doesn't work. He catches a lot of heat from Dodgers fans, and some of his decisions in postseasons past have been questionable, but this one has been on the players. It's up to them, not the manager, to straighten this out. — Schoenfield
---
Updated odds for every series
Based on projections of ESPN's Bradford Doolittle
Astros-Rays: Rays 84.7% to advance
Braves-Dodgers: Braves 78.8% to advance
Running World Series odds
NL: Braves 41.5%, Dodgers 15.2%
AL: Rays 38.7%, Astros 4.6%
---
Hot take of the day
Well, my baseball friends, this is now quite interesting. The Astros were the 39th team that trailed 3-0 in a best-of-seven series and became just the fourth to force a sixth game after Carlos Correa's walk-off home run off Nick Anderson in Game 5. Two of those previous teams (the 1998 Braves in the NLCS against the Padres and the 1999 Mets in the NLCS against the Braves) lost Game 6. The third team, of course, was the miracle Red Sox of 2004, who rallied to win four in a row against the Yankees in the ALCS. How big was Correa's home run? If the Astros hadn't scored in the bottom of the ninth, manager Dusty Baker said the Astros would have used Game 6 starter Framber Valdez in the 10th inning.
Instead, Valdez is now rested for Game 6 and you can argue he gives the Astros the slight edge over Blake Snell, based on his performance in the postseason. The Houston bullpen — five rookies pitched among the seven relievers used in a bullpen effort in Game 5 — has held its own with a 3.71 ERA and has a higher strikeout rate in the series than Tampa's pen (35.1% to 17.2%) along with a lower walk rate. The Rays are hitting just .200 in the series — and one guy, Randy Arozarena, has done most of the damage. In other words, several things are pointing in Houston's direction and we're two wins away from having a sub-.500 team in the World Series. Luckily, that won't happen. The Rays win Game 6. — Schoenfield
---
Stat of the day
Bryse Wilson became the fourth rookie in the past five seasons to throw at least six innings and allow one or fewer runs in his postseason debut — and all four of them did it for the Atlanta Braves. Three (Wilson, Kyle Wright and Ian Anderson) did it this postseason, while Mike Soroka did it in the division series against the Cardinals in 2019.
---
About last night …
The Astros aren't done yet, whether the rest of the baseball world likes it or not. Houston staved off elimination for the second straight game, as Carlos Correa hit a walk-off home run to give the Astros a 4-3 win in Game 5 of the ALCS. The Rays' Ji-Man Choi had tied the game with a solo homer in the eighth. Tampa Bay still leads the series 3-2. … In the NLCS, the kid outdueled the future Hall of Famer, with Atlanta's Bryse Wilson getting the win and Dodgers great Clayton Kershaw taking the loss as the Braves secured a 3-1 series lead with a 10-2 victory.
---
Social media post of the day
stare. toss. celly. pic.twitter.com/FIOqURwOSn

— Cut4 (@Cut4) October 16, 2020
---
Best moment of the MLB playoffs to date
The stage was set for another Fernando Tatis Jr. moment, but Cody Bellinger snatched it away. Bellinger's home run robbery, plucking what would have been a go-ahead shot by Tatis in the seventh inning of Game 2 of the National League Division Series, kept the Padres at bay — barely — and will take its place in Dodgers lore, particularly if L.A. wins it all.
Cody Bellinger. Instant classic. pic.twitter.com/TPRnAFFuMo

— MLB (@MLB) October 8, 2020
---
The running MLB playoffs MVP
Randy Arozarena has gone from an unknown outfielder to this October's breakout star. Going into the playoffs, you might have been asking, "Who is this guy?" But the Rays' trade for him has been a huge factor in their postseason run. Arozarena went deep again Thursday in Game 5 of the ALCS, his third homer of the series giving him 13 since Sept. 1 (tied with George Springer for the most in baseball). And while his long balls have made a big impression, Arozarena also leads all hitters in the postseason with 43 total bases (and is leading in hits and extra-base hits). Also, he has been flashing some leather in the outfield and some sweet celebration dance moves on the field.
2020 MLB playoffs – An ALCS comeback from 3-0? Here's why these Houston Astros could do it
At the end of every day during the baseball postseason, I run a set up simulations to estimate the updated probabilities for each series and the ultimate outcome of the bracket. I add the newest results to a log and send them in to Bristol HQ, for inclusion in our ongoing coverage of the playoffs.
Here is the progression of the odds of the Houston Astros of winning the American League Championship Series against the Tampa Bay Rays, as well as the World Series, over the past eight days:
This is like that scene in a movie where a character is drowning — let's call him "Astro" — and is pulled out of water by the hero, whom we'll call "Dusty." Dusty launches into some desperate CPR and starts pleading with Astro to wake up and looks to the heavens for a miracle, all while everyone else — Alex and Jose and Carlos and little Zack — stand around and watch the whole business in terror. Before long, reality sets in. It's too late. Astro is not breathing. Astro is gone.
Then, all of a sudden, Astro spits up a whale's spout of water and his eyes fly wide open and he gasps for air. Dusty rejoices! Alex and Jose and Carlos and little Zack dance in jubilation. Astro is very much alive.
What else can you say after Carlos Correa — who has nothing do with that protracted analogy above — visualizes himself hitting a home run, tells everyone he is going to hit a home run, then hits a home run to keep the Astros alive for another day? It's fairy-tale stuff, though given the public approval rating of the Astros entering this postseason, it might be the kind of fairy tale where the prince ditches Cinderella and hits the clubs with the evil stepsisters.
That Houston has staved off elimination by winning back-to-back 4-3 games after tumbling into an 0-3 hole to begin the ALCS against Tampa Bay is not a matter of them coming to life, or the Rays seizing up in some kind of terrible choke mode. Basically, we've seen the same game play out five times in a row. The Rays happened to win the first three of them and the Astros the past two. It's the sequencing that makes this so eye-opening.
Because of that sequencing, the Astros have already made history. Thirty-eight teams have fallen behind in a series 3-0. Four of them have forced a Game 6. The Astros are the fourth. Here's the list of the others:
1998 Braves: Forced a Game 6 in the National League Championship Series against the Padres, but lost.

1999 Mets: Forced a Game 6 in the NLCS against the Braves, but lost.

2004 Red Sox: Forced a Game 6 in the ALCS, won that, won Game 7, won the World Series, and celebrated while somehow Jimmy Fallon and Drew Barrymore found their way onto the field.
The Astros still have a long way to go before forcing their way into "Fever Pitch 2: Dusty's Revenge," but they have already ventured into territory where few 0-3 teams have gone. That's pretty intense. But can they keep this going? Will they?
The answers: I don't know and I don't know. But there are a lot of factors embedded in the way this series has played out to suggest that, at the very least, the Astros have a real shot to do this.
Before we get into those factors, let's pause for a needed reality check: You can see the probabilities in that table above. The Astros' odds remain long. They remain long not just because they still trail the series 3-2, but because they are playing the Rays. The Rays entered this series as heavy favorites for a good reason: They have been a better team than Houston this entire campaign. They have gotten this far in the ALCS despite a number of their key hitters struggling because they have a roster of extraordinary depth and versatility. Before the game, Houston manager Dusty Baker even said that it felt like Tampa Bay has more players on its roster than his club.
Tampa Bay is still the favorite to win any individual game in this series. And since they need to win only one more game as opposed to the Astros' two, the Rays are still in a very good position. Despite the devastating nature of watching Correa end Game 5 on a game-winning shot to center field, the Rays seemed nonplussed during their postgame Zooms. They praised the Astros and looked forward to having Blake Snell and Charlie Morton lined up for the next two games, if needed.
"It's just been a tough two games, and hey they play good," Kevin Kiermaier said. "We know we have a really good opponent over there, and we have to come out tomorrow early and often with the bats and let Blake do his thing, and try to get some runs for him."
But if you live in Houston — and let's face it, if you're pulling for the Astros, you either live in Houston, have a relative in the organization or are really, really rooting for Dusty Baker, all good reasons — there are a number of indicators leaning your way:
1. Your team has already bucked history.
Explained above.
2. Their swagger is back.
Carlos Correa says he made in-game adjustments with hitting coach Alex Cintron before his game-winning dinger.
OK, I understand this is a serious intangible, old-timey sportswriter bromide. But it's hard to miss. Having been around the Astros a good bit in recent years, one thing that always jumped out about them for me was the cockiness and confidence that marked the way they played and carried themselves. This year, they simply did not resemble that team. They looked like a bunch of guys late for a dinner reservation.
That changed once the postseason started, but as one break after another went the Rays' way in this round, that fleeting quality of swagginess fleeted. There was a team meeting, which is more fodder for sportswritery bromides. But, hey, it worked, did it not? You don't think swagger is a thing? Well, with the season on the line, Correa said he was going to hit a home run and then hit a home run.
What is that if not swagger?
Now, none of this is to suggest that the Astros believe in themselves more than the Rays. The Rays have flourished in obscurity for years, the best evidence for self-belief there is. This is more about the dynamic of the Astros' clubhouse. When this team behaves like they have over the past couple of nights, they are awfully tough to beat.
3. They didn't use Framber Valdez and have Lance McCullers Jr. lined up for Game 7.
The Rays have every reason to feel good about the pitchers they have lined up to start the next two games. And after Baker squeezed everything there was to get out of his bullpen on Thursday, while Rays manager Kevin Cash was able to get more length out of his relievers, Tampa Bay's overall staff is in better shape heading into Friday.
But even as the Astros pulled out the win in Game 5, their pitching plans came very close to becoming scrambled. With the Rays trying to take the lead in the top of the ninth, with Mike Zunino starting the inning with a single and pinch runner Kiermaier reaching second base on a wild pitch, Baker had Valdez throwing in the bullpen behind closer Ryan Pressly. Pressly wriggled out of trouble without Baker having to dip deeper into his pitching depth. That's huge.
"I said a prayer to my dad and my brother," Baker said, recounting what was going through his mind as Correa strode to the plate before the game winner. "And I said, 'Please, Lord let us walk off, because if not we gotta use Framber, and then we don't have Framber tomorrow to start."
Let's not forget that Valdez and McCullers arguably outpitched Snell and Morton in the first two games of the series, though the Rays won both:
Pitchers: IP, H, ER, BB, K
Valdez & McCullers: 13, 8, 3, 4, 19
Snell & Morton: 10, 11, 1, 3, 7
The key for Baker is probably length. Given the state of his bullpen after Games 4 and 5, he needs Valdez and McCullers to repeat their starts from earlier in the series. No easy feat — the Rays' army of analysts is dissecting those outings as these words are typed — but if they can do so, Tampa Bay's bullpen edge is minimized.
4. Their luck has turned.
One thing about baseball, you can say the breaks even out over time. But there is no guarantee that they will even out over the course of a short series. However in this case, it appears that things are already regressing to the norm.
Over the first three games of the series, the Astros' hitters had about 33% more balls struck with an exit velocity of 80 mph or greater than the Rays. Their OPS on those balls was .836. The big league regular-season figure in that category was 1.052. (The Rays were at .977.) Over the past two games, that figure for the Astros is 1.152.
5. They're kids!
The teams combined to use eight rookie pitchers in their respective most important games of the season. That's mind-boggling. The oldest of the four rookies the Astros used (Andre Scrubb) is 25. He would have been 9 years old when the Red Sox pulled off their epic comeback.
I think because the Astros have so many familiar postseason faces playing in the series, people overlook just how much turnover they've had on their pitching staff since last year's World Series. Houston had the third-youngest staff in the majors this season.
You think that group is daunted by the history of teams in an 0-3 hole? They don't know the history.
6. The Astros' hitters are hitting better than the Rays' hitters, and their pitchers are pitching better than the Rays' pitchers.
Yeah, it's a short sample and simple concept, but it's true. For the series, Houston has a .759 OPS against .647 for the Rays. The Astros' wOBA is .325 against an expected wOBA (based on their batted balls) of .395. Tampa Bay has a .279 wOBA and an xwOBA of .289 (per TruMedia). Better process, better results.
It goes on: Houston's hitters have 34 strikeouts and 17 walks. Tampa Bay's have 57 strikeouts and 14 walks. Houston has an 8-7 edge in homers. Both teams have had 31 at-bats with runners in scoring position and produced six hits in those spots for a .194 average. Yet the Rays have outscored the Astros 9-3 on those hits. You wouldn't light out for Vegas to bet on that trend continuing.
7. If momentum is a thing, the Astros have it.
It's not just that they've won the two most recent games, it's where they started from before those contests and the dramatic nature by which they played out. Houston is riding high.
"Boy that will go down as one of the greatest games in history," Baker said. "And hopefully it'll go down as one of the greatest comebacks in history after two more games."
The Rays remain the favorite. But there are lots of reasons to think that the Astros can pull off the miracle, and evidence to support them.
MLB playoffs 2020 — Clayton Kershaw comes up short; Los Angeles Dodgers on brink again
ARLINGTON, Texas — The settings change, the circumstances evolve, and yet it always seems to come down to Clayton Kershaw getting stretched a little too far, a promising bullpen failing to pick him up, a high-powered offense coming up small, a well-oiled machine breaking down at the worst possible time.
The backdrop for the Los Angeles Dodgers' latest collapse was Game 4 of the 2020 National League Championship Series, played under howling winds at a neutral stadium that was only a quarter full. It was, more specifically, Thursday's bottom of the sixth, when the Atlanta Braves' high-powered offense suddenly came to life and the star-studded Dodgers collectively unraveled.
The Braves tallied six runs in that half-inning, more than enough to cruise to the 10-2 victory that provided a commanding 3-1 series lead and, based on the history of seven-game postseason series, gave them an 85% chance of advancing to the World Series. The Dodgers, 43-17 with a plus-136 run differential during the shortened regular season, are one loss away from a stunning elimination.
The blame should not be singular.
You can point to their prestigious offense, which managed nothing but a solo home run through the first six innings against 22-year-old Bryse Wilson, and three hits for the entire game. You can point to their supposedly deep bullpen, which has given up 15 runs in 15⅔ innings in this series. You can point to Kershaw, who once again did not do enough with the season teetering. And you can point to the manager, Dave Roberts, who might have once again stayed with his ace a little longer than necessary.
"I just thought Kershaw was throwing the baseball really well, and there was no reason," Roberts said when asked about going to his bullpen a little earlier. "I felt really good about it."
When Kershaw jogged to the mound for that bottom of the sixth, he had given up only one run and had used up only 71 of his pitches. The top of the Braves' order was due up. As Kershaw navigated through his at-bat with leadoff hitter Ronald Acuna Jr., Brusdar Graterol began to warm. By the time Acuna legged out an infield single, and moved to second base on an errant throw, Graterol was almost ready. After Freddie Freeman laced an RBI double to right field, away from a shifted Mookie Betts, Graterol was looking on, waiting. After Marcell Ozuna lined another RBI double into the left-center-field gap, his second of four hits, it was too late.
Ozuna homered the previous time he faced Kershaw. Before the postseason began, he was batting .356/.463/.867 off lefties and .333/.381/.556 off curveballs, the full-count pitch he ultimately turned on to plate the Braves' third run of the game. It was at best a bad matchup, at worst an indefensible decision.
"I'm not going to take Clayton out after a weak ground ball and another ground ball off the bat of Freeman," Roberts said, adding that Ozuna's batted ball "wasn't hit very hard," even though it traveled at 108 mph.
"I felt really good with Clayton at that point in time."
The decision was a reminder of Roberts' deep-rooted, perhaps unwarranted, trust in Kershaw, a trait that might have played a hand in the Dodgers' elimination from last year's postseason. It also revealed that the bullpen Roberts talked up all summer possesses no more than three relievers he truly trusts with the game on the line, one of whom is no longer Kenley Jansen. With Dustin May saved for Game 5, and Walker Buehler basically available only in relief if Kershaw's back had flared up again, Roberts' options were surprisingly slim.
Maybe it wouldn't have mattered anyway, given that Graterol and Victor Gonzalez allowed five of the next six batters to reach base and the offense only flirted with late-inning comebacks thereafter. Maybe there was nothing Roberts could do to keep the Dodgers from melting down with their season on the brink.
And maybe the narrative about Kershaw's postseason struggles can never be vanquished.
His career ERAs now go like this: 2.43 in the regular season, 3.68 in the division series and wild-card round, 4.84 in the LCS, 5.40 in the World Series. His postseason ERA from the sixth inning on is 7.31, the worst of any starter with a minimum of 20 innings in that scenario, according to research from ESPN Stats & Information. His three go-ahead hits allowed in the sixth inning of later since the 2013 postseason are tied with Justin Verlander for the second most in that stretch.
Roberts dismissed the thought of Kershaw coming up short as a big-game pitcher, saying that he gave his team a chance and that his offense didn't do enough.
"That narrative," Roberts said, "couldn't be further from the truth."
Here's what is true: If the Dodgers don't string together three wins in a row, two of them against the two starting pitchers who shut them down earlier in this series, another one of their dominant seasons will end bitterly.
It might be their biggest disappointment yet.