San Francisco 49ers condemn racist messages sent to Arizona Cardinals' Budda Baker
SANTA CLARA, Calif. — The San Francisco 49ers publicly condemned the person who sent racist messages to Arizona Cardinals safety Budda Baker and announced that they have begun an investigation into identifying the fan.
Baker took to Twitter on Monday afternoon to share screenshots of direct messages he received on Instagram from someone who harassed him with a variety of racial slurs. Along with screenshots of the messages, Baker wrote "I'm all good with opposing fans talking trash but this right here man. All you can do is pray for people like this."
The Niners issued a statement on Tuesday afternoon, condemning the person who sent the messages and made it clear they would no longer be welcome at their games or events.
"The San Francisco 49ers unequivocally denounce the racist messages sent to Budda Baker. The individual who sent the messages does not represent the 49ers or the Faithful. Per team policy, we are working to identify this person and will ban them from all 49ers games and events.
"Incidents like this demonstrate how much work remains to be done to address racism and hate in our society. We remain steadfast in our commitment to that work."
Niners chief executive officer Jed York echoed that message via Twitter, writing "Sadly, these incidents occur far too often. Permitting these individuals to go unchecked allows racism and hate to spread. I urge other teams in the world of sport to consider our policy of banning those who seek to tear others down with racial slurs and threats of violence."
The person in question seemed to be blaming Baker for Niners tight end George Kittle's sprained left knee. Baker delivered a hit to Kittle's legs on a ball thrown too high by quarterback Jimmy Garoppolo late in the second quarter of Arizona's 24-20 win against the Niners on Sunday. The fan accused Baker of trying to go after Kittle's knees.
After missing a snap, Kittle returned and finished the game. He defended Baker on Tuesday afternoon, posting a photo of he and Baker in game action with the caption "Nothing but respect 32 [Baker's jersey number]! See you down the road." Baker responded to Kittle's post with "Always Respect Bro."
Kittle and Baker, who both entered the league in 2017, have had a series of hotly contested matchups over the past few seasons, but Kittle said last week that he and Baker have enjoyed a friendly rivalry and even were among the first to text each other when each received a lucrative contract extension before the season.
"We have a mutual respect for each other," Kittle said on Sept. 10. "Budda is a hell of a football player. … I love watching Budda play. He's a monster. He's all over the field. … We compete at a very high level, we have a lot of intensity, and we both love the game of football. What more do you want in a matchup?"
New England Patriots coach Bill Belichick's mother dies at 98
New England Patriots coach Bill Belichick's mother, Jeannette, died of natural causes Tuesday in Annapolis, Maryland, a club spokesman confirmed. She was 98.
Jeannette and Steve Belichick met at Hiram College in the 1940s, where Jeannette taught Spanish and French, and Steve was a coach. They married in August of 1950, and Bill was born in 1952.
In 2015, Bill Belichick made a donation to Hiram College, located in Hiram, Ohio, to honor the legacy of his parents in the areas of campus life upon which they made a lasting impact.
The Jeannette Munn Belichick '42 Endowed Fund was created to provide support to the school library in purchasing books and other resources related to foreign languages. In addition, the Jeannette Munn Belichick '42 Reading Room named the space on the first floor of the school library.
Steve Belichick died in 2005 at 85. At Hiram, there is now the Coach Steve Belichick Olympic Training Center.
The Belichicks raised Bill in Annapolis, where the Patriots coach received the first-ever key to the city earlier this year.
Sources — Saints expect WR Michael Thomas to miss game vs. Raiders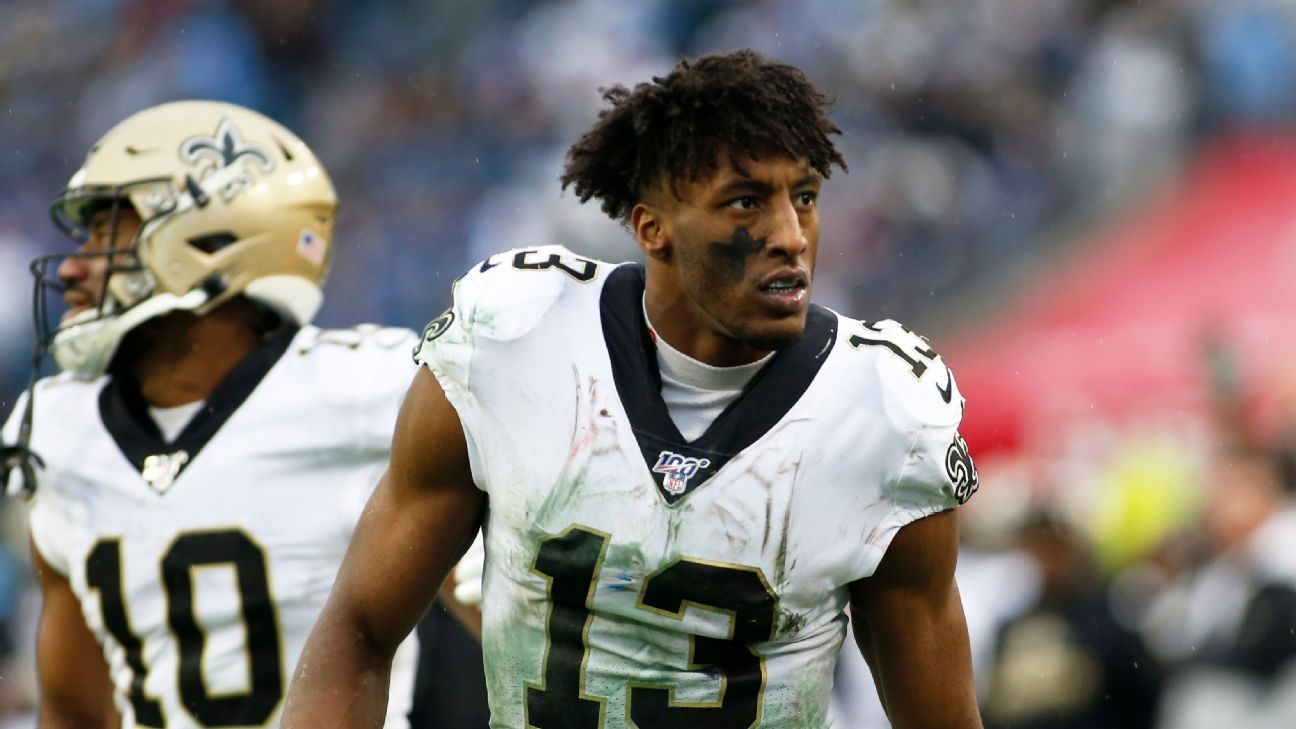 METAIRIE, La. — Michael Thomas' status is "week to week" after the New Orleans Saints' wide receiver suffered a high ankle injury in the final minutes of Sunday's win over the Tampa Bay Buccaneers, sources told ESPN.
The Saints expect Thomas to miss their game against the Las Vegas Raiders on Monday Night Football, sources said, because high ankle sprains typically sideline players for three to four weeks.
However, Thomas is not convinced he will miss time and hopes to come back as soon as possible.
The Saints have discussed the idea of placing Thomas, 27, on injured reserve — which would sideline him for at least three weeks — but Thomas has opposed the idea because he hopes to return sooner, sources said.
Thomas has missed only one game due to injury in his career — as a rookie in 2016. His absence would leave a huge void in New Orleans' offense; Thomas just set the NFL record with 149 catches last season for 1,725 yards and nine touchdowns.
However, the Saints did just beat Tampa Bay 34-23 on Sunday despite Thomas having his quietest statistical output in three years (three catches for 17 yards). Thomas limped off the field just before the two-minute warning in the fourth quarter after having his leg rolled into by running back Latavius Murray. The Fox broadcast showed Thomas standing on the sideline shortly afterward with no wraps or ice.
Despite the victory, both Saints coach Sean Payton and quarterback Drew Brees described their performances as "awful," vowing to have cleaner offensive outputs going forward. That could become a more daunting task now, however.
If Thomas misses time, the Saints' offseason signing of veteran wide receiver Emmanuel Sanders will become even more vital. Sanders caught three passes for 15 yards and a touchdown in his Saints debut Sunday. Running back Alvin Kamara, tight end Jared Cook, quarterback/tight end Taysom Hill and receivers Tre'Quan Smith, Deonte Harris and Bennie Fowler could all play bigger roles in New Orleans' passing game as well.
Brett Favre takes issue with Bucs' Bruce Arians publicly calling out Tom Brady
TAMPA, Fla. — Pro Football Hall of Famer Brett Favre took issue with Tampa Bay Buccaneers coach Bruce Arians' postgame comments about Tom Brady that he perceived to be critical and believes could possibly be detrimental to Brady.
"Getting to Bruce Arians' comments, true or not, I think the last person you want to call out after the first game of the year is Tom Brady," Favre said Tuesday on "The SiriusXM Blitz with Brett Favre and Bruce Murray." "Now, maybe they had a mutual truce going into the game, going into the season, 'Hey, I'm going to be hard on you. I want the guys to know we're going to treat you the same even though technically I'm not, so are you OK with it?' If they have that truce, great. If not, I think you are barking up the wrong tree.
After the game, Arians was asked about Brady's two interceptions. He responded, "One was a miscommunication between he and Mike [Evans]. He thought Mike was going down the middle — it was a different coverage — Mike read it right. He should have been across his face, but Tom overthrew it.
The other one was a screen pass with an outlet called. He threw the outlet and it was a pick-six. Bad decision."
Arians corrected himself Monday, saying Evans was actually at fault for the first interception. But Favre still took issue.
"Dissension could easily enter quickly," said Favre, who has a unique perspective, having spent 16 seasons with the Green Bay Packers before going to the New York Jets in 2008 and Minnesota Vikings from 2009 to 2010. "Maybe the Saints didn't do anything that they were not ready for other than we didn't protect very well, Tom gets hit a couple of times, you get a little jittery, it happens."
"First half of the Super Bowl against the Falcons he was getting nailed, played lackluster at best. They went in, had a come-to-Jesus at halftime, they don't even come close to touching him in the second half and he's flawless. So they clean up the protection, the timing, the chemistry will come. Will it come overnight? I highly doubt it, but it will come pretty quickly, though, and they very easily could be 4-1 after five weeks."
After facing the defending NFC South champions, the Bucs take on the Carolina Panthers at home this week, followed by the Denver Broncos on the road in Week 3, the Los Angeles Chargers at home in Week 4 and at the Chicago Bears in Week 5 on Thursday night. Those teams after Week 1 are a combined 2-2 but finished 25-39 last season. The Panthers, however, have made wholesale changes to their organization, hiring Matt Rhule as their new head coach and bringing in a new quarterback in Teddy Bridgewater.
"Tom's performance was not what we've come to expect from him, but I'll say this, it wasn't far off," Favre said. "[After] the first drive, I think most people said, 'Well, he hasn't missed a beat. That's typical Tom.' I was a little bit surprised at how he started. I was not surprised with how the rest of the game unfolded. New team. He's been in a familiar environment forever."
"And then all of a sudden not only is he with a new team, football in itself is totally different right now. No preseason. Yeah, we saw, we heard where he was getting some kind of workout in, whether it be virtual or in the parking lot. But, look, it's not even close to the equivalent of real bullets. And they protected OK. Tom, you know, if you protect him he's gonna pick you apart, I don't care if it is new receivers or not. And it just wasn't typical protection. I'm not blaming the line, I'm not blaming Tom Brady."
The biggest issue for Favre, though, was Arians pointing out Brady's mistakes publicly, although that's nothing new for Arians, who doesn't care much for coach-speak and is much more apt to speak freely and say what's on his mind. He called out Carson Palmer when they were with the Arizona Cardinals, too, saying after a come-from-behind 16-13 win over the Indianapolis Colts in 2017, "The quarterback has to play better. Simple."
Arians did the same to Calais Campbell after a career-high three-sack performance against the Seattle Seahawks, saying, "He could play better," Arians said. "He had potential for a five-sack day. Three sacks is nice when it comes to sacks, but he's a better player than that."
He called out the entire Cardinals receiving corps in 2017. He said last training camp that a few players "crapped their pants in pads." After the final game of the 2019 season, he said of Jameis Winston, "We can win with him. We can definitely win with another one, too." And this year, he called out Rob Gronkowski for his lack of conditioning during camp.
But Favre believes in the unspoken rule of a coach not publicly criticizing his quarterback.
"Bruce Arians is the head coach, he's gonna do it the way he wants to do it — and I'm not saying that it's right or wrong — but what's happened in New England for so many years is that it worked," Favre said. "And I'm not saying that it's the right formula, but it certainly is one of the right formulas. I just don't see any good that comes out of calling your quarterback out.
"And we're not just talking about a quarterback — we're talking about the biggest acquisition maybe in football history. I don't care if he's 43, or 33 or 21. Say collectively, 'We've gotta play better, from quarterback to kicker, we've gotta play better, we've gotta coach better. In order to get where we want to go, that's what we're gonna have to do.' And leave it at that."