Dallas Cowboys RB Ezekiel Elliott shows off 'Feed Me' tattoo on stomach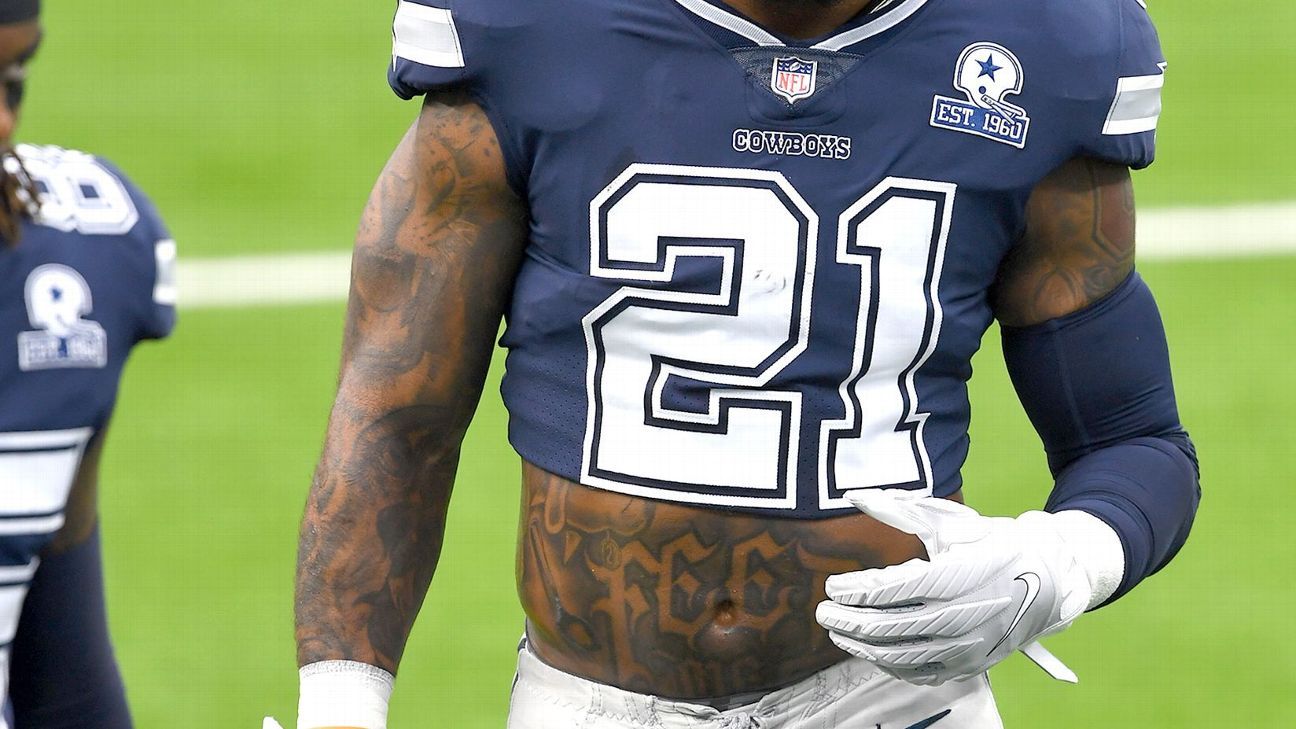 FRISCO, Texas — Ezekiel Elliott has not been shy about showing off his midriff.
He did it at Ohio State. He famously walked on the red carpet before the 2016 NFL draft with his dress shirt tucked up. And now he has added a tattoo to his midsection.
After scoring a touchdown against the Los Angeles Rams in the season opener, Elliott lifted up his jersey to show off a "Feed Me," tattoo, complete with a spoon.
"That's my brand, Feed Me," Elliott said Wednesday.
He started making the gesture after big runs during his rookie year, and it has been a staple for Elliott since.
He got the tattoo in Dallas shortly before training camp started. While he had the idea for the tattoo, he let the Dallas artist take care of the design.
Oh, and the location of this one hurt more than his other tattoos.
"It was super painful," Elliott said. "I think like the next day we went and threw at [Dak Prescott's house], and it was all swollen and puffy. It was awful. Not going to lie, it was painful. But happy with the result."
His mother, Dawn, did not seem to be a fan of the new ink when asked on Twitter.
— Momma, Mom & Mommy (@itz_mizdee) September 14, 2020
The running back thought differently Wednesday.
"At this point, my mom is like over getting mad at me for getting tattoos," Elliott said. "Now she's coming around to them."
The team certainly seems to succeed when Elliott is fed. The Cowboys are 22-4 when he rushes for more than 100 yards in a game.
Wide receiver Michael Gallup likes the tattoo and the message.
"Feed him. Don't see why he wouldn't, but it ain't too bad," Gallup said. "Zeke's always coming up with something funny to get everybody going. For him to get that new tattoo, lift it up when he scores, he's just telling you plain and simple, just feed him."
Said defensive end DeMarcus Lawrence, "I mean, I got kids, so I wouldn't say I approve it, but it's a dope tattoo. As long as he takes care of it, they keep feeding him and he get the touchdowns, I ain't got no problem with the tattoo."
Follow live: Raiders' Gruden searching for first win vs. Belichick's Patriots
San Francisco 49ers lose TE Jordan Reed, CB Emmanuel Moseley vs. New York Giants
Add two more key players to the San Francisco 49ers' ever-expanding list of injuries.
Tight end Jordan Reed (knee, ankle) and cornerback Emmanuel Moseley (concussion) suffered injuries in the first half of the team's game against the New York Giants on Sunday. The team ruled Reed and Moseley out for the rest of the game at halftime.
Reed suffered an apparent left leg and ankle injury with 1:13 left in the first when he attempted to drag his feet in the back of the end zone on a throw from quarterback Nick Mullens. Reed was unable to make the catch and immediately grabbed for his left leg as he tumbled to the ground. Reed's departure left Ross Dwelley and Charlie Woerner as the Niners' only healthy remaining tight ends.
Moseley's injury happened on the first play of the second quarter as he and safety Jaquiski Tartt converged on Giants quarterback Daniel Jones after a 19-yard run. Tartt and Moseley collided with Moseley taking the worst of it. Dontae Johnson replaced Moseley.
The loss of Reed and Moseley only added to San Francisco's lengthy list of injury issues. Defensive end Dee Ford (back), quarterback Jimmy Garoppolo (ankle), linebacker Dre Greenlaw (quadriceps), tight end George Kittle (knee) and running back Raheem Mostert (knee) were all pregame inactives after suffering injuries last week against the Jets, a game also played at MetLife Stadium.
The Niners are also without running back Tevin Coleman (knee), receiver Richie James Jr. (hamstring), receiver Deebo Samuel (foot) and cornerback Richard Sherman (calf), all of whom are on injured reserve but expected to return in the coming weeks.
Defensive end Nick Bosa, defensive tackle Solomon Thomas and wideout Jalen Hurd are all out for the season with torn anterior cruciate ligaments.
NFL Week 3 arrivals – Best entrances, outfits, cleats and more
Week 3 of the 2020 NFL season is here. The tributes to Kobe Bryant continue in Philly, while the long-awaited Watt brothers family reunion in Pittsburgh produced some fun candid shots. And other players around the league continue to impress with their fashion choices on the way into the stadium.
Here's our roundup of the best pregame threads, entrances, scenes from the field and more.
The Week 3 NFL schedule features some exquisite matchups, capped off with a monster on Monday Night Football, as the Kansas City Chiefs square off with the Baltimore Ravens. Our NFL Nation reporters bring us the keys to every game, a bold prediction for each matchup and final score picks. Check out ESPN's NFL Week 3 game guide.
More: Sunday's fantasy football inactives: Who's in and who's out?
---
Best arrival looks
Philadelphia Eagles wideout DeSean Jackson pays tribute to the Black Mamba with his pregame look:
8 x 24 🐍@DeSeanJackson10 | #FlyEaglesFly pic.twitter.com/EBjcsBvB4c

— Philadelphia Eagles (@Eagles) September 27, 2020
Myles Garrett and Baker Mayfield are stylin' and profilin' before their game against Washington:
Time to clock in 💼#WASvsCLE pic.twitter.com/HnKdNPG0K9

— Cleveland Browns (@Browns) September 27, 2020
Look good, play good. Tennessee Titans safety Kevin Byard and Houston Texans linebacker Jacob Martin rock two of the best shirts we've seen this season:
Byard ready for business 🔒 @KB31_Era | #TENvsMIN pic.twitter.com/Mt37KOuNL4

— Tennessee Titans (@Titans) September 27, 2020
💧Gameday fresh 💧#HOUvsPIT | #WeAreTexans pic.twitter.com/g17DhVvt5J

— Houston Texans (@HoustonTexans) September 27, 2020
Denim never goes out of style, as Los Angeles Rams defensive back John Johnson III knows:
.@iamjohnthethird in the house. pic.twitter.com/5rRP2qtBXl

— Los Angeles Rams (@RamsNFL) September 27, 2020
---
Best brotherly reunion
For J.J., T.J. and Derek Watt, Sunday's Pittsburgh Steelers-Houston Texans game is all about family:
The progress of a Watt family photo 😂#HOUvsPIT pic.twitter.com/8JRkoAhuH6

— Houston Texans (@HoustonTexans) September 27, 2020
The group chat but IRL. pic.twitter.com/xsMxNgQozw

— Houston Texans (@HoustonTexans) September 27, 2020
---
Best pregame cleats
Carolina Panthers QB Teddy Bridgewater represents Neighborhood of Hope Dealer on his cleats.
Teddy B #KeepPounding pic.twitter.com/ULd0yuLEm0

— Carolina Panthers (@Panthers) September 27, 2020
Cam Newton never disappoints with his sartorial splendor, and his Week 3 pregame cleats are no exception:
Universes collide.@CameronNewton's pregame cleats. pic.twitter.com/aVM7k7dPZ2

— New England Patriots (@Patriots) September 27, 2020
---
Best cardboard cutouts in the stands
With limited fans at Empower Field at Mile High Stadium, there certainly is "ample parking day or night":
Happy gameday, friendly neighbors!@SouthPark | @ComedyCentral pic.twitter.com/06JepLZnI3

— Denver Broncos (@Broncos) September 27, 2020
---
Best pregame drills
Eagles assistant head coach/running backs coach Duce Staley gets his players ready for the Bengals:
Duce bringing the intensity.#CINvsPHI | #FlyEaglesFly pic.twitter.com/gXXRr2ptXQ

— Philadelphia Eagles (@Eagles) September 27, 2020
Look out!
OBJ coming straight into your living room 😤 @obj @Browns pic.twitter.com/ftCuDdsvBn

— The Checkdown (@thecheckdown) September 27, 2020
---
Best new addition to the Giants' locker room
With Saquon Barkley sidelined, Big Blue has boosted its backfield with Devonta Freeman:
First day at the office 💼 @devontafreeman | #TogetherBlue pic.twitter.com/IfzlZExF3J

— New York Giants (@Giants) September 27, 2020
---
Best of the rest
Ready. pic.twitter.com/KSkvD0NkYV

— Arizona Cardinals (@AZCardinals) September 27, 2020
Stylin' on Sunday 🌟 #DALvsSEA | #DallasCowboys pic.twitter.com/6dmYwiUdt1

— Dallas Cowboys (@dallascowboys) September 27, 2020
⏰'ed in.#CHIvsATL | #DaBears pic.twitter.com/XjZahBqiZp

— Chicago Bears (@ChicagoBears) September 27, 2020
📍We have arrived pic.twitter.com/leDBOiQKRg

— Washington Football Team (@WashingtonNFL) September 27, 2020
Clocking in 💼@JamesWashington | @joehaden23 | @Bud_Dupree pic.twitter.com/3CYEuSItoq

— Pittsburgh Steelers (@steelers) September 27, 2020
Sunday morning attire.

More 📷s: https://t.co/jjtI7iQfkx pic.twitter.com/haGbnuGV37

— New England Patriots (@Patriots) September 27, 2020