Inside new NFL roster rules for 2020
The 2020 NFL season is about to start, which, for those of us who feel we've spent the past eight months writing about nothing but collective bargaining agreement talks and COVID-19 protocols, is a startling realization.
Don't get me wrong — I'm as excited about the start of actual football games as you are, if not more. It has always been my wish to eventually transition back from reporting on contracts and side letters and negotiations to reporting on touchdowns and tackles and wins and losses.
But there was a lot that changed this offseason, first with the new CBA the players and teams agreed to in March and then with the new, 2020-specific rules brought on by the COVID-19 pandemic. Now that the season is starting, you're going to see a lot of roster movement that you haven't seen in past years. Changes to the sizes of game-day rosters and practice squads and the way players are moved on and off rosters will be a big part of this season.
So, as we get ready to kick things off with the Chiefs and Texans on Thursday night and the rest of the league on Sunday and Monday, we thought we'd offer a quick refresher on some of the changes. Some of these are CBA changes that were in place back before we knew there would need to be COVID-19 protocols. Others are directly tied to the league's efforts to execute a full season during the pandemic. We'll help you keep track of which is which, and please feel free to bookmark this story for reference during the season — it could get confusing:

Expanded rosters
New CBA rule: Starting this season, game-day active rosters, which used to be limited to 46 players per team, can include up to 48 players, provided that at least eight of those 48 are offensive linemen. (If not, the game-day roster size is limited to 47 players.)
New CBA rule: Additionally, according to the new CBA, a team can carry up to 55 players on its roster during the week — up from 53 in past years — by elevating one or two players from its practice squad before 4 p.m. ET on the day before that team's game. This will allow teams a larger pool from which to select their 47 or 48 game-day active players. Any player elevated from the practice squad for this purpose will immediately revert to his team's practice squad on the day after the game.
No player may be activated under this rule for more than two games per season, either regular-season or postseason games. If a player has already been elevated twice under this rule, and the team wants to add him to the roster, it must terminate his practice-squad contract and sign him to an NFL contract, as has been the case with practice-squad players in years past.
Expanded practice squads
Combination of new CBA rules and COVID-19 rules: The new CBA expanded the size of practice squads from 10 players per team to 12 for the 2020 and 2021 seasons, and to 14 players per team beginning in 2022. However, for 2020 — and for 2021 if any COVID-19 protocols remain in place for that season) — practice squads can include up to 16 players per team. Of those 16, as many as six can be players with more than two accrued seasons in the NFL. The new CBA allowed for two practice-squad players per team with an unlimited number of accrued seasons, but the COVID-19 amendments expanded that number to six.
COVID-19 rule: After 4 p.m. ET on the Tuesday of a game week (not a bye week), a team may designate up to four of its practice squad players as "protected," meaning they are not allowed to sign with another team until after their current team plays its next game.
Replacing players on the reserve/COVID-19 list
COVID-19 rule: The NFL has instituted a reserve/COVID-19 list for 2020, which is for players who either test positive for the coronavirus or have been potentially exposed to someone who has had it. A player who tests positive for COVID-19 will be eligible for placement on this list whether he is symptomatic or not. The league will administer COVID-19 tests to players and other essential employees every day of the regular season except game day.
To replace that player during the week, the team is allowed to make any move it wants: sign a free agent, sign a player from its or another team's practice squad or elevate a player from its own practice squad as outlined above.
COVID-19 rule: If a team learns after 4 p.m. ET on the day before a game that a player has to be placed on the reserve/COVID-19 list, either because of a positive diagnosis or need for preventative quarantine, that team may elevate a player from its practice squad to replace that player at any time up to 90 minutes before scheduled kickoff. Any elevation under this rule would not count as one of the two elevations we referenced at the end of our "expanded rosters" section above.
Injured reserve
COVID-19 rule: In 2020, a player going on injured reserve is allowed to return after missing only three weeks, and teams may return an unlimited number of players from injured reserve throughout the year. In a normal year, a player can't return from injured reserve unless he has missed at least six weeks' worth of practice and eight weeks' worth of games, and teams are limited to two players per year that they can return from injured reserve.
This year, a player on injured reserve can return to practice after three weeks. Once a team activates a player from injured reserve, it has 21 days to return him to the active roster. Reserve/COVID-19 is separate than injured reserve. Players on that list may return whenever they clear the testing protocol.
Accrued season calculation
COVID-19 rule: In 2020, any player who is on a team's Week 1 roster will receive one accrued season as long as he is on full-pay status for at least one regular-season game. In a normal year, the CBA specifies that a player must be on full-pay status for at least six regular-season games in order to accrue a full season toward free agency.
Players must have at least three accrued seasons to be eligible for restricted free agency and at least four to be eligible for unrestricted free agency. So for someone like, for example, Saints running back Alvin Kamara, who has three accrued seasons and one year left on his deal, this rule would allow him to be an unrestricted free agent next March instead of a restricted one, provided he was on full-pay status for at least one game.
Player pay for a canceled season
COVID-19 rule: Now that the final roster cutdowns have taken place, if the season is cancelled at any point, any player on a roster at the time of cancellation will receive a $300,000 stipend — offset by any salary earned to that point — and his regular NFL player health insurance for the year. What do we mean by "offset?" Well, if a player has earned $500,000 in salary before the season is canceled, he wouldn't get a stipend. If he has earned $150,000 before the season is canceled, he'd get a $150,000 stipend. If the season is canceled before he has earned any money, he gets the full $300,000.
Practice-squad players are subject to the same rule, except their stipends would be $100,000 minus whatever they had already earned.
Washington Football Team rookie Chase Young ruled out with groin injury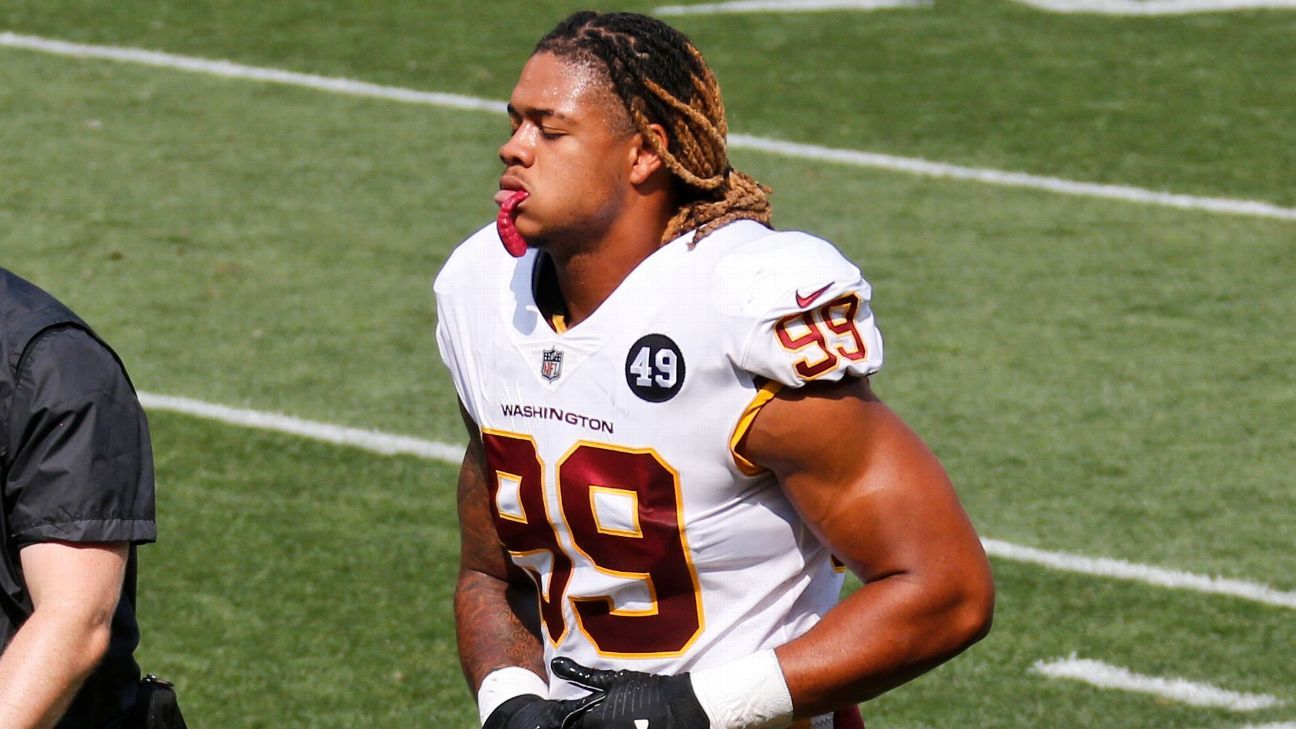 Washington Football Team rookie defensive end Chase Young left the team's 34-20 loss to the Cleveland Browns on Sunday in the second quarter with a groin injury.
It wasn't what Washington needed in a game it could have won; nor is it what it needs with the Baltimore Ravens up next.
Washington coach Ron Rivera said both Young and defensive tackle Matt Ioannidis will get checked out Monday to determine the extent of their injuries. Ioannidis left the game in the first half with an arm injury.
Washington hosts Baltimore next week. The team doesn't want to lose Young for any game, but especially not one that pits it against a quarterback such as Lamar Jackson.
Young, the No. 2 overall pick in the April draft, had been what Washington hoped for in the first two games — recording 2.5 sacks and playing the run well.
Young returned to the sideline in the second half Sunday, with his right thigh heavily wrapped. Instead of delivering hits on the field late in the game, he was reduced to giving pep talks to quarterback Dwayne Haskins. Haskins had thrown three interceptions in the game; he said Young told him Young would still root for him even if "we were down 40."
"Chase is a high-level-energy guy out there," Rivera said. "He's a guy who helps spark the organization."
Which is why it would be bad if he had to miss any time. Washington's strength is its defensive line — and the depth it boasts. On Sunday, though, without Young and Ioannidis for most of the game, Washington was reduced to only six linemen.
"The hard part is you can't keep guys as fresh as you'd like them, and you're constantly exposed," Rivera said. "Our D-line played their butts off and gave us a chance, but eventually it wears you down, and that's what happened."
Defensive end Montez Sweat had a big day minus Young, recording a sack and four of Washington's five hits on Browns quarterback Baker Mayfield. Sweat forced him into an intentional grounding, as well.
"Montez showed us he's a force to be reckoned with," Rivera said.
But losing Young hurt, particularly his athleticism on the edge.
Young rushed Mayfield on a third-down play early in the second quarter. At the end of the play, Young appeared to be slightly affected by his leg. He walked to the locker room, where, according to the Fox broadcast, it got worse and he was quickly ruled out.
Washington does have veteran Ryan Kerrigan to replace Young. Young missed time in camp with a hip flexor.
Washington also has depth inside with Daron Payne, Jonathan Allen and Tim Settle, but Ioannidis is one of its better pass rushers. He has 1.5 sacks this season after recording 8.5 last year.
"You definitely notice it," said Washington corner Kendall Fuller of losing two linemen. "We also have that next-man-up mentality."
Follow live: Prescott, Cowboys face off against Wilson, Seahawks in Seattle
Cardinals' Kyler Murray stutter steps past Lions' defense for TD
GLENDALE, Ariz. – Kyler Murray took the snap from under center at the 1-yard-line and hid the ball with his left hand. Then the Arizona Cardinals' second-year quarterback took off to his left on a designed run, rolling out of the pocket with a burst of quickness. He switched the ball to his right hand just before facing up with Detroit Lions rookie cornerback Jeff Okudah.
First, Murray hesitated.
Then he juked outside.
Then he juked inside.
Then he cut back outside, leaving Okudah grasping for air, before beating Lions safety Duron Harmon to the corner for a diving touchdown, that put the Cardinals ahead briefly, 13-10 on Sunday. That was the eighth career rushing touchdown, tied with the Texans' Deshaun Watson for the second most by a QB since Murray debuted last season (the Bills' Josh Allen leads with 11).
How? Just…. how?@K1 with another insane juke for the score.

📺 #DETvsAZ on FOX pic.twitter.com/XrjyyPJrc3

— Arizona Cardinals (@AZCardinals) September 27, 2020