How top MLB closer Liam Hendriks channeled his inner dragon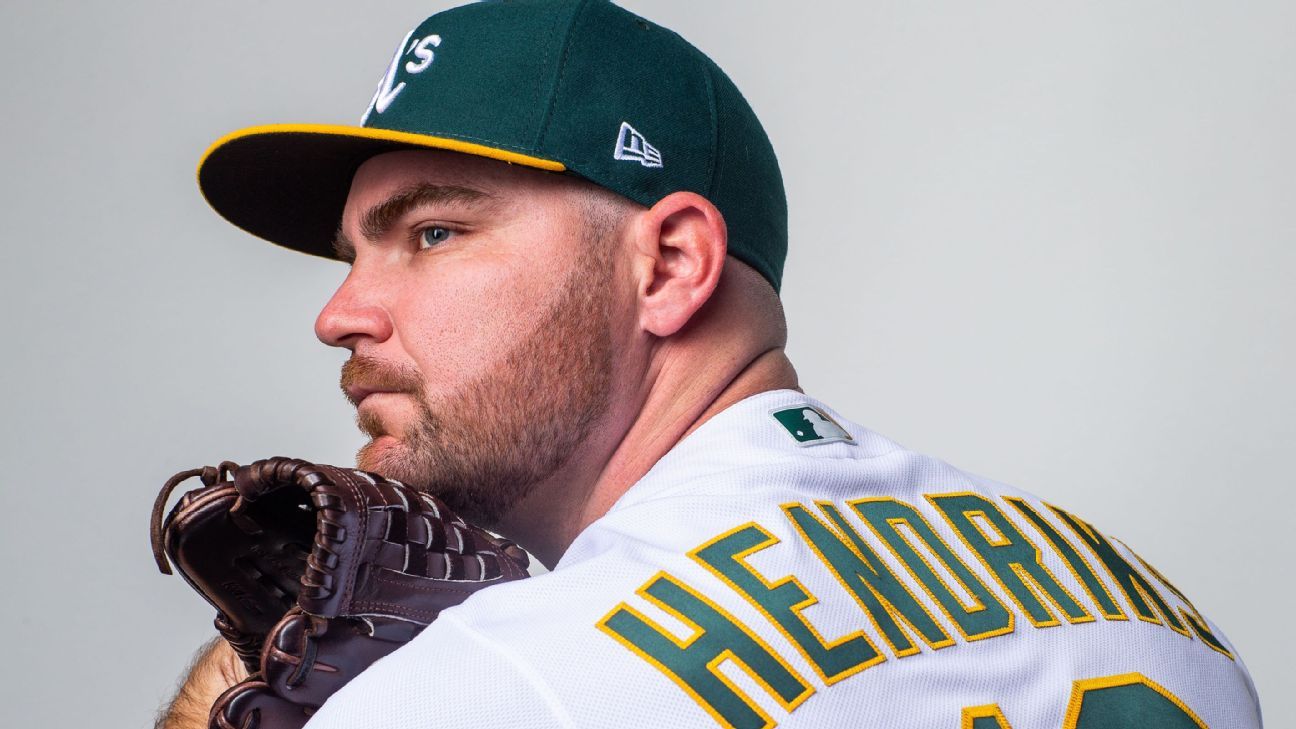 If you spend time with Oakland Athletics pitcher Liam Hendriks, you will quickly notice one thing: he likes to talk. And when he has a venti Starbucks in hand — possibly his third or fourth of the day — it's hard to get him to stop talking. It's a personality trait not lost on his fellow bullpen pitchers.
"He can talk a long time," Jake Diekman said.
"It's never a quiet room when Liam is in the room," Chris Bassitt added.
"I don't think that guy stops talking," A's bullpen coach Marcus Jensen says of Hendriks. "He's a good conversationalist. I don't think there's anything that he's not aware of or doesn't have a comment on."
Touring the Phoenix Zoo on an early March spring training off day with Hendriks and his wife, Kristi, the pitcher's commentary focused on his love of animals as well as the wildfires that had ravaged his native Australia. He and Kristi had donated money and resources toward Australian aid while following updates from his family. His sister's fiancée, a firefighter in Perth, had almost been called to the fire's front lines.
At the time, the wildfires felt like the worst disaster the world might face in 2020. Despite rumors of potential coronavirus-induced sports disruptions, the virus felt far away. No one had any idea what was to come: the abrupt halt of spring training a week later; the rapid spread of COVID-19; the killings of Breonna Taylor, Ahmaud Arbery and George Floyd; the Black Lives Matter marches and movements; the call for an end to police brutality and systemic racism; and the indefinite pause to Hendriks' career — and those of so many other athletes — until the abbreviated MLB season resumed in July.
In early April, Kristi and Liam donated meals to 100 Oakland Police Department workers as well as officers in the nearby Alameda department and several fire stations. They filmed a message of thanks for essential workers during the COVID-19 crisis, which had deeply impacted them. Kristi and Liam's wedding DJ, a close friend for years and a young father, died in April of COVID-19 complications.
These tragedies and the social upheaval, however, have only strengthened Hendriks' resolve to talk — having the tough conversations and making a difference with those to whom he speaks.
"I am in a position where I can affect people in a positive or negative way, and I want it to be positive," Hendriks said of his platform. "I'm not one to be quiet about things. I'm making sure I'm informed by talking to people — and making sure I have the right attitude toward everything."
Attitude and mindset are what Hendriks brings while anchoring the A's bullpen. After a brief 2020 debut hiccup, the A's closer has picked up where his 2019 campaign left off, contending for the major league lead in saves with Oakland sitting in first place in the American League West. He was named AL reliever of the month for July/August.
"Silence doesn't equal change," Hendriks says. "This is the first time I can remember that is actually forcing people to step back and realize, you need to come out and be very vocal and use this platform to make change. This is the time where we need to speak up."
Growing up in Perth, Hendriks' father was a school principal and his mother a substitute teacher, a combination that cultivated in Hendriks a lifelong love of reading. His voracious appetite for stories served as an escape for a child who often was bullied at school.
"I wanted to be part of the cool kid group, but I never really got to that point," says Hendriks, who says he can speed through several novels in a week. "It was very hard. Reading was somewhere to use as an escape."
His other escape was sports. A naturally gifted athlete, Hendriks played baseball to remain active and stay outdoors. At 12, he was cut from his first state baseball team. A year later, he tried out for the under-14 team, vowing that if he were cut again, he'd abandon baseball and pursue cricket. He made the roster and was selected to train at the Western Australian Institute of Sport.
"It just kind of evolved," Hendriks says. "As I got older, I realized I was pretty good at [baseball], and it stuck with me." He did consider pursuing Australian Rules Football, which his father had played professionally. After two knee surgeries — for baseball injuries, not Aussie football — he decided baseball might nevertheless be safer, injury-wise. The Minnesota Twins signed him to a professional contract on his 18th birthday.
In 2007, Hendriks began his pitching career with the Gulf Coast League Twins, finishing 4-2 with a 2.05 ERA and a team-leading 52 strikeouts. As his minor league career progressed, Hendriks earned accolades at every level — being named to the Futures Game in 2010. He was the Twins' 2011 Minor League Pitcher of the Year and earned a September call-up.
"That was my career-defining year where I was like, 'OK, I can do this,'" Hendriks says. "There's no going back — I'm all in."
But as a starter, he struggled. By December 2013, Hendriks was designated for assignment and claimed off waivers by the Toronto Blue Jays. Hendriks toggled between Triple-A and the major league club before being traded in July to the Royals, where he rode the shuttle between Triple-A Omaha and Kansas City. He was designated for assignment again in late October. "I was 26. I didn't know how much longer my career was going to last," Hendriks says.
In 2015, Toronto gave him another shot. But this time he would pitch out of the bullpen. It was an adjustment. All the while, Hendriks relied on his love of reading to cope with the adversity.
Hendriks rejoined the Blue Jays and posted a 5-0 record with a 2.92 ERA, culminating with a dominating performance in Game Four of the 2015 ALCS in which Hendriks pitched 4⅓ scoreless innings and got 13 outs against the last 12 batters, breaking an 85-year-old playoff record. Although Toronto ultimately lost, Baseball Australia named Hendriks the Male Player of the Year for his performance.
Two months later, Toronto traded Hendriks to Oakland, where he came out of the bullpen but wasn't having consistent success. For another two seasons, he bounced between Triple-A and the majors. By the end of 2018, rising self-doubt led to questions about whether this really was the end of his baseball career.
"Something wasn't letting me get to my full potential, to have that aura of confidence," Hendriks says. "So, I scrapped everything everybody had told me and thought, 'What did I do when I was successful?'"
He and Kristi sat down to analyze his approach, mentally and physically. "I'm in Triple-A, and I'm not where I think I should be. But I'm not going to sit and dwell on that fact. I'm going to go out there and pitch like a man on fire."
With a reignited mental approach on the mound, he kept his mind occupied off of it, immersed in fictional works of science fiction and fantasy.
"[Reading] helps me not to think," Hendriks says. "It's an escape from the daily grind of scouting reports, who's this guy, what's he done against me in the past? That escape has gotten me to relax on the mound a little bit as well."
One of Hendriks' favorites is "Eragon," the first book of Christopher Paolini's four-part series. The main character is a farmer's son who is unsure of his path in life. But by book two, he is one of the most powerful people in the world, "because, well, he has a dragon now," Hendriks says. "But it's not only because of the dragon — it's the fact that he started truly believing in himself — and the abilities that he had."
By the end of 2018, he had amassed a 3.20 ERA over 25 innings in Triple-A. Hendriks was called up to Oakland on Sept. 1, pitched 24 innings with a 4.13 ERA and served as Oakland's starter in the 2018 AL wild-card game. Hendriks became the first Australian to start an MLB postseason game.
"That's the confidence you need — to have that thing where nobody's too big, nobody's better than you, and going out there and proving it," Hendriks said. He started throwing more long toss, retooling his training.
"All of a sudden I saw a change, where he would be excited again for the big outs and for the not-so-big outs," Kristi says. "Just to get the outs, it was a whole change of pace. I was like, 'Get a little bit of white-line fever when you're out there, but you're very docile and normal outside of that. That's awesome. Be those two people. This is where you can have a split personality, and it's totally OK.'"
That mentality carried into 2019. Taking over as the A's closer in late June after Blake Treinen was injured, Hendriks finished with an ERA of 1.80 over 75 games. He amassed 25 saves, striking out 124 batters over 85 innings, while improving his strikeout rate from 21.2% to 37.4%. His fastball averaged 96.8 mph, and his slider became his second dominant out pitch. Hendriks earned his first All-Star team appearance and All-MLB second team honors, and, as he pointed out, was the only Australian player to spend the entire 2019 season in the big leagues.
"Going from a starter, understanding what you need to do as a reliever — the long relief, short relief, and then the most prominent role in a bullpen, which is closing … he took to it about as well as anybody I've seen that hasn't really done a whole lot of that," A's manager Bob Melvin says. "I think he was as effective as any closer the second half of last year in baseball."
A different kind of heat
Hendriks is a creature of habit. He follows the same throwing program each day: long toss, two of each of his pitches to his throwing partner, followed by two of each of his pitches to a bullpen catcher. Before every game, Hendriks either reads a book, builds with nanoblocks, completes a crossword or reads through his Codify heat maps.
The final step in his routine is one that Hendriks began at the start of the 2019 season. After learning about Codify from Treinen, who had used Codify during his career-best 2018 year, Hendriks reached out to Codify founder Michael Fisher, a financial-data analyst turned baseball-data analyst.
Hendriks says he loves studying maps, and was intrigued by Fisher's heat maps detailing specific data for players and their individual performances. Fisher, a longtime A's fan who resides in the Bay Area, sent Hendriks maps before each new series. Hendriks loved the specific data concerning spin rate, extension, velocity and more.
"He has been a tremendous help," Hendriks says of Fisher. "He has completely changed not only my career but given me a different way to look at things: I like looking at ways that I can get a guy out, not the way that the guy's going to look at getting a hit off of me."
And lest you think that Hendriks has gone full-bore scientific, this fantasy fan still believes there's some magic to his turnaround. He and Kristi regularly consult a tarot-card reader/healer, who has given him crystals and bracelets. One bracelet, which Hendriks positions in the middle, facing out, is decorated with skulls, a gift from Kristi.
"Whether it's a placebo or whether it actually works, it changes something up here for me," Hendriks says, pointing to his head. "And that's all I need."
In January 2020, Hendriks and the A's agreed to a one-year, $5.3 million deal, avoiding arbitration. Entering spring training, Hendriks was asked by media members if his preparation, now that he is a closer, was different. But he wasn't making that assumption.
"I finished the year as a closer, but who knows what's going to happen," Hendriks said. "I've had conversations with management saying, 'I don't want you to come out and tell me I am that guy. Because I still need to have that drive in myself, and if you tell me that, I'll get complacent.'"
"As long as you have that attitude, you'll stay motivated and you'll stay incentivized, which he does," Melvin says of Hendriks. "He's come a long way, both personality-wise and certainly performance-wise."
And books-wise. At the end of last season, he had amassed a book collection of more than 40 hardback and paperback works. He had to transport the novels back to his offseason home with Kristi in Florida. So this year? Standing in the A's spring training clubhouse on an afternoon in early March, with several books sitting on his locker's high shelf, Hendriks smiled. "This year, I've got a Kindle."
With the raised stakes of a shortened season in 2020, as well as a potential breakthrough contract following this year, Hendriks knows each performance is essential.
"This is an important year for me — I had my first real breakout year last year, coming into free agency at the end of this year, and no one knows what will happen now," Hendriks says.
Still, he chose not to stay quiet throughout the spring, with baseball paused and Black Lives Matter movements spreading nationwide following the killing of George Floyd.
"Kristi and I live in a world where everybody loves everybody, but we realized, we weren't doing enough," Hendriks says. "We saw that there's a lot we could've been doing, instead of sitting back and saying everything's fine."
He pointed to former NFL player Emmanuel Acho's Instagram series, Uncomfortable Conversations with A Black Man, which he called "phenomenal," as well as A's teammate Tony Kemp's +1 Effect campaign, through which he encouraged others to reach out to him to talk about race in America.
"This is how the word gets around — not trying to influence 50 people at once, but having that personal in-depth conversation with one person that can change their views on the world," Hendriks says. "People rallying behind this has been a huge force — and I'm glad it's forcing change."
Chicago Cubs' Alec Mills went from being a college walk-on to throwing a no-hitter
CHICAGO — You won't confuse Chicago Cubs right-hander Alec Mills with any of the flamethrowers in baseball, but perhaps you've seen his teammate — and 2016 ERA champ — Kyle Hendricks pitch. Mills is called a "baby Hendricks," and Hendricks is called a "baby Maddux" — a reference, of course, to Hall of Famer Greg Maddux.
The point is that these guys don't throw hard, but they still have success. And now Mills has done something neither of those other pitchers can claim: He has thrown a no-hitter.
Mills' 114-pitch gem against the Milwaukee Brewers on Sunday was a work of art, which is what any great game thrown by a soft-tossing hurler is called. He struck out only five batters, but his array of curveballs kept the Brewers off-balance just enough, and the former 22nd-round pick of the Kansas City Royals put his name in the history books.
"I'm very overwhelmed." Mills said after the 12-0 win. "Obviously, a once-in-a-lifetime type of thing. I'll always remember it."
He'll also remember his journey. Mills grew up in Tennessee and was a walk-on on at the University of Tennessee at Martin before he was drafted in 2012. He rose steadily in the minors, but having Tommy John surgery early in his career proved to be an obstacle.
"That's a big bump in the road," Mills said. "Mentally, it's tough to get over."
Spending parts of eight years in the minors was a journey itself, but Mills finally established himself with the Cubs after being designated for assignment by the Royals in 2017. Even then, he had to work his way onto the roster and into the rotation, filling a role when others failed or got hurt. Sunday was just his 15th career start.
"The one thing that stands out to me about Alec is that no matter what situation I've put him in this year, he's answered the expectations we've had for him," Cubs manager David Ross said.
After a dip in his performance earlier this month, Mills recovered in remarkable fashion, throwing the 16th no-hitter in franchise history. He did it the same way he moved up the rungs of the baseball ladder: methodically. On Sunday, he threw 62% fastballs, 20% curveballs and 12% changeups. It was nothing fancy and certainly nothing hard. His fastest pitch clocked in at 91 mph. Mills induced just five swing-and-misses, the fewest in a solo no-hitter since Dallas Braden's perfect game for the Athletics in 2010.
The mild-mannered, goggles-wearing Mills was asked if he ever had a low point in his career, when he thought he might not make it. He shook his head.
"I've always thought of things on the brighter side," he said. "I stepped up in the minors. Never was really stuck anywhere."
With the Cubs entrenched at the top of the NL Central, Mills might be "stuck" in the rotation come October. Only a few days ago, the Cubs weren't sure if they had more than two options to start a playoff game. After a Jon Lester gem on Friday and a stellar performance by Hendricks on Saturday, the Cubs might have more than enough pitching, with Mills staking his claim to a postseason start as well as the history books.
His manager, a journeyman himself, can appreciate where Mills has come from.
"Just a proud parent moment," Ross said. "You see the adversity somebody has been through. To get an opportunity and make the most of it is really rewarding from my seat."
Angels' Albert Pujols hits 660th career home run, ties Willie Mays for 5th on all-time list
DENVER — Albert Pujols hit his 660th career homer, tying the Los Angeles Angels slugger for fifth on the all-time list with Willie Mays.
Pujols launched a fastball from Colorado Rockies reliever Carlos Estevez into the empty seats in left field Sunday at Coors Field for a two-run drive in the eighth inning.
Pujols' teammates congratulated him in the dugout after he gave the Angels a 4-3 lead.
It was his first homer since Aug. 4.
The 40-year-old Pujols now trails only Barry Bonds (762), Hank Aaron (755), Babe Ruth (714) and Alex Rodriguez (696) on the career home run list.
Estevez became the 426th different pitcher that Pujols has taken deep. Only Bonds has homered against more pitchers (449).
It's the latest milestone for Pujols, who hit his 669th carer double in the sixth inning Saturday to pass Craig Biggio for fifth on that list.
The three-time MVP and 10-time All-Star did most of his homer damage during his 11 seasons in St. Louis, where he hit 445 before leaving town after the 2011 season. While in a Cardinals uniform, he swatted 40 or more home runs six times, with his best season being 2006 when he hit 49 homers and drove in a career-high 137 runs. He left for Southern California at age 32 with a 10-year contract and seemed a lock to join the 700-home run club.
But injuries have slowed his pace later in his career. Pujols has averaged 26 home runs per season over the past eight years with the Angels. His best home run season with the Angels was in 2015 when he hit 40.
Pujols, who has one season left on his contract with the Angels after 2020, has gone deep four times this season.
For a power hitter, Pujols doesn't strike out often. His high was 93 in his rookie season and in 2017. In 2006, he nearly had as many homers (49) as strikeouts (50).
It was his 12th homer at hitter-friendly Coors Field. His most road homers have been at Houston's Minute Maid Park, where he's hit 31.
The pitcher he's taken deep the most often? That would be Ryan Dempster, who gave up eight homers to Pujols.
Rockies manager Bud Black said Pujols' place in history is already secured.
"One of the greatest right-handed hitters of all time," Black said. "There's no doubt about that. There were periods in his career where he amassed statistics that are comparable with the greats of all time.
"Years from now when we talk about Hank Aaron, Willie Mays, and you transfer to next generation, the Mike Schmidts and then into the Jim Thomes and more of the modern era, Albert will be in the same conversation with the greats."
Chicago Cubs' Alec Mills tosses no-hitter against Brewers
Chicago Cubs righty Alec Mills threw the league's second no-hitter of the season on Sunday, shutting down the Milwaukee Brewers in a 12-0 victory.
Mills, 28, struck out five while walking three.
Asked in the postgame interview on the Marquee Sports Network how he felt, Mills responded: "I have no idea. It hasn't really hit me yet. I didn't really know how to celebrate. Just something that came together today."
The Brewers never got close to a hit in the final innings as Mills threw a career-high 114 pitches in just his 15th career big league start. He induced a pop up by Jacob Nottingham and then struck out Tyrone Taylor for the first two outs of the ninth inning before getting Jace Peterson to ground out to short.
Mills said that his curveball was his best pitch on the day. He often set up hitters with a first-pitch curve for a strike.
Mills had to wait in the top of the ninth as the Brewers used shortstop Orlando Arcia as a pitcher and the Cubs tacked on two more runs against pitches topping out in the 50s.
Mills said he was "just trying to calm down and relax and make it seem like the same inning every day."
Mills was a walk-on at Tennessee-Martin and had been cut by the Royals. He never had a complete game in the big leagues.
He was asked how he would respond if someone told him in college that he would end up throwing a no-hitter in the big leagues.
"I definitely would have told them they were crazy. … They gave me a chance there, and other teams have given me a chance," he said. "And I'm just going to try to keep proving them right."
Mills' no-no was the 16th franchise no-hitter and the first since Jake Arrieta in 2016.
Chicago has cornered the market on no-hitters. Lucas Giolito of the White Sox threw the first one of the season Aug. 25.