Deshaun Watson is ready to be heard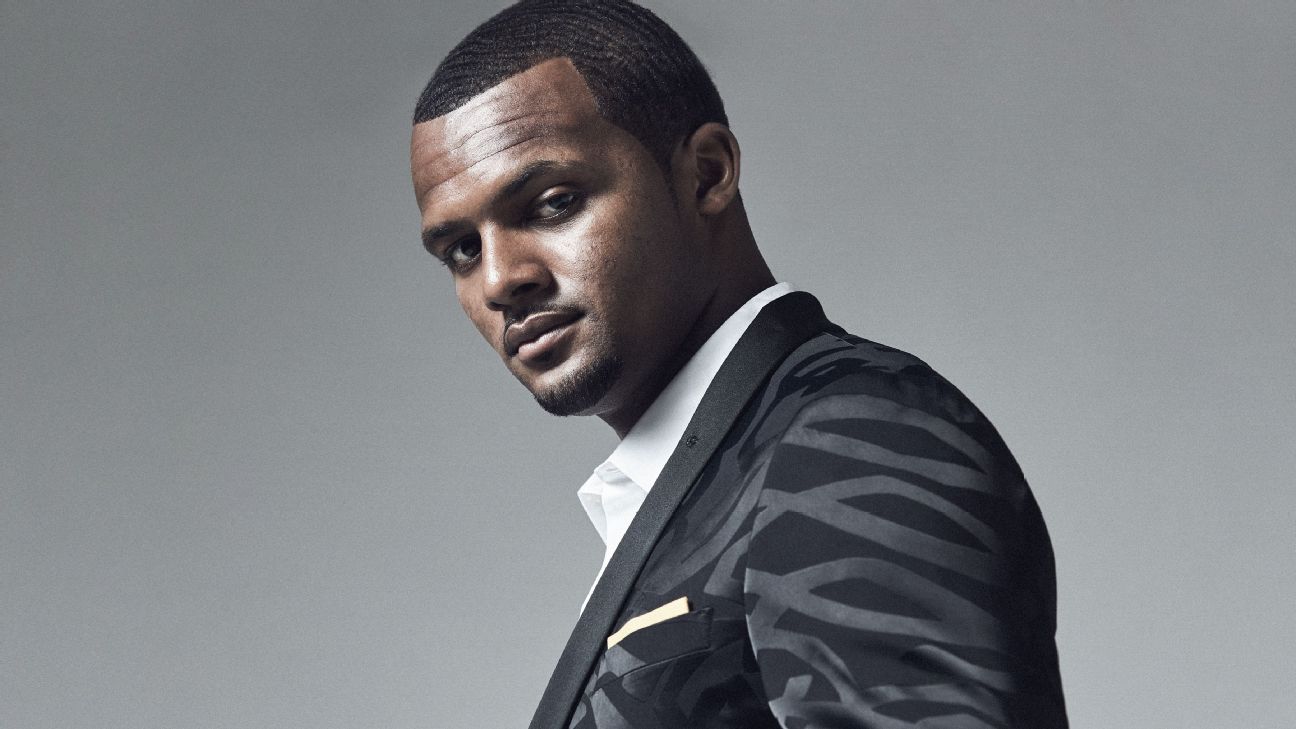 QUINCY AVERY, WATSON'S
Atlanta-based private quarterback coach, began working with Watson his junior year of high school. "He's not the loudest or the most boastful," Avery says, "but you're immediately gravitating toward his energy."
Avery's father, Wendell, was a quarterback at the University of Minnesota, the former head coach at Savannah State, current receivers coach for the Toronto Argonauts of the Canadian Football League and the inspiration for his son's Black Quarterback Club. The club brings together retired quarterbacks like Warren Moon, current NFL quarterbacks like Watson and current college quarterbacks like Ohio State's Justin Fields. They tell their stories to quarterbacks as young as middle school, with the intent of educating them on the challenges ahead.
"There's no chance Colin Kaepernick faces the same things if he was anything other than a quarterback, right?" Avery says. "I think the NFL did exactly what it wanted to in not allowing Colin Kaepernick back in the league. They let every other Black quarterback know, 'You're the face of a franchise, and don't you step across that line.' It made a lot of guys very, very cautious and nervous about being able to step up and say the things that needed to be said. And now we've just reached a tipping point where it's, 'We don't care, we're going to say the things that need to be said.'"
"He always was very, very cautious in the things that people heard him say. You can hear it in the way he handles his interviews. … He's been doing it for so long it's like breathing."
– Quincy Avery
If Avery is right about the NFL's intentions, they worked on Watson. "I don't want to speak for any other Black quarterback, but honestly, that's why I haven't spoken up about that stuff," he says. "You've seen what happened. You've seen what Colin Kaepernick had to go through. You've seen what these other quarterbacks or other athletes, what they went through."
Throughout his career, Watson has been alleged to have committed a catalog of absurd offenses that never would have been leveled against a tight end or safety. After leading Clemson to a national title over Alabama in 2017, he visited the White House wearing a navy blazer, a red tie and a white dress shirt, yet he was criticized on social media because his pants were deemed too tight. Two years later, he went to midfield for the coin toss as the honorary captain for the title game between the same two teams. He forgot to pack his outfit for the game and borrowed a purple sweatshirt from teammate DeAndre Hopkins. A radio host in Nashville detected a lack of leadership in the sweatshirt. "You're not a corner or a WR," he tweeted. "You're a QB, you're a brand." It was pointed out that the sweatshirt was a Balenciaga — price tag: $850 — but a bar code is no match for a culture scorned.
"I know that's not racism on the scale of police brutality or things like that, but it's still racism," Avery says. "It's boiled down to they wouldn't say those same things about Deshaun if his skin wasn't brown."
The quarterback has become almost a totem within the sport, the mystic symbol called upon to provide spiritual guidance to the group, and Watson quickly became aware of how his position affected how others perceived him; how he dressed, how he behaved with his teammates, how he spoke. He started to lay his words down like tracks, a destination always in sight.
"I've known that since high school, and it goes back to being in a category that people put me in," he says. "I just felt that I always had to do more, being a Black quarterback, because from things like recruitment to camps, I always felt like they labeled me and valued me a little less than the other guys, even if I was better — and everyone knew that. I always had to do more, and I've always felt that way –"
He stops for a split second as if to emphasize what he is about to say:
"– until this year."
---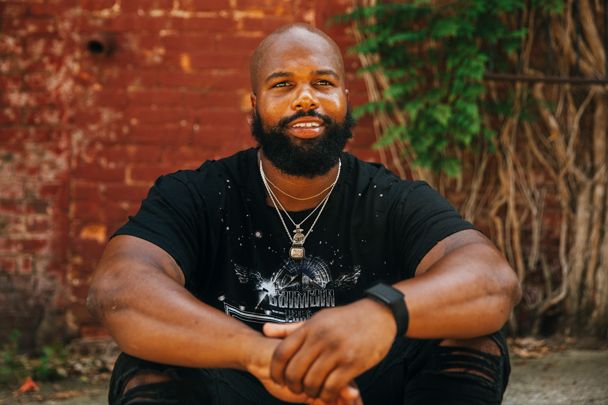 THE TRITE AND facile description of Watson's evolution goes like this: the story of a young man who is finding his voice in these troubled times. The problem with finding his voice is that it's infantilizing, a verbal head-pat that suggests wobbly and uncertain steps toward an undetermined destination. Watson, more accurately, has stopped suppressing his voice.
His 24 years on earth have been lived in service of gratitude and conciliation. He is everyone's friend, facilitator, mediator, the one who sees similarities in the differences and common ground in the most uncommon places. His fourth-grade teacher in Gainesville, Georgia, Leslie Frierson, says, "He would sit back, observe situations and not be impulsive. He takes it all in and has a vision for down the road; I swear this was evident when he was 9."
There's a story they like to tell in Gainesville that typifies the Deshaun they know. In high school, he worked as a clerk for Hall County Judge C. Andrew Fuller. He was given a key to the office, and the judge made a point to inform the deputies who patrolled the courthouse that Watson was allowed to come and go as needed. On Mondays, Tuesdays and Wednesdays during the football season, he finished practice and went straight to the courthouse, working until 10 p.m. He took Thursdays, Fridays and Saturdays off, went to church Sunday morning and worked through the afternoon and evening, sometimes as long as 12 hours.
He did all this while winning a state championship and keeping an A average at Gainesville High. One day he was asked, "What do your coaches think of this schedule you're keeping?"
Watson, seeming surprised by the question, replied, "I don't think they know."
The stories of Watson's childhood are worn smooth. He started life in the Harrison Square Apartments, an unimaginative rectangle of public housing in Gainesville. Watson; his mother, Deann; and three siblings lived in 815, and its legacy lives on Deshaun's game-day wristbands. On Halloween night of fourth grade, Watson trick-or-treated at a church festival and came home with a flyer for Habitat for Humanity in his bag. His mom applied for a home, put hundreds of hours of service into the house while working two jobs and moved her family out of Harrison Square in a ceremony that was attended by then-Falcons running back Warrick Dunn.
Deshaun was a sophomore in high school when Deann informed him she had cancer of the tongue. "That was hard on Deshaun," says his aunt, Sonia Watson. "It was hard for Deann too — to watch your son sit there and cry. But he made it through with prayer and all of us around him." Deann underwent treatment in Atlanta for nearly a year, and during that time Deshaun committed to Clemson and began referring to Dabo Swinney and the Clemson coaches as his "extended family."
But something else was happening beneath the surface. As the star Black quarterback for a state championship team in a football-mad town in semirural Georgia, Watson was scrutinized. "With my own school and inner Gainesville … it stopped because of my football," he says. "But honestly — it's a big county. The county schools and county area, they still looked at me the same — a Black athlete from the hood that just happened to be better than everyone else [at football]."
Watson says the racism — both overt and more micro-aggressions — he experienced growing up was "definitely hurtful. But the way I grew up, and the way I saw it, it was kind of normal. So as a young boy, it was kind of like, 'I guess this is the way it should be.' And this is the way it has been for a long time."
---
ALL THIS EVEN while he was not just any Black kid from Gainesville; he was Deshaun Watson, superstar. His talent and his personality opened doors that remained closed to those without them. A street leading up to his high school was named after him before he took a snap in the NFL, and he lives with a sense of indebtedness that feels like the opposite of entitlement. It's a subconscious level of gratitude that serves as a barrier; he struggled to push back against the system because he benefited from it, and any criticism he might offer lands on the ears of the benefactors as a betrayal.
"He always was very, very cautious in the things that people heard him say," Avery says. "You can hear it in terms of the way he handles his interviews. The long pauses he gives — I know he's initially thinking to say one thing, and then he has to calibrate it and figure out how to disseminate that same information to this group of people so that they won't take it the wrong way, or they won't perceive him as anything other than the elite human being that he is. Everything he did was very, very mindful. He's been doing it for so long it's like breathing."
In Week 8 of 2017, Watson's rookie year, it was reported by ESPN that Bob McNair, then the owner of the Texans franchise, told fellow owners, "We can't have the inmates running the prison," in reference to on-field protests by Black players. At the time, Watson refused to address the comments. Would he react differently today?
"Oh, definitely," Watson says. "I feel like everyone would. When we heard it, people were leaving the facility, saying they're not going to play this week, saying they're done playing the rest of the year, they're not playing for an owner that thinks that way. But they didn't really speak on it publicly like how things are getting spoken about now. I definitely would have reacted differently."
On the last play of a 20-17 loss to the Titans in 2018, Watson scrambled around and, with no time on the clock, completed a pass over the middle of the field. Lynn Redden, an East Texas school superintendent who was listed as his district's civil rights coordinator, took to the Houston Chronicle's Facebook page to write, "That may have been the most inept quarterback decision I've seen in the NFL. When you need precision decision making, you can't count on a black quarterback."
In a news conference a few days later, Watson was asked about Redden's comments. He thought for a moment — watching now, you can see the tracks being laid — and said, "That's on him. May peace be with him."
And as recently as January, in an ESPN Undefeated television special on the Black quarterback, Watson sat uncomfortably on a stage and said he doesn't talk about politics or religion because "you can't win." Even his just-released book, "Pass It On," walks gingerly, with noble but safe chapters such as "Ignore the Doubters, Forgive the Haters," in which he recounts the incident with the superintendent before concluding, "Most of all, I try to stop and consider all the love that's in my life, no matter what is going on in the moment."
But something clearly broke with the death of George Floyd, those seven minutes and 46 seconds etched into the minds of Americans, especially Black Americans, in a way that seems indelible. Watson says he considers what happened to Kaepernick to be "blackmail," and when asked if he's worried about possible repercussions for his own actions, he says, "Not anymore. And even previously, I didn't think it was going to do anything to cause my NFL career to stop. But now? For sure, no, not at all."
Any pretense of diplomacy is gone, the jukebox unplugged.
"I've always appreciated and really loved the people that loved me and helped me get to where I am," he says. "But I think for me to be able to speak about topics I never really talked about — politics, social justice, religion — I think I kind of broke through that barrier. It took me a while to break through that, for sure."
As Watson speaks now, his words sound liberating — and still seem, from him, slightly illicit.
---
Cardinals' Kyler Murray stutter steps past Lions' defense for TD
GLENDALE, Ariz. – Kyler Murray took the snap from under center at the 1-yard-line and hid the ball with his left hand. Then the Arizona Cardinals' second-year quarterback took off to his left on a designed run, rolling out of the pocket with a burst of quickness. He switched the ball to his right hand just before facing up with Detroit Lions rookie cornerback Jeff Okudah.
First, Murray hesitated.
Then he juked outside.
Then he juked inside.
Then he cut back outside, leaving Okudah grasping for air, before beating Lions safety Duron Harmon to the corner for a diving touchdown, that put the Cardinals ahead briefly, 13-10 on Sunday. That was the eighth career rushing touchdown, tied with the Texans' Deshaun Watson for the second most by a QB since Murray debuted last season (the Bills' Josh Allen leads with 11).
How? Just…. how?@K1 with another insane juke for the score.

📺 #DETvsAZ on FOX pic.twitter.com/XrjyyPJrc3

— Arizona Cardinals (@AZCardinals) September 27, 2020
Daniel Jones' turnovers still a problem for Giants in loss to 49ers – New York Giants Blog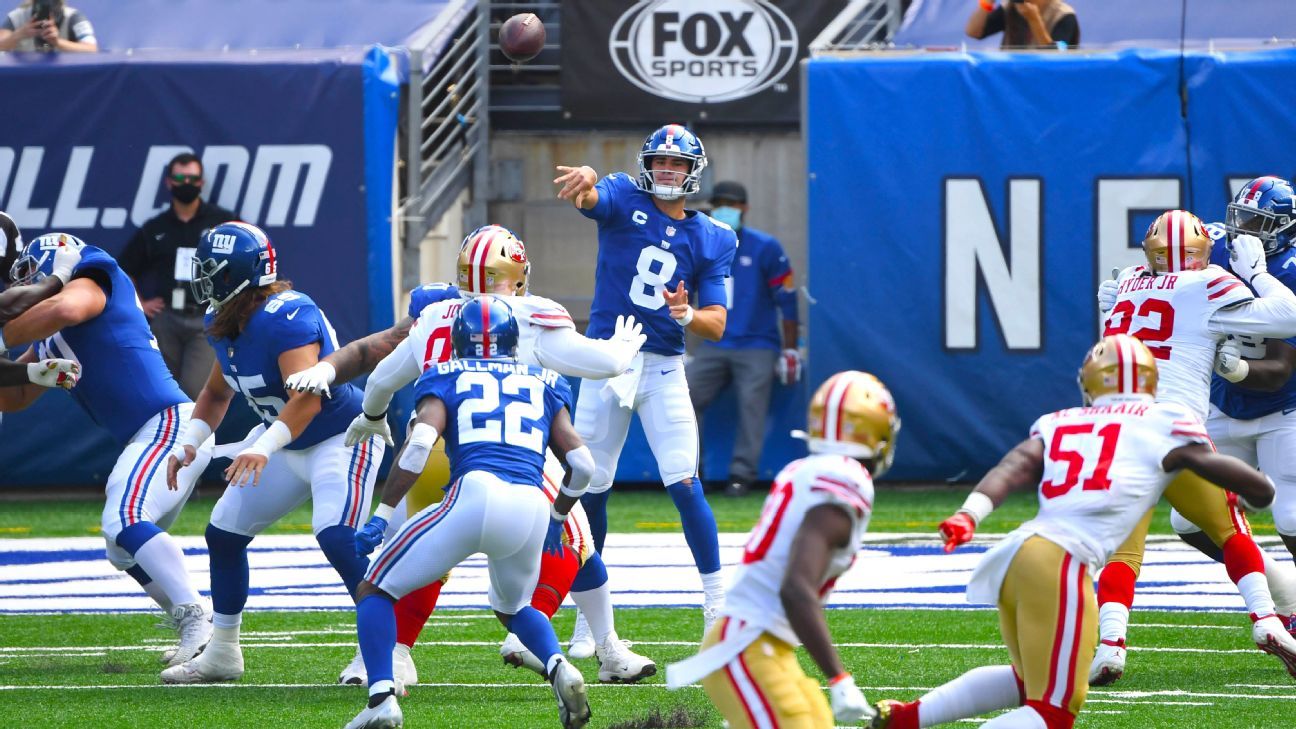 EAST RUTHERFORD, N.J. — Another disappointment. There really is no other way to say it for quarterback Daniel Jones and these New York Giants.
They are now 0-3 in Joe Judge's first season as head coach after a 36-9 loss to the San Francisco 49ers at MetLife Stadium. Jones has six turnovers in 12 quarters already, with two more coming Sunday. He was charged with a fumble on a poor pitch to tight end Evan Engram in the second quarter and threw a costly interception late in the first half.
At some point, this has to stop. No team can overcome two turnovers from their quarterback on a weekly basis. Jones is on pace for a inexcusable 32 turnovers this season, after spending his offseason trying to reduce the miscues.
It's even more troubling considering this an extension of his rookie season. Jones now has 10 career games with multiple turnovers, most in the NFL since the start of last season, according to ESPN Stats & Information. He has multiple turnovers in 10 of his 16 career games.
With the fumble in the first quarter, Jones now has 20 fumbles in his first 16 career games. The only player with more through their first 16 career games in the Super Bowl era (since 1966) is Tony Banks. He had 24.
It does make you wonder if Jones really is the long-term answer for the Giants at quarterback. It's a question this team will face unless Jones at some point cuts out the turnovers.
Surely the Giants' struggles and Sunday's loss is not all on Jones. The Giants allowed 36 points, no punts and no turnovers to a 49ers offense starting backup quarterback Nick Mullens, without its two top pass-catchers (George Kittle and Deebo Samuel) and minus its first two options at running back (Raheem Mostert and Tevin Coleman). That's only possible by committing costly third-and-long penalties and missing key tackles like the Giants did in this latest debacle.
This will be quite the test for the Giants. Safety Julian Love thought it was "a weak-minded thing to be able to spiral and to dwell on the unfortunate things that have happened in the past." Well, this is the fourth straight season the Giants appear to be among the league's worst teams. Can they, at some point, turn it around?
Troubling trend: The Giants haven't beaten a team better than .500 since defeating the Bears in overtime during Week 13 of the 2018 season, the last game that Odell Beckham Jr. ever played for the team. The 49ers (2-1) weren't over .500 coming into this game, but they are a quality team having reached the Super Bowl last season. Still, the Giants were outclassed on Sunday. This continues a disturbing trend against quality competition.
The Giants couldn't beat Mitchell Trubisky and the Bears and a 49ers team starting a backup quarterback over the past two weeks. So where does their first win actually come?
They play next week in Los Angeles against the Rams and the following week on the road against the Dallas Cowboys. The Giants will be significant underdogs in both contests. Maybe the following week when they host the Washington Football Team?
Eye-popping stat: The Giants two longest runs of the season are by their quarterback. Jones had zone-read rushes for 19 and 23 yards on Sunday. They had zero zone-read plays in the first two weeks, per ESPN Stats & Information.
The Giants came into Sunday last in the NFL averaging 52.0 yards rushing per game.
Biggest hole in the game plan: Where is the running game? Sure, there is no Saquon Barkley. He's out for the season with a knee injury.
But this was a 49ers defense that lost half its front four last week, including star defensive end Nick Bosa. The Giants should've been able to do something with the combination of Wayne Gallman, Dion Lewis and Devonta Freeman. That wasn't the case. They combined for 17 yards on 10 carries.
This is not what you expected from the Giants running attack through three weeks with Jason Garrett as the offensive coordinator. He hasn't been able to draw up anything with this offensive line to create holes for the running backs, whether it be Barkley, Lewis, Freeman or Gallman.
The way the playing time shook out in Sunday's loss to the 49ers, it was basically a three-man committee. Lewis took the most snaps with 19, followed by Gallman (17) and Freeman (14).
Rams fall just short of franchise-best comeback, lose to Bills late – Los Angeles Rams Blog
The Los Angeles Rams overcame a devastatingly slow start to erase a 25-point deficit against the Buffalo Bills, but couldn't close out a come-from-behind effort in a 35-32 loss Sunday.
The Rams and Bills entered Sunday among 10 unbeaten teams, as the Rams fell to 2-1 and the Bills improved to 3-0.
Through two and a half quarters, the Rams appeared outmatched by Bills quarterback Josh Allen and the Bills' defense, falling behind 28-3. But midway through the third quarter, Jared Goff scored on a 1-yard keeper and safety John Johnson III intercepted an Allen pass on the ensuing Buffalo drive, which was converted into a 25-yard touchdown reception by Robert Woods. The Rams also scored on the following two possessions on a 16-yard touchdown pass from Goff to Cooper Kupp and a 1-yard Darrell Henderson Jr. run, and Aaron Donald had two sacks in a three-play span in the fourth quarter.
The Rams appeared to close out the comeback when a fourth-down pass from Allen fell incomplete, but Rams cornerback Darious Williams was called for pass interference at the Rams' 3-yard line. The Bills went ahead on the next play with a 3-yard touchdown pass from Allen to tight end Tyler Kroft.
Now the Rams return to L.A., where they will play the winless New York Giants on Sunday at SoFi Stadium.
Describe the game in two words: Total turnaround. The Rams trailed by 25 points with 8:05 to play in the third quarter before mounting an incredible come-from-behind effort as they erased a 25-point deficit to take a 32-28 lead with 4:30 remaining in the game.
Biggest hole in the game plan: The Rams' defense had few answers through two and a half quarters for Allen, who completed 24-of-33 passes for 311 yards and four touchdowns, with an interception, and rushed for another score. In the first half, the Rams were unable to make Allen uncomfortable, as they failed to record a sack or quarterback hit, while the secondary appeared to suffer from communication and assignment issues.
Buy a breakout performance: Making his first career start, Henderson surpassed the 100-yard rushing yard mark for the first time in his NFL career. Henderson, a third-round pick in 2019, rushed for 114 yards on 20 carries, averaging 5.7 yards per carry. Entering Sunday, the Bills allowed an average of 75.5 rushing yards per game. Henderson started in place of rookie Cam Akers, who was inactive because of a rib injury suffered in Week 2.
Troubling trend: Kicker Samuel Sloman's inconsistency. The Rams had three kickers in training camp, including Canadian Football League kicker Lirim Hajrullahu and former XFL kicker Austin MacGinnis, but opted to keep Sloman, a seventh-round pick from Miami (Ohio). Sloman missed a 53-yard field goal in the first quarter Sunday before he bounced back to convert a 30-yard attempt in the second quarter. He is 4-of-6 this season on field goal attempts and 9-of-10 kicking extra points.