Willing to 'leave the window open,' an optimistic Shohei Ohtani hopes to pitch again for Angels despite arm troubles
Shohei Ohtani, recovering from an injury near his surgically repaired elbow that has all but ruled out his ability to pitch again this season, would like to continue on as a two-way player, a stance that is consistent with those expressed by the Los Angeles Angels.
"If it comes down to them telling me to just focus on hitting or focus on pitching, I will listen," Ohtani said through his interpreter on Wednesday, two days after being diagnosed with a Grade 1-2 strain of the flexor pronator mass in his pitching arm. "But ideally I would like to leave the window open for me to do both."
Ohtani has contributed only 53⅓ innings as a pitcher since coming over as a highly touted two-way player from Japan in December 2017. He suffered a Grade 2 sprain of his ulnar collateral ligament in June 2018, then underwent Tommy John surgery four months later. Two starts into his return this summer, he recorded only five outs and complained of discomfort in his right arm, prompting the MRI that revealed what essentially is considered a forearm strain.
Ohtani, who will be the Angels' regular designated hitter for the rest of this season and expects to return to the lineup on Thursday, described his latest ailment as "just a little inflammation" and said, "I don't think it's that severe." He called the development "disappointing," but also made mention of the idea that he was going to operate under a strict innings limit in 2020.
"I was kind of taking [this year] as like a part of my rehab process," Ohtani said.
Ohtani was noticeably erratic through three starts against Angels hitters in intrasquad scrimmages last month. He debuted against the Oakland Athletics on July 26 — nearly 22 months after replacing his damaged UCL — but allowed five runs in the first inning and was removed before recording the first out. Before his next start, Angels manager Joe Maddon tried to ease some of the pressure off Ohtani by imploring him to have fun.
"In order to have fun, first of all, I think I need to feel 100 percent physically, which I wasn't feeling," Ohtani said. "Having fun wasn't my first priority. I was trying to see how my body felt on the mound."
Ohtani said he "didn't feel 100 percent" in that first start, but it was "hard to actually pinpoint" how his latest injury occurred. He said he felt "tightness" in his elbow "throughout this whole rehab program," but called it "natural."
"It's hard to differentiate the tightness, soreness, from the pain," Ohtani said. "I knew I wasn't going to be able to throw 100 mph again without feeling tightness, soreness or pain. So I was just taking this as part of the program."
Ohtani's fastball was sitting comfortably in the mid-90s in the first inning against the Houston Astros on Sunday, a game that began with a strikeout of George Springer on a nasty splitter. But Ohtani walked the first three batters to begin the second, then issued two additional walks after back-to-back strikeouts, prompting his removal after a 42-pitch half-inning. Ohtani's last three fastballs did not break 90 mph.
"Obviously I felt some tightness while I was throwing those last three fastballs," Ohtani said, "but earlier I think I threw 97 and I still felt the same way."
Ohtani, 26, brings elite-level power and speed as a position player, but he also possesses a triple-digit fastball and a wipe-out splitter as a pitcher. When healthy, Ohtani has shown an ability — albeit in a small sample size — to juggle both roles effectively at the highest level. But the injuries and the setbacks continue to pile up, prompting questions about the sustainability of a role no player had taken on with regularity at the major league level since Babe Ruth.
"If the possibility is there, obviously I wanna try it," Ohtani said. "And I think the Angels signed me thinking that I'm gonna be a two-way player. I just need to get back healthy on the mound and try to accomplish that."
Minor league baseball contraction process begins with Appalachian League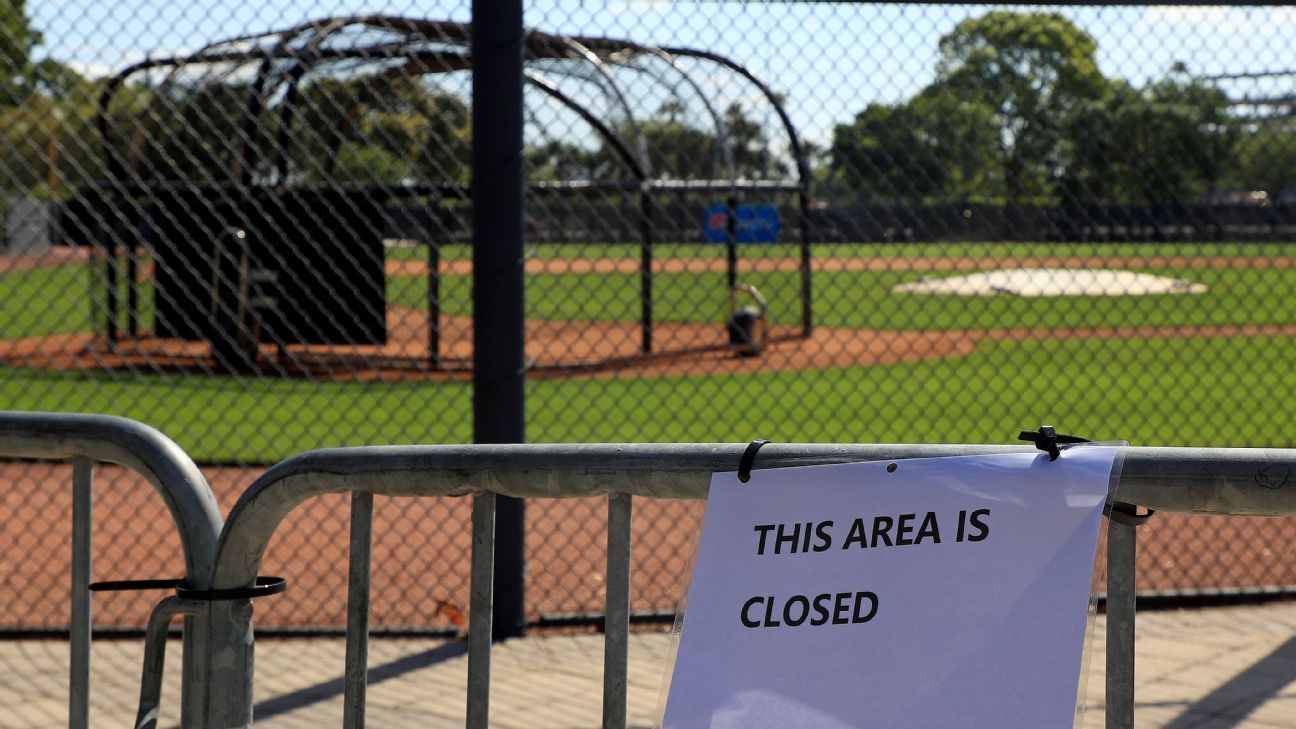 NEW YORK — Major League Baseball started the process of contracting minor league affiliates Tuesday, with the Appalachian League converted to a college summer circuit for rising freshmen and sophomores.
The agreement between MLB and the minor leagues expires Wednesday. MLB has proposed cutting the minimum guaranteed minor league affiliates from 160 to 120 next year, or to four per major league organization plus teams at their spring training complexes.
Many teams from the Pioneer League and the New York-Penn League also are likely to become part of college summer leagues.
MLB and USA Baseball said the Appalachian League will become part of its Prospect Development Pipeline and that 320 players will be invited to play next year. The Appalachian League had been an affiliated minor league with professional players since 1911.
MLB and USA Baseball said they are communicating with the NCAA to ensure participation does not detract from college eligibility, which presumably means players in the league no longer will be paid.
Each team will be scheduled for a 54-game regular season with wood bats, and the two organizations will support staffing and administration. Former major leagues will provide instruction.
The 10 teams in the league will change their names and logos to "incorporate symbols and images important to their respective local communities," according to MLB and USA Baseball.
The 10 teams that were scheduled to be in the Appalachian League at the Rookie Advanced level in 2020 were the Bluefield (West Virginia) Blue Jays, Bristol (Virginia and Tennessee) Pirates, Burlington (North Carolina) Royals, Danville (Virginia) Braves, Elizabethton (Tennessee) Twins, Greeneville (Tennessee) Reds, Johnson City (Tennessee) Cardinals, Kingsport (Tennessee) Mets, Princeton (West Virginia) Rays, and the Pulaski (Virginia) Yankees.
A large number of teams in the Rookie Advanced Pioneer League and the Class A Short Season New York-Penn League also were on an early list of those targeted to lose their affiliations but it is not clear whether those targeted by MLB have changed.
The early list included four Double-A teams from the Eastern League and Southern League and several from the Class A Advanced Florida State League, Midwest League and South Atlantic League, and the Class A Short Season Northwest League.
MLB has proposed eliminating the office of the National Association of Professional Baseball Leagues in St. Petersburg, Florida, and moving administration of the minors to MLB's ofice in New York. Pat Conner, president of the National Association since December 2007, said on Sept. 8 that he will retire on Dec. 31.
Chicago Cubs' Kyle Hendricks gets Game 1 start against Miami Marlins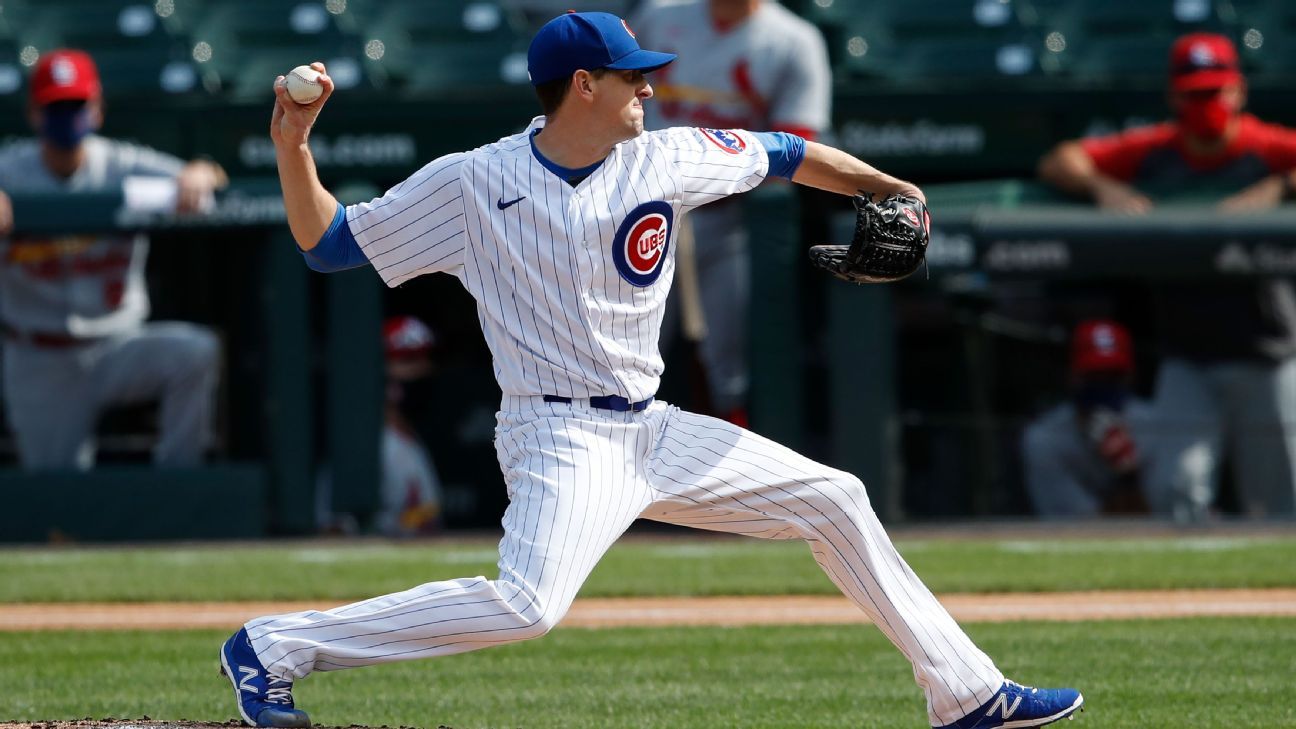 CHICAGO — Cubs right-hander Kyle Hendricks will start Game 1 of their NL Wild Card Series against the Miami Marlins on Wednesday, manager David Ross announced. The decision was between Hendricks and Cy Young contender Yu Darvish. Darvish will take the ball in Game 2.
"I [feel] like I have two aces," Ross said. "I trust both those guys."
Can you please drop this in as the third graph.
"It's a huge honor for me to get the nod from Rossy for Game 1 but at the end of the day we all know what Yu has done this year," Hendricks said. "He's our ace. He's been the guy dominant all year long. If this was a one game playoff kind of thing, he would be the guy, obviously."
Hendricks started on Opening Day and has taken the mound in big games for the Cubs over the past half-decade. He's 2-3 with a 2.98 ERA in 11 career postseason games, including 10 starts. This season, he led all qualified pitchers with an 8-1 strikeout-to-walk ratio, giving up a free pass to less than one batter per nine innings pitched.
"It's really comforting from my seat when he takes the ball," Ross said. "I know he's excited. I'm excited. We have to win two of them. I'm glad we've got those horses."
Hendricks last pitched on Sept. 23 so he'll be off a full week, while the move gives Darvish an extra day of rest after his last outing on Friday.
If the best-of-three series advances to a Game 3 on Friday, the Cubs will start left-hander Jon Lester. Sandy Alcantara will start Game 1 for the Marlins.
Rowdy Tellez on Toronto Blue Jays' roster against Tampa Bay Rays and Tanner Roark left off
ST. PETERSBURG, Fla. — First baseman Rowdy Tellez is on the Toronto Blue Jays' roster for their first-round playoff series against Tampa Bay after recovering from a strained right knee that had sidelined him since Sept. 8.
Tellez could be a designated hitter option for the No. 8 Blue Jays in the best-of-three series against the top-seeded Rays.
Right-hander Jordan Romano was not included on the 28-man roster Tuesday. He has not pitched in a game since Aug. 28 because of a finger injury but threw batting practice Sunday in hopes of earning a spot.
Toronto also left off right-hander Tanner Roark, who had a 6.80 ERA in 11 starts.
Toronto's roster features 13 pitchers, three catchers, eight infielders and four outfielders.
The pitchers are Chase Anderson, Anthony Bass, Ryan Borucki, A.J. Cole, Rafael Dolis, Thomas Hatch, Anthony Kay, Nate Pearson, Robbie Ray, Hyun-Jin Ryu, Matt Shoemaker, Ross Stripling and Taijuan Walker.
Position players include catchers Danny Jansen, Alejandro Kirk and Reese McGuire, infielders Bo Bichette, Cavan Biggio, Santiago Espinal, Vladimir Guerrero Jr., Joe Panik, Travis Shaw, Tellez and Jonathan Villar, and outfielders Jonathan Davis, Randal Grichuk, Lourdes Gurriel Jr. and Teoscar Hernandez.