Packers 'back to square one' with their WRs unless … Antonio Brown, anyone? – Green Bay Packers Blog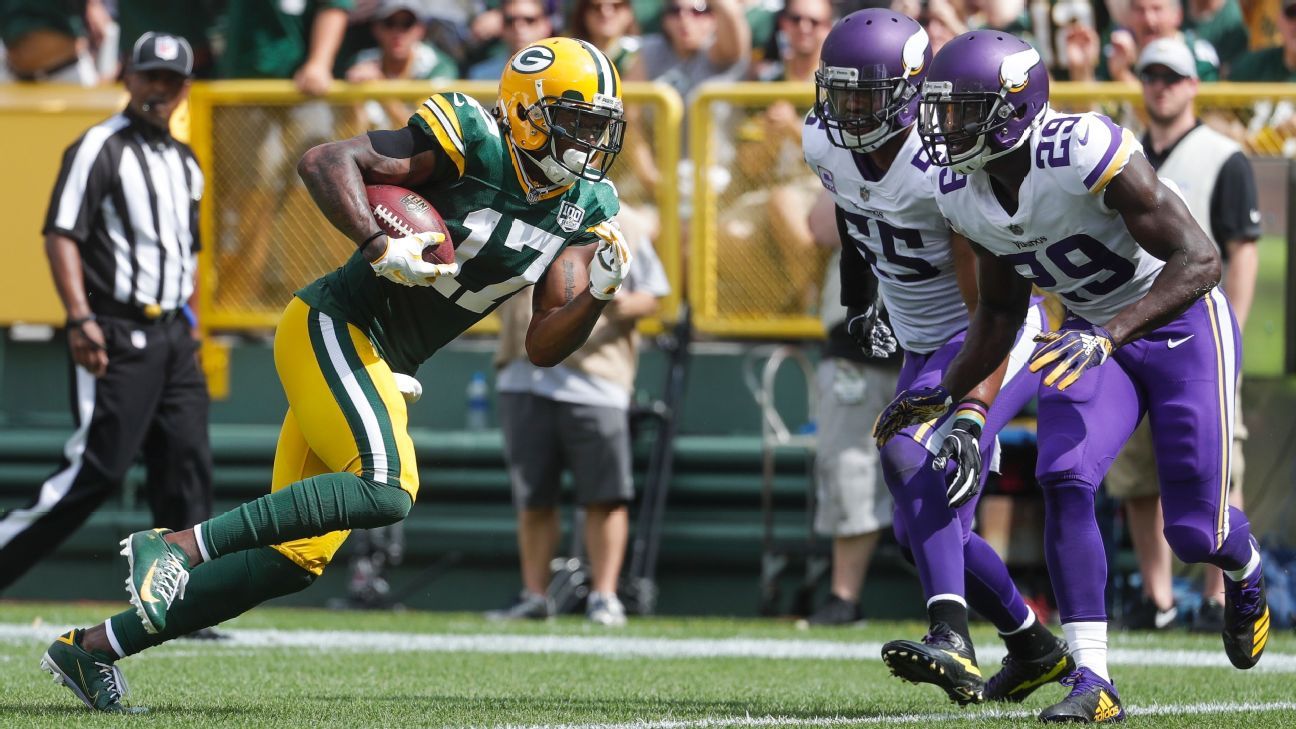 GREEN BAY, Wis. — Even Davante Adams, the Green Bay Packers' No. 1 wide receiver, thought his team would make a significant addition at his position this offseason.
Even after signing veteran Devin Funchess.
"It's no secret, we were all expecting to have a receiver drafted," Adams said this week. "But that wasn't the case."
And now that Funchess has opted out of this season, exercising his right under the NFL's COVID-19 procedures, where are the Packers with the position?
"They're back to square one," said a longtime scout for an NFC team. "Same guys [as last season]. If I was them, I'd go sign Antonio Brown. You just use him for one year. Let's say Aaron Rodgers has got two great years left? I've got to go for it. If I was [general manager Brian Gutekunst], I would've signed Robby Anderson, and I might have made a trade for another linebacker."
There's nothing the Packers can do now about Anderson, who signed a two-year, $20 million deal with the Carolina Panthers in free agency, and the scout's take on Brown came just a day before the NFL handed him an eight-game suspension to start the season even though he is not with a team.
In Adams, the Packers have one of the NFL's most productive receivers. In fact, he's the only player in the league with at least 40 touchdowns over the past four seasons combined. A case could be made that he's outperformed the four-year, $58 million contract extension that runs through the 2021 season. He's currently the ninth-highest paid receiver based on average per year, according to ESPN Stats & Information research.
Over the past two seasons, Adams has 194 catches for 2,383 yards and 18 touchdowns. The rest of the Packers' receivers can't match that for their careers combined.
The Packers rank 16th in the NFL for salary-cap charges for wide receivers at $24.403 million, but $16.475 million of that is Adams.
"I don't know if this is where you're going with this but with how good Aaron is, I don't know why they wouldn't be more aggressive at wideout all those years," said a younger scout for an AFC team.
With that in mind, here's a breakdown of what the Packers have behind Adams based on interviews with the two scouts:
Allen Lazard (career stats: 36 catches, 484 yards, three touchdowns)
The Packers signed him off the Jaguars' practice squad in December 2018, and he caught one pass for 7 yards in the finale. He didn't even make the final cut in 2019 but was added to the roster in time for the season opener. Still, he didn't see any significant reps until the sixth game of the season — and after Adams went down with turf toe. By the time Adams returned, the 6-foot-5 Lazard had a firm grasp on the No. 2 spot.
"Obviously he's not Davante," said the AFC scout, who specializes in evaluating college players for his team. "As a starting outside receiver in the NFL, I'd say he's below that line of what you would want as a starter. Ideally, he's a third, and on a really deep team he might be a fourth receiver… Aaron makes him better. He's shown he's a guy you want in your lineup, but he's not like the guy that you want as the 1 or the 2. Those guys have to have more tools."
Said the NFC scout, who evaluates both pro and college players for his team: "He's a big, possession receiver. But there's no dynamic there. I thought they made a huge mistake when they didn't sign Anderson. That would've freed up Davante Adams. Davante would've had a bigger year, and it would've given Aaron that vertical threat guy. Then you could've worked all those other receivers in. Now you're saying those same guys have to be your No. 2, and they're not No. 2s. But Aaron's going to make them quality No. 3s."
Marquez Valdes-Scantling (64 catches, 1,033 yards, four touchdowns)
The fifth-round pick in 2018 was supposed to be the deep-threat receiver. He ran a 4.37-second 40 at the NFL scouting combine. He looked the part early on, posting a pair of 100-yard games (both on just three catches) as a rookie and started fast in 2019. But after a two-catch, 133-yard game against the Raiders on Oct. 20, the 6-4 Valdes-Scantling caught just five more passes the rest of the season for 36 yards.
"He is their vertical guy, but I guess he had issues last year," the NFC scout said. "Did he fall out of favor with Aaron or something? I was a big fan of his coming out of college."
Said the AFC scout: "I actually liked Valdes-Scantling. I had probably a fifth-round grade on Valdes-Scantling, and I think in the right place I thought he could be a scheme-fit starter. I thought he had obviously vertical speed and some tools. At some point last year, I thought he went past that, but then he leveled off."
Jake Kumerow (20 catches, 322 yards, two touchdowns)
A fan favorite because of his local ties; he played at Division III Wisconsin-Whitewater. He's also one of Rodgers' favorites. He played in just five games in 2018, but it his was first NFL regular-season action after entering the league as an undrafted free agent with the Bengals in 2015. Last season, the 6-4 Kumerow showed some big-play ability, averaging 18.3 yards per catch, but had just 12 receptions.
"I actually liked him; I did his report the year he came out of Whitewater," the AFC scout said. "I'm glad he finally made it because I liked him, but he's another one of those guys who, when you don't have a dominant trait, it's hard to get over the hump at that position."
Equanimeous St. Brown (21 catches, 328 yards, no touchdowns)
Spent all of last season on injured reserve after he suffered an ankle injury in a preseason game. Another big receiver (6-5), he would seemingly be too big to fill the much-needed slot role, but he did have five of his 21 catches from the inside positions as a rookie in 2018. He was the last of the three receivers the Packers drafted in 2018 — J'Mon Moore in the fourth round, Valdes-Scantling in the fifth and St. Brown in the sixth.
"He could play inside every now and then, but he's not going to be in there every time," the AFC scout said.
Said the NFC scout: "He's soft. Inconsistent. Just a guy. But Aaron can make him have a 66-reception, 1,000-yard season. But it would be because of Aaron, and that's Aaron having to work hard to make him good. Every now and then you want a receiver to make you look good."
• Where's the depth for Packers' WRs unit?
• Obstacles in place for Denver's Drew Lock
• Cowboys' undrafted players face uphill climb
• Ravens' Mark Ingram lending veteran advice
• Steepest learning curve in NFL: Browns?
Darrius Shepherd (one catch, 1 yard, no touchdowns)
The Packers kept the 5-11 undrafted free agent in the final cuts instead of Lazard because they thought he could be a combination slot receiver/kick returner. But he had problems handling the ball in both jobs. He fumbled away the kick return job and had a costly drop for an interception as a wide receiver. He was released and re-signed to the practice squad.
"I'm biased against smaller guys," the AFC scout said. "I think there's a role for them, but if they're not special, it's hard for them to stick and making a living because there's so many. You have to have something dynamic to get you over the hump and make up for what you're lacking in size. Surprised they kept him over Lazard, but knowing what [coach Matt] LaFleur likes, they have very strict rules and guidelines in what they look for in a slot receiver and it's usually the smaller guys who fit that role."
Reggie Begelton (no career NFL appearances)
There's been some hype about the 26-year-old Begelton (6-0, 200) this offseason after what he did in Canada last year with the Calgary Stampeders: 102 catches for 1,444 yards and 10 touchdowns that made him a CFL all-star. The Packers signed him to a futures contract in January.
"I don't know him, but I think the reason it's a hard transition [from the CFL]," the AFC scout said. "They were already deemed not good enough to be in the NFL and now they're older, so they're not competing with rookies, they're competing with the vets. But I think you can find guys, not exactly gadget guys but guys who can fit a certain role for you. I think it's hard to find a complete receiver up there, but you can find a slot or you can find a speed guy. So I think in that regard, I think you could find someone to compete with Allen Lazard, who doesn't have everything. But it would be extremely hard to find a player who took the Adam Thielen route. It just doesn't happen a lot."
Darrell Stewart (rookie)
The only rookie wide receiver the Packers added; Stewart (6-0, 212) signed as an undrafted free agent out of Michigan State, where he finished third in career receptions (150).
"I saw him at the NFLPA [Collegiate Bowl] game," the AFC scout said. "He's really good athlete. He's a little more short and compact, but he's got a good build. His issue has been drops. If you watch him, I'll bet when they start practice he's going to turn people's heads. If he catches the ball fine, they're going to love him. That week at the NFLPA game, the first 20 minutes of practice, I was like, 'This dude's definitely going to get drafted.' Then you see he'll drop two or three balls in a row and you're like, 'Oh, that's what he struggles with.' But he's definitely a make-it athlete; he just struggles with the hands. Maybe it will be easier [in Green Bay] where the quarterback is better."
Malik Taylor (no career NFL appearances)
Signed just before training camp last season, he spent all of the 2019 season on the practice squad. He originally entered the NFL as an undrafted rookie with the Buccaneers out of Ferris State.
Neither scout knew enough about Taylor (6-1, 216) to evaluate him.
Houston Texans DE J.J. Watt calls punch by Ross Blacklock 'stupid, selfish'
HOUSTON — After Houston Texans rookie defensive tackle Ross Blacklock, a second-round pick, was ejected on Sunday night against the Ravens for throwing a punch, teammate J.J. Watt called it a "stupid" and "selfish" play.
"It's stupid," Watt said. "It's selfish. It was a stupid play. It was selfish," Watt said. "It's something — I mean, I've spoken to Ross [Blacklock] before and so it pisses me off, it's a very selfish move. Late in the game, and it's dumb, very dumb to hurt your team in that type of setting for no reason."
The punch was not shown on the TV broadcast and on Sunday night, O'Brien said he didn't see what happened. The next morning, O'Brien told reporters that an official told him Blacklock was ejected for a punch.
"I've spoken to him, and I didn't see it on the tape," O'Brien said. "But I know that it happened. So yeah, I've spoken to him."
"I just know what the official told me. I'm not trying to … I didn't see it either, but the official told me that he threw a punch, which I think you probably already know that. I'm just saying that's what the official told me, and we have addressed it and we will continue to address it today."
The punch happened with less than five minutes remaining in the fourth quarter, with the Texans trailing the Ravens, 30-16. Earlier in the offseason, Blacklock told reporters that "just being able to play next to [Watt] and play with him, it's an honor. I'm trying to learn as much as I can while I'm here and while he's here."
Carolina Panthers' Christian McCaffrey likely out 'multiple weeks' with ankle injury, source says
Carolina Panthers running back Christian McCaffrey is expected to be sidelined "multiple weeks" with the ankle injury he suffered Sunday, a source told ESPN's Adam Schefter.
He suffered the injury with 13:30 remaining in their 31-17 loss to the Tampa Bay Buccaneers.
He had 19 rushes for 59 yards and two touchdowns and four catches before the injury, which occurred during a 7-yard touchdown run. He walked off the field with a limp after the touchdown and did not return.
The Panthers made McCaffrey the NFL's highest-paid running back during the offseason with a four-year, $64 million extension.
McCaffrey is coming off a 2019 season in which he became the third player in NFL history to have 1,000 yards rushing and receiving in the same season.
ESPN's David Newton contributed to this report.
Fantasy football waiver wire for NFL Week 3 — Devonta Freeman, Dion Lewis among top pickups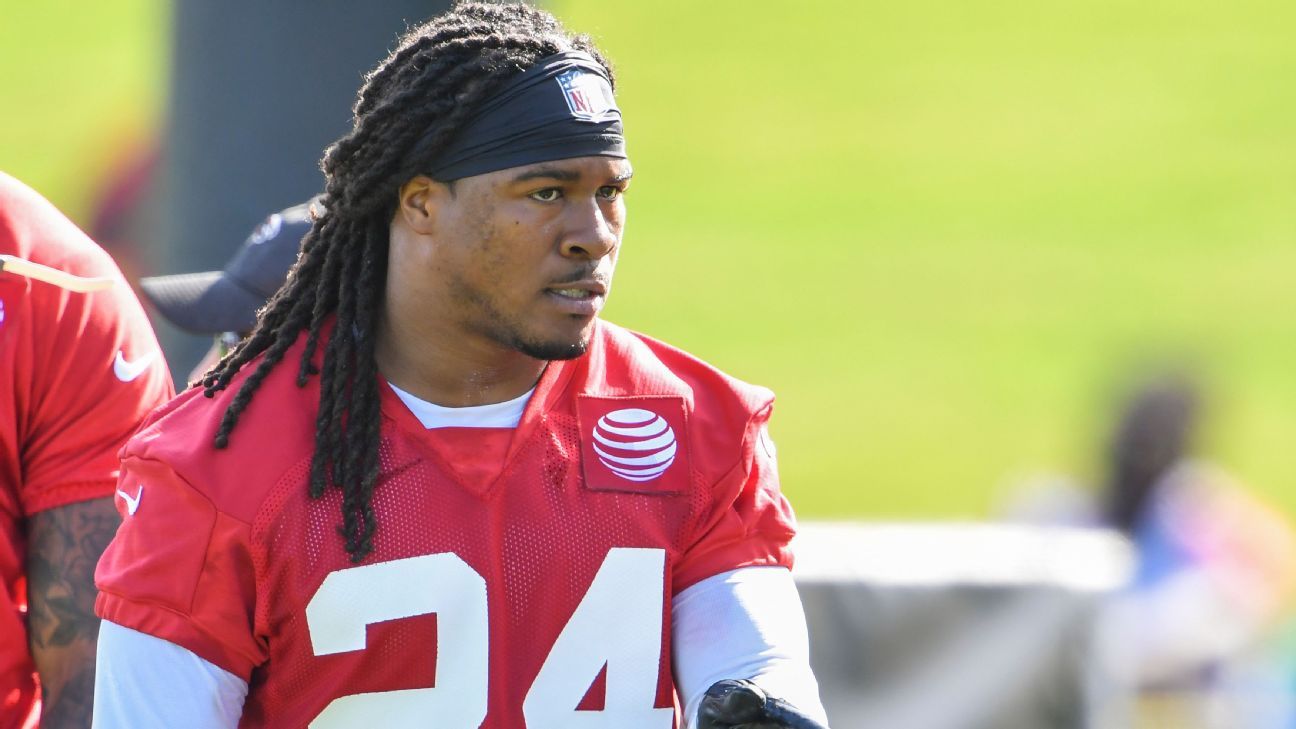 We're prone to hyperbole in analysis, as it's hard not to overreact in a day and age where everyone is one 280-character Tweet away from chiming in on the topic du jour.
However, it doesn't feel like hyperbole to suggest that Sunday of Week 2 was one of the most consequential days of injuries that we have seen in years. Maybe decades. It was carnage on Sunday, led by the devastating news that Saquon Barkley is expected to miss the rest of the 2020 season due to an ACL tear, per Adam Schefter and Jordan Raanan.
With so many injuries, this week's waiver wire column is longer than normal. Here it goes.
Note: All players in this column are available in at least 50% of leagues on ESPN.com.
Dion Lewis/Wayne Gallman, RB, New York Giants (0.8%/0.4%): It's unlikely that Lewis will have the backfield to himself in New York, as Gallman (another waiver-wire add) will certainly be busy for the G-Men too. I'd urge you to consider either Giants running back, with the nod to Lewis, given his passing game acumen (he's a nifty pass-catcher) and the fact that it was he who took over for Barkley post-injury in Week 2 (Gallman was a healthy scratch). Both players should be added for now.
Mike Davis, RB, Carolina Panthers (8.0%): Davis won the back-up job to Christian McCaffrey with a strong training camp and was thrust into action after McCaffrey left Week 2 due to an ankle injury. Davis hauled in eight catches while the Panthers tried to play catch-up, a strength of his overall game. If McCaffrey does in fact miss time — he's never before miss a game in his NFL career — Davis will be called up to be a workhorse. Another add in all leagues.

Darrell Henderson Jr., RB, Los Angeles Rams (45.7%): Following injuries to Cam Akers and Malcolm Brown (finger, which came late in the game), Henderson's role within the Rams' backfield ballooned in Week 2. For now, the status of Akers (ribs) and Brown is unknown, which could lead to a sustained role for Henderson — a talented third-round pick in 2019 — going forward. He rushed 12 times for 81 yards and a touchdown, while adding two catches and 40 yards in Week 2. A talented player to add in all leagues.
Devonta Freeman, RB, Free Agent (7.5%): For the first time in my handful of years writing this column, I'm advocating for a player who doesn't even have a team. Why? Well, Freeman just feels bound to find work soon, given the rash of running back injuries around the NFL — he's already working out for the Eagles early this week, with a visit planned for the Giants as well. In the right spot, he could become an immediate fantasy contributor. There may be no better place now than the G-Men.
Marquez Valdez-Scantling/Allen Lazard, WR, Green Bay Packers (16.8%/33.7%): After Davante Adams left the Packers' game due to a hamstring injury, these two young wideouts were counted on even more to step up. MVS and Lazard both had nice Week 1 efforts and posted three catches apiece on Sunday. I'll give the edge to MVS as my preferred add due to slightly more vertical-play upside, but the reality is that if Adams has to miss time, both of these players will be involved quite a bit.
Corey Davis, WR, Tennessee Titans (27.2%): Davis had three catches in Week 2, one of which found the end zone. He has strung together back-to-back double-digit fantasy points performances, and there's still no denying how much natural talent he possesses. With A.J. Brown dealing with a knee injury, Davis figures to stay busy in a Tennessee offense with a red-hot quarterback dealing.
Jerick McKinnon RB, San Francisco 49ers (18.9%): Start by checking to see if teammate Tevin Coleman is available (at last check he was around in about 47% of leagues), as Coleman took over as the primary ball-carrier after an injury to Raheem Mostert in Week 2. While Coleman was inefficient, he would figure to be a better bet to lead the team in carries over McKinnon because the team must remain smart while managing his workload. But McKinnon showed great burst in Week 2 and is such a useful pass-catcher, that he's worth the speculative add.
Russell Gage, WR, Atlanta Falcons (20.0%): Rare is the offense that can support three wide receivers weekly in fantasy football, but the Falcons might fit the bill. Gage followed nine catches in Week 1 with another six in Week 2, good enough for 46 yards and a touchdown. Get this: Gage also nearly added another six points as a thrower, as he dropped a dime on a designed pass that Julio Jones should have caught for a nearly 50-yard touchdown. A deeper-league add who will keep finding a way.
Myles Gaskin, RB, Miami Dolphins (12.4%): I'm going to throw the flag on myself for not having Gaskin on the column last week – colleague Mike Clay was smart to urge me to consider this – as I wondered whether he would truly be the lead back in the Dolphins' backfield. It sure appears that is the case, as Gaskin handled seven carries but more importantly six catches in Week 2. I'm not sure he'll be a consistent top 25 play for me, but running back depth is so, so thin in fantasy football that Gaskin should be rostered in all leagues.
Joshua Kelley, RB, Los Angeles Chargers (26.4%): The Chargers have two talented backs and Kelley's workload is impossible to miss: he handled 23 carries in Week 2 and rushed for 64 yards. While Austin Ekeler is the clear-cut top back in this backfield for fantasy purposes, there's so much to like about Kelley's game and role already. An add in all leagues as well.

Mecole Hardman, WR, Kansas City Chiefs (43.0%): Sammy Watkins left the game in Week 2 after taking a massive hit and sustaining a head injury. Hardman figures to be much more involved in Watkins is unable to play in Week 3 and many already know this: Hardman is another big play waiting to happen. He'll likely be at best third in line for targets most weeks, but that's certainly still good enough when you catch passes from Patrick Mahomes.
Mike Gesicki, TE, Miami Dolphins (48.1%): I'm not sure if a Mike Gesicki fan club exists in a formal capacity, but I'll soon be a card-carrying member if it does. Gesicki has just an absurd catch radius and is tremendous in the red zone, as was evidenced again in Week 2 with his 130-yard performance. It's very difficult to find a reliable player at tight end, but Gesicki is a player to strongly consider if you're struggling to find it early. Gesicki has some sincere weekly upside.
Jonnu Smith, TE, Tennessee Titans (38.4%): Another quality tight end on the waiver wire, as Smith is such a tremendous athlete and very good after the catch. He scored two more touchdowns in Week 2, giving him three for the season. Tennessee offense is once again looking sharp, so don't be surprised if Smith's surge continues.
Jordan Reed, TE, San Francisco 49ers (5.6%);Dalton Schultz, TE, Dallas Cowboys (.9%);Mo Alie-Cox, TE, Indianapolis Colts (.5%): Yes, I'm listing three players at once for this blurb, as each had an awesome Week 2, but with two tight end adds above whom I feel better about above, I don't want to overdo it here. George Kittle could return soon for San Francisco — same goes for Jack Doyle in Indianapolis — and Schultz is an athletic and rising player, but Dallas does have three excellent wideouts who will get theirs too.
Monitor the quarterbacks: It's hard for me to suggest making a move at quarterback, given how well the expected stars have been so far. No consensus top-10 quarterback is causing me major strife so far, so the names below are worth monitoring in case you're looking ahead to bye weeks or for depth.
Ryan Tannehill, QB, Tennessee Titans (34.4%): If there are naysayers leftover, the pool is dwindling. Tannehill is averaging close to 22.5 points per game early on this season.
Gardner Minshew II, QB, Jacksonville Jaguars (19.3%): This might be my favorite player in the NFL, which is reason enough to consider adding him. Oh, by the way, he has back-to-back games with 20-plus points.
Joe Burrow, QB, Cincinnati Bengals (45.2%): It wasn't a very efficient night in Week 2, but we saw some of the glimpses that give him a chance to be so special in this league.