Chiefs regroup after starters Damien Williams, Laurent Duvernay-Tardif opt out – Kansas City Chiefs Blog
The Kansas City Chiefs thought they had two advantages over most of their competition heading into training camp, one being startling continuity for the salary-cap era and the other a high-scoring offense led by quarterback Patrick Mahomes.
Those advantages might still be there, though not in the abundance they were before the calendar turned to August. Two offensive starters, running back Damien Williams and guard Laurent Duvernay-Tardif, opted out of playing this season amid the coronavirus pandemic, dealing the Chiefs a blow.
"It hurts," tight end Travis Kelce said. "The guys that we have in that locker room can fill that void. I honestly believe that. We have an unbelievable roster, and I'm excited to see how this group molds together."
• Top bounce-back candidates for every team
• Will your team have fans in stands in 2020?
• Chiefs regrouping after losing two starters
• Inside Dolphins' coronavirus pandemic plan
• Judge enters ultimate honeymoon season
• Jets' Adams replacement in familiar role
There's no reason to believe the two player losses will unravel everything the Chiefs have going for them. Eighteen starters still return from the Super Bowl LIV win over the San Francisco 49ers. That familiarity could provide an edge in a season without offseason practice and preseason games and with an abbreviated training camp.
But Williams was the Chiefs' leading rusher last season and a Super Bowl star. He ran for 104 yards against the 49ers and scored the final two touchdowns in the fourth quarter of the 31-20 victory.
The Chiefs also lost their second-leading rusher, LeSean McCoy, who left as a free agent. They did draft LSU's Clyde Edwards-Helaire in the first round, but their veteran running backs have a total of five NFL starts among them.
The Chiefs already had big expectations for Edwards-Helaire as a rookie. Now he must deliver.
In an illustration of just how important he is to the Chiefs this season, a defensive player, linebacker Anthony Hitchens, said, "Our job [on defense] is to get him ready for Week 1: show him different looks, practice hard, try to strip the ball out, playing tight coverage on him."
The Chiefs also lost Stefen Wisniewski to free agency, so they need starters at both guard positions. They had to mix and match along the offensive line last year. Injuries forced them to start five different line combinations.
So between free-agent additions Kelechi Osemele and Mike Remmers, part-time 2019 starters Andrew Wylie and Martinas Rankin and young players in Nick Allegretti and Lucas Niang, the Chiefs have plenty of candidates.
The Chiefs won't have as much time to sort through the possibilities as they usually do.
"The older guys, the more they play, the easier it is to mesh them together," tackle Mitchell Schwartz said. "Obviously, [Osemele] has had an awesome career and Remmers has had a really good career too. Those are guys who understand fits and understand how to play with people, next to people. So that's not something I'm too worried about."
Eagles' Doug Pederson must 'unclutter' Carson Wentz's mind, and his own – Philadelphia Eagles Blog
Philadelphia Eagles coach Doug Pederson thinks he has found a way to get quarterback Carson Wentz out of his funk, one that has the team sitting at 0-2-1.
To "unclutter" his QB's mind, Pederson signaled he will simplify the game plan so Wentz, who has been one of the worst quarterbacks in the NFL statistically through three games, has less to wade through pre-snap. The Eagles will also run more up-tempo offense as part of a greater effort to get Wentz to play quicker and more freely by leaning on methods that "have been successful in the past."
But, Pederson needs to apply that same back-to-basics logic when it comes to his own performance, too.
» News: Pederson backs Carson Wentz
» Column: Eagles played to not lose, or win
» Graziano: How bad is the NFC East?
» More: Eagles' depth chart, schedule
He has strayed off course and away from some of his guiding tenets early in the season. That fact was crystallized late in overtime against the Cincinnati Bengals Sunday when he elected to punt on fourth-and-12 from the opponent's 46-yard line with 19 seconds remaining, settling for a 23-23 tie rather than giving his offense a chance to go for the win.
There was confusion between plays, as the Eagles' punt team ran on the field, then started running off before a delay of game was called. If that wasn't proof enough Pederson wasn't sold on the decision, his postgame comments hinted at immediate regret, which he confirmed Monday morning.
"Looking back, you probably put it in your quarterback's hands to win the game," he said.
How did we get here? How does the same coach who dialed up the Philly Special in Super Bowl LII against the New England Patriots — a coach who has finished either first or second in fourth-down attempts every season since becoming Philadelphia's leader — wave a white flag in a regular-season game against the stinkin' Bengals (0-2-1)?
One could point to the situation or a lack of confidence in Wentz and the Eagles' offense to get the job done, but however it is framed, the move by Pederson remains out of character. And Pederson, more generally, just hasn't seemed himself.
It's likely one of the coach's greatest strengths — the ability to put ego aside in the name of collaboration — is working against him. There were a lot of cooks added to the kitchen this offseason as Eagles owner Jeffrey Lurie looked to spice up an offense that had become too plodding and predictable. The front office influenced Pederson to part with offensive coordinator Mike Groh and receivers coach Carson Walch. A number of newcomers were added, including senior offensive assistant Rich Scangarello, pass game analyst Andrew Breiner and senior offensive consultant Marty Mornhinweg. Quarterbacks coach Press Taylor got a title bump to pass game coordinator and took over many of Groh's responsibilities.
Pederson was at his best when he had former offensive coordinator Frank Reich as the primary voice in his ear. The coaches who have come on board in Philly all have solid reputations, but when you have that many people speaking, it's a lot of opinions to sift through and fuse together, with an increased chance of being pulled in multiple directions.
Not to mention the opinions of Wentz, who has had a growing influence over how this offense is shaped. A lot of that is for good reason: Wentz has a bright football mind by all accounts, he has gained experience, and you naturally want your quarterback to be comfortable with the plays he is running.
But it feels like Pederson has let things float a little too far away from him. The offense needs to be tailored to the QB and built out to fend off predictability, yes, but it also needs a core identity, and the Eagles' identity is very hard to detect at the moment.
Pederson is the only coach in the history of this franchise to lead the Eagles to a Super Bowl title. And yet there has been no whiff of a power grab. He continues to foster collaboration and allow others to put their fingerprints on things, even when those hands are arguably overreaching. That tactic has generally served this franchise well.
There is also a point where some pushback is needed to preserve what has been built and to get all boats pointed in the same direction. That time has arrived for Pederson. If that means reducing Wentz's creative control and coaching him tougher, so be it. If that means identifying the voices he trusts and tuning out the ones that don't sync up, fine.
The time is now to reestablish his reputation as a "freakin' phenomenal playcaller" and reassert himself as the league's gutsiest coach — the guy who would scoff at the notion of punting for a tie.
All of that is going to happen only if he reclaims the space he has rightfully earned.
Hot start for Cardinals' DeAndre Hopkins coincides with decline for Larry Fitzgerald – Arizona Cardinals Blog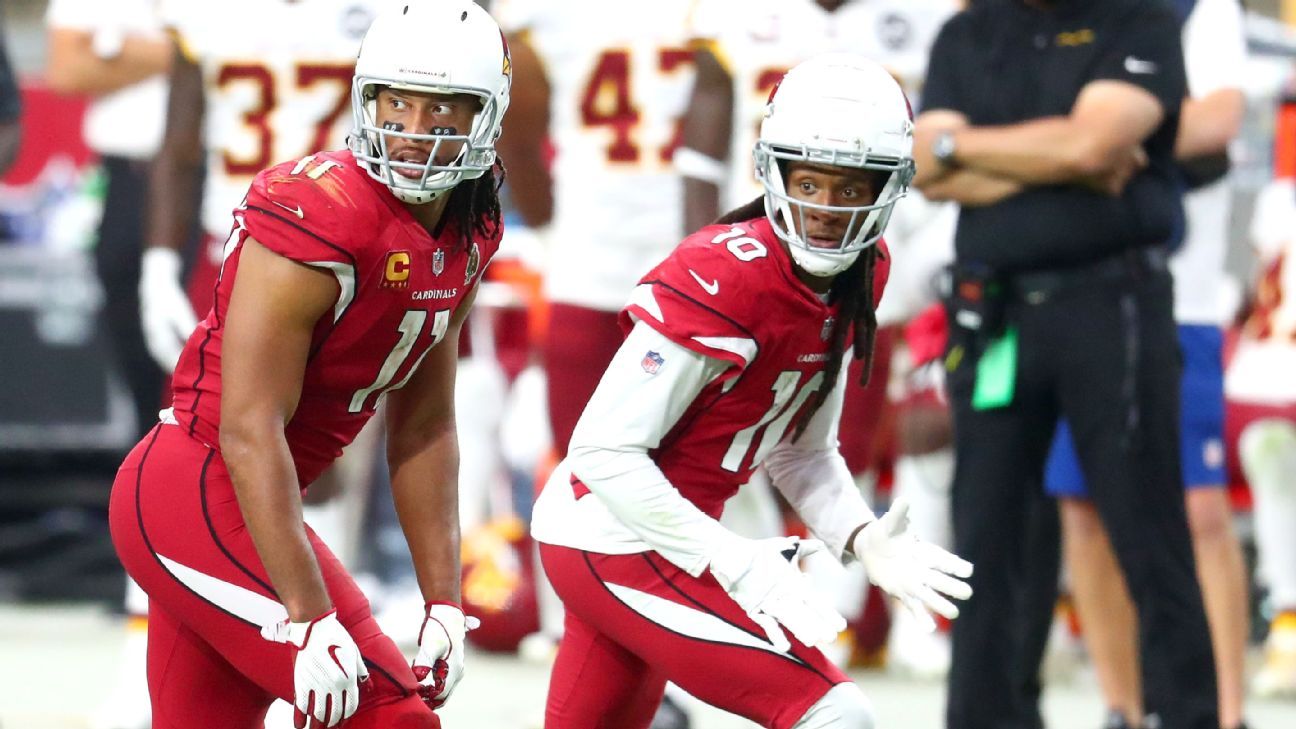 TEMPE, Ariz. — DeAndre Hopkins seems to be settling in quite well with his new team, while teammate and future Hall of Famer Larry Fitzgerald had his lowest receiving output since 2004 on Sunday.
By halftime of the Arizona Cardinals' 26-23 loss to the Detroit Lions, Hopkins had set a personal record for the most receiving yards in his first three games of a season.
And then he continued to build on it in the second half.
When the final horn sounded at State Farm Stadium, Hopkins had 137 yards, giving him 358 through three games, trampling his previous best start of 274 set in 2018 — when he reached 1,500 yards for the second time in his career. The first time Hopkins hit 1,500 yards was in 2015, when he had 252 yards through three games, his second highest mark before this season.
And now there's 2020. Hopkins is averaging 119 yards per game thus far, which puts him on pace for 1,909 yards this season. Only one receiver has surpassed the 1,900 yards mark, and that was former Lions receiver Calvin Johnson in 2012.
• Fantasy fallout: Buy breakout rookie WRs?
• Pederson must 'unclutter' Wentz's mind
• It's Foles' show now as Bears starting QB
• Bengals try to find balance for Burrow
• Hot start for Hopkins, decline for Fitz
"He's doing a great job," Cardinals coach Kliff Kingsbury said of Hopkins. "I thought he played within the offense this week, and the ball came his way. He's just a guy who finds a way to get open. When he has the ball in his hands, he really makes plays with it. You can see him in the open field making people miss, doing things to get the YAC (yards after catch) and that's kind of his specialty."
In his seven seasons since getting drafted in the first round out of Clemson in 2013, Hopkins has five 1,000-yard seasons. Heading into this season, Hopkins had the third-most receiving yards and catches, second-most touchdowns and most targets of any NFL receiver since 2013.
Arguably the league's best receiver, Hopkins has wasted no time in getting acclimated with quarterback Kyler Murray and his first year with the Cardinals.
Through three games, he has caught a career-high 32 passes, which is tied for the third-most in NFL history through games. His 37 targets in three games are the second most of his career.
"Everybody knows his name, who he is on the field," Murray said. "He's one of the best players in the NFL. Obviously having him is a huge deal.
"He's been playing great and hopefully we can keep that going."
A byproduct of Hopkins' emergence has been a reduction of Fitzgerald's role.
The future first ballot Hall of Famer has 84 yards on 12 catches through three games, the fewest of his 17-year career. Before this season, Fitzgerald never had less than 107 yards in the first three games of a season.
A large part of this season's decline was due to Sunday, when he had no yards on one catch, the second time in his career he didn't have a receiving yard in a game. The last time was Oct. 31, 2004 — a stretch of 245 games.
Kingsbury took the blame for Fitzgerald not having any yards, saying he should've done a better job of getting him the ball.
"He's the heart and soul of this team," Kingsbury said. "And when he's getting the football, good things happen. So, that's completely on me."
However, Kingsbury disputed the idea Fitzgerald's decreasing stats are a product of his age — 37 — or Murray having other options.
"No, I don't think it's anything like that, honestly," Kingsbury said. "He had one of the best camps of anybody on the team, and he played great in the first two games. He was getting open. I just did a poor job of getting him the ball."
Source — Houston Texans don't plan to sign safety Earl Thomas
HOUSTON — After meeting with safety Earl Thomas and conducting a physical, the Houston Texans do not plan to sign the free agent, a source confirmed to ESPN.
Houston had a workout scheduled with Thomas, but it did not take place.
The Texans are continuing their search for help at the position, but are not planning to make any moves at this time, a source confirmed to ESPN. On Monday, the Texans put safety A.J. Moore on injured reserve after he injured his hamstring against the Pittsburgh Steelers in Week 3.
ESPN's Dianna Russini reports that the decision to not sign Thomas right now is not related to COVID-19, but a decision made by the Texans.
Thomas has been a free agent since he was cut by the Baltimore Ravens in August after Thomas had an on-field altercation with teammate Chuck Clark. The Ravens said they terminated Thomas' contract for personal conduct that adversely affected the team. A source told ESPN's Adam Schefter that Thomas punched Clark during the practice.
The Texans are 0-3 and are just one of three teams without an interception this season. The Texans also rank 29th in opponent QBR (75.6) and have allowed at least 28 points in all three games.