Angels' Shohei Ohtani unlikely to pitch again in 2020, Joe Maddon says
Los Angeles Angels manager Joe Maddon doesn't expect Shohei Ohtani to pitch any more this season, but he doesn't consider Ohtani's latest setback an indication that he can't continue on as a two-way player.
"From what I'm seeing, I believe that he can," Maddon said before Tuesday's road game against the Seattle Mariners. "We just gotta get past the [arm issues] and figure that out specifically.
"But I've seen it. He's such a high-end arm and specifically what he can do in the batter's box. Now maybe he'll get to the point where he may choose to want to do one thing over the other and just express that to us. I know he likes to hit. As of right now, in my mind's eye, he's still gonna be able to do this."
Ohtani was diagnosed with a Grade 1-2 strain of the flexor pronator mass, which helps stabilize the elbow, on Monday, one day after being unable to break 90 mph near the end of a long second inning. Ohtani, 26, is with the Angels on their six-game road trip and will serve as the team's designated hitter the rest of this season.
The Angels kept him out of Tuesday's lineup while waiting for lingering soreness to subside, but Maddon said he is hopeful of getting him back either Wednesday or Thursday.
Maddon said he is "wide open" to how often he'll use Ohtani as a DH and is under the impression that his current injury won't affect him as a hitter. His rehab as a pitcher, however, will be "very conservative," Maddon added. The Angels said in a statement that pitchers coming back from injuries like Ohtani's must wait about a month before restarting a throwing progression.
Ohtani failed to record an out July 26 against the Oakland A's, which was his first start since October 2018 Tommy John surgery, and was throwing his fastball — a pitch that can reach triple digits — in the mid-90s.
On Sunday, Ohtani displayed a better fastball and showcased his trademark splitter in the first inning against the Houston Astros, but he walked the first three batters in the top of the second and issued two additional walks after back-to-back strikeouts, prompting an abrupt exit after a 42-pitch half-inning. Ohtani later complained of discomfort in his throwing arm, which necessitated an MRI.
Mike Trout — who was activated off the paternity list Tuesday and joined top prospect Jo Adell in the Angels' lineup — noticed Ohtani holding back in his first start but wasn't worried. He watched Ohtani's second start from home and said his concern grew.
"I could just tell something wasn't right," Trout said of Ohtani. "It's tough for him. But he's a unique player. If one thing doesn't work, he can definitely keep hitting. That's pretty cool."
Ohtani showed promise as a pitcher in the first two months of the 2018 season, posting a 3.18 ERA with 57 strikeouts in 45⅓ innings and pairing that with a .925 OPS to win the American League Rookie of the Year Award. He batted .286/.343/.505 in 425 plate appearances in 2019 and was looking forward to returning to a two-way role in 2020 before hit latest setback.
Next year might offer a better opportunity.
"I'm looking forward to him getting well and then utilizing a normal spring training, going into a regular season with a normal number of starts and all the things that permit guys to be ready for a year," Maddon said. "That's what you need to see again, some normalcy, before you make that type of determination."
MLB Wild Card Tuesday Takeaways — Reaction to all four games as MLB playoffs begin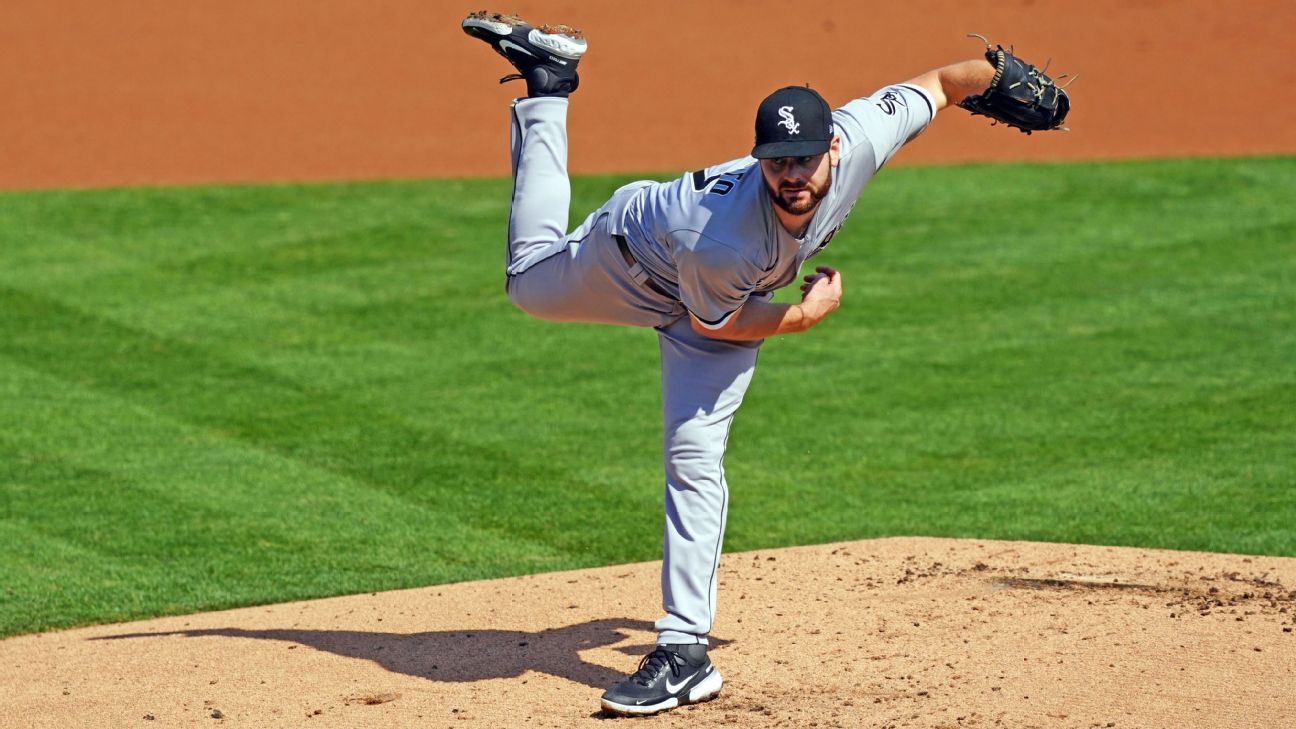 The 2020 MLB playoffs began Tuesday with four American League Wild Card Series.
The Chicago White Sox beat the Oakland A's as Lucas Giolito flirted with perfection. The Houston Astros, who finished the 2020 season with a losing record, topped the Minnesota Twins to extend Minnesota's record playoff losing streak to 17 games.
Here are the heroes, turning points and takeaways from the Game 1s as each opening matchup concludes.
Key links: Preview | Predictions | Schedule, bracket | Playoff Baseball Classic
Jump to … CHW at OAK | HOU at MIN
---
Chicago White Sox 4, Oakland A's 1

Game 1 hero: Lucas Giolito. The White Sox ace became the fifth player in MLB history to take a perfect game into the seventh inning of a postseason game and allowed just a run on two hits and a walk over 7-plus frames.
What it means for the White Sox: What does a bad finish tell us? Apparently, not much. The White Sox looked like a dispirited club as they dropped seven of eight to finish the season. In the first game of their first postseason game in 12 years, that changed. It didn't hurt that Chicago's No. 1 starter — Giolito — pitched like a championship-level No. 1 starter, taking a perfect game into the seventh. Just as important though was the lineup of bashers who swaggered their way through most of the short season was back. Adam Engel, Jose Abreu and Yasmani Grandal went deep, as the White Sox were characteristically aggressive at the plate and did damage when they made contact. That was the team we saw for most of the campaign. — Bradford Doolittle
What it means for the A's: The less said about this performance by the A's the better. Their lineup was the biggest question mark heading into the 2020 postseason, and Giolito validated those concerns. He was brilliant, the White Sox's relievers did enough to hold the lead and now the A's — who have bowed out of the playoffs five times in the last eight years without reaching the ALCS — need to beat Dallas Keuchel and his 1.99 ERA to remain alive. — Jeff Passan
Next up: Game 2, Wednesday at 3 p.m. ET on ESPN
---
The Twins surrender three runs in the ninth inning and lose 4-1 to the Astros, setting an American pro sports record with their 17th consecutive postseason loss.
Houston Astros 4, Minnesota Twins 1

Game 1 hero: Framber Valdez. Taking out a former Cy Young winner early is exactly the kind of move that can get you second-guessed in the postseason, but young Valdez made Dusty Baker look very smart when he came in and pitched beautifully in relief of Zack Greinke. The relief outing gave Houston's offense a chance to finally pounce and steal Game 1.
What it means for the Astros: Never did the Astros panic — not when they were stranding runners, not when their starter Greinke got chased after four innings and not when Jose Altuve, in the midst of a season-long struggle, took a full-count Sergio Romo fastball just above the strike zone for ball four to put them ahead in the ninth. Between him and Valdez going five brilliant innings in relief with just a fastball and curveball — and escaping a ninth-inning jam — the Astros did just what they needed to scrape by. And now they're in quite the enviable position: two cracks at a chance to face the winner of Chicago-Oakland in the division series. — Passan
What it means for the Twins: I'd argue that no team needed to win its first game more than the Twins, because now they're staring at that incredible, inconceivable mark of 17 consecutive losses in the postseason. Different teams, different years, sure, but that doesn't mean this streak doesn't feel like the weight of the Mall of America on their shoulders. Those 17 defeats have come in many ways, but this was one of the most painful. Shortstop Jorge Polanco made a lazy error with two outs in the ninth inning, casually flipping the ball wide of second base on what should have been an inning-ending force that would have kept the game tied at 1. Now they have to summon the mental fortitude to ignore those 16 years of history and hit the ball over the fence — or just get a hit with a runner in scoring position after going 0-for-7 in Game 1. — David Schoenfield
Next up: Game 2, Wednesday at 1 p.m. ET on ESPN2
---
More Tuesday games
Toronto Blue Jays at Tampa Bay Rays, live on TBS
New York Yankees at Cleveland Indians, 7 p.m. ET on ESPN
Minor league baseball contraction process begins with Appalachian League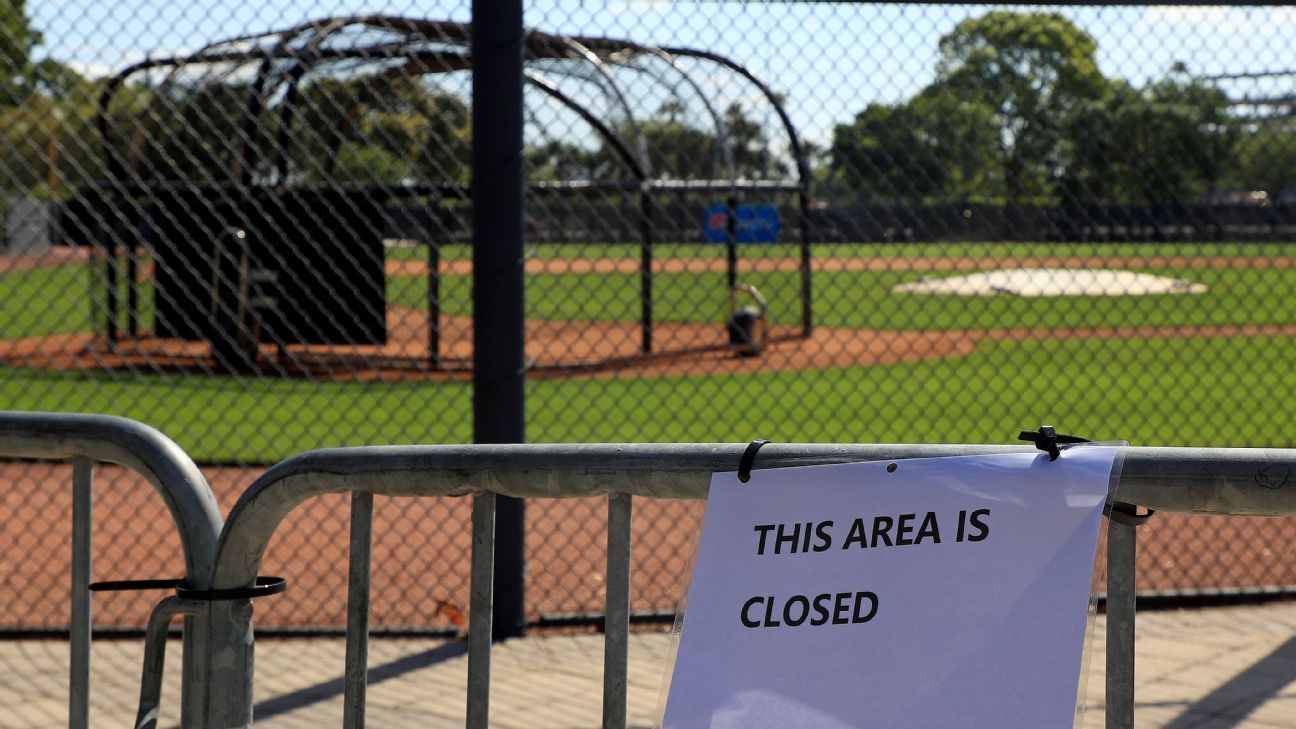 NEW YORK — Major League Baseball started the process of contracting minor league affiliates Tuesday, with the Appalachian League converted to a college summer circuit for rising freshmen and sophomores.
The agreement between MLB and the minor leagues expires Wednesday. MLB has proposed cutting the minimum guaranteed minor league affiliates from 160 to 120 next year, or to four per major league organization plus teams at their spring training complexes.
Many teams from the Pioneer League and the New York-Penn League also are likely to become part of college summer leagues.
MLB and USA Baseball said the Appalachian League will become part of its Prospect Development Pipeline and that 320 players will be invited to play next year. The Appalachian League had been an affiliated minor league with professional players since 1911.
MLB and USA Baseball said they are communicating with the NCAA to ensure participation does not detract from college eligibility, which presumably means players in the league no longer will be paid.
Each team will be scheduled for a 54-game regular season with wood bats, and the two organizations will support staffing and administration. Former major leagues will provide instruction.
The 10 teams in the league will change their names and logos to "incorporate symbols and images important to their respective local communities," according to MLB and USA Baseball.
The 10 teams that were scheduled to be in the Appalachian League at the Rookie Advanced level in 2020 were the Bluefield (West Virginia) Blue Jays, Bristol (Virginia and Tennessee) Pirates, Burlington (North Carolina) Royals, Danville (Virginia) Braves, Elizabethton (Tennessee) Twins, Greeneville (Tennessee) Reds, Johnson City (Tennessee) Cardinals, Kingsport (Tennessee) Mets, Princeton (West Virginia) Rays, and the Pulaski (Virginia) Yankees.
A large number of teams in the Rookie Advanced Pioneer League and the Class A Short Season New York-Penn League also were on an early list of those targeted to lose their affiliations but it is not clear whether those targeted by MLB have changed.
The early list included four Double-A teams from the Eastern League and Southern League and several from the Class A Advanced Florida State League, Midwest League and South Atlantic League, and the Class A Short Season Northwest League.
MLB has proposed eliminating the office of the National Association of Professional Baseball Leagues in St. Petersburg, Florida, and moving administration of the minors to MLB's ofice in New York. Pat Conner, president of the National Association since December 2007, said on Sept. 8 that he will retire on Dec. 31.
Chicago Cubs' Kyle Hendricks gets Game 1 start against Miami Marlins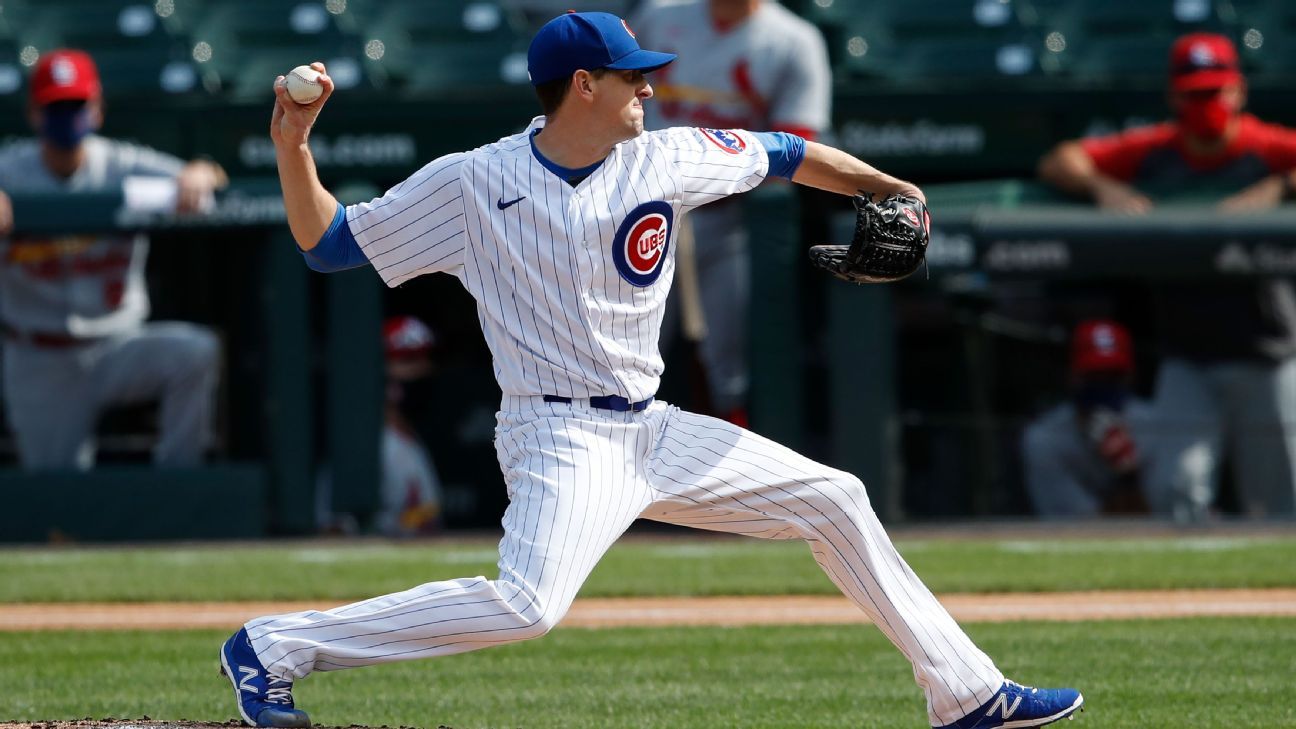 CHICAGO — Cubs right-hander Kyle Hendricks will start Game 1 of their NL Wild Card Series against the Miami Marlins on Wednesday, manager David Ross announced. The decision was between Hendricks and Cy Young contender Yu Darvish. Darvish will take the ball in Game 2.
"I [feel] like I have two aces," Ross said. "I trust both those guys."
Can you please drop this in as the third graph.
"It's a huge honor for me to get the nod from Rossy for Game 1 but at the end of the day we all know what Yu has done this year," Hendricks said. "He's our ace. He's been the guy dominant all year long. If this was a one game playoff kind of thing, he would be the guy, obviously."
Hendricks started on Opening Day and has taken the mound in big games for the Cubs over the past half-decade. He's 2-3 with a 2.98 ERA in 11 career postseason games, including 10 starts. This season, he led all qualified pitchers with an 8-1 strikeout-to-walk ratio, giving up a free pass to less than one batter per nine innings pitched.
"It's really comforting from my seat when he takes the ball," Ross said. "I know he's excited. I'm excited. We have to win two of them. I'm glad we've got those horses."
Hendricks last pitched on Sept. 23 so he'll be off a full week, while the move gives Darvish an extra day of rest after his last outing on Friday.
If the best-of-three series advances to a Game 3 on Friday, the Cubs will start left-hander Jon Lester. Sandy Alcantara will start Game 1 for the Marlins.