Matt LaCosse now eighth Patriot to opt out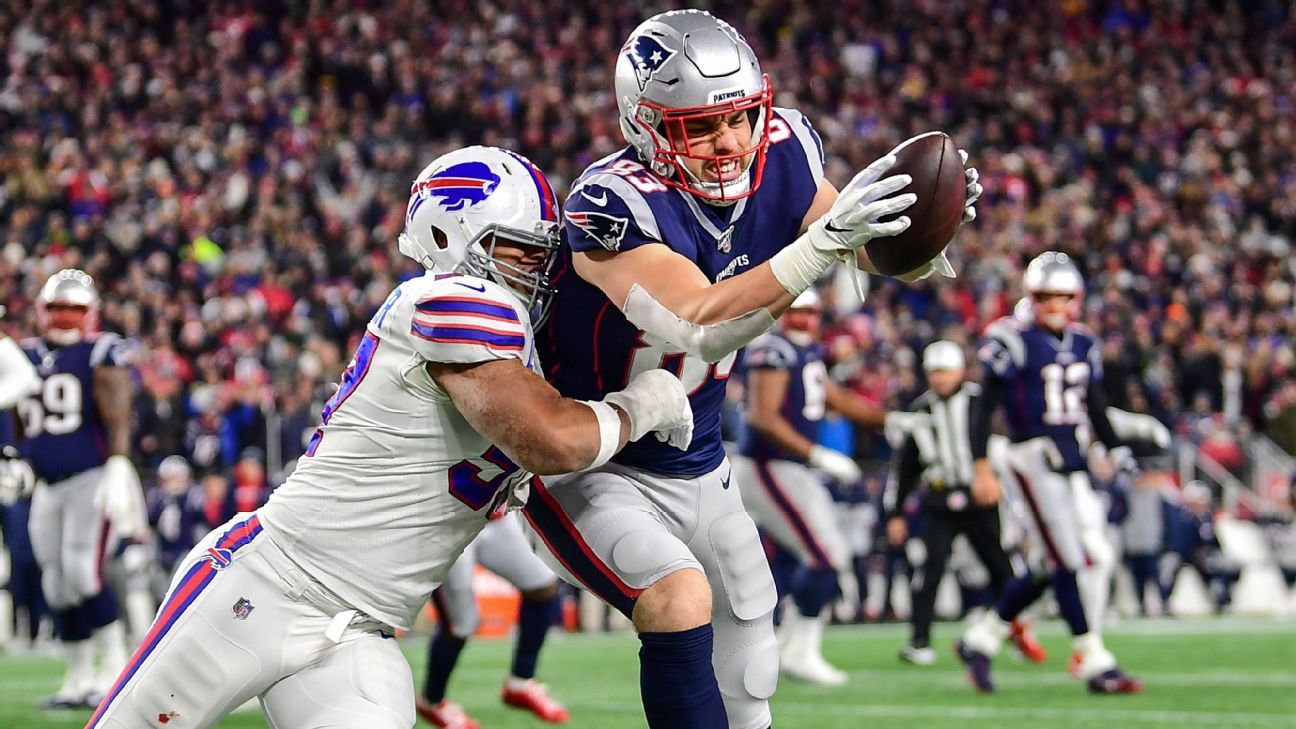 Tight end Matt LaCosse has decided to opt out of the 2020 season, sources tell ESPN's Field Yates, upping the New England Patriots' total of opt-out players eight. The eight players is easily the most of any team in the league.
LaCosse, who turns 28 in September, was entering his second year with the Patriots and sixth in the NFL.
In addition to LaCosse, other top Patriots players to opt out of the 2020 season are starting linebacker Dont'a Hightower, starting safety Patrick Chung, starting right tackle Marcus Cannon and core special teamer Brandon Bolden.
Fullback Danny Vitale, center/guard Najee Toran and receiver Marqise Lee, all of whom were uncertain to be on the initial 53-man roster, also opted out.
As for LaCosse, he had signed a two-year contract worth up to $3.8 million with the Patriots in March 2019. The second year of his contract, in which he was scheduled to earn a base salary of $1 million, will toll to the 2021 season.
LaCosse played in 11 games last season in New England, totaling 13 receptions for 131 yards and one touchdown. He was projected to be on the roster again this year, complementing rookie tight ends Devin Asiasi and Dalton Keene, both whom the Patriots traded up to select in the third round of the NFL draft.
The position was a top priority for the team in 2020. Patriots tight ends ranked last in the NFL in receptions and targets, according to research by ESPN's Stats & Information, and New England was tied with the Chicago Bears for the fewest receiving touchdowns from tight ends (two).
On Friday, when the total of Patriots opt-out players had reached six, Patriots coach Bill Belichick said, "I respect all of them, and I respect all the players on our team. We all have to make decisions. I talked to those guys and they explained their situation, and they had to make the decision that was best for them, and I totally respect and support it 100 percent."
A University of Illinois alum, LaCosse entered the league as an undrafted free agent with the New York Giants in 2015, and has also been with the New York Jets and Denver Broncos.
Those deemed to be high risk to coronavirus receive $350,000 and an accrued NFL season if they opt out of the season. Players who aren't deemed to be at risk but don't feel comfortable playing can receive $150,000 if they opt out.
Raiders' Jon Gruden calls backup QB Marcus Mariota 'dazzling playmaker'
HENDERSON, Nev. — While Derek Carr is firmly entrenched as the Las Vegas Raiders starting quarterback, the guy signed to be his backup, Marcus Mariota, impressed coach Jon Gruden on Friday, the third practice of training camp in which players wore helmets.
"He's interesting," Gruden said with a smile of Mariota. "He took off a couple times today and it really fired me up. He's been hurt, but looks like the ankle really turned a corner. He's a dazzling playmaker with his feet and that's the key to his game.
"I saw glimpses of that today. It's exciting. Started off slow on 7-on-7 [drills], but [he] picked it up, had a nice day. Had a real nice day."
Indeed, Mariota, who lost his starting job with the Tennessee Titans to Ryan Tannehill last season, struggled early in practice, missing tight end Jason Witten badly on an intermediate pass to the right sideline. And he throws a different ball than Carr.
But it is Mariota's scrambling ability and willingness to extend plays with his legs that makes him a good fit for Gruden's offense. Even as Mariota, the 2014 Heisman Trophy winner, has said since signing as a free agent with Las Vegas in March that the Raiders were Carr's team.
In fact, both Mariota, the No. 2 overall pick of the 2015 NFL draft by the Titans, and Carr, a second-round pick of the Raiders in 2014, suffered season-ending broken legs on the same day in Week 16 of the 2016 season.
"It's like weird, crazy things that link you together," Carr said earlier in camp.
"I'll tell you one thing, in our quarterback group you have to compete and that's what I do. Anyone that's around me, all I'm going to do is compete. I've had multiple starters in the NFL come in here and be in the same room as me. You can go through the list about who's started games and who's been in our quarterback room. It happens all the time, but when you go 7-9, people like to make up stuff."
Raiders offensive coordinator Greg Olson said Mariota would push Carr, a three-time Pro Bowler and the franchise's all-time leading passer who is coming off career highs in passing yardage (4,054), completion percentage (70.4%) and Total QBR (62.2) but is just 39-55 as a starter, with one winning season in six years.
And as Raiders owner Mark Davis told ESPN.com, "The best quarterbacks are the ones that have the wins; stats will follow."
Mariota is 29-32 as a starter.
"Competition brings out the best in any player in any sport," Olson said.
"I would say it's the best competition that we've had since we've been here."
Seahawks' Tyler Lockett 'had lot of hesitation' about playing before deciding not to opt out
RENTON, Wash. — Seattle Seahawks wide receiver Tyler Lockett said he "definitely had a lot of hesitation" about playing this season amid the coronavirus pandemic.
Lockett's concern stemmed from a preexisting heart abnormality as well as the fact that much of his family has asthma. Before the Seahawks drafted Lockett in the third round in 2015, medical checks at the scouting combine revealed that his aorta is on his right side. At the time, Lockett was briefly unsure if he would be able to continue playing football.
"So just with everything that happened in COVID, that was one of my biggest issues was just trying to make sure [this heart condition] wasn't gonna affect me if I was able to go out there and play," Lockett said Friday on a video conference with reporters. "Obviously, nobody really knows. You've got doctors who kind of give you what you need to know up front, what they think and what their biggest opinion is of it, but I think I had my chance to opt out, and I said that if I come up here, I'm gonna just play.
"I know that we've got Pete [Carroll], we've got a lot of older coaches. They don't want to put themselves in a situation to get sick neither, so I told myself if they could do it then I know I could do it. And if I'm going to come out here and play, then I'm just going to do what needs to be done. I'm not going to stress about COVID. I did that from February to before we came into camp."
The 27-year-old Lockett has led the Seahawks in receiving in each of the past two seasons.
His family experienced a scare earlier this year when a cousin contracted COVID-19. The woman had previously lived with Lockett in Seattle.
"It was bad," he said. "I would get messages from her mom and she would send me like a long paragraph and stuff because my cousin never told me. She was just telling me how she was having a hard time breathing, she really didn't feel good, and when I ended up talking to my cousin after she ended up overcoming it, she had told me that there was one day where her body was just aching so much she had told a woman … basically like she really didn't think she was going to make it. She was like, she didn't think her body was going to be able to deal with what she really felt another day."
Lockett said the cousin has asthma, as does much of his father's side of his family.
"That's why it made me question if I wanted to come play," he said. "I have a lot of stuff in my family to where I don't want to put anybody in jeopardy."
The Seahawks had one player, guard Chance Warmack, opt out of the 2020 season due to coronavirus concerns. As of Friday, they had placed only one player on the reserve/COVID-19 list, and that was due to a false positive test to wide receiver John Ursua, who has since been activated and is taking part in practice.
Colts' Jacoby Brissett says he knows he'll start at QB again somewhere
INDIANAPOLIS — Jacoby Brissett might never start another game at quarterback for the Colts. But in his mind, he believes he'll be a starter again in the NFL at some point down the road after he failed to hold on to the job in Indianapolis in 2019.
Brissett said he was surprised when coach Frank Reich gave him the news last winter that they were replacing him with veteran Philip Rivers as the starter. Reich acknowledged that Brissett, like any other player would be, was upset by the demotion.
"I still believe in myself," Brissett said Friday in his first public comments since Rivers' arrival. "I know I'm a starter in this league. I know I can play at a high level. I did it last year."
Brissett became the starter when Andrew Luck announced his retirement two weeks before the regular season last year. The Colts gave Brissett a two-year contract, allowing him the opportunity to prove he could be the next franchise quarterback.
Brissett, however, didn't consistently play at a level needed to lead a team to the playoffs last year. He started strong in leading the Colts to a 5-2 record, including victories over playoff teams Houston, Tennessee and Kansas City. But Brissett, who suffered a knee injury at Pittsburgh in early November, faltered down the stretch as the Colts lost seven of their final nine games to miss the playoffs.
He finished 29th in the NFL with 196.1 yards per game and was hesitant to take shots down the field.
General manager Chris Ballard gave an indication a change was going to occur when he said the jury was still out on Brissett at the end of last season. Rivers is a 38-year-old veteran who has passed for 59,271 yards and 397 touchdowns in his 16-year career. Brissett said he still plans to compete even though Rivers is now the starter.
"I really can't say enough positive [things] about how he has been with this change, I guess — I don't know another word for it, with me being here and also how he has just been," Rivers said. "He's an impressive guy to be around. The way he works at it and then how helpful he's been with little things, 'Here's how we signal this. Here's how I usually set that. Here is how I set that.' Then the few things that I'm like, 'Gosh, can we do this? Can we do that?' He's like, 'Yeah, I'll learn it. Whatever you are most comfortable with.' So he has been super helpful, gracious."
Brissett still has significant value to the Colts. Reich has said they plan to have special packages for Brissett to get him onto the field this season. And Brissett has to be ready to step in and start at any moment, especially with the uncertainty when it comes to the coronavirus pandemic.
Brissett, like Rivers, will be a free agent at the end of this season. "I know I'll be a starter in this league one day again," Brissett said. "Wherever that may be."