Sources — NFL opt-out deadline expected to move up
The opt-out deadline for NFL players is now expected to be moved up to either Tuesday or Wednesday, depending on talks this weekend, league sources told ESPN's Adam Schefter.
The NFL is pushing to move up the deadline from one week after the new collective bargaining agreement side-letter is signed, and it now is expected even sooner, sources told Schefter.
Those deemed to be high risk to COVID-19 would receive $350,000 and an accrued NFL season if they opt out of the season. Players who aren't deemed to be at risk but don't feel comfortable playing can receive $150,000 if they opt out. Those numbers could change slightly based on circumstances.
If games are canceled, players won't be paid. But there will be a fund/benefit established to pay back any benefits eliminated as a result of COVID-19 up to 2023, as well as paying back any lost guaranteed money to players.
Texans' Brandin Cooks has 'zero' concerns over his concussion history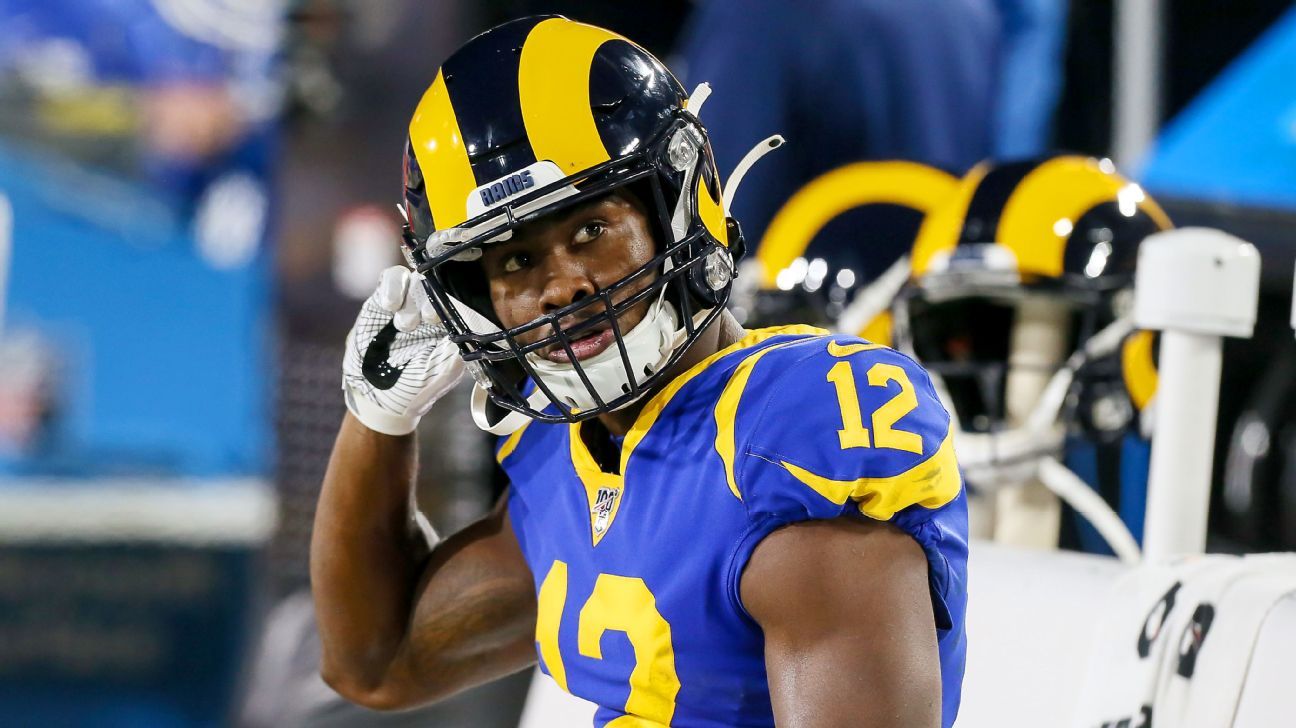 HOUSTON — Despite missing two games last season after sustaining two concussions in a 25-day span, Houston Texans wide receiver Brandin Cooks said he has "zero" concerns about his concussion history.
"For me, I'm not worried at all," Cooks said on Thursday. "If there is any hesitation or worry, I wouldn't be here right now. But at the end of the day, things happen in this game that you wish don't happen. But when you start to learn through this process, you really start to get an understanding on what this is. There's so much out there that people just don't understand that goes into it.
"Everybody thinks, 'Oh, it's just impact,' but without going into specifics, I'm comfortable and I feel great and I look forward to continuing to just do what I have to do and go out there and give it my all."
Cooks, who will turn 27 in September, has suffered five known concussions in his six-year NFL career, three of which came in the past two seasons when he was with the Los Angeles Rams.
In April, when the Texans acquired Cooks, head coach and general manager Bill O'Brien said, "Yes, he's had concussions, but he's only missed two games since 2015. All that was taken into account when we worked with [Rams coach] Sean McVay on the trade.
"We also spoke with other doctors relative to Brandin and his injuries," O'Brien said then. "Not to get into the details, but we feel really good at where Brandin's at, relative to his health."
The Texans sent a 2020 second-round draft pick (No. 57 overall) to the Rams for Cooks and a 2022 fourth-round pick.
In 14 games last season, Cooks caught 42 passes for 583 yards and two touchdowns. In six seasons, Cooks has played for the New Orleans Saints, New England Patriots and the Rams, and he is one of only four players to produce four 1,000-yard seasons before their age-26 season.
Jaguars CB Rashaan Melvin opts out of 2020 NFL season
JACKSONVILLE, Fla. — Veteran cornerback Rashaan Melvin on Thursday became the third Jacksonville Jaguars defensive player to opt out of the 2020 season.
Melvin, who signed a one-year contract worth $1.75 million in March, was expected to compete with third-year player Tre Herndon to start opposite rookie first-round pick C.J. Henderson. He had been at the team facility all week and told the team of his decision on Thursday.
The 30-year-old Melvin has four interceptions and 41 pass breakups in seven seasons with Baltimore, Indianapolis, Detroit, New England and Oakland.
Nose tackle Al Woods and linebacker/defensive end Lerentee McCray also have opted out of the 2020 season. Woods was signed to shore up a run defense that gave up 139 yards per game last season. McCray is a core special-teams player who could fill in on defense.
NFL training camp 2020 – Roster shake-ups see old faces and rookies in new places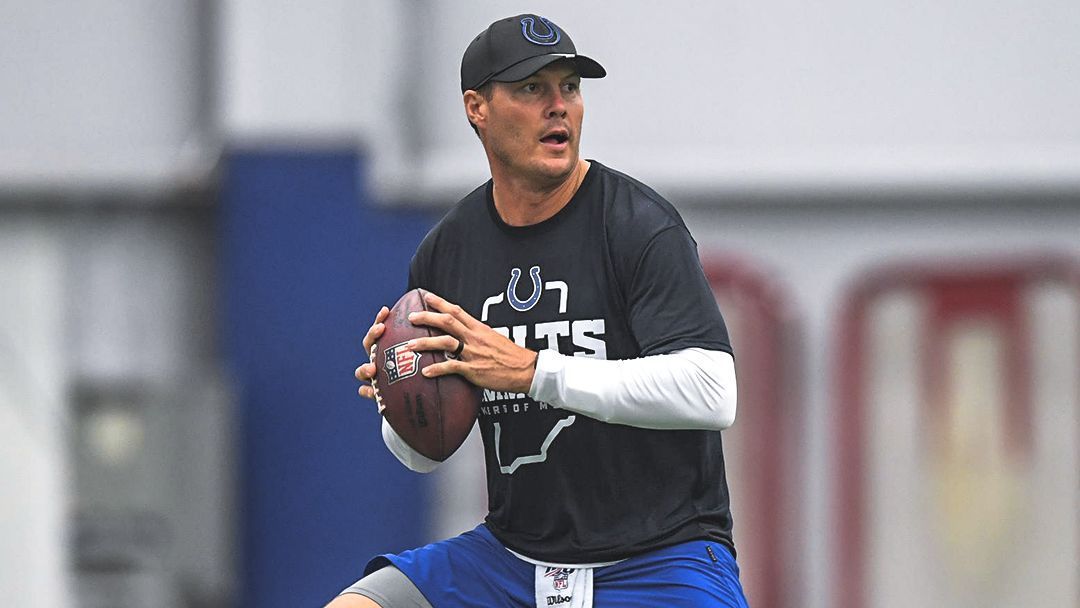 Tom Brady in red and pewter. Philip Rivers in blue and white, no yellow to be found. Joe Burrow in Cincinnati. Chase Young in Washington. The 2020 NFL season is going to look different.
There's just something about old faces in new places … and about new faces. Hope springs eternal for every fan base before any games have been played, and new arrivals add fuel to those postseason hopes.
With that said, here's a look at some of the aforementioned players, veterans and rookies alike, who could make a splash in their new digs.
---
The vets
mood for life😁 pic.twitter.com/QNceEGbSwz

— Deandre Hopkins (@DeAndreHopkins) August 4, 2020
Cam Newton's first official photo in his Patriots jersey. pic.twitter.com/tn5SVJIl1M

— Field Yates (@FieldYates) August 4, 2020
Buck looks good in blue. 🔵⚪️ pic.twitter.com/o3LCHJia0G

— Indianapolis Colts (@Colts) August 2, 2020
These two are absolutely perfect for each other. 🙌@JoshAllenQB | @StefonDiggs | @GMFB pic.twitter.com/3ZOdRyL6SJ

— Buffalo Bills (@BuffaloBills) August 4, 2020
🔵&🟠 looks good on these vets. 😏 pic.twitter.com/I7LbZOP5x0

— Chicago Bears (@ChicagoBears) August 3, 2020
𝙎𝙇𝘼𝙔@bigplay24slay | #FlyEaglesFly pic.twitter.com/tYprtwkg83

— Philadelphia Eagles (@Eagles) August 4, 2020
Got his #Steelers helmet ☑️@Ebron85 pic.twitter.com/o9OsIIGzLU

— Pittsburgh Steelers (@steelers) August 2, 2020
O.J. ✖️ Gronk ✖️ Cam pic.twitter.com/FYhdFXXMav

— Tampa Bay Buccaneers (@Buccaneers) August 4, 2020
Philip Rivers in his new uniform, via @Colts. pic.twitter.com/IcWatFN7gi

— Adam Schefter (@AdamSchefter) August 1, 2020
Thank you for the bday wishes!! Might treat myself to a new iPhone this year… https://t.co/x2cvb2wJNG

— Tom Brady (@TomBrady) August 3, 2020
Silver and Black looks good on @JasonWitten. #RaiderNation pic.twitter.com/I06Sq976F8

— Las Vegas Raiders (@Raiders) August 3, 2020
Welcome to the black and gold: @ESanders_10 ⚜️#Saints pic.twitter.com/jcKgjRZC4q

— New Orleans Saints (@Saints) August 1, 2020
Coming soon to M&T Bank Stadium 🔥👀 pic.twitter.com/PIP2iApmWv

— Baltimore Ravens (@Ravens) August 3, 2020
First look at @teddyb_h2o 👀 pic.twitter.com/0HffzLWfLK

— Carolina Panthers (@Panthers) August 2, 2020
Flash in the orange & blue. 🔥 pic.twitter.com/jt0oO9y5aY

— Denver Broncos (@Broncos) August 5, 2020
---
The rookies
The first photo of Joe Burrow throwing in his new uniform (via @Bengals) pic.twitter.com/OOozqfUV5w

— Ben Baby (@Ben_Baby) August 4, 2020
first look in powder blue ✨ pic.twitter.com/mDvZCxnwdU

— Los Angeles Chargers (@Chargers) August 2, 2020
Hope we see this dance a lot this season, @jerryjeudy. 🕺 pic.twitter.com/9zknlTuZBV

— Denver Broncos (@Broncos) August 4, 2020
The Rook❗️@JWills73 pic.twitter.com/dVd7spC33C

— Cleveland Browns (@Browns) August 5, 2020
😷✌️ @ChocoDro #FinsUp pic.twitter.com/ZwZGXT9pep

— Miami Dolphins (@MiamiDolphins) August 4, 2020
.@jordan3love in green & gold 👀#GoPackGo pic.twitter.com/BL07Vmcoj9

— Green Bay Packers (@packers) July 31, 2020
9️⃣9️⃣ problems coming soon 🔥 pic.twitter.com/CHUiHRpBo3

— Washington Football Team (@WashingtonNFL) July 29, 2020
.@jeffokudah in the Honolulu blue ❄️ pic.twitter.com/mE3dkoi6Kk

— Detroit Lions (@Lions) August 2, 2020
Looking sharp, @DerrickBrownAU5!#WarEagle x #KeepPounding pic.twitter.com/84xrRgGHHb

— Auburn Football (@AuburnFootball) August 6, 2020
🛫 @BigTicket73 + @Zel5Zelly 🛫 pic.twitter.com/ZO58NC8WKx

— New York Jets (@nyjets) August 2, 2020
We can get used to this…🤩@_CeeDeeThree | #DallasCowboys pic.twitter.com/znZ0KzV5jw

— Dallas Cowboys (@dallascowboys) August 3, 2020
The X Factor. pic.twitter.com/9HeyAPV2Jc

— Arizona Cardinals (@AZCardinals) August 2, 2020
Just let the heat talk 🤫 pic.twitter.com/nn4befAZuc

— #DUUUVAL (@Jaguars) August 3, 2020