Sources — More St. Louis Cardinals test positive, Saturday's game postponed
Saturday's game between the St. Louis Cardinals and Milwaukee Brewers has been postponed following additional positive tests among the Cardinals, according to ESPN and multiple reports.
At least four more members of the Cardinals have tested positive for COVID-19, according to ESPN and multiple reports.
It is not known whether the new positive tests came from Cardinals players. Baseball reporter Craig Mish first reported on the new cases.
Major League Baseball commissioner Rob Manfred had told MLB Players Association executive director Tony Clark on Friday that if the sport doesn't do a better job of managing the coronavirus, it could shut down for the season, sources familiar with the conversation told ESPN's Jeff Passan. In text conversations with teammates Friday, MLBPA player representatives also warned about the threat to the season, according to Passan.
Friday's series opener was postponed after two Cardinals players tested positive for the coronavirus. The game was moved to be part of a doubleheader Sunday — the first set of seven-inning games under an agreement announced by Major League Baseball on Friday.
After learning of the first two positive cases Thursday night, the Cardinals said that they instructed all players and staff to self-isolate in their hotel rooms in Milwaukee until further notice.
The Cardinals' positives represented the first positive tests for baseball outside of the East Coast since the regular season started last week.
Gerrit Cole posts 20th straight regular-season win as Yankees beat Red Sox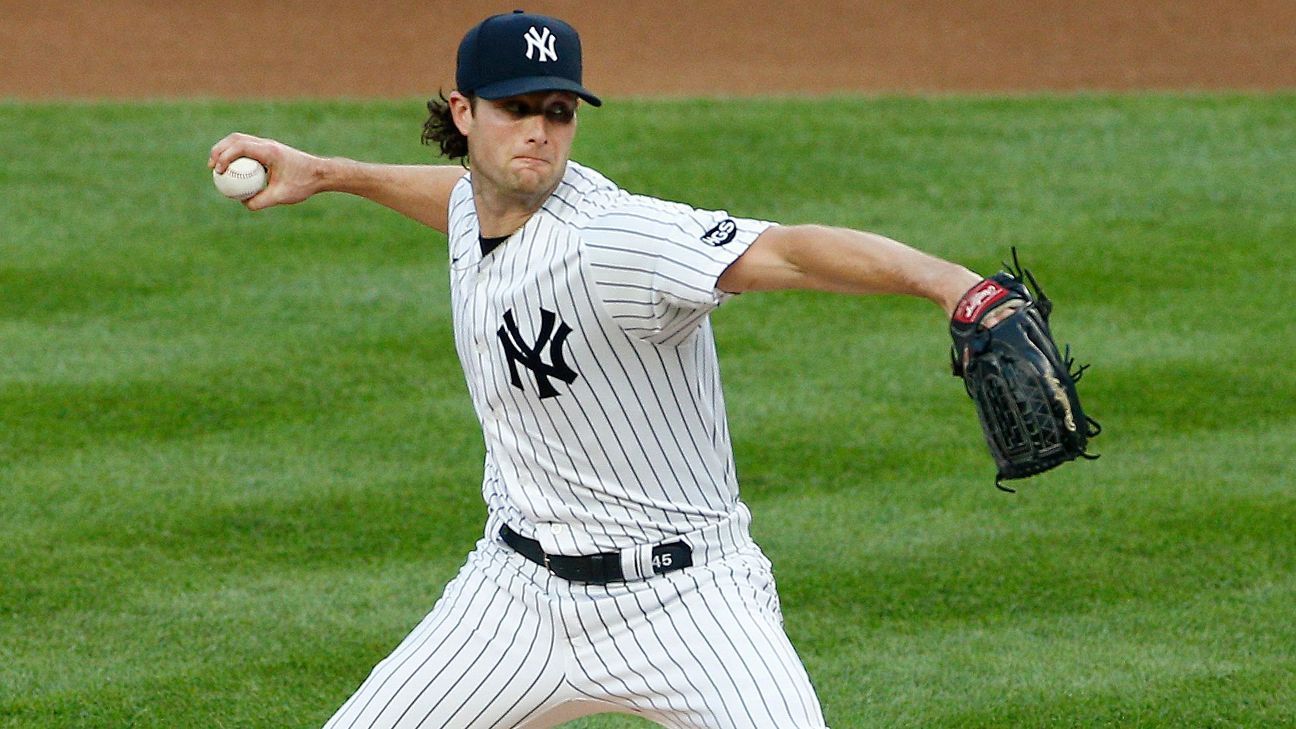 NEW YORK — Gerrit Cole posted his 20th straight regular-season win over his last 27 starts dating to last season, becoming the sixth pitcher to ever reach the mark by throwing seven sharp innings to lead the New York Yankees over the Boston Red Sox 10-3 Friday night.
A noted Yankees fan growing up in Southern California, Cole (4-0) allowed one run and four hits in his first taste of the storied rivalry in front of empty seats. He struck out eight, walked none and threw 95 pitches.
Cole, who came within one strike of a win in his previous start before getting pulled, moved closer to the all-time record of 24 consecutive victories by Carl Hubbell in 1936-37. Roy Face is next at 22, followed by Roger Clemens, Jake Arrieta, Rube Marquard and Cole at 20 each.
Cole's only defeat since May 2019 was in the World Series opener last year, when he pitched for Houston and lost to Washington.
The Yankees improved to 7-0 at home for the fourth time since 1959 (also 2017, 1998 and 1987). New York also beat Boston for the seventh straight time and is 12-1 at home against the Red Sox since the start of last season.
Information from The Associated Press was used in this report.
Nationals bring up prospect Luis Garcia, place Starlin Castro on IL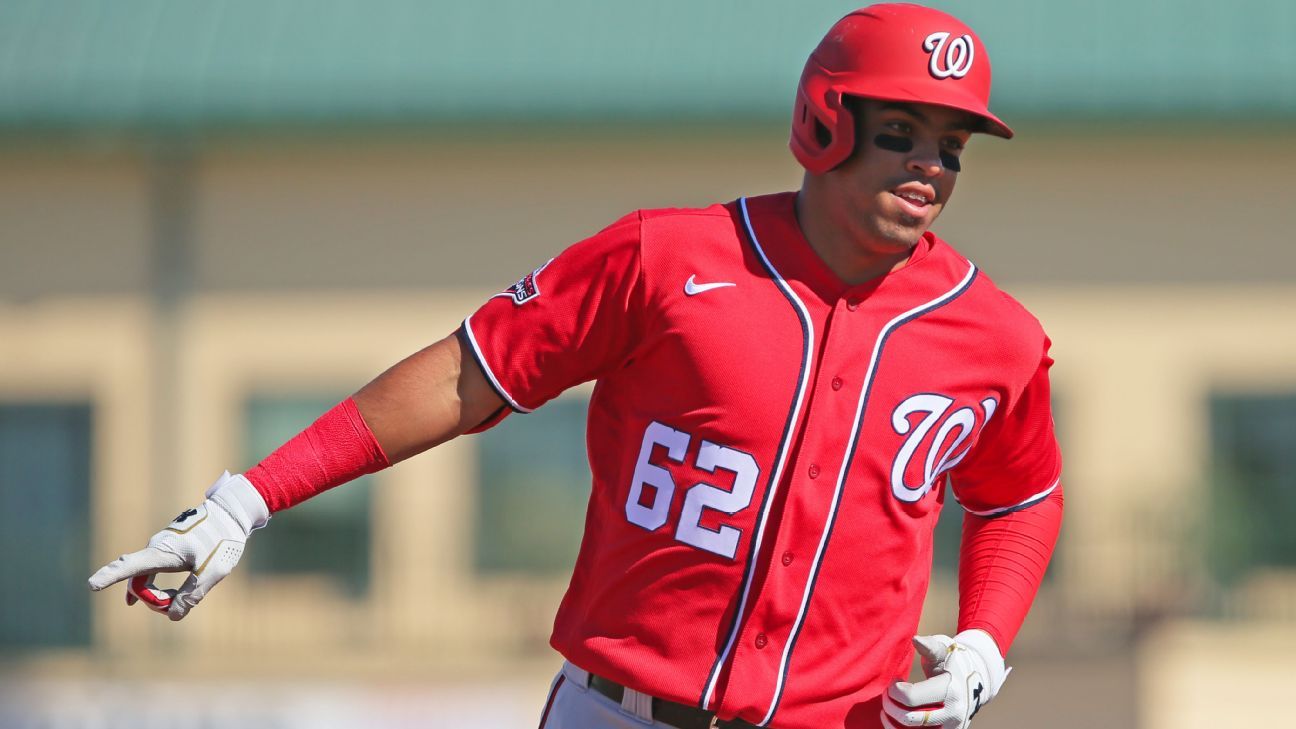 BALTIMORE — The Washington Nationals are ready to find out if 20-year-old infielder Luis Garcia has the poise and talent to play in the big leagues.
The Nationals selected Garcia's contract on Friday, a move that coincided with infielder Starlin Castro being placed on the 10-day injured list with a broken right wrist. Garcia was in the starting lineup for Washington, prepared to make his major league debut against the Orioles.
Garcia is considered to be one of the top prospects in the minor league system of the defending World Series champion Nationals. Signed as an undrafted free agent in 2016, the slick-fielding middle infielder has hit .281 with 51 doubles, 13 triples, 12 homers and 106 RBIs in 305 career minor league games.
In 2019, Garcia was named the Nationals' minor league defensive player of the year with Double-A Harrisburg, where he played shortstop and second base. As a 19-year-old, he was the youngest player in the Eastern League.
Also on Friday, the Nationals transferred lefty Sam Freeman to the 60-day injured list with a left flexor mass strain.
Cardinals manager Mike Shildt says team did nothing 'egregious' to cause outbreak
As he prepares his team for a return to the playing field, St. Louis Cardinals manager Mike Shildt is defending his players over any narrative that they did something "egregious" to cause the COVID-19 outbreak that has sidelined them since July 29.
"What I can tell you, with confidence, is it would be very irresponsible and a misstep to say this group went out and did anything that was egregious," Shildt said Friday evening. "To say something otherwise, would be inaccurate. Strongly inaccurate."
Shildt admits his team made smaller mistakes that led them twice to being quarantined, but he's confident there won't be any more starts and stops based on their behavior.
"We will be even more prudent with every regulation that is out there," he said. "I don't think you'll have anyone touch anyone on the field the rest of this year. Our dugouts will be even more sterile. We're going to show up later. Every meeting will be outside. It's going to be very little time spent in the ballpark.
"I can confidently tell you there was no cavalier approach to this before this happened."
The Cardinals will play three doubleheaders in Chicago in the coming days as they begin to play catch-up on their schedule. They've played just five games this season.
"You could say it's a fourth chance," Shildt said. "Spring training, summer camp, an initial quarantine, then another one."
Out of an abundance of caution — and to keep their distance — each healthy player and staff member drove a rental car from St. Louis to Chicago on Friday.
The Cardinals will play the White Sox and then the Cubs over the next week, with doubleheaders scheduled for Saturday, Monday and Wednesday. To prepare, Shildt said players had individualized workouts beginning on Tuesday of this week but no one who tested positive for COVID-19 has been cleared to play again.
In all, 10 players and eight staff members tested positive. It forced the team to call up players from their alternate training site in Springfield, including top prospect Dylan Carlson. He'll be in the starting lineup on Saturday. They also reworked their coaching staff by bringing back fan favorite Jose Oquendo to coach third base.
"This is history and we're going to do our best to learn from others but candidly we're making it right now," Shildt stated.
The Cardinals will mix their regular starters in with bullpen days as Adam Wainwright will pitch in Game 1 on Saturday with several relievers taking the ball in Game 2. Dakota Hudson and Kwang-Hyun Kim will get their turns before ace Jack Flaherty sees action on Wednesday for the first time since Opening Day.
Near the end of a long video call with Shildt from his hotel room in Chicago, he was asked if there was ever a moment he thought the Cardinals would not play baseball again this year. "Full disclosure, I had two minute internal dialogue about it and shut it out," he said.