Dr. Anthony Fauci says Marlins' virus outbreak could endanger MLB season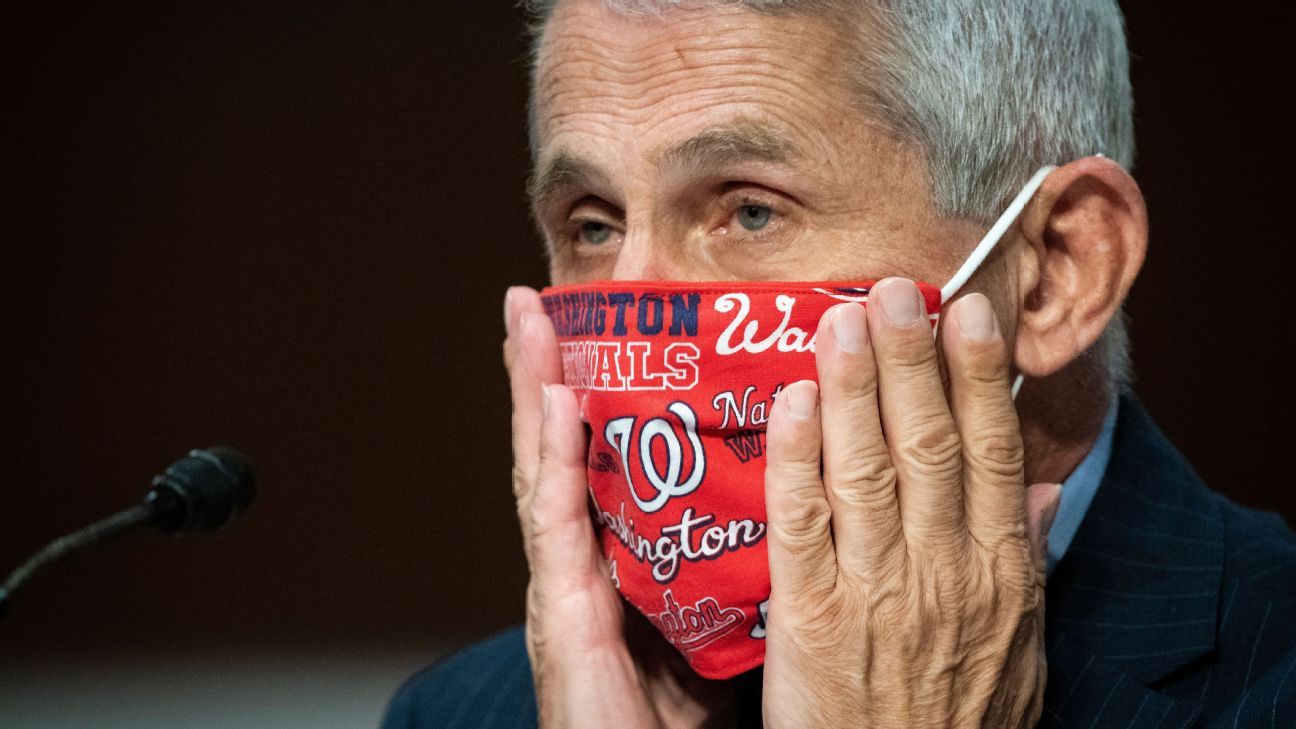 MIAMI — The Marlins' coronavirus outbreak could endanger the Major League Baseball season, Dr. Anthony Fauci said Tuesday, although he doesn't believe games need to stop now.
More than a dozen Marlins players and staff members tested positive for COVID-19, stranding the team in Philadelphia and raising anew questions about MLB's attempts to conduct a season.
"This could put it in danger," said Fauci, the director of the National Institute of Allergy and Infectious Diseases. "I don't believe they need to stop, but we just need to follow this and see what happens with other teams on a day-by-day basis."
Fauci made his comments on ABC's "Good Morning America."
"Major League Baseball — the players, the owners, the managers — have put a lot of effort into getting together and putting protocols that we feel would work," Fauci said. "It's very unfortunate what happened with the Miami [Marlins]."
Their outbreak continued to disrupt Major League Baseball's schedule Tuesday, the sixth day of the pandemic-delayed season, with the Marlins' home game against Baltimore postponed.
The game Monday between those teams was also called off, as was the Yankees' series opener Monday at Philadelphia, where New York would have been in the same clubhouse the Marlins used last weekend.
The Marlins had at least 11 players and two coaches test positive over the past few days.
"Obviously, we don't want any player to get exposed. It's not a positive thing," Commissioner Rob Manfred said on the MLB Network. "But I don't see it as a nightmare. … We think we can keep people safe and continue to play."
The Orioles, who made a trip to Miami without playing a game, are scheduled to host the Marlins in a two-game series starting Wednesday.
"If the testing results are acceptable, the Marlins will resume play in Baltimore on Wednesday against the Orioles," Manfred said.
Meanwhile, Chicago White Sox manager Rick Renteria will be kept away from his team after experiencing a "slight cough and nasal congestion," general manager Rick Hahn said. Tests were planned.
The Marlins' outbreak was the talk of baseball, and Washington Nationals manager Dave Martinez choked on his words as he discussed the situation. Martinez missed time last season because of a heart condition, and the Nationals are scheduled to play in Miami this weekend.
"I'm going to be honest with you: I'm scared," Martinez said. "My level of concern went from about an eight to a 12. I mean this thing really hits home now. … I got guys in our clubhouse that are really concerned, as well."
The Marlins placed infielder Garrett Cooper, outfielder Harold Ramirez and right-hander Jose Urena on the injured list. They claimed right-hander Justin Shafer and left-hander Josh Smith off waivers from Cincinnati, and will likely rely heavily on reinforcements from their training camp in Jupiter, Florida.
Manfred said there are factors that would force MLB to alter plans.
"A team losing a number of players that rendered it completely noncompetitive would be an issue that we would have to address and have to think about making a change," he said. "Whether that was shutting down a part of the season, the whole season, that depends on the circumstances. Same thing with respect to leaguewide. You get to a certain point leaguewide where it does become a health threat, and we certainly would shut down at that point."
MLB and the union held talks Monday after aspects of the protocols were widely ignored during the season's first four days, such as the prohibitions on high-fives and other physical celebrations.
The NBA and NHL plan to resume their seasons in bubble environments, with basketball at the ESPN Wide World of Sports Complex in Lake Buena Vista, Florida, and hockey at Edmonton, Alberta, and Toronto.
"The NBA and the NHL have an advantage: smaller numbers of players, shorter period of time," Manfred said. "I understand why they did what they did. I'm just not sure it was workable for us."
The NFL has opted not to create a bubble environment as training camps open for the coming season.
"It might be that they have to go in a bubble," Fauci said, "but I think they're conscientious enough and want to protect their players and protect the personnel that they will do the right thing."
Dinelson Lamet carries no-hitter into 7th inning as Padres beat Diamondbacks
SAN DIEGO — Fernando Tatis Jr., Manny Machado and the rest of the San Diego Padres were way too much for winless Madison Bumgarner and the Arizona Diamondbacks.
Dinelson Lamet was brilliant in taking a no-hitter into the seventh inning and Tatis continued his remarkable power surge with a two-run homer off Bumgarner, who allowed four of San Diego's club-record six long balls as the Padres beat the Diamondbacks 9-5 on Sunday.
Machado homered twice off Bumgarner. Wil Myers, Francisco Mejia and Ty France also went deep for San Diego.
Lamet (2-0) had allowed only one baserunner, on a hit by pitch, until Kole Calhoun homered on a 2-0 pitch leading off the seventh. Lamet got two more outs before manager Jayce Tingler pulled him in favor of rookie Luis Patino.
Lamet retired the first 14 Diamondbacks batters, struck out 11 overall and walked none in 6 2/3 innings. The hard-throwing right-hander hit Andy Young with a pitch with two outs in the fifth but otherwise kept Arizona off the bases until Calhoun's homer.
The Padres remain the only major league team without a no-hitter, having played 8,154 games since 1969 without one.
"The saying we have is, hope is the last thing you lose," Lamet said. "I'm not out there first pitch, first hitter, thinking, 'OK, today I'm going to throw a no-hitter.' I'm going out there to get outs. I get ahead of a guy, get two strikes, I'm trying to get quick outs, I'm trying to get you out with as few pitches as possible. I'm attacking. So in my mind, the result is going to take care of itself."
Machado said Lamet had been locked in since Saturday.
"He told me yesterday, 'Hey, hold down the fort today because tomorrow I'm coming in with some gas and I'm going to put out that fire.' … Today since the first pitch, he was ready to go," Machado said.
Lamet confirmed that conversation, saying: "Luckily, we were able to go out there and I was able to give a good effort and we won the game."
San Diego took two of three in the series and is 5-2 against Arizona this season. With the Padres leading 9-1, Diamondbacks catcher Carson Kelly pitched the eighth. He allowed rookie Jake Cronenworth's leadoff double before retiring the side.
Arizona hit a pair of two-run homers off San Diego's bullpen in the ninth.
Machado homered off Bumgarner in the first and second, and Myers also connected against the struggling left-hander, who was finished after two innings, matching his career low.
France and Mejia homered off reliever Taylor Widener in the third.
The six homers were the most the Padres have ever hit at home. It was the first time they've hit six homers in the first three innings, and just the fifth time that's happened in the majors in 20 years.
Tatis, the son of the former big league infielder, drove a 2-2 curve an estimated 418 feet into the second deck with two outs in the second, his eighth homer, for a 5-0 lead. The 21-year-old shortstop has hit five in the last four games and six in six games. He hit four in this series, including leadoff shots Friday and Saturday nights. He connected twice Saturday night.
Tatis has been on base in 17 straight games dating to his last game of 2019, on Aug. 13. He missed the rest of the season with a stress reaction in his lower back but still finished third in NL Rookie of the Year voting.
"Being 21 years old, he's a freak athlete, he's getting stronger, he's lifting, he's running, he's moving well," Tingler said. "He's able to get barrel to ball, maybe on some more pitches he hadn't been able to. He's been working on his swing, shortening that up. You see the way the ball's coming off the bat. He can leave the ballpark."
Machado homered with one out in the first and Myers hit a two-run shot with two outs. Myers' fifth homer brought in France, aboard on a walk.
After Tatis' homer, Machado connected again, his third.
France greeted Widener with a homer leading off the third, and Mejia hit a two-run drive off the right-field foul pole with two outs. They were the first of the season for both.
Bumgarner (0-3) continues to struggle with the Diamondbacks, who gave him an $85 million, five-year contract in December after he spent a decade with the San Francisco Giants, helping them win three World Series titles in five seasons.
He allowed six runs and five hits in two innings, struck out two and walked two.
Arizona manager Torey Lovullo said the 31-year-old Bumgarner exited after experiencing back spasms.
Bumgarner also lost to the Padres on opening day, 7-2.
Young hit his first career homer, a two-run shot off Patino with one out in the ninth, and Nick Ahmed had a two-run shot off Tim Hill.
Indians send Zach Plesac home for leaving hotel to go out in Chicago
The Cleveland Indians sent starter Zach Plesac home after he violated team rules by leaving the hotel to go out in Chicago on Saturday, a source confirmed to ESPN.
The Athletic first reported the news on Plesac, who will be quarantined for 72 hours in Cleveland.
Plesac drove back to Cleveland in a rental car, a source told ESPN's Jeff Passan.
The right-hander tossed six strong innings in the Indians' 7-1 victory over the Chicago White Sox on Saturday in Chicago. Plesac is 1-1 on the season, with a 1.29 ERA and 24 strikeouts in 21 innings pitched.
The Indians have been extremely stringent with safety protocols, and this action is seen as a warning to players. During summer camp, outfielder Franmil Reyes was ordered to stay away from the team after he was seen at a party without a mask.
Last month, Plesac, who has become a reliable starter for the Indians, spoke of the importance of players abiding by the "code of conduct" that every team was required to submit to MLB in hopes of completing the 60-game regular season.
"Definitely any time you can maintain social distancing is going to be what we have to focus on," Plesac said July 3. "There are common sense situations, where you see things are packed or going out to the bars and drinking, doing stuff like that isn't stuff that's really important to us right now and shouldn't be important to us right now.
"We're given this privilege to be able to come back and play and given this short window to even play. It's a good time now just to really buckle down and focus on what's important and work toward something greater at the end of the season and, for these couple months, lock in and focus on what we have set for us at the end of the year."
The Indians and White Sox wrap up their series in Chicago on Sunday (7 p.m. ET, ESPN).
Information from The Associated Press was used in this report.
Oakland Athletics OF Ramon Laureano charges Houston Astros dugout, sparks brawl
OAKLAND, Calif. — Benches cleared and even the stands emptied during Oakland's 7-2 victory over the Astros on Sunday, tempers flaring at last between the AL West rivals months after Houston's sign-stealing scandal was brought to light by Oakland pitcher Mike Fiers.
The Athletics' ninth straight win was far overshadowed by what erupted in the seventh inning at the Coliseum.
Oakland's Ramon Laureano got hit by a pitch — for the third time in the three-game series — this one by Humberto Castellanos with one out in the seventh. Laureano began exchanging words with animated Astros hitting coach Alex Cintron, then left first base, threw down his batting helmet and began sprinting toward him.
Astros catcher Dustin Garneau tackled Laureano before the A's outfielder reached Cintron, and a wild scene ensued.
Players rushed out of both dugouts to join the fray. A's and Astros players who were sitting in the seats, observing COVID-19 social-distancing protocols, also rushed onto the field.
Laureano was ejected by plate ump Ted Barrett, and the umpiring crew could easily be heard yelling at the players to "get back to the dugout!" through a ballpark with no fans.
Oakland batters were hit five times during the series, no Houston hitters were plunked.
A's catcher Austin Allen was also ejected and Astros manager Dusty Baker was tossed a half inning earlier. Houston lost its fifth in a row overall.
Ex-Astros player Fiers didn't pitch this series. He went public in November about Houston's detailed sign-stealing scam. The Astros have won the past three division crowns, a World Series in 2017 and AL pennant last year. The A's won 97 each in 2018 and '19 only to lose the AL wild-card game.
Matt Olson hit a three-run homer in the third and Matt Chapman connected the very next pitch, taking the score from 1-0 to 5-0 on consecutive offerings from Astros starter Cristian Javier (1-1).
Robbie Grossman also homered and Mark Canha contributed an RBI single.
The A's (12-4) matched the 2013 club for the best record after 16 games over the last 30 years.
A's rookie left-hander Jesus Luzardo (1-0) earned his first major league win in his second career start. His day was done after allowing back-to-back two-out walks in the sixth.
The 22-year-old Luzardo outdid 23-year-old Javier in a matchup of two top pitching prospects.