What Patriots' filming punishment means to franchise, NFL, legacies
FOXBOROUGH, Mass. — The NFL on Sunday handed down its punishment to the New England Patriots, who had acknowledged a crew working for their television department illegally filmed the Cincinnati Bengals' sideline on Dec. 8 during Cincinnati's game against the Cleveland Browns.
The decision to fine the organization $1.1 million and take away a third-round pick in 2021 closes another investigative chapter between the Patriots and NFL, although this one didn't come with the same aftershocks as a couple others from the past — namely Spygate in 2007 and Deflategate in 2015-16.
Here are some answers on what the punishment means, and how it affects the Patriots moving forward:
What is the biggest takeaway from the punishment?
The NFL seemed to believe the Patriots' explanation and found no link to coach Bill Belichick and football operations, as Belichick was not individually fined. But because the Patriots' television production crew violated league rules by filming the Bengals' sideline from the press box, the overall organization was still handed a heavy penalty — one that was harsh compared to most NFL game-day violations by other teams in recent seasons. The Patriots' history seemed to be a significant factor in the NFL's decision-making process.
What is the league-wide significance of this ruling?
With most teams having created their own in-house media crews over the past decade, along with an increased focus on social media, it sets a more definitive level of accountability for all 32 teams in this growing area. All teams are now on notice that missteps/violations by staffers in social media/TV production are subject to significant financial and draft-pick penalties. In that sense, this was a precedent-setting ruling by the league.
How does the ruling affect New England's draft?
A third-round pick is a significant chip. Prior to the penalty, the Patriots owned 2021 picks in the first, second, third, fourth, fifth, sixth (2) and seventh rounds. They are projected to receive a compensatory third-round pick and two compensatory fourth-round selections for the free-agent departures of quarterback Tom Brady and linebackers Kyle Van Noy and Jamie Collins Sr., according to OverTheCap.com. So, while losing a third-round pick is a hit, there are still considerable draft assets for 2021.
What was the background and punishment for Spygate?
On Sept. 13, 2007, NFL commissioner Roger Goodell fined Belichick $500,000 and the Patriots $250,000, in addition to stripping the team of a first-round draft choice, for videotaping Jets coaches from the sideline. Belichick had explained his interpretation of the league's constitution and bylaws was incorrect, as the Patriots had never used the video while the game was in progress. But Goodell, in a letter to the Patriots, wrote: "This episode represents a calculated and deliberate attempt to avoid longstanding rules designed to encourage fair play and promote honest competition on the playing field."
What was the background and punishment for Deflategate?
In July of 2016, after a two-year back-and-forth of appeals with the NFL, Brady announced he would no longer proceed with the legal process, and in doing so, accepted a four-game suspension from Goodell for his alleged role in deflating footballs prior to the AFC Championship Game on Jan. 18, 2015. The Patriots were fined $1 million and stripped of a first-round pick in the 2016 draft and a fourth-round selection in the 2017 draft. The NFL hired attorney Ted Wells to investigate, with Wells determining it was "more probable than not" that Patriots employees were knowingly circumventing the rules and Brady was "at least generally aware" of the activities. The Wells Report stated that it didn't believe there was wrongdoing from ownership, Belichick or any Patriots coach.
What are some other NFL investigations involving the Patriots in the Belichick era?
In April of 2014, the Patriots were cleared by the NFL after an inquiry into injury-reporting procedures. The investigation was sparked by remarks from former players Aqib Talib and Brandon Spikes.
In 2015, the Jets filed a tampering charge against the Patriots regarding cornerback Darrelle Revis. That seemed to be in retaliation to the Patriots having previously filed a similar tampering charge against them, which resulted in a $100,000 fine. The NFL dismissed the tampering charge against the Patriots.
Later that year, in the season opener at Gillette Stadium, Steelers coach Mike Tomlin said the team's coaching headsets picked up New England's radio broadcast for most of the first half. The NFL looked into the issue and determined the Patriots had nothing to do with audio interference.
Does this have a major impact on the legacies of Belichick and owner Robert Kraft?
It shouldn't. While the penalties levied by the NFL were significant, nothing about the specifics of them countered the Patriots' initial explanation — that it was a mistake made by an employee from the team's television production crew filming a "Do Your Job" feature piece on an advance scout. It was an unfortunate mistake for the franchise given what happened in 2007. That won't win the Patriots any favors in the court of public opinion, but to say a mistake by an employee in the television production crew would affect legacies seems like a major overreach.
NFL players could be fined for breaking coronavirus-related protocols, source says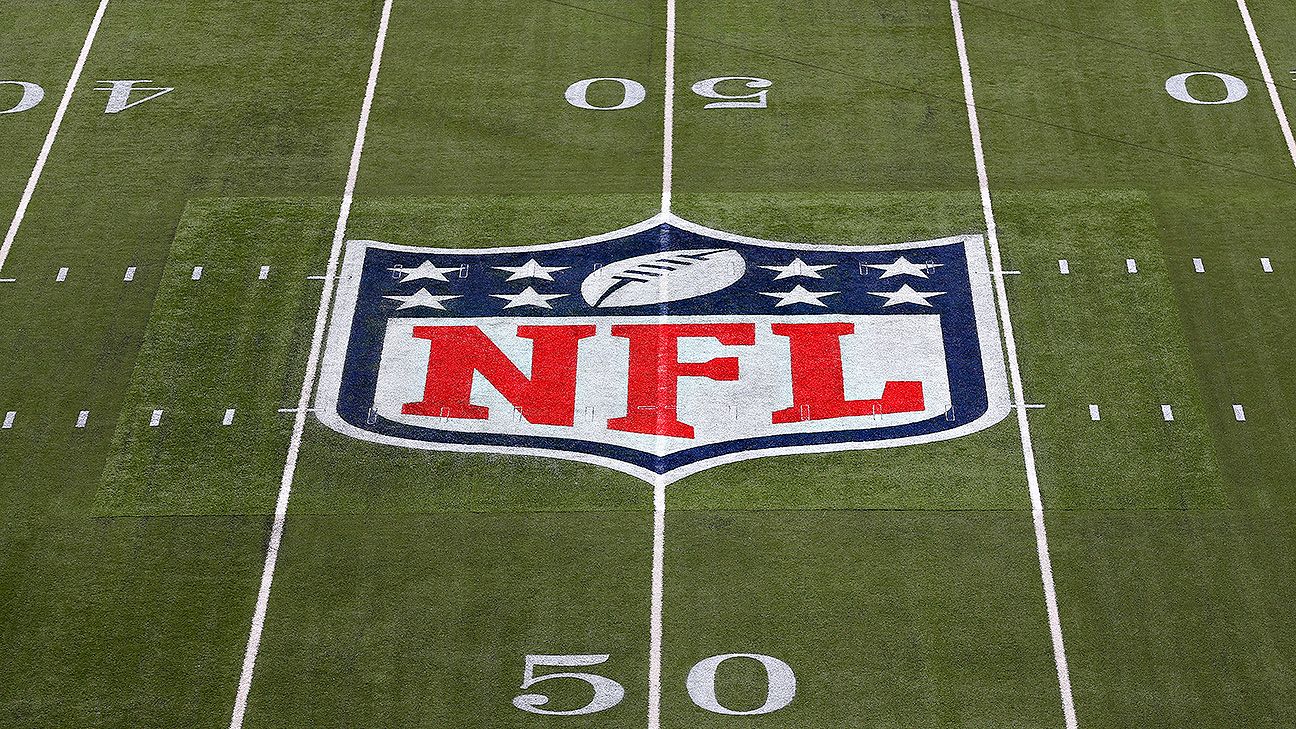 If the NFL is able to conduct a 2020 season, players will participate under a number of coronavirus-related restriction on the field and off. That could mean playing in specially designed face masks and potential fines for off-field activities that lead to the spread of the virus.
The NFLPA conducted a two-hour conference call Thursday with team player reps and NFLPA medical director Thom Mayer, and the call centered on the protocols the league and the union have been discussing to allow players to participate in training camp and the regular season. Players were told that the chances of conducting a season around the virus will depend on the success of their testing and contact tracing program and were given details about what they could expect and what would be expected of them.
One source told ESPN that players on the call were told that they could be fined for conduct detrimental if they are found to have engaged in "reckless" behavior away from the team facility, such as eating out in restaurants and using rideshare services. They also were updated on the progress league and union medical personnel are making on protective face shields that could be worn while playing, practicing, working out and moving around team facilities, though sources who were on the call said the players are pushing back against those face shields for various reasons, including concerns about how they might affect their vision and their breathing.
The call began, sources told ESPN, with updates from Mayer on the virus in general. They were told, among other things, that testing can decrease transmission but that the virus is very serious and should be taken seriously, that African-American males are more susceptible to it, that it is possible to get it a second time even if you've already had it and that false negative test results are enough of an issue that players who test positive would be required to test negative twice before they are allowed to return.
Players were told that there has been some discussion about wearable contact tracers that would allow teams to identify people with whom an infected player had interacted, and that if they tested positive their families could be tested as well.
There is a larger call scheduled for Friday that's open to all players, not just reps. Sources told ESPN there was plenty of pushback on Thursday's call from players asking why they were trying to rush back to play at all if the virus is such a dangerous threat. Players also have been asking about what happens to their contracts if they opt not to play for virus-related reasons (as some NBA players already have), what happens if they grow too uncomfortable to play as the season goes on and what happens to next year's salary cap as a result of lost revenue this year.
But the union officials on the call said those issues have yet to be worked out. "There are questions guys want to get answered before we play," one source said.
Other details addressed on Thursday's call:
• Some team meetings could potentially be held in person, but only smaller ones. Most meetings will be conducted virtually.
• Teams will limit access to the facility to "essential" employees only, and facilities will be cleaned and disinfected around the clock.
•Teams will be required to submit emergency response plans regarding the coronavirus, including procedures that would follow a positive test from someone in the building.
• Media access is expected to be limited. Media would be required to go through the same testing protocols as players and other personnel, and media interviews are likely to be conducted virtually rather than in person.
• Currently, the proposal is to test players and team personnel every other day in training camp, but player reps on today's call said they would prefer daily testing. Availability of and access to testing is an important issue, and the league is conscious of the potential backlash it could face if it has greater access to testing than the general public does.
• Players and coaches usually stay in hotels during training camps, but players are being told they will stay in their own homes and commute to team facilities this year.
NFL camps likely to have fewer players
In an effort to combat the spread of the coronavirus, NFL teams are likely to bring fewer than the regular 90 players they ordinarily bring to training camp whenever it begins, per league sources.
One source said he believed it's likely that teams will go to camp with 80-man rosters, and another source said it's "definitely not 90." A third league source said he has "heard lots of discussion about 75 players potentially instead of 90," especially with the reduction in preseason games and teams not needing as many players for camp as normal.
There also are increasing questions from league sources about whether camp can start on time with the number of coronavirus cases around the country spiking.
The NFL also is considering expanding its practice squads to 16-20 players in the event of a coronavirus outbreak; if there were one, teams would have a deeper stash of players to activate to play games.
But the league and NFLPA are trying to figure out the right number of players each team can bring to camp, and that appears to be between 75 and 80. One plan being further discussed is splitting the roster into two groups and having each practice at a different time, no matter how many players are allowed to report to camp.
Again, questions persist regarding protocols, and they are not going away anytime soon. In an abnormal year, the league is deciding on which abnormal measures it needs to deploy to combat a pandemic.
Stadium sponsor FedEx asks Redskins to change nickname
FedEx, which has naming rights to the stadium in which the Washington Redskins play, made a request Thursday that the team change its nickname.
"We have communicated to the team in Washington our request that they change the team name," FedEx said in a statement obtained by ESPN.
Team owner Dan Snyder has been under renewed pressure to change its nickname, with protestors reportedly targeting their sponsors, according to Adweek.
FedEx, Nike and PepsiCo each received letters signed by 87 investment firms and shareholders worth a combined $620 billion asking the companies to sever ties with the team unless they change their controversial name, Adweek reported Wednesday.
Snyder has been under more pressure in recent weeks to change the name given the social climate following the death of George Floyd in Minnesota.
Native American leaders want owner Dan Snyder to change the name, which the franchise has used since 1933. In the past, groups protested the name and tried to win in court. Those efforts failed.
The Washington Post reported that Eleanor Holmes Norton, the District of Columbia's nonvoting delegate to the House of Representatives, made it clear the nickname needed to be changed if the Redskins wanted to return to the district.
That stance serves as a potential roadblock for the franchise if it wants to move back to the district when its lease on the land at FedEx Field in Landover, Maryland, is up after the 2027 season. Washington is looking at sites in the district, Maryland and Virginia.
District officials had made it clear they'd like the franchise to return to the city, where it played until leaving RFK Stadium after the 1996 season. The federal government owns the land, but last year Norton introduced a bill that called for it to be sold to the city at a fair market value.
ESPN's John Keim contributed to this report.