Probe opened as Las Vegas bettors exploit error in international baseball bets
A few Las Vegas bettors uncovered a scenario last weekend that raises questions about opportunity versus ethics. They exploited a mistake by BetMGM and wagered on baseball games that had already started, thus giving them an incredibly strong chance to win tens of thousands of dollars.
The errors could cost the operator nearly a quarter-million dollars due to approximately 50 questionable wagers, including a 10-leg parlay netting $137,000, a source told ESPN. However, Nevada Gaming has opened an investigation and could deem the wagers invalid, saving the sportsbook from paying all remaining tickets.
It is unknown exactly how many bettors were involved or were able to successfully cash tickets before casino officials realized the errors Sunday afternoon and stopped payments.
Nearly all suspicious wagers occurred at Bellagio sportsbook self-bet kiosks between 1:30 a.m. and 3 a.m. PST this past Sunday morning, according to a source, and all involved baseball games in Korea and China. The games actually began at 1 a.m and 2 a.m. but the BetMGM software posted incorrect start times due to manual entry error. That enabled the software to accept wagers well after the games started.
All four KBO games involved in the wagers began at 1 a.m. and ended just before 4 a.m.
For example, many tickets contained the NC Dinos -110 and under 9 total runs in their game against the Doosan Bears televised on ESPN. The Dinos broke a scoreless tie in the fifth inning with a three-run homer at 2:28 a.m. and ultimately won 5-0. A wager on those two positions at any point in the late innings would have a strong likelihood of cashing.
The tickets also contained a wager of over 9.5 between KT Wiz Suwon and Hanwha Eagles. Suwon opened the game with five runs in the first inning and Hanwha countered with two in the second inning. A bet over 9.5 at that juncture would have a huge advantage and it ultimately hit in the seventh inning. Suwon won 8-4.
Only one game was selected from the Chinese Professional Baseball League. The Rakuten Monkeys faced the Uni Lions at 2 a.m. The Lions scored in five of the first six innings to lead 10-2. A wager on Uni +150 was included in the betting and won.
The Twitter handle @AudreyR2d2 posted an image of an eight-leg parlay involving five KBO games that all began at 1 a.m. The ticket has a time stamp of 2:53:37 a.m. That $100 ticket netted $11,156.60. ESPN has not identified the Twitter user but did independently corroborate the ticket's authenticity.
Elisa Richardson, head of BetMGM Communications and Public Relations, tweeted an internal image of the winning 10-leg parlay for $137,107.38 on Sunday morning. That tweet was deleted a few hours later. That particular wager originated from a player's betting app and not at the kiosk.
"A trading error was identified this weekend and addressed. We're working with Nevada Gaming authorities on this matter," according to a ROAR Digital statement provided directly to ESPN. ROAR manages BetMGM and is the joint partnership between GVC and all MGM properties, including Bellagio. GVC is a sportsbook operator that has partnered with several U.S. casinos.
ESPN also contacted MGM director of race and sports Jeff Stoneback and MGM/Mirage shift manager Scott Shelton for comment. Both have not responded.
Nevada Gaming Control Board Senior Research Analyst Mike Lawton responded to an ESPN inquiry via email and said, "The Nevada Gaming Control Board does not have any comment."
According to Regulation 22.115, Nevada Gaming has a "prohibition against rescission of wagers. A book may not unilaterally rescind any wager without the prior written approval of the Chair." The current chairwoman is Sandra Douglass Morgan, who was appointed in January of 2019 by Nevada Governor Steve Sisolak for a four-year term.
In all likelihood, according to a source, this process would begin with discovery of information and then Gaming Control Board members would discuss the case and ultimately Morgan would rule whether the wagers must be voided or paid.
Given the high volume of betting options and potential of manual error, this type of mistake happens a few times annually at each operator but typically on a much smaller level. Thus it is rarely publicized and often is resolved directly with the consumer. Regardless, Nevada Revised Statutes Section 463.362 mandates all sportsbooks to report any discrepancy over $500.
ESPN spoke with two other Nevada sportsbook executives on the condition of anonymity. Each separately shared that a common protocol is to give the bettor two options. One is to refund the ticket(s) and be allowed to continue as a patron, or they receive the full winnings but are permanently banned from the sportsbook. Since the error usually represents a relatively small amount, the bettor often returns the wager and continues business.
U.S. sportsbooks only began offering wagering on international baseball during the current pandemic and American sports hiatus. The KBO typically starts all weekday games at 2:30 am but weekend games do begin slightly earlier. GVC protocol mandates the start time for each game in all sports be manually entered each day.
31 MLB players positive for coronavirus after first round of tests
Thirty-one players were positive for COVID-19 in Major League Baseball's first round of coronavirus testing, the league and players' union announced Friday.
Seven staff members also tested positive. The 38 positives represent 1.2% of 3,185 samples collected for the first set of results. For comparison, the NBA on June 26 reported a 5.3% rate of positive tests (16 of 302) among players, while MLS announced a positive rate of 2.7% (18 of 668) among players two days later.
The positives come from 19 MLB teams, the league said. All 30 teams began training camp Friday at their home ballparks.
MLB will not identify who tests positive for the coronavirus, citing privacy laws. Teams also will not specifically announce a COVID-19 injured list placement for a player who is removed from the club after testing positive; it will just be a trip to the injured.
If a player's test is positive for COVID-19, he will be instructed to immediately self-isolate. He will be treated with protocols that are detailed in the operations manual that the league and union agreed to as part of the negotations that resulted in a 60-game 2020 season.
Cleveland Indians outfielder Delino DeShields Jr. was one player announced as testing positive Friday, according to Chris Antonetti, the team's president of baseball operations.
The 2020 MLB season is set to begin July 23 or 24.
Tampa Bay Rays ace Blake Snell back to work after gripes about possible pay cuts
ST. PETERSBURG, Fla. — Tampa Bay Rays ace Blake Snell reported for work, after all.
The 27-year-old Snell made headlines in May when he said he opposed the idea of players taking further pay reductions to start the season during a pandemic — that it was not worth the health risk. But he said Friday it wasn't difficult to start playing again after the players' agreement with Major League Baseball included their full pro-rated salaries.
"I would say it wasn't tough when it came down to what the [union] agreed on," he said. "I like to follow through to what I say. So for that to be the case, definitely happy about that. … With all the precautions MLB's taking, it makes it easy to play. Everyone here is just super on their toes about it, so I feel very comfortable about it."
Snell is looking to bounce back after he was hampered by injuries last year. The left-hander was 21-5 with an American League-best 1.86 ERA in 2018, winning the Cy Young Award. But he went 6-8 with a career-high 4.29 ERA last season.
He agreed to a $50 million, five-year contract in March 2019 that included a $3 million signing bonus, a $1 million salary last year and a $7 million salary this season.
Snell said most of what he said in May was "correct." He said if he were to apologize for anything, it would be the way he began his comments by declaring he had to get his money to play.
"The only thing about it that I didn't like with what I said was just `I've gotta get mine.' That was pretty bad," he said. "Everything else I said past that was pretty correct. But just how I started it, I could see how it could anger people, so I'd apologize for that. Everything after that was pretty spot on with what we're doing right now."
Tampa Bay's workout at Tropicana Field included 32 of 37 players initially expected to work out at the team's regular-season home.
Manager Kevin Cash did not identify who was not there, however infielder Jose Martinez, pitchers Yonny Chirinos and Chaz Roe, and non-roster catchers Chris Herrmann and Kevan Smith were not listed among the groupings of participating players.
Herrmann and Smith instead were at the club's spring training facility in Port Charlotte, where the remainder of the 60-player pool is working. The status of Martinez, Chirinos and Roe was unclear.
"Given all the protocols, guidelines that we're trying to follow, we're not going to get into specifics," Cash said. "There were a variety of reasons as to why we weren't at 100% attendance. But as far as the workout today, it went really well."
–
22 minor league baseball teams now suing insurers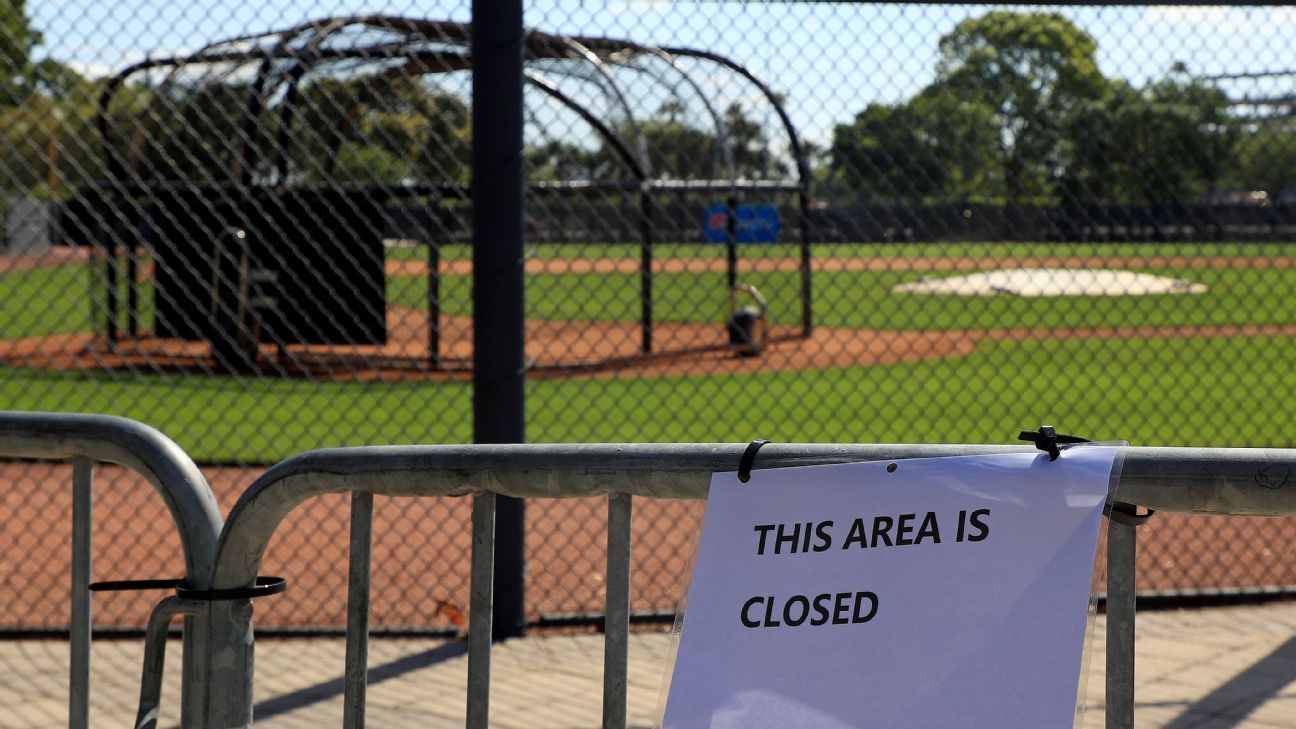 Two days after the cancellation of the 2020 season due to the coronavirus pandemic, 22 minor league baseball teams filed lawsuits Thursday against insurance companies over rejections of business interruption claims.
Fourteen of the 22 teams withdrew the federal suit filed last week in Pennsylvania in favor of the new cases.
A 15th team in that June 23 suit, the Binghamton Rumble Ponies, also withdrew it Thursday. Binghamton, however, did not file a new suit against its insurer as the others did.
Andy Sandler of Mitchell Sandler, co-counsel with McKool Smith for the plaintiffs and other ballclubs, declined to comment about specific teams but told ESPN additional lawsuits are planned.
Thursday's filings were in three jurisdictions.
One is in the U.S. District Court of Arizona, with 16 teams as complainants: the Amarillo Sod Poodles, Augusta GreenJackets, Boise Hawks, Chattanooga Lookouts, Columbia Fireflies, Eugene Emeralds, Fort Wayne TinCaps, Fredericksburg Nationals, Frisco RoughRiders, Idaho Falls Chukars, Inland Empire 66ers, Lancaster JetHawks, Myrtle Beach Pelicans, San Antonio Missions, Stockton Ports and West Virginia Power.
The other two filings were in the U.S. District Court of New Jersey, with the Asheville Tourists, Everett AquaSox and West Michigan Whitecaps as plaintiffs, and in the Philadelphia County Court of Common Pleas, for the Delmarva Shorebirds, Greenville Drive and Staten Island Yankees.
The teams say they incur more than $2 million in expenses to operate "without regard to whether they suffer interruption of their operations."
The majority of the teams have policies with subsidiaries of Nationwide Insurance, which said in a statement last week that business interruption coverage due to a virus outbreak has been excluded from standard policies, such as these, for quite some time — and that including it would "make such coverage unaffordable or even unavailable."
The complaints assert that such exclusions are "void, unenforceable and inapplicable." The teams also contend that insurers are failing to recognize that being unable to use ballparks due to restrictions on gatherings and lack of access to players (players are normally provided by Major League Baseball, which pays their salaries) constitutes direct physical loss — and should be covered under the policies.
As ESPN first reported, the teams place some of the blame for their "catastrophic losses" on the U.S. and state governments, alleging that in the first few months of the year the federal government "failed to recognize the severity of the pandemic and did not contain the virus." And they note a "failure of the federal government to build an effective wall preventing the continued migration of the virus from states that were hit early to the rest of the country."