Orioles sign No. 2 overall draft pick Heston Kjerstad
BALTIMORE — Outfielder Heston Kjerstad agreed to a minor league contract with the Baltimore Orioles that includes a $5.2 million signing bonus, well below the slot value of $7,789,900 assigned to the No. 2 overall pick.
Kjerstad batted .448 with six homers and 20 RBI over 16 games as a junior with Arkansas this year before the season was cut short by the coronavirus pandemic. He started every game in right field and had at least one hit in each outing.
Just the beginning of a new journey! Excited to be an Oriole! https://t.co/OQiiLK3AK1

— Heston Kjerstad (@hestonkjerstad) June 30, 2020
He joins a rebuilding Orioles team that has lost at least 100 games in two straight seasons and used the No. 1 pick in 2019 to secure catcher Adley Rutschman out of Oregon State.
As a true freshman in 2018, Kjerstad was selected the SEC Freshman of the Year after batting .332 and hitting 14 home runs.
The following season, Kjerstad helped lead Arkansas to a second straight appearance in the College World Series. In the process, he became the first Razorback since Rodney Nye in 1998-99 to have 50 or more RBI in his first two seasons.
Kjerstad was the eighth Razorback drafted by the Orioles. He is the second-highest draft pick out of Arkansas, behind Jeff King, the No. 1 selection in 1986.
Buster Olney's top 10 starting pitchers — Which Big Apple ace is No. 1?
The Tampa Bay Rays' Tyler Glasnow was on the Baseball Tonight podcast recently and reported enthusiastically that when the shortened season begins — when summer camp, which kicked off this past weekend, begins — he'll be ready to go, full speed. An evaluator with another team listened to that and thought to himself: No, Tyler.
Because, the evaluator explained, there's a difference between going all-out firing the ball into a backyard net and going all-out in a game, against big league hitters, with the adrenaline ramped up to game speed. Pitching coaches and managers can now begin to assess the preparedness of their starting pitchers, which might be the most significant X factor in a 2020 season, if MLB can pull it off.
The conventional wisdom is that all teams will be heavily reliant on relief pitching, and the sooner that starters like Gerrit Cole and Jacob deGrom can shoulder a full load and absorb a greater share of innings, the better for their teams. In a typical season, some starting pitchers say they don't really build full arm strength until June — but in this season amid the coronavirus pandemic, there will be no theoretical June, only the equivalent of an April and a May.
With all that in mind, here's our list of the top 10 starting pitchers in the majors going into this season.
KBO Weekly — Dinos roar back with big comeback to cap another solid week
As Major League Baseball prepares to (hopefully) get its 2020 season off the ground, the KBO rolls along into July with the first-place Dinos looking as strong as ever.
Here's a look at the week that was and what's ahead in the KBO.
ESPN's KBO Power Rankings
1. NC Dinos: 36-16 (Last week: 1) — After finishing June with a 14-10 record following an 18-5 May, the Dinos are off and running in July (4-1). NC capped the week with one of its wildest wins of the season, scoring six runs in the bottom of the ninth for a 7-6 victory over Kia.
2. Kiwoom Heroes: 33-21 (2) — Kiwoom went 19-6 in June, tying for the most wins in a calendar month by a KBO team over the past five seasons, but lost three of five to close the week, falling four games out of first place.
3. Doosan Bears: 31-22 (4) — Doosan outfielder Kun-woo Park, who was hitting .190 on May 31, led KBO with a .444 batting average and a .484 on-base percentage in June.
4. LG Twins: 29-24 (3) — The Twins' slump continued as they entered Sunday game against Samsung on a 3-11 slide. But LG rallied Sunday to beat the Lions for their KBO-high sixth win when trailing after seven innings. Samsung had been 25-0 when leading after six innings.
5. Kia Tigers: 27-23 (5) — The Tigers' Sun Bin Kim had four straight three-hit games to take over the league batting lead (.378). For comparison, only two players in MLB had four straight three-hit games in 2019 (Charlie Blackmon and Ketel Marte).
6. Samsung Lions: 29-25 (6) — The Lions were a league-best 5-1 last week and are 19-11 since the start of June, trailing only Kiwoom (21-9) over that stretch.
7. KT Wiz: 25-28 (8) — The Triple Crown watch is officially on: Mel Rojas Jr. leads KBO in homers (19) and is second in RBIs (48, one behind Doosan's Jae-Hwan Kim) and average (.374, four points behind Kia's Kim). Rojas also leads the league in runs (47), hits (80) and OPS (1.146).
8. Lotte Giants: 24-27 (7) — After improving to 17-15 on the strength of a six-game winning streak, the Giants have been headed in the wrong direction, going 7-12 to slip to the back of the middle tier of teams.
9. SK Wyverns: 16-37 (9) — The Wyverns' Seung-won Moon led KBO with 34 strikeouts and a 1.39 ERA in June, but he lost his first start of July, allowing four runs (two earned) in five innings Wednesday against Samsung.
10. Hanwha Eagles: 13-40 (10) — The Eagles snapped a five-game losing streak by beating Doosan on Saturday. Hanwha is 3-3 on the season against the Bears, by far its best record against any opponent. The Eagles have no better than a .333 winning percentage against any other team.
(Selected by Joon Lee, Alden Gonzalez and Dan Mullen)
The week that was and what's ahead
One thing to know that happened last week: Actually, here's one thing that didn't happen — fans were not allowed to attend games. This past weekend had been a target date to open KBO stadiums to spectators, and while South Korean health officials are satisfied with protocol proposals for inside the parks, according to ESPN KBO contributor Daniel Kim, they are worried about getting people in and out of the games, including the use of public transportation and having about 7,000 people entering and exiting a stadium at the same time.
One thing to watch this week: Two teams that seem most likely to challenge the Dinos, at least in the short term, square off when Samsung faces Kiwoom beginning Tuesday. Then NC meets the fading Twins over the weekend, with LG in desperate need of a turnaround to stay anywhere near contention.
Highlight of the week: Is this KBO or "The Matrix"?
MyKBO's Slide of the Day featuring LG's Jung Keun-woo pic.twitter.com/f3JNdmZ0iK

— Dan Kurtz (@MyKBO) July 2, 2020
Bat flip of the week:
MyKBO's Home Run Bat-Flip of the Day featuring Seo Geon-chang pic.twitter.com/Bum5RlpSFG

— Dan Kurtz (@MyKBO) July 4, 2020
Viral moment of the week:
Park Jong-hun just killed a man. 👻🪦

Cause of Death: Rising Slider pic.twitter.com/tLYSzNELvA

— Rob Friedman (@PitchingNinja) July 5, 2020
KBO on ESPN broadcast schedule
Stream live KBO games and replays on the ESPN App
(All times ET)
Tuesday
5:30 a.m.: LG Twins vs. Doosan Bears
Wednesday
5:30 a.m.: KT Wiz vs. Kia Tigers
Thursday
5:30 a.m.: LG Twins vs. Doosan Bears (ESPN2)
Friday
5:30 a.m.: NC Dinos vs. LG Twins
Saturday
5 a.m.: Doosan Bears vs. Lotte Giants
Sunday
4 a.m.: NC Dinos vs. LG Twins
Japanese baseball, soccer leagues to start allowing fans at games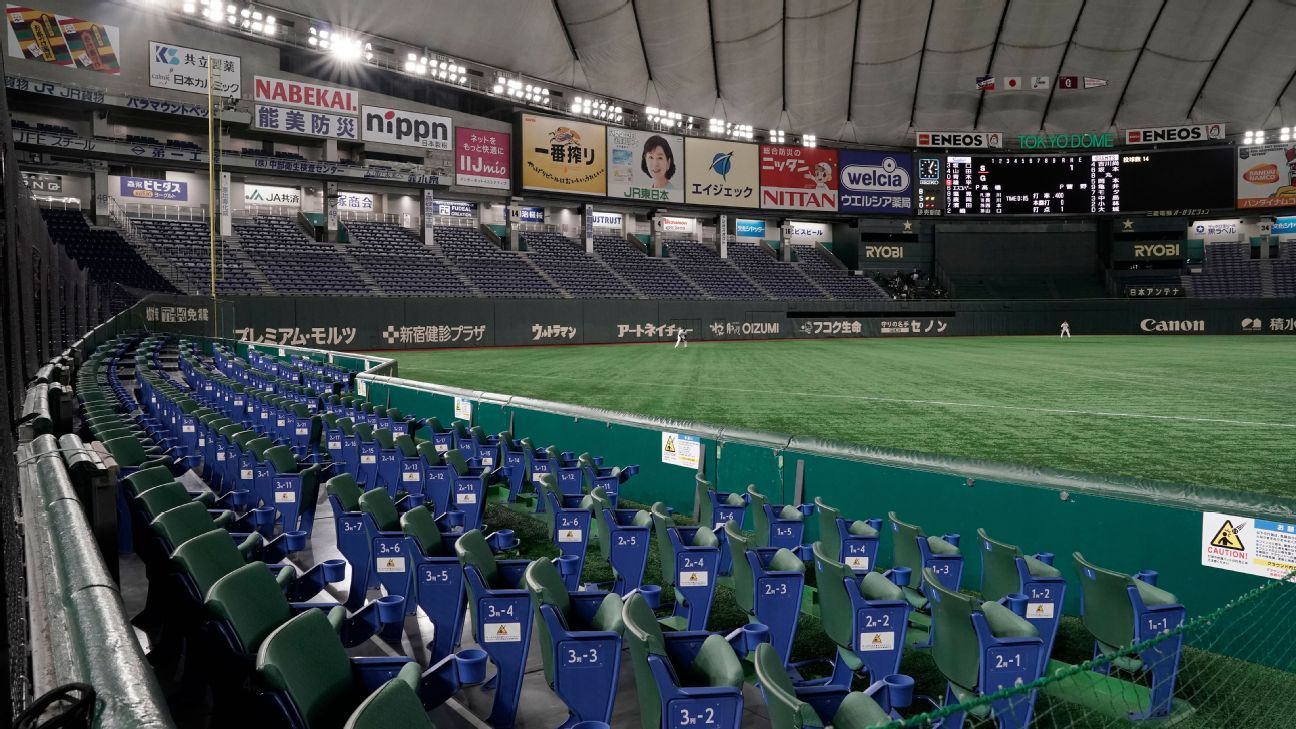 TOKYO — Japan's professional baseball and soccer leagues will begin allowing fans this week, the heads of both leagues said on Monday.
Soccer and baseball officials said the first day with fans will be Friday. The maximum number will be 5,000 or 50% of the stadium capacity — whichever is smaller.
Officials said they plan to allow stadiums to be filled to 50% capacity beginning Aug. 1.
"We will keep a close eye on this guideline to see if it changes significantly," said Mitsuru Murai, head of Japan's soccer league, the J-League. "If there are no major changes, we'll proceed with the original plan."
Mitsuo Kaku, a professor at Tohoku Medical and Pharmaceutical University, was optimistic in an online news conference with league officials.
"Of course, we have to keep an eye on the infection situation, but I think it is necessary to try this," he said. "We are in the situation where we need to continue to run social and economic activities while managing risks."
Japanese baseball opened its season on June 19, and soccer resumed on Saturday after a four-month delay. The soccer J-League played one round of matches before the season was stopped in February.
Hiroshige Mikamo, a professor of infectious disease at Aichi Medical University, put the responsibility on the fans.
"The teams, staff and [players] have worked really hard to protect the sporting culture," he said. "Now it's the audience's turn to make the effort."
Japan has largely held the coronovirus pandemic in check with 1,000 deaths reported in a country of 126 million. By comparison, the United States has reported 130,000 deaths with a population estimated at 330 million.
However, new cases have increased recently in Tokyo. New cases on Sunday in Tokyo topped 100 for the fourth straight day.