Baseball's minor leagues cancel 2020 season due to coronavirus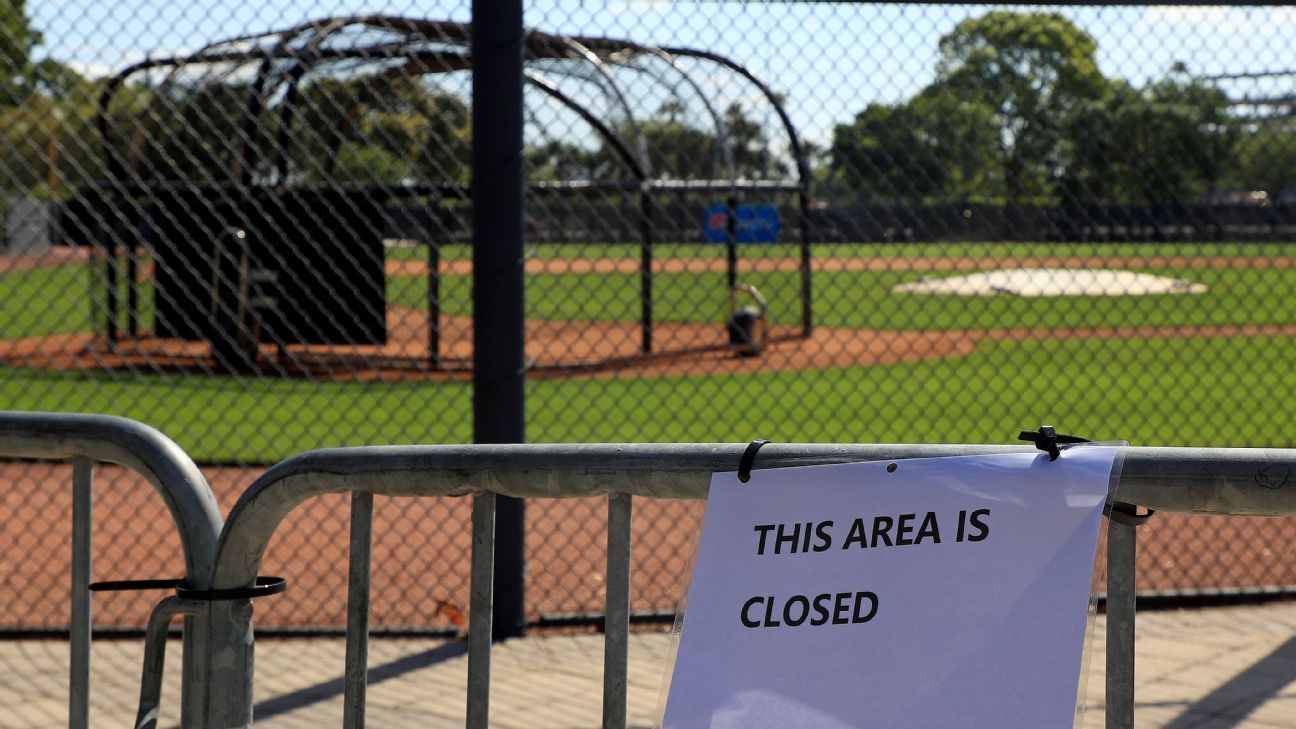 ST. PETERSBURG, Fla. — Baseball's minor leagues canceled their 2020 season on Tuesday after Major League Baseball decided not to provide any players to its affiliated teams amid the coronavirus pandemic.
The National Association of Professional Baseball Leagues, the minor league governing body, made the long-expected announcement. The Professional Baseball Agreement between the majors and the minors expires after this season, and MLB has proposed reducing the minimum affiliates from 160 to 120.
MLB already had told clubs to retain expanded 60-player pools, of which 30 players can be active during the first two weeks of the season starting in late July.
"These are unprecedented times for our country and our organization as this is the first time in our history that we've had a summer without minor league baseball played," said National Association president Pat O'Conner. "While this is a sad day for many, this announcement removes the uncertainty surrounding the 2020 season and allows our teams to begin planning for an exciting 2021 season of affordable family entertainment."
MLBPA doubles investments to $160M ahead of bargaining
NEW YORK — The Major League Baseball Players Association nearly doubled its liquid investments over two years as the sport heads toward collective bargaining that could lead to a spring training lockout in 2022.
The union had $159.5 million in cash, U.S. Treasury securities and investments on Dec. 31, according to a financial disclosure form filed Tuesday with the U.S. Department of Labor. That was up from $102.4 million at the end of 2018 and $80.1 million at the end of 2017.
According to the filing, the union had $24.5 million in cash, $75.4 million in Treasury securities and $59.6 million investments with the entities such as the Federal Home Loan Mortgage Corp., known as Freddie Mac; Federal Home Loan Banks; and Federal Farm Credit Banks.
The union typically prepares for bargaining by withholding licensing money due to players and keeping it available to disburse during or after a stoppage. Baseball had eight work stoppages from 1972-95 but has not had one since.
Baseball's labor contract expires on Dec. 1, 2021. The union has threatened to file a grievance accusing Major League Baseball of bad faith in bargaining during contentious talks to start the pandemic-delayed season, an accusation MLB had denied. The sides failed to reach an agreement during talks in May and June, leaving baseball Commissioner Rob Manfred to unilaterally announce a 60-game schedule.
Union head Tony Clark earned a $2.25 million base salary, an increase of $100,000, according to the disclose form.
Bruce Meyer earned $1 million in his first full year as senior director of collective bargaining and legal.
No. 3 overall draft pick Max Meyer gets $6.7M signing bonus from Marlins
MIAMI — Right-hander Max Meyer has agreed to a $6.7 million signing bonus as part of a minor league contract to join the Miami Marlins, and he'll take part in training camp starting Friday.
The deal was for less than his slot value of $7,221,200 as the No. 3 overall pick in last month's amateur draft.
Meyer had a 2.07 career ERA with 187 strikeouts in 148 innings at the University of Minnesota. He's in the Marlins' 60-man player pool and could crack their rotation at some point this year.
everything the light touches is our kingdom, Simba pic.twitter.com/0Ep0dqzpYy

— Miami Marlins (@Marlins) July 2, 2020
He will receive up to $100,000 of the signing bonus within 30 days of the deal's approval by the commissioner's office and half of the remainder on July 1 in 2021 and 2022.
Baseball is back — and we have the video to prove it