Former Redskins line coach Joe Bugel, architect of the famed Hogs, dies at 80
Former Washington Redskins offensive line coach Joe Bugel, architect of the famed Hogs in the 1980s, has died, the team announced in a statement. He was 80.
No cause of death was given.
Bugel spent 32 years in the NFL but was largely known for his work in Washington, where he coached the Redskins' offensive line from 1981 to 1989. He served as offensive coordinator and was an assistant head coach from 1983 to '89.
Bugel left to serve as head coach of the Phoenix Cardinals from 1990 to 1993. But he returned to Washington in 2004 — when Joe Gibbs returned — and stayed until his retirement after the 2009 season.
The Redskins reached three Super Bowls and won two in the 1980s behind their offensive line. One of their offensive linemen during that stretch, guard Russ Grimm, is in the Hall of Fame, and another, tackle Joe Jacoby, was a finalist three times. Four of Bugel's offensive linemen made the Pro Bowl a combined 10 times during the '80s, led by Grimm and Jacoby's four trips apiece, and the line helped pave the way for four 1,000-yard rushers.
Bugel started calling this group the "Hogs" in 1982. During a training camp practice, he referred them as "Hogs" when telling them to head to the blocking sled. The name stuck. Gibbs told them, "Once you establish a nickname, you'd better back it up."
They did. The Hogs did commercials and posters, and their moniker inspired some Redskins fans to dress up as "Hogettes" during games and charity appearances. They became one of the most famous lines in NFL history.
Bugel once said, while coaching the Cardinals, that he would get recognized in airports by people shouting, "Hey, there's the Hogs coach!"
"Joe had an incredible passion for the game of football," Gibbs said in a statement. "He came to work every day with such great excitement and his players had tremendous respect for him. The strength of our coaching staff on both sides of the ball was a key reason we had so much success. Bugel was such a big part of that and his impact was felt not only by those Redskins' teams, but truly across the entire League. I will miss his friendship and I will always cherish our late-night arguments putting together the game plan each week."
Bugel coached the Cardinals for four years. He then served as the Oakland Raiders' assistant head coach/offense for two years before becoming head coach for one season in 1997. He coached the San Diego Chargers' line for four seasons, leaving after the 2001 campaign, and was out of coaching until Gibbs returned in Washington.
"I am absolutely devastated by the news of Joe's passing," Redskins owner Dan Snyder said in a statement. "Joe was a larger than life figure and a true legend of his profession. He exemplified what it meant to be a Redskin with his character and ability to connect with his players along with a work ethic that was unmatched."
Texans' Kenny Stills reveals elaborate Black Lives Matter tattoo – Houston Texans Blog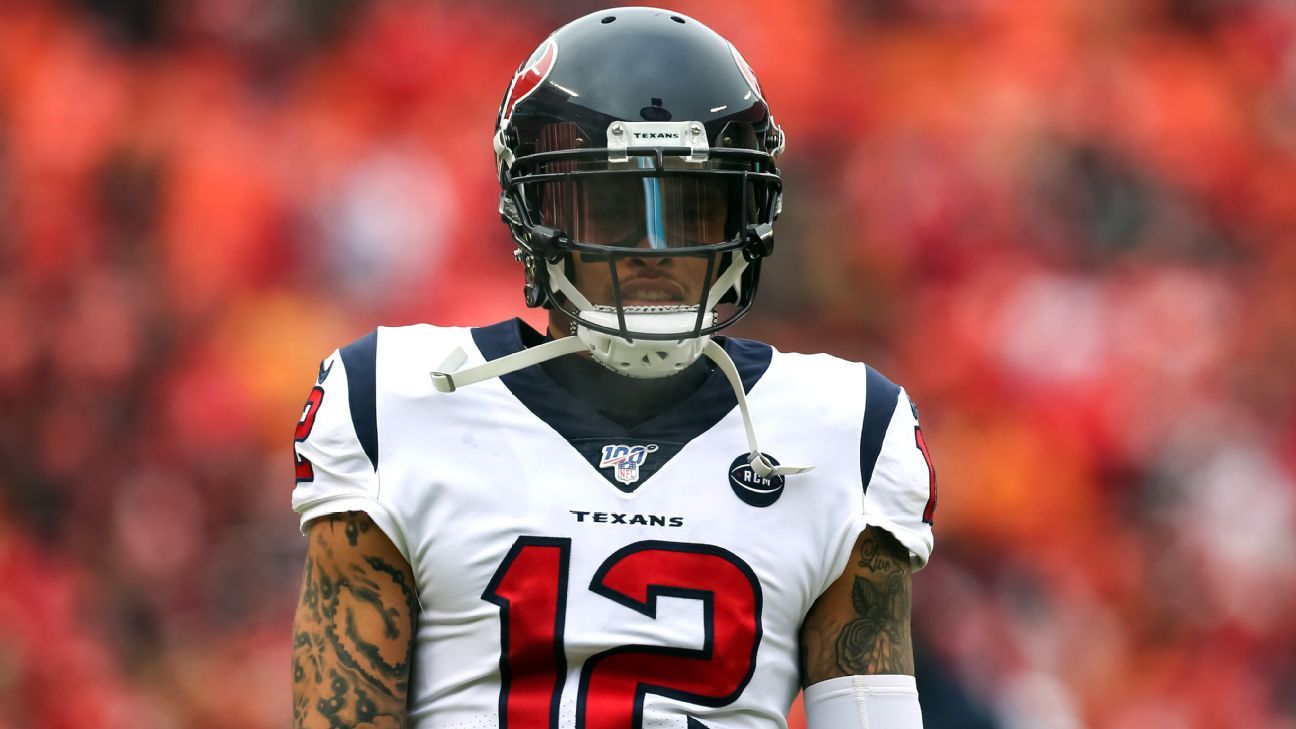 Houston Texans wide receiver Kenny Stills posted an Instagram photo of his new tattoo, done earlier in the month, that features a sign reading "BLACK LIVES MATTER."
The tattoo includes images from the Black Lives Matter and civil rights movements on his right leg, and also shows signs that read "WE PROTEST SCHOOL SEGREGATION" and "SAY THEIR NAMES."
Since former San Francisco 49ers quarterback Colin Kaepernick began kneeling during the national anthem during the 2016 season, Stills has been vocal in his support of the fight against police brutality and racial injustice. Stills also has taken a knee during the national anthem.
On June 25, Stills participated in a social justice march for Breonna Taylor at the state capitol in Kentucky. In the lead-up to the protest, Stills offered to "pay for gas, rental cars, lodging, chartering buses…whatever it takes" to get people there. He also attended George Floyd's funeral in Houston on June 9.
Stills has also been active on Twitter, speaking out about police brutality, especially since Floyd's murder. He also tweeted "sports are a distraction from the movement."
Sports are a distraction from the movement.

— Kenny Stills (@KSTiLLS) June 15, 2020
Earlier in the offseason, while addressing Floyd's murder and systemic racism, Texans coach Bill O'Brien said he has "learned a lot over the last year of talking to Kenny Stills on why he takes a knee."
"I think we all know why Kenny takes a knee and why Eric Reid takes a knee," O'Brien said.
Judges question legality of search warrants in Robert Kraft massage parlor sex case
FORT LAUDERDALE, Fla. — Florida appellate judges on Tuesday questioned the legality of search warrants that let police secretly video record New England Patriots owner Robert Kraft and others paying for massage parlor sex, pressing a prosecutor on his contention that the warrants were legally valid.
Deputy Solicitor General Jeffrey DeSousa found himself repeatedly queried by the three-judge panel as he tried to persuade them that the warrants and searches met all constitutional protections and that they should overturn lower court rulings that barred the recordings' use at trial.
Misdemeanor charges against Kraft, 79, and other customers would have to be dropped if those rulings stand, although felony charges against the spa owners might proceed as there is other evidence against them.
Kraft and others were charged in February 2019 in a multi-county investigation of massage parlors that included the secret installation of video cameras in their lobbies and rooms. Police say the recordings show Kraft and other men engaging in sex acts with women and paying them.
Judge Robert Gross, who presided at the Florida Fourth District Court of Appeal hearing, seemed taken aback by DeSousa's contention that he and his colleagues should primarily consider the plain language of the Fourth Amendment. It says judges can issue warrants if police demonstrate there is probable cause of a crime and the warrants must specify the place to be searched and the people or property to be seized.
Gross told DeSousa he seemed to be ignoring numerous rulings by the U.S. Supreme Court expanding Fourth Amendment protections since the 1960s, including some that restricted electronic surveillance by police.
"You are getting us off on the wrong foot by focusing on the language of the Fourth Amendment when we should be focusing on the Supreme Court jurisprudence … that is heavily weighted against you," Gross told DeSousa.
Redskins' Ron Rivera — Don't bet against Cam Newton with Patriots
Ron Rivera has a message for those ready to doubt that Cam Newton can rebound with the New England Patriots: Don't bet against him.
Rivera, who coached the Carolina Panthers for nine seasons with Newton as his starting quarterback, was asked Monday on 670 The Score in Chicago about whether he thought Newton has recovered from the injuries that have marred his past two seasons. Rivera said he had watched the workout videos that Newton posted on social media.
"He's headed in the right direction," Rivera said on the McNeil & Parkins Show. "I mean, he's probably about as healthy as it gets from what I've seen on video. I think he's ready to bust out.
"I would never bet against the young man, that's for sure."
Newton, who holds most of Carolina's career passing records, missed 14 games last season with a Lisfranc injury and the final two games of the 2018 season with a shoulder injury that also required surgery.
He reached an agreement on a one-year, incentive-laden deal with the Patriots on Sunday, league sources told ESPN's Chris Mortensen and Adam Schefter. ‬The Patriots were the only team to make him an offer after he was released by the Panthers in March, according to Schefter.
Rivera said on 670 The Score that he believes the coronavirus pandemic, which prevented teams from conducting in-person workouts, was the main reason more teams didn't try to sign him. As for why Rivera didn't try to bring Newton to the Washington Redskins, he pointed to the presence of quarterback Dwayne Haskins, drafted by the Redskins in the first round last year.
"Honestly, if the circumstances would have allowed us, I would have had no issues with that. I would have been very confident and comfortable in going after him and bringing him to be part of what we're doing here. To me those circumstances would have been going through an opportunity to see what we have in Dwayne," he said.
Rivera instead brought another former Panthers quarterback to the Redskins, trading for Kyle Allen earlier this offseason. He said the benefit of being in his first year as the Redskins' coach is that he can be patient with Haskins, who threw for 1,365 yards with seven touchdowns and seven interceptions after being selected with the No. 15 pick in 2019.
"We've been in this tough situation because there was a number of veteran guys that we liked but we have to find out what we have in the young guy, and that's the benefit of being a new head coach is that we can go ahead and we can be patient. We can put these guys through workouts and get to know what we have and feel good about it or don't feel good about it and then we've got to go out and make some changes," he said.
"But until we get that opportunity to know what we have, it would have been very hard to bring in a guy who's had such a solid career, who was league MVP at one time (in 2015), and expect the young guy to get chances to grow, so I just felt that because of our circumstances we could play this slow — and good for [Newton], he went to New England, which I think is going to be a great spot for him and I think he's going to have a lot of success."
With the Patriots, Newton will be in the mix to help replace Tom Brady, who left to join the Tampa Bay Buccaneers in free agency. The Patriots did not select a quarterback in April's draft, with 2019 fourth-round pick Jarrett Stidham and 11-year veteran Brian Hoyer atop the depth chart.
Rivera was asked what he'd say to those who believe Newton's best days are behind him.
"Don't bet against him," Rivera said. "I really wouldn't. First of all, you got to know who he is and understand what all he's gone through. He's a guy that's always tried to do things, I think, because he's felt the pressure. He felt the pressure of being the No. 1 pick. He felt the pressure of having won the Heisman Trophy and being the No. 1 pick. He felt the pressure of being a Black quarterback, with all this stuff that's been heaped on him.
"He's really had to find his way through it, and he's done a great job with it."